What If? Serious Scientific Answers To Absurd Hypothetical Questions by Randall Munroe
Posted on May 1, 2015 12:25 am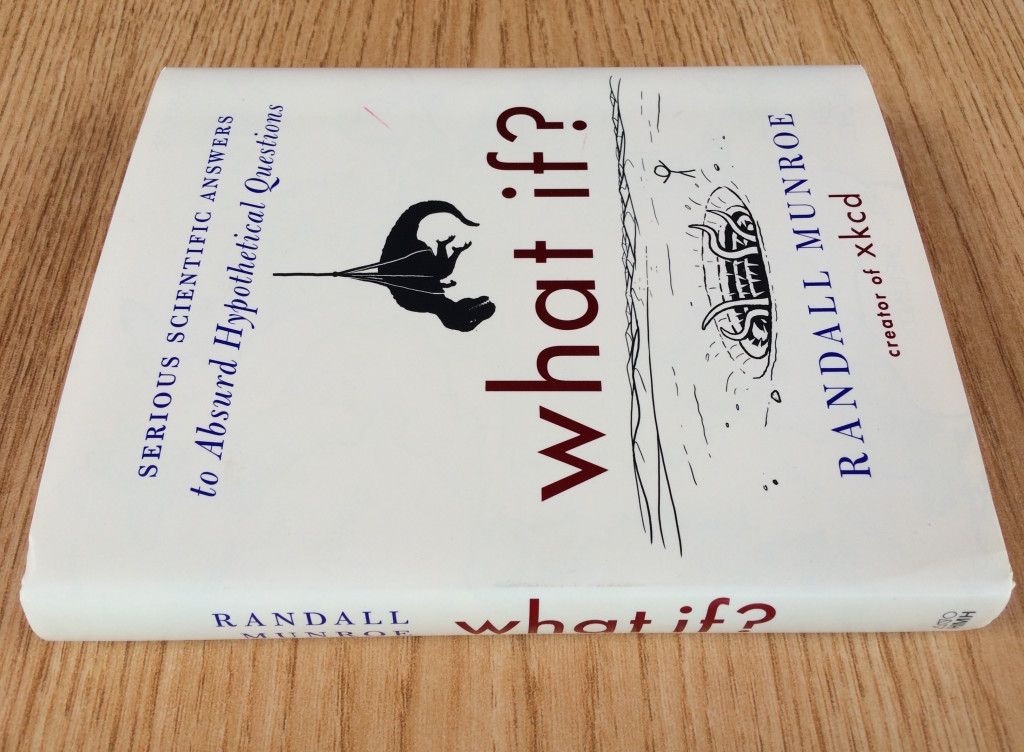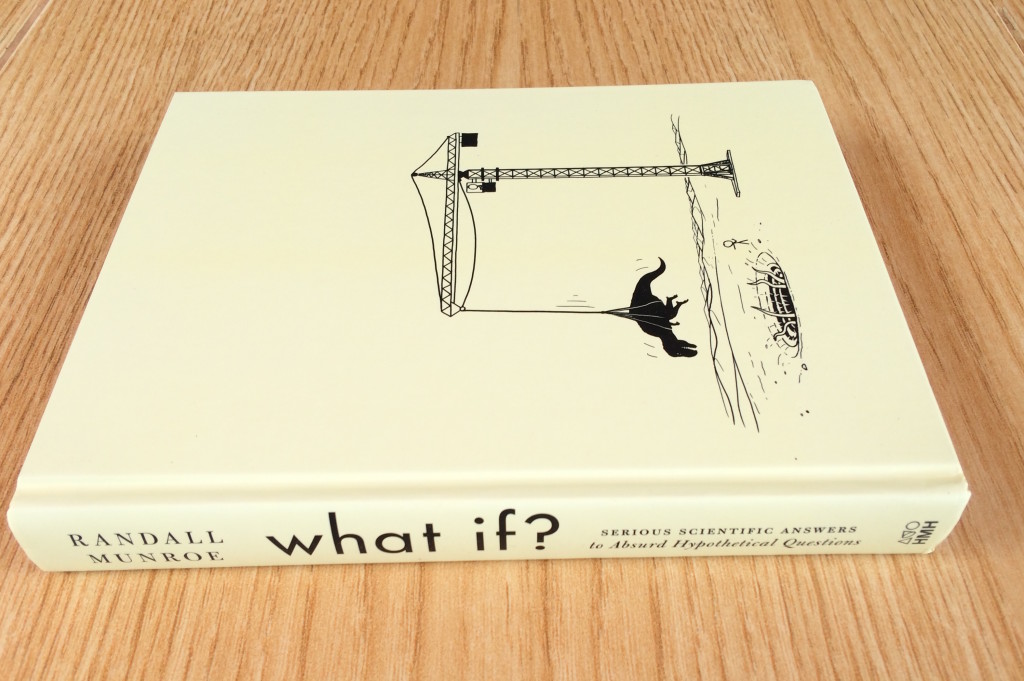 Randall Munroe is the creator of the webcomic xkcd, the wildly popular webcomic xkcd, hilarious and informative answers to important questions some of us would probably never thought of asking.Hypothetical Questions can be submitted by anyone.Contador Harrison is among the millions of people who visit xkcd.com each month to read his webcomic known as a "webcomic of romance, sarcasm, math, and language."I often enjoy the comic, but I admit that some of it goes straight over my head. xkcd are purported to be the only letters in the English language that can't be pronounced as a word.I was pleased that What If? contains his trademark stick-figure drawings about science, technology, language, and love have an enormous, dedicated following, as do his deeply researched answers to his fans' strangest questions.Fans ask him a lot of strange questions like How fast can you hit a speed bump, driving, and live? When (if ever) did the sun go down on the British Empire? When will Facebook contain more profiles of dead people than living? How many humans would a T Rex rampaging through New York need to eat a day? What if I took a swim in a spent-nuclear-fuel pool?Could you build a jetpack using downward-firing machine guns?What if a Richter 15 earthquake hit New York City?Are fire tornadoes possible?Also delightful is a recurring segment called "Weird (And Worrying) Questions From The Inbox", containing ludicrous gems accompanied by hilarious cartoons; these include "What logistic anomalies would you encounter in trying to raise an army of apes?" and "Is it possible to cry so much you dehydrate yourself?".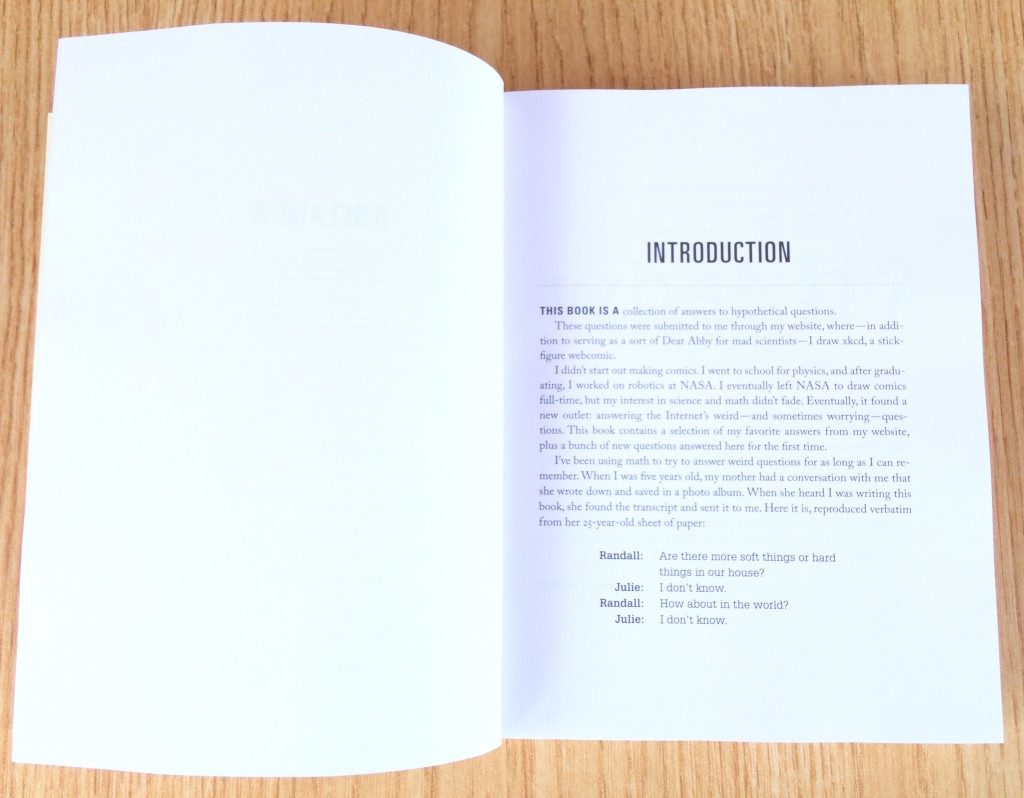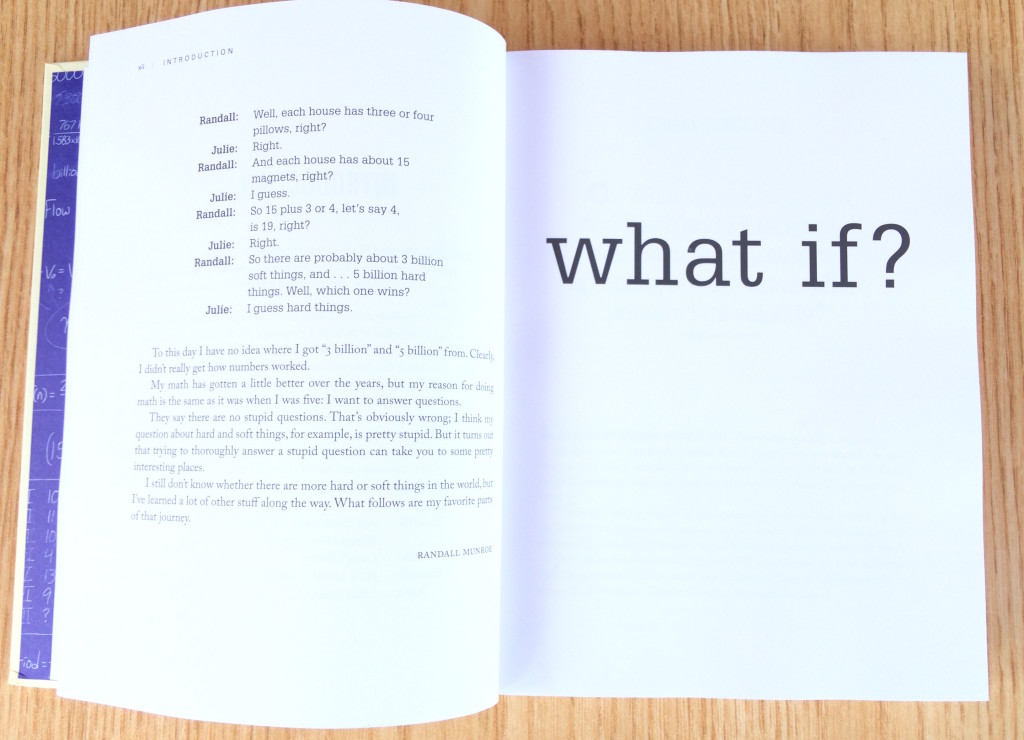 Munroe finds some of the questions so bizarre that he doesn't respond to them and says, "I like it when things catch fire and explode, which means I do not have your best interests in mind."Others that caught my attention include:if every human somehow simply disappeared from the face of the Earth, how long would it be before the last artificial light source would die out?,How many unique possible English tweets are possible, and how long would it take for the population of Earth to read them out?,if every person on Earth pointed a laser pointer at the Moon at the same time, would it change colour?, What would happen if you were to gather a mole(the chemistry unit of measurement) of moles (the small digging mammals) in one place?" Munroe tackles all these subjects convincingly, applying reasoning and scientific methods to even the craziest of topics like when he compares the lightning emitted by the Emperor to that generated by a Tesla coil. In order to deliver accurate answers, Munroe runs computer simulations, pores over stacks of declassified military research memos, solves differential equations and consults nuclear reactor operators. Those of us who visit his sites knows that his responses have been a masterpieces of clarity and hilarity, complemented by comics. I admire the way he often predict the complete annihilation of humankind, or at least a really big explosion.And that is the best thing about What If? and how it manages to convert complex calculations into succinct explanations, clear enough for the layman to follow.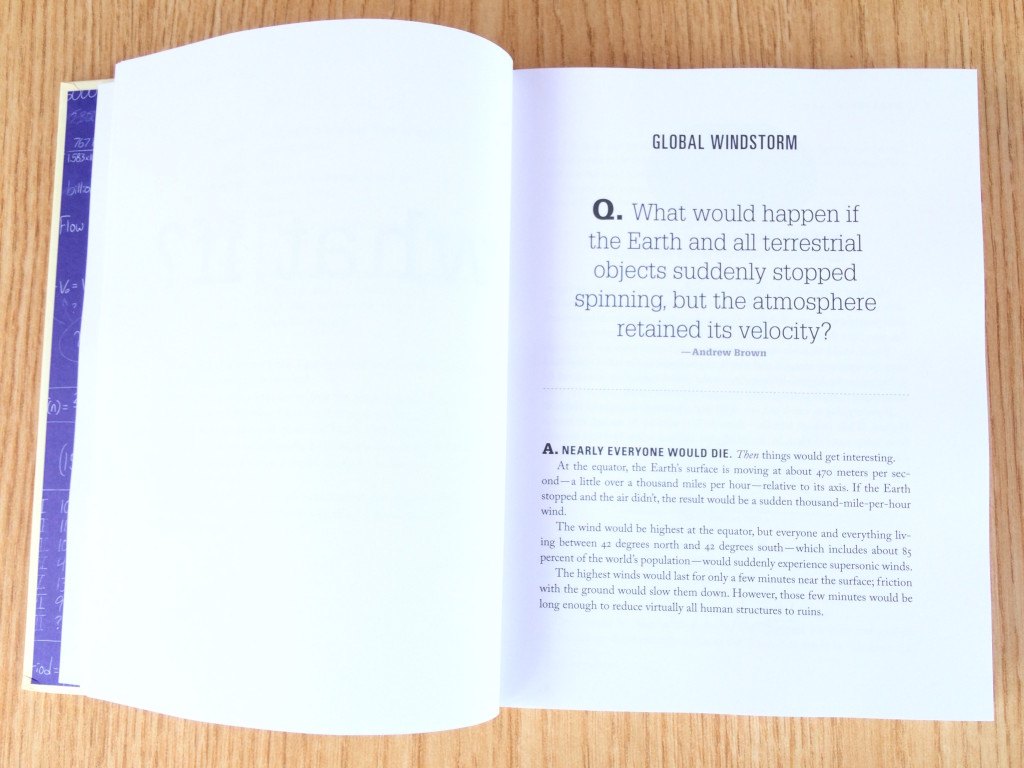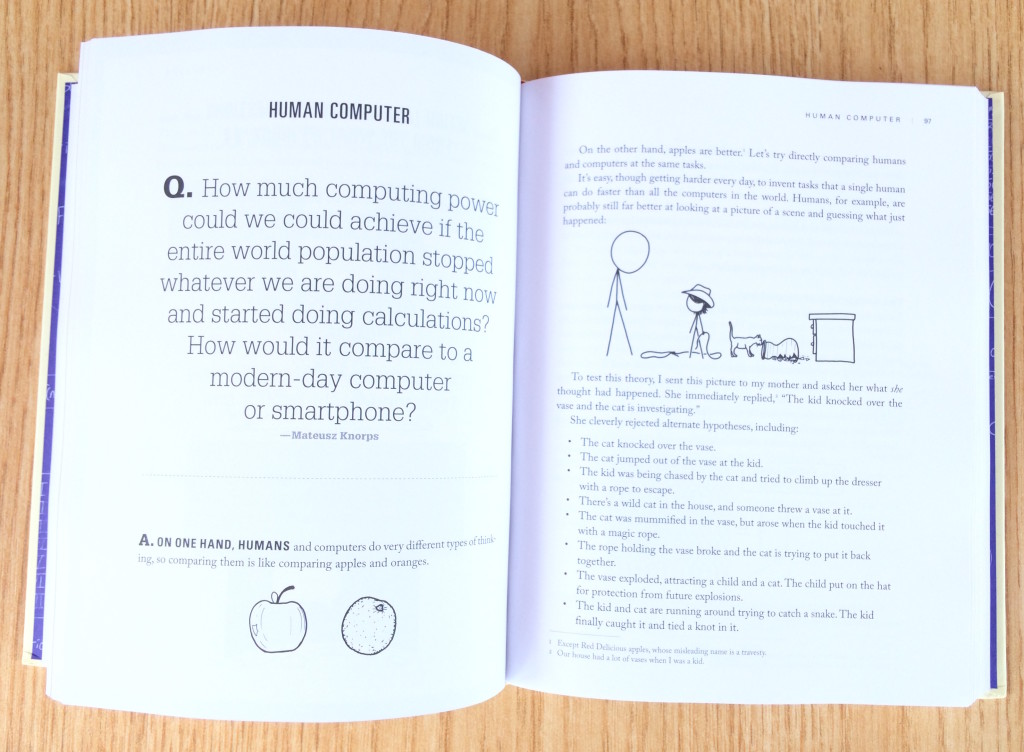 His responses are what I can call a masterpieces of clarity and wit, gleefully and accurately explaining everything. What If? features new and never-before-answered questions, along with the most popular answers from the xkcd website and the book is an informative feast for xkcd fans like Contador Harrison and anyone who loves to ponder the hypothetical.In the introductory segment, Munroe says "They say there are no stupid questions. That's obviously wrong." Working in a public library we don't encounter stupid questions, a more accurate description may be tiring questions. What If's questions (and answers) turn out to be neither stupid nor tiring, rather they are witty, thought provoking and often very, very funny.Even the inside of the dust jacket is entertaining. Munroe has drawn a map of the world, but the familiar shapes are not quite right. The key tells us it is "The World: After a portal to Mars opened at the bottom of the Marianas Trench, draining most the Oceans (sorry about that)." After the portal to Mars event there is, of course, a lot less water. There is now a West Atlantic and an East Atlantic, separated by dry land with mountains called (what else?) Atlantis. The mountainous island nation of New Zealand got a lot bigger with an entire new section labeled "Newer Zealand." The highly entertaining and wonderful book What If? Serious Scientific Answers To Absurd Hypothetical Questions, Munroe actually calculates how possible this feat would be, and how many arrows you'd need to accomplish it! Hilarious, educational and mind-boggling all at the same time,What If is packed with well-reasoned answers to questions you never knew needed answering.Physics geeks and calculation lovers will enjoy the admirable attempts at using serious scientific principles to resolve seriously unscientific problems.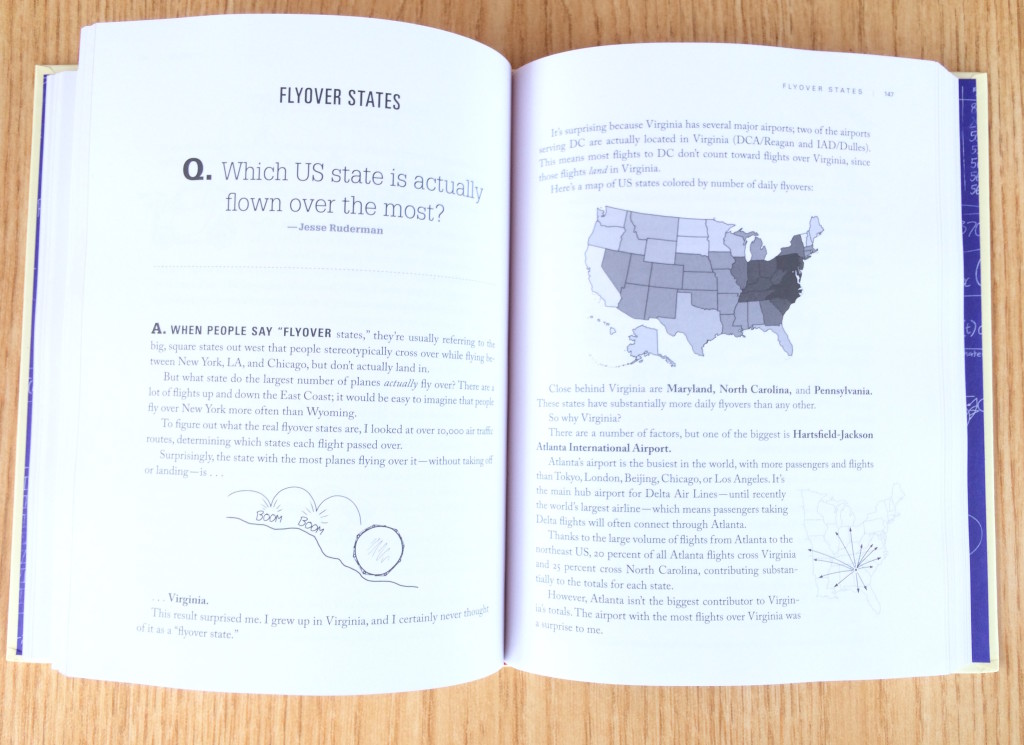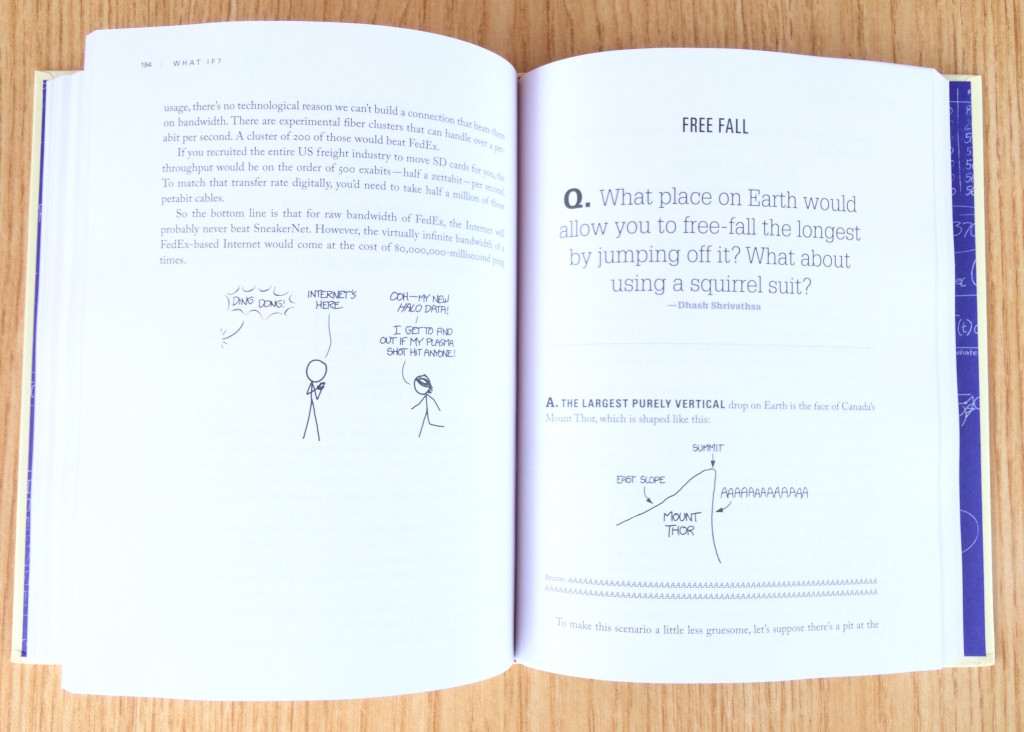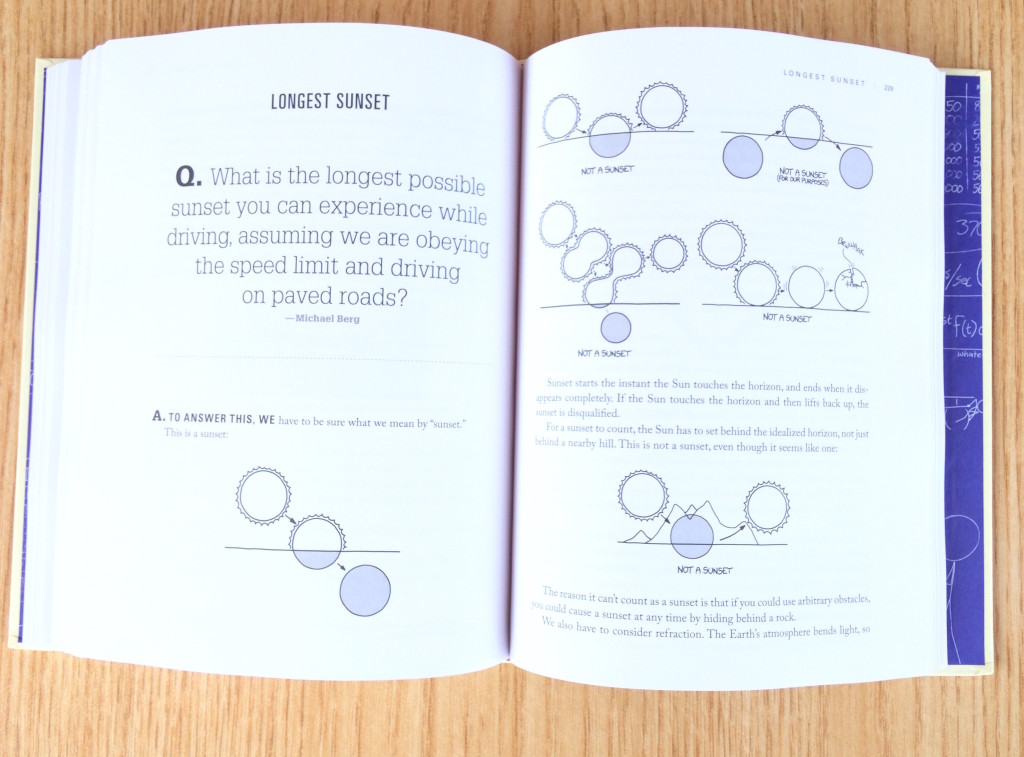 Newcomers to science and mathematics can still enjoy the book's humour, and perhaps gain a new appreciation for these subjects in the process.And science fiction writers may be inspired to turn one of the hypothetical situations into a plot! After all,What If has already done all the difficult calculations for them.Reading the questions is entertaining enough. Many of them are creatively outlandish, that the question "Are these people high on something?" came to mind at least several times while reading this book. According to his bio, he was born in Easton, Pennsylvania, and grew up outside Richmond, Virginia. After studying physics at Christopher Newport University, he got a job building robots at NASA Langley Research Center. In 2006,he left NASA to draw comics on the internet full time.I loved this book and is one of the best I have read in recent memories due to its uniqueness. I love science and although the questions are absurd, the answers are very sincere. The cartoons and the footnotes are hilarious. I'd recommend this one for anyone who loves science and still has a curious, imaginative, enthusiastic teenage-ness in their brains.The International Astronomical Union recently named asteroid after him, asteroid 4942 Munroe is big enough to cause mass extinction if it ever hits a planet like Earth. If you're looking for 2015 summer book to enjoy science and occasionally like asking yourself questions like: "what if everyone in the world jumped up at the same time, in the same place?" and actually want to know what would really happen?, this is a book you'll enjoy, if not laugh out loud at like Contador Harrison did often while reading it.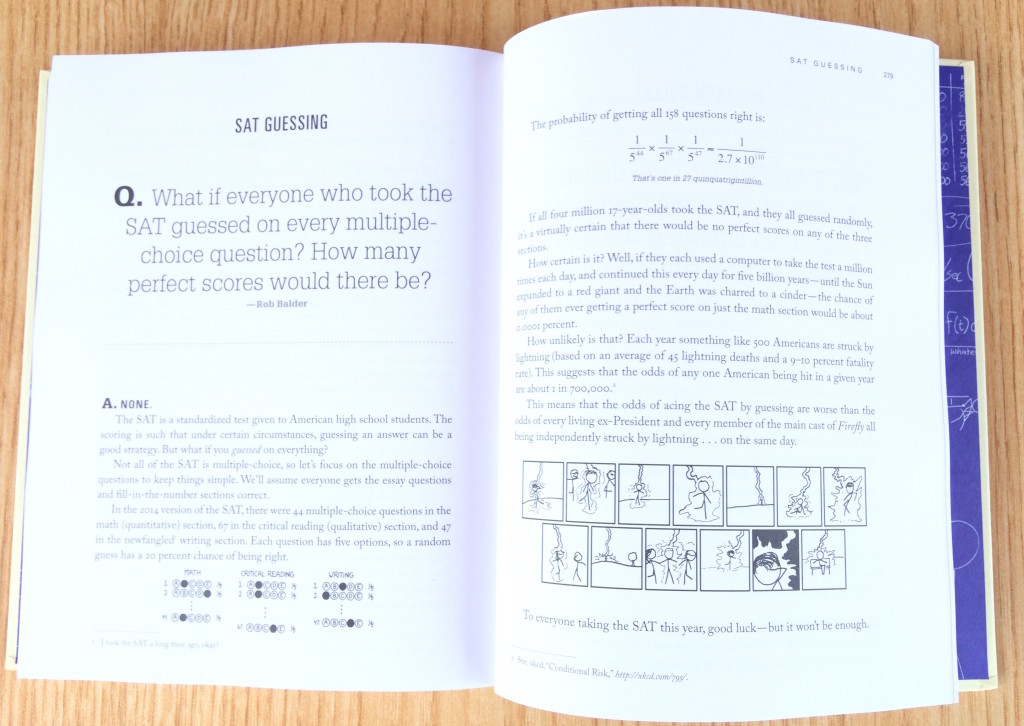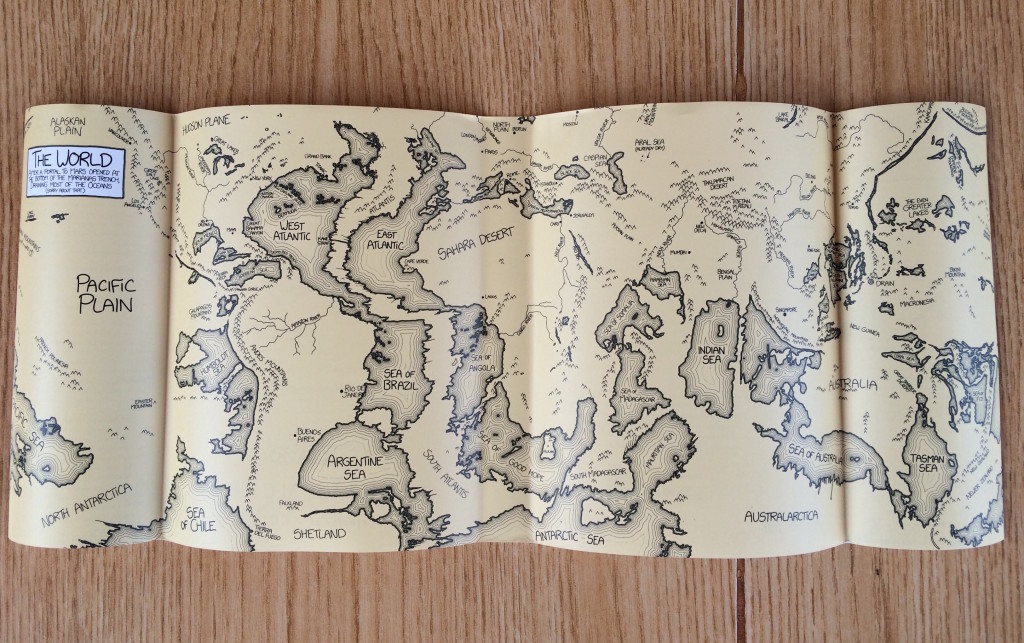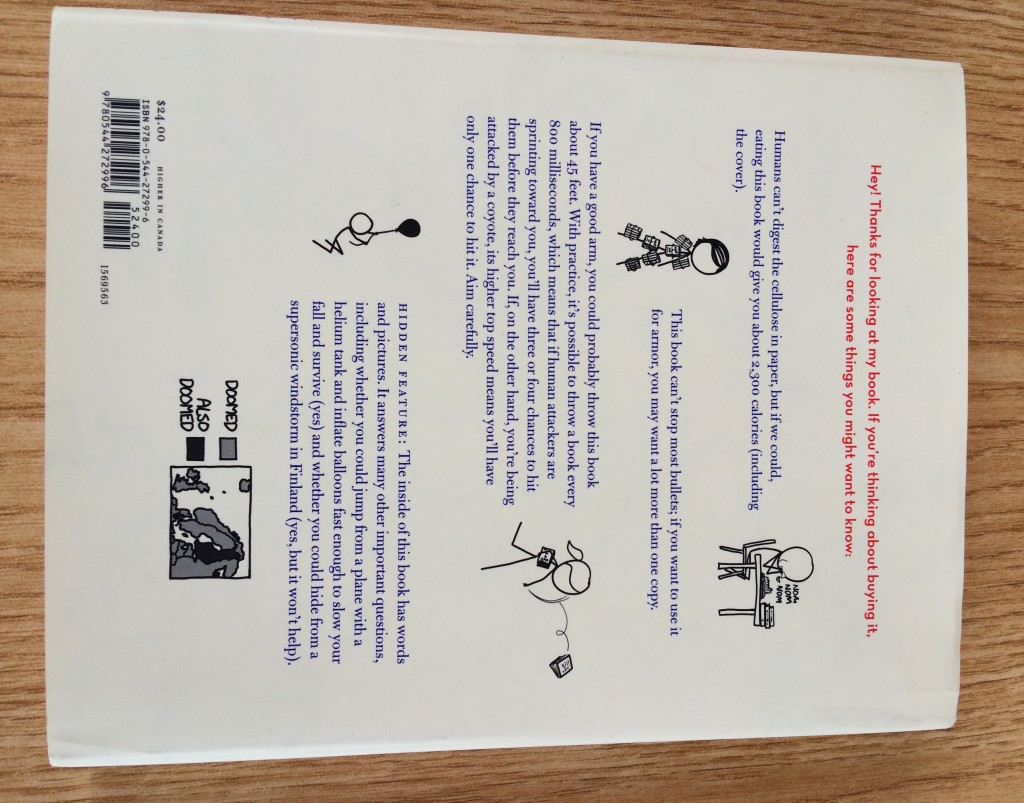 Previous
Next