West defeats East as Anthony Davis smash record
Posted on February 20, 2017 12:03 am
NBA All Star game 2017 was dominated by headlines pitting Oklahoma Thunder star Russell Westbrook and his former colleague Kevin Durant who plies his trade at Golden State Warriors. Media coverage in US focused on their first NBA All-Star appearance since splitting up as teammates last summer.Both were reunited on the Western Conference  All-Star team for the game that ended less than an hour ago. Westbrook and Durant had to practice together yesterday but they avoided each other at every turn, and remained as far apart as possible according to media reports during the weekend. In a video that surfaced online, it was clear the two players spent their warm ups on opposite corners of the floor, and nowhere does the video show both in any of the light workout drills together. As a basketball fanatic I expected the 2017 NBA All-Star weekend to heal this rift and had hoped they'll end up in the line-up together at the All-Star game on Sunday night and thats exactly what happened after first quarter. Was gladdening to see Western Conference teammates shower Russell Westbrook and Kevin Durant with ice after the first quarter ended. The game got off to high pace with Anthony Davis opens the scoring with a jumper. I was among those expecting the defence to be tighter unlike last year but the game reached 30 points at which point Western Conference was leading 16 against Eastern Conference 14 with 8:09 remaining in first quarter.I was impressed with Kawhi who had an interception and touchdown at the other end less than a minute into the game.Then came the moment that all fans were waiting and it was Durant who fed Westbrook for a lob with 4 minutes, 58 seconds left in the first quarter shortly after Westbrook checked into for the first time. DeMarcus Cousins and DeAndre Jordan brought the lighter side of Durant and Westbrook feud by clapping and lauding the two for passing to each other and scoring.
The Western Conference attack was at this point being led by Anthony Davis, who attempted nine of the west's 23 shots and both Davis and Giannis have 10 points apiece which helped the West turn the tables and took 35-34 with 3:45 left in the first quarter but Eastern Conference took the lead at the end of first quarter with 53 and Western Conference trailed at 48. A total of 101 points were scored in the first quarter. Second quarter never disappointed as Isaiah Thomas made an early case for most valuable player with 11 points. Eastern Conference continued from where they left with 60-54 score line with 10:11 remaining in the second quarter. As the game progressed, Russell Westbrook was staking a claim for a third consecutive Most Valuable Player with 19 points, 5 assists and 4 rebounds with 8 minutes left in the second quarter but he couldn't take away limelight from Giannis who was lighting it up with the dunks scoring 16 points and was 7 of 7 from the floor at that point. Western Conference eventually retook the lead by taking halftime lead with 97 and Eastern Conference 92. Although the West scored a record 196 points last year by after second quarter it was appearing a little difficult that they could break that record. The first half however belong to Anthony Davis half time top scorer status with 22 points followed by LeBron James 20 points and a point behind by Russell Westbrook with 19 points. It was a display that made home crowd feel Anthony Davis could snatch the Most Valuable Player in front of the local fans. At this point I saw a Kobe Bryant's style of play and certainly wherever  Black Mamba was watching from was applauding. Several records were shattered in the first half with most combined points in a half with 189 and 101 in a quarter while Eastern Conference broke the second for most points in a quarter by a team with Western Conference shattering record for most assists in a half with 34 in first half, most field goal in a half with 43 in firsthalf and both team staked claim to most combined field goal in a half 83 in first half.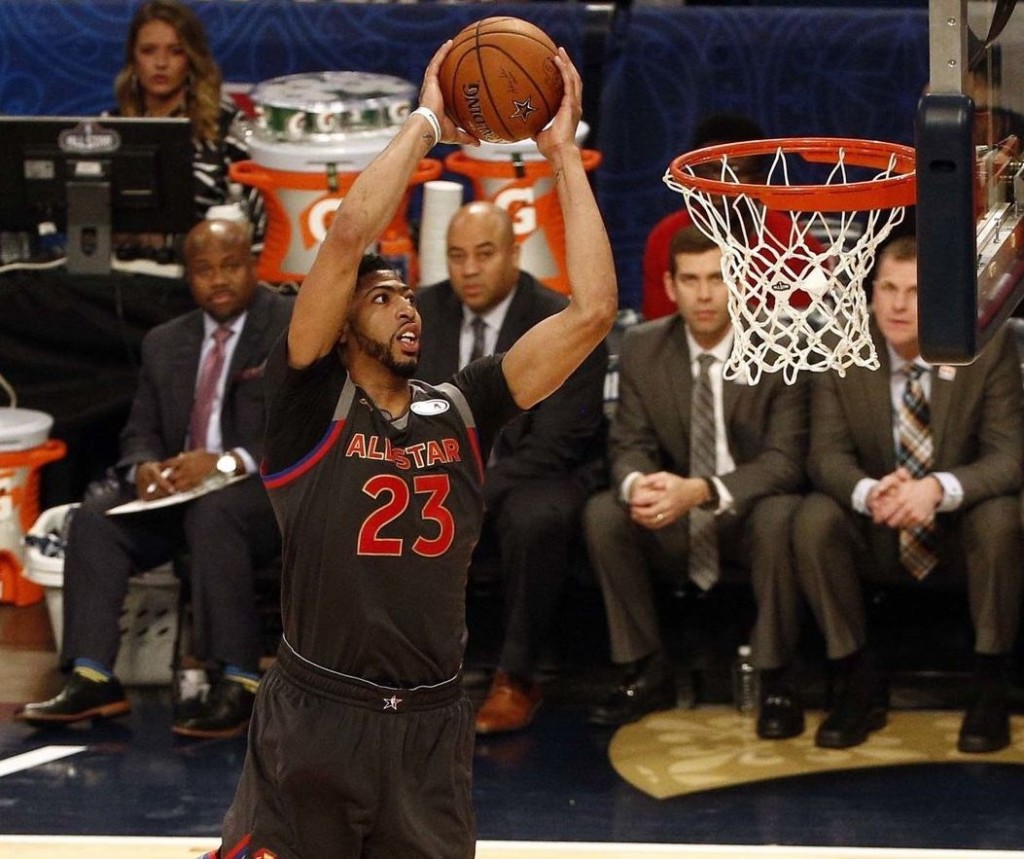 Third quarter saw Greek sensation Giannis opens up the half with a layup with a I97-94 scoreline in favour of Western Conference with 11:28 remaining. Then Golden States Warriors Stephen Curry took the Western Conference lead to 113 and Eastern Conference 108 with 7:18 to play. The game got even close with Western conference leading with just one point 133 against Eastern Conference 132 with 1:14 remaining. Anthony Davis was outstanding again in this quarter with 32 points and 7 rebounds followed by Russell Westbrook who had 31 with 4 rebounds and 6 assists helping Western Conference take 144 lead to Eastern Conference's 139 at the closure of third quarter and third was Giannis with 28 points and 11 dunks.Fourth quarter began with me asking myself whether Wilt Chamberlain all star game record of 42 points will be smashed by Anthony Davis who reached 38 points with 9 minutes to go.Russell Westbrook temporarily broke Wilt Chamberlain's record when he reached 44 points but immediately the points by Westbrook were given to his buddy James Harden.Then man of the night Anthony David broke Wilt Chamberlain's record for most points in an All Star game set 55 years ago in 1962 after clocking 44 points before reaching 48 points with 3:53 remaining in fourth quarter.It was a five star performance that saw Pelicans's player end the game with a record 52 points and 10 rebounds, knocked down 26 of his 39 attempts, which included 18 dunks was crowned and deservedly crowned 2017 NBA All-Star Game Most Valuable Player. First time All-Star Giannis Antetokounmpo lead the East with 30 points.Russell Westbrook failed to reach Wilt Chamberlain's record after finishing with 41 points, 7 assists and 5 boards while his former teammate Kevin Durant scored 21 points, 10 assists, 10 rebounds. Western Conference continued their winning stream against Eastern Conference with 192 – 182 final score, the highest scoring game in history with total score of 374. It wasn't the greatest game i've watched in over two decades but worth my bill of fare.
Previous
Next