Vote 2015: A turning point for Tanzania's democracy
Posted on October 25, 2015 12:00 am
Tanzania today will hold the most eagerly awaited general election since the country gained independence, but whether this will be another milestone in the march toward democracy, is very much in the hands of voters.The nation can take pride that more than half a century of peace, stability and prosperity has brought both democracy and development, a rare feat in Africa where the general rule has been that you can have one but not the other.However, there is every reason to be cautious. The ride to democracy may not be as smooth as it has been and there may even be trouble ahead.Looking at Kenya, Tanzania's northern neighbour, its democratic experiences have turned horribly wrong, Tanzanians can no longer take for granted that this year's election in Tanzania will be an improvement on 2010. One valuable lesson from Kenya is that democracy does not necessarily lead to the right leaders and that putting the wrong leaders in charge could be disastrous.The 2015 elections will be a political turning point for Tanzania, but whether for the better or for the worse depends on who Tanzanians put in charge between John Pombe Magufuli of chama cha Mapinduzi and Edward Ngoyai Lowassa of Chadema.
United Republic of Tanzania will either consolidate its democracy or we could see the beginning of the end of its democracy. From my observations, Tanzania has some of the ingredients that brought down democracy in Kenya and only voters voting across the country today can decide to trash those ingredients.Today, the nation of 51 million people according to the latest estimates, will elect their representatives in national parliament commonly known in Swahili as Bunge la taifa(National parliament), Bunge la Unguja (Zanzibar Parliament) as well as Zanzibar President.More important than choosing their representatives, today's election will also determine which major national parties qualify to the opposition for the next five years.Either Chama Cha Mapinduzi(CCM) and Chama cha demokrasia na maendeleo (chadema) may make the cut according to their own internal opinion polls.Come tomorrow or Tuesday latest, Jamhuri ya muungano wa Tanzania (United Republic of Tanzania) will have a new set of leaders in the legislative and local branches. This begs the question: Are Tanzanians going to choose the right people?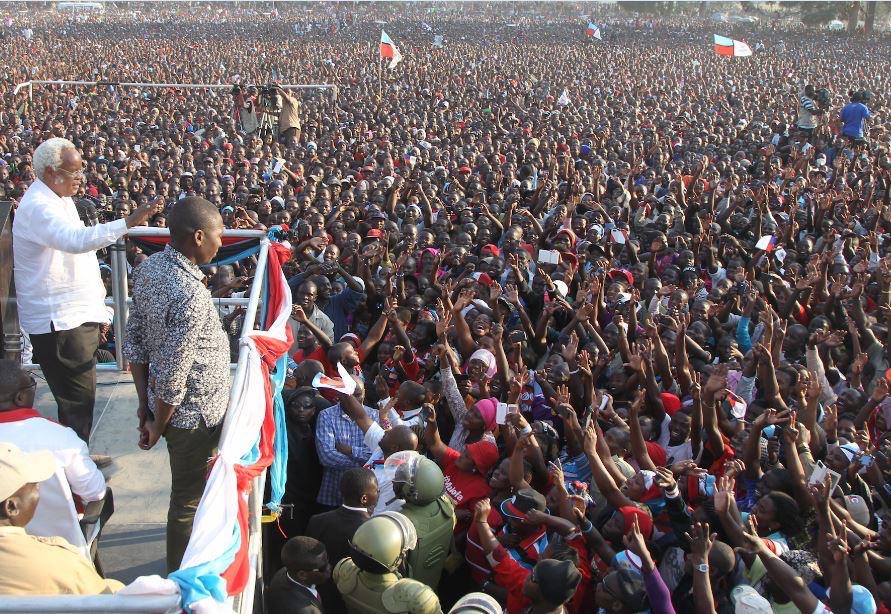 Public apathy toward the 2010 election amid concerns of a turnout lower than the 70 percent, and the less than enthusiastic public participation in the campaigns were signs that the people were losing interest, not so much in their future, but more in the way elections are run by political parties.Tanzania's general elections was then reduced to the formality of going through the motions. It was about forms and colors but are devoid of real substance and choice reckoned one political scientists teaching at the University of Dar Es Salaam, country's premier higher learning institution.The noisy and colorful elections in Africa are simply held to endorse those in power. The difference is that now Tanzania has more parties, but almost all of them are run by political oligarchs who have hijacked the political system that was set by country' founding father the late Julius Kambarage Nyerere.You may as well call these parties by the name of their bosses.Just like in other African countries electioneering period, major media outlets have become the cheerleaders for these oligarchs. One early sign of trouble for a nascent democracy is when the media loses its freedom and independence.

Tanzania's democracy has already made a turn for the worse these last ten years, witnessed by the performance of outgoing government and its corruption-ridden administration and a civil service that is equally corrupt, if not more. 'We took political stagnation for political stability and we seem to have been buoyed by our limited economic successes. Rather than consolidating the gains of reforms, we are squandering them"one of the researchers working with a leading political think tank told me yesterday on the eve of election. He added "the last five years have been a case of missed great opportunities, and worse still, we may have been planting the seeds of chaos for the coming years.The democracy dance of "two steps forward and one step back" of the early years of reform can turn into "two steps back and one step forward".This is not a cause for pessimism but more a call for greater reality checks as Tanzania enters a crucial phase in the march toward democracy." The elections in Tanzania are the only time when people can exercise their sovereignty rights in a political system controlled by a handful of parties and this is common in all African countries. Tanzanians should use this opportunity to ensure that they put the right leaders in place and not give a carte blanche to the political oligarchs in running the country to serve their own personal and family interests.The rise of social media has also helped to circumvent or minimise the role of the mainstream media, which are already co-opted by the oligarchs of Tanzanian politics.There is still hope for United Republic of Tanzania's democracy. Today,this will all be in the hands of 22.7 million Tanzanians eligible to vote.
Previous
Next