Posted On November 07, 2015 , 10:45 PM Contador HarrisonPeriscope
An advanced self-driving version of the new 2015 Volvo XC90 has debut in Adelaide today as part of Australian Driverless Vehicle Initiative tests. At a demonstration event just outside of Adelaide, a driverless Volvo XC90 went back and forth along a 7km section of Adelaide's Southern Expressway, near Lonsdale.Australian Driverless Vehicle Initiative is the first of its kind in the southern hemisphere, billed by the South Australian government as a landmark event that invites interest from an industry projected to be worth $90 billion annually in the next decade and half. Volvo has shipped one of its specialised new XC90 SUVs equipped with the same Intellisafe Auto Pilot System that will be trialled by citizens of Sweden's Gothenburg in 2017. Intellisafe Auto Pilot previews Volvo's vision for the driverless car of the future and allows motorists to surrender control on sections of road marked as safe and ready for autonomous vehicles.A friend was among a handful of the invited guests and shared with me some of the insights traveling in the driverless Volvo, which has demonstrated automatic lane keeping, adaptive cruise control, and active queue assist under the supervision of a trained operator.According to him, at the push of a paddle, the car takes control of acceleration, braking and steering, Volvo's Trent Victor explains, but the driver remains in ultimate control, because at the push of the same paddle he can resume driving manually.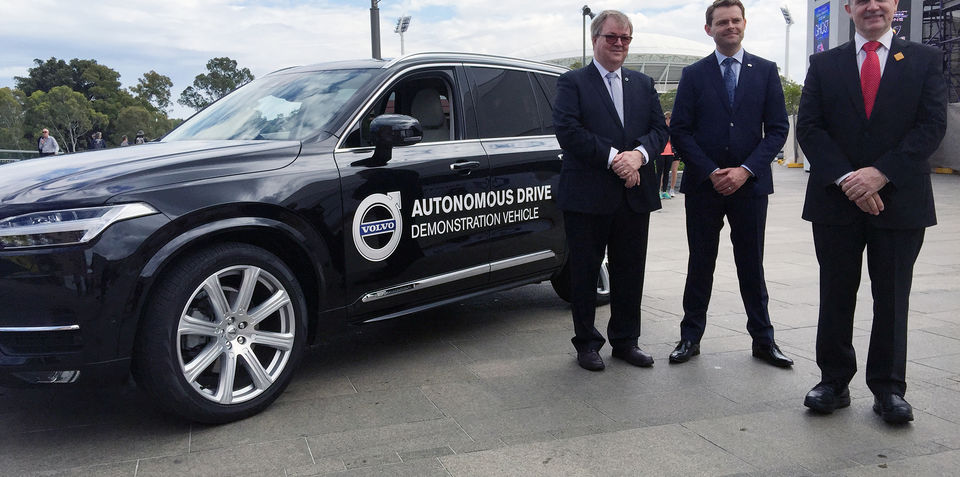 The demonstration event was organised by Australian Road Research Board Group, Volvo modified its software to make driverless operation possible and to showcase autonomous vehicles to the Australian public.South Australian premier Jay Weatherill freely admitted the state was attempting to position itself in the box seat with the emerging technology and has got the jump on the rest of the country in this regard, eager to find a foothold in the future of automotive technology as it faces the loss of thousands of jobs with the impending death of large-scale car manufacturing in the state.South Australia is so far the only Australian state to have moved to update its road laws to allow driverless vehicles on its roads.The XC90 interacted with a human-driven Volvo XC90 to simulate how driverless vehicle technology deals with other road users and adapts to changing conditions. Volvo's aim is to make this technology available for real customers in production cars in the near future and with European researchers having a road map for the introduction of driverless vehicles by 2020, Australia needs to keep pace. Having driven on Australian roads for ages, this new technology will come in handy as the country is full of mindless drivers.Those familiar with Melbourne knows that drivers change lanes compulsively, run red lights, get angry about traffic and fiddle with mobile gadgets like Tablets and cell phones.No wonder statistics showed that a person died on Melbourne's roads almost once every three days in 2014.The bottom line is that a leap to fully autonomous vehicles will first require the approval of governments, which have to pass laws to permit them to mix with everyday traffic.