Vettel win is what F1 fans wanted
Posted on March 27, 2017 12:00 am

Chimera? No, Sebastian Vettel powered to an astonishing victory at the Australian Grand Prix at Albert Park, yesterday. As a hardcore F1 fan, having followed this sport religiously since late 1980s, it was unfathomable to have another season of Mercedes team domination. Thanks to Ferrari's resurgence, that wasn't the case. No doubt a new season always brings with it new cars but this time round wider front and rear wings along with fatter tyres have combined to bulk up the four-wheelers in 2017 season. According to race experts, race times are expected to be slashed this year once drivers get find their way around on what it takes to handle the bigger cars. However, after the race there were concerns over how easy it would be to overtake. The new cars are 200mm wider but thats not my focus. Just like I had asked oracles to consider before the season opener down under, Vettel delivered a wondrous display of pace and control to give Ferrari, the Italian legendary and most loved racing team, its first win since the 2015 season. It was Ferrari's first win in Melbourne since Kimi Raikkonen's victory in 2007 and Vettel's second in Australia after winning the 2011 race with Red Bull. Kudos to Oz Ferrari fans who hailed Vettel, the conquering hero as he took the chequered flag, fascinating scenes last seen during Michael Schumacher's era. No doubt Lewis Hamilton is one of the greatest drivers to have ever graced the sport but, just like any other sport, a loss was the prayer of many F1 fans except perhaps Mercedes fans including your blogger.

Lewis Hamilton was the headliner heading into yesterday's first race after qualifying fastest but Ferrari driver demonstrated to the British driver 2017 season won't be a walkover and enjoyed a flawless run on a warm, sunny afternoon in the race around the lake. Hamilton's Mercedes team-mate Valtteri Bottas, in his debut for the Mercedes team finished third while Vettel's Ferrari team-mate Kimi Raikkonen was fourth, with Red Bull Max Verstappen fifth. Brazilian veteran Felipe Massa in the fastest Williams was sixth, followed by Sergio Perez in a Force India in seventh, Toro Rosso duo Carlos Sainz and Daniil Kvyat, and Esteban Ocon in a Force India rounded out the top 10.One of the positives of the Melbourne Grand Prix was that, unlike last season, Ferrari's pace in winter testing which had been impressive was on show during the race. Vettel had no problems in a commanding victory, which evidenced Ferrari's readiness to challenge the recent dominance of Mercedes, who has won the past three constructors' championships and also provided the past three individual world champs. It was the first time in the history of the hybrid era which begun in 2014 any team other than Mercedes has led the title race which is why all non Mercedes fans like me are delighted with Vettel's win. Finn's Bottas who replaced the retired Nico Rosberg in the off-season attracted plenty of interest especially after finishing less than a couple of seconds behind Hamilton. I also have to salute Williams rookie Lance Stroll, the 18-year-old Canadian's who saw his race come to an abrupt end after 40 laps when his car suffered brake failure, one of seven cars that did not finish the race.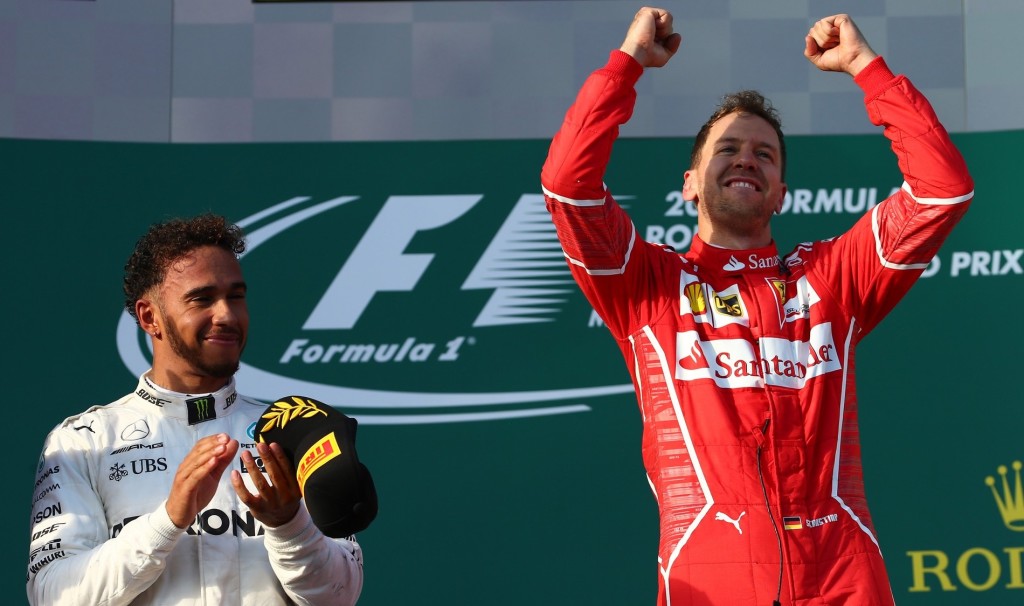 Although his father is a billionaire, he definitely left Melbourne with an achievement in which he became the second youngest driver in history to start on the Formula One grid.On the disappointing part of the race, it was horrible weekend for Daniel Ricciardo who was left feeling disgusted for all Oz fans around the world. Australia's local hero, never took no meaningful part in the race after his Red Bull racer ground to a halt before the Grand Prix even started. Ricciardo's hopes of winning a maiden win in his homeland came to a juddering halt on Saturday when he crashed his Red Bull in qualifying, ensuring he would start from tenth position on the grid, an extremely difficult position from which to get involved at the pointy end of the field. His problems compounded on Saturday night and Sunday morning when his team opted to fit his car with a new gearbox after the original sustained damage in the crash, meaning he had to take a five point grid penalty and start from 15th spot. If that wasn't bad enough, Oz boyo formation lap less than half an hour before the lights went out on the Melbourne Grand Prix, his car ground to a halt out on the circuit. Red Bull team scrambled to get the car back to the garage, and stewards told them Oz boyo could start from pit lane if they could get it going. That gave home fans some hope although I wasn't personally convinced his involvement would be of any significance. Red Bull did manage to get his car sorted but by then the race had been underway for two laps. Ricciardo got out and ran around for 29 laps before the car ground to a halt again but this time there was no solution.
Previous
Next