Traditional media in Africa remains strong despite the emergence of digital media
Posted on October 2, 2013 07:03 am
Media industry in Africa report has revealed that despite the fast rising usage of the Internet and social media across Africa the traditional media remains the most trusted and stronger than digital media. The research claim that although conventional media was still on the rise in most African countries as a developing continent, so was the new media and the African media industry is developing very quickly. Few weeks ago, I shared how African journalist  are using social media in their daily work. Business in conventional media is still showing a strong growth despite the digital media developing very quickly. African netizens are increasing very fast and many youngsters and middle aged alike in the continent are now using digital and ubiquitous media platforms en-masse. This means that traditional media remains relevant in the digital era in Africa and discounting it is ill advised. Media companies like Kenya based media behemoth Nation Media group and South Africa's media 24 have both seen increased advertising spending in the areas where advertisers knows will make the biggest impact and that's Television and Radio businesses which are part of traditional media. While Nation Media group results for 2012-2013 shows that digital media was one of the fastest growing business it was not the only area where advertisers are spending heavily. A research conducted last year showed there's still a lot of room for traditional media in Africa to maintain the growth and increase revenue.
For African digital media to flourish and compete with traditional media in Africa, there is need for digital media companies to learn constantly about consumers through use of research be it traditional research, focus groups or even consumer behavioral studies. One of the main reason cited as to why traditional media has retained advertisers is because in online marketing there's plenty of spam advertising especially in west African countries and this has seen traditional media outlets like Nation Media, Media 24 having their own value in terms of endorsing what is seen online. Unlike in the western world where traditional media business especially newspapers and televisions are experiencing declining revenues, I think this is the phenomenon in Africa and most importantly to see media companies like Nation Media expanding their media industry to cater to the various countries like its recent entrance in Rwanda market is in contrast to the developed world where companies are folding and scaling up their business. Independent media outlets are also setting centres for human capacity building in the media industry like Nation Media group has been doing over the past few years in East Africa. The Nation media group training centre is fully-funded by the Nation Media group and has been offering training to graduates from Kenya, Tanzania, Rwanda, Burundi and Uganda.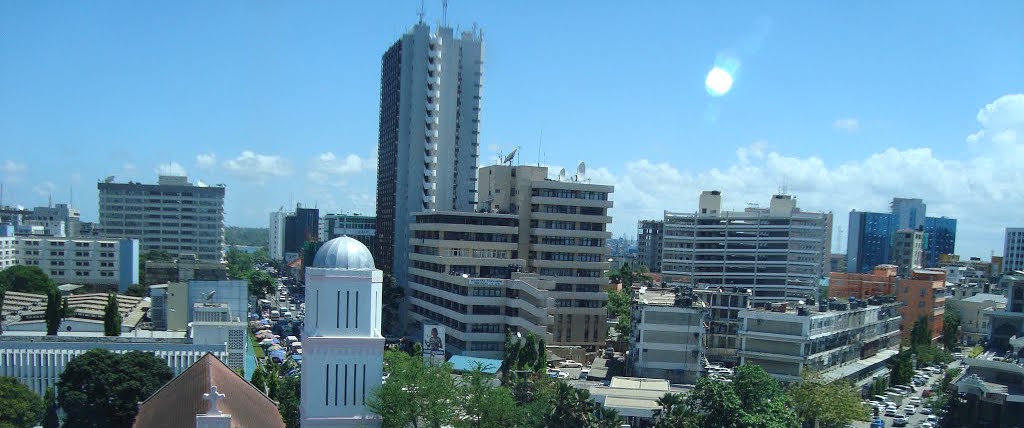 As one of the most technologically advanced media companies in Africa, the Nation Media group has been fully committed to supporting East African region projects in the communications industry since early 1990s when it launched the first regional weekly newspaper The East African. IPP media in Tanzania has also been very supportive of the East African regional integration process for more than a decade. Dar es Salaam's based East Africa Television well known as EATV is the first and the only free to air television station in East African region uniting Kenya, Tanzania and Uganda. Such activities by media companies are important because they have created stronger ties among the member states of East African Community. Roles played by traditional and digital media like bloggers in  in development of the East African region cannot be underestimated. This means that there's still relevance of using both digital and traditional media in Africa and what the media companies are scratching their head for is how to complement each other as that will probably be the key to deciding their fate in future. South Africa Africa's economic powerhouse media companies like have been complementing new and old media by jointly marketing their products and services. What matters for the traditional media is where African audience is spending most of their time and what they will achieve as part of their marketing.
I believe that right now, for their future business survival, African countries media companies have to look at it more on a holistic idea direction and coming up with the most ideal plans that would bring the best returns. Also, the African media industry has to develop different ways of gauging their success.  Overall, Africa is still very traditional because there are indications that there is more focus to digital media. As Media 24 and Nation Media groups have demonstrated, the traditional media in Africa is also becoming digital and I strongly believe that it'll be a grave mistake with dire consequences for other media companies in Africa not to do it and more significantly they should identify the right people capable of driving their traditional and digital businesses. Me think the future for Africa media lies with marrying the traditional and digital media and patience would be a valuable factor when engaging with new advertisers and marketing their products while at the same time developing the much needed intimacy with media products consumers in their respective countries. There is also a need for media companies to build internal talents, develop corporate reputation and relevance if they are to survive the onslaught of digital media. Reginald Abraham Mengi, a Tanzanian industrialist and media tycoon who is also the founder and Executive Chairman of IPP Group once remarked how he took time to build consumption in Tanzanian market with Nipashe Newspaper, arguably the country's most read newspaper. Digital media has several marketing strategies they can exploit and if well planned there is a lack of media penetration in many African countries and can cannibalize the traditional media by leveraging opportunities in the market but my bet is that it's not going to happen anytime soon.
Previous
Next