Thrive by Arianna Huffington
Posted on June 30, 2014 11:50 am
Born in Greece in 1950, Arianna Huffington, previously known as Arianna Stassinopoulou is one of the most influential woman in the world. Arianna success seems to have started when she got a scholarship to prestigious Cambridge University after migrating to Britain with her mother. In the 1980s, she moved to the US, where she became part of the right wing political class and married Michael Huffington, a wealthy bisexual Republican. Arianna is currently the president and editor in chief of the popular blog Huffington Post. Her book offers women and men like Contador Harrison a new definition of success, one that not only focuses on my coding career advancement, but on the equally important goals of wellbeing, health, personal fulfilment, giving back and living a life of purpose and meaning. In Arianna's estimation, the third "metric" of success comprises four important aspects: well-being, wisdom, wonder, and giving. In my understanding of the author's meaning, the four must be cultivated in order to lead a truly vibrant life. 'Thrive' is focus is on valuable insights drawn from the Greek's ancient religions and modern day research work into what makes us human being prosper both physically and emotionally.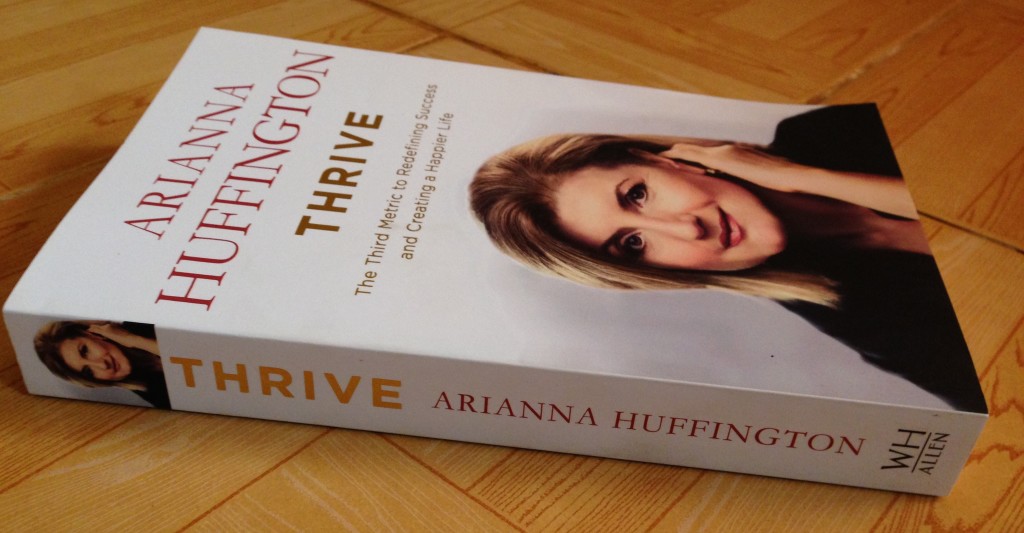 In a nutshell, Arianna's book is explained by its subtitle: The Third Metric to Redefining Success and Creating a Life of Well-being, Wisdom, and Wonder. Reading all chapters, it was clear this book idea is about a fulfilled, balanced life. It's also a reminder that there is need to be wealthy, influential and self-satisfied otherwise life can be tasteless. Arianna who last year likened money and power to two legs of a three-legged stool, parted with her husband but the surname stayed, which a friend of mine pointed out could be one of the reasons for her success. Huffington is a fabulously wealthy man and his brand is well known in United States.Eleven years ago, she took on Arnold Schwarzenegger for the governorship of California and lost. Then 24 months later, she founded Huffington Post a liberal, centre left online blog which was later sold to America Online (AOL) for $305m. No one can dispute that Huffington Post is renowned global brand, read and taken seriously by readers, writers and volunteering bloggers. Arianna describes in her book the ways in which she learned to focus inward in order to restore balance in her life.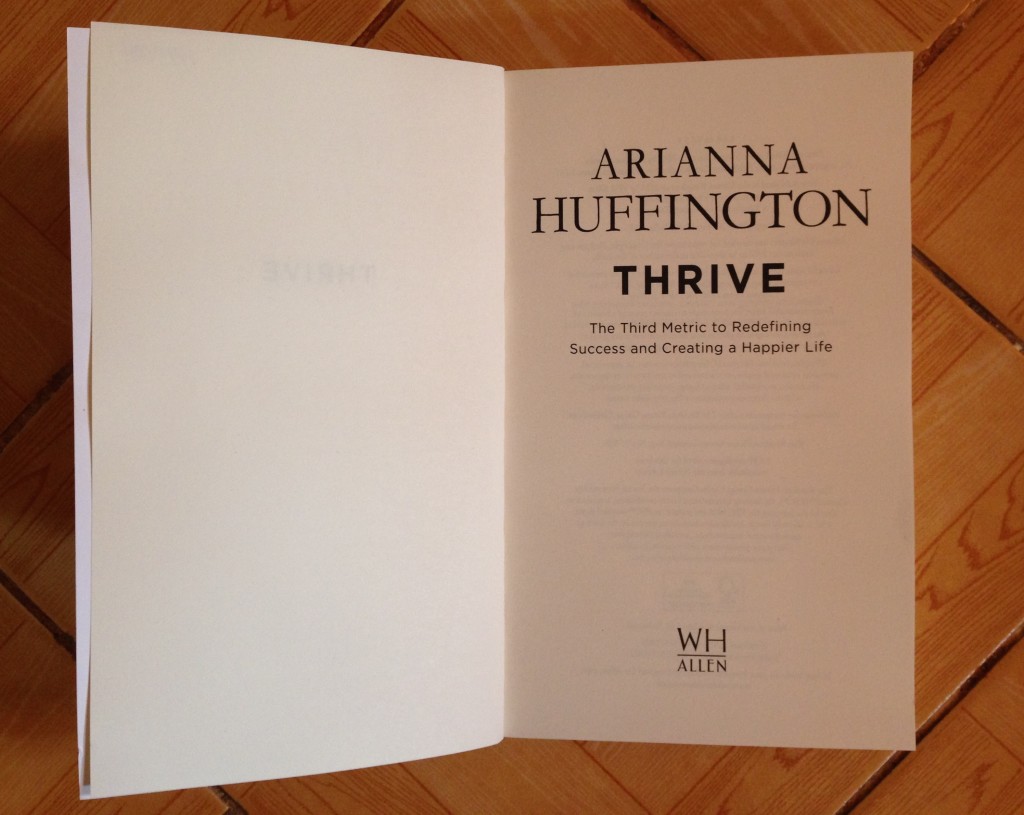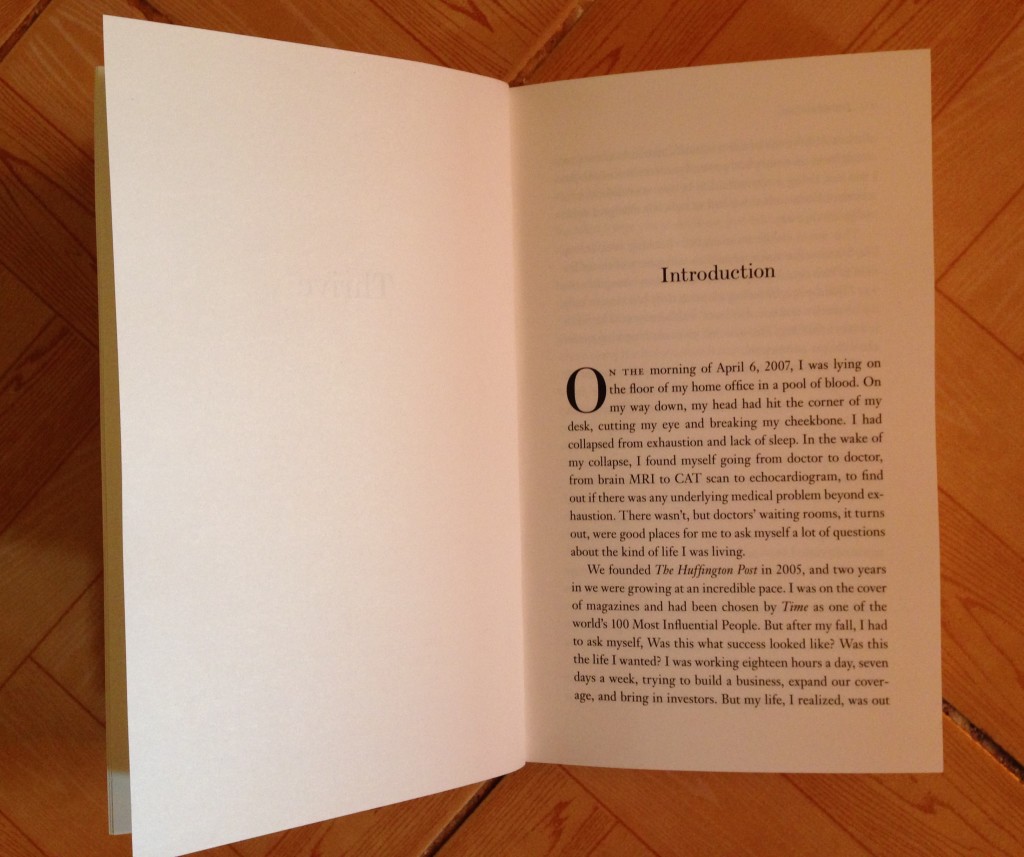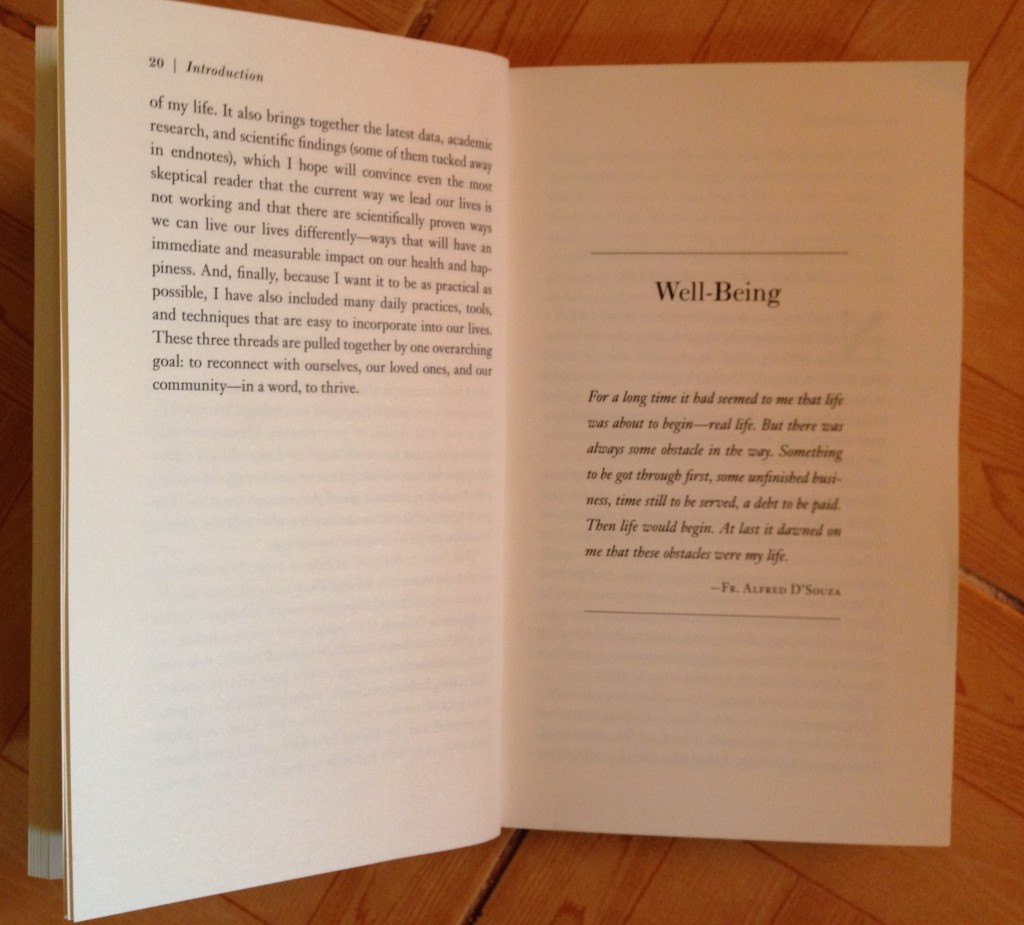 States of unhappiness and poor health are both very much within our power to improve, or even reverse. I was impressed with the way she dedicated considerable attention describing the ways rest, healthy eating, exercise and meditation can lead to radical changes in our lives. Well-being is the cornerstone of the 'Thrive' idea, the other three aspects are equally important. For example, how does one achieve wisdom or a sense of wonder? Arianna details instructions on the importance of things like gratitude, intuition and coincidence in cultivating one's inner strength. Arianna cites the research on happiness, which consistently points to Giving, even in the smallest ways, reliably leads to greater well-being. Arianna offers many ideas for how to include more unselfish and giving acts in our lives. Talking openly about her own journey, author wants readers of her book to know that human lives are works in progress and each one of us has what it takes to control both their direction and their quality.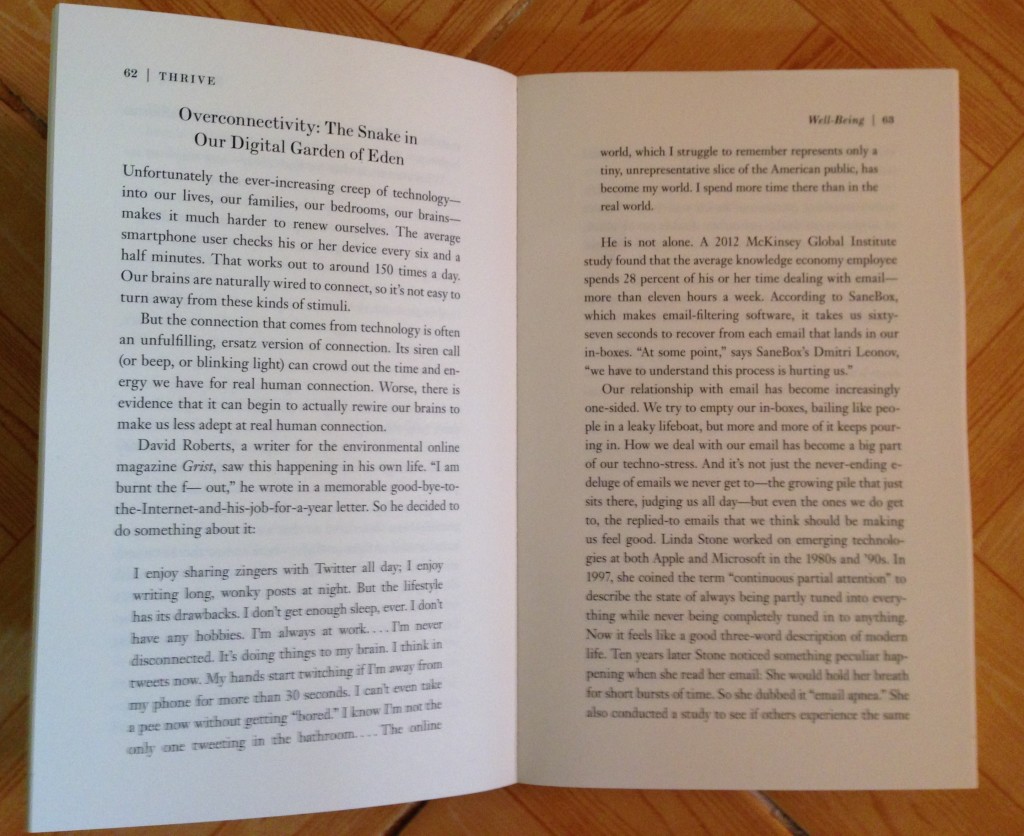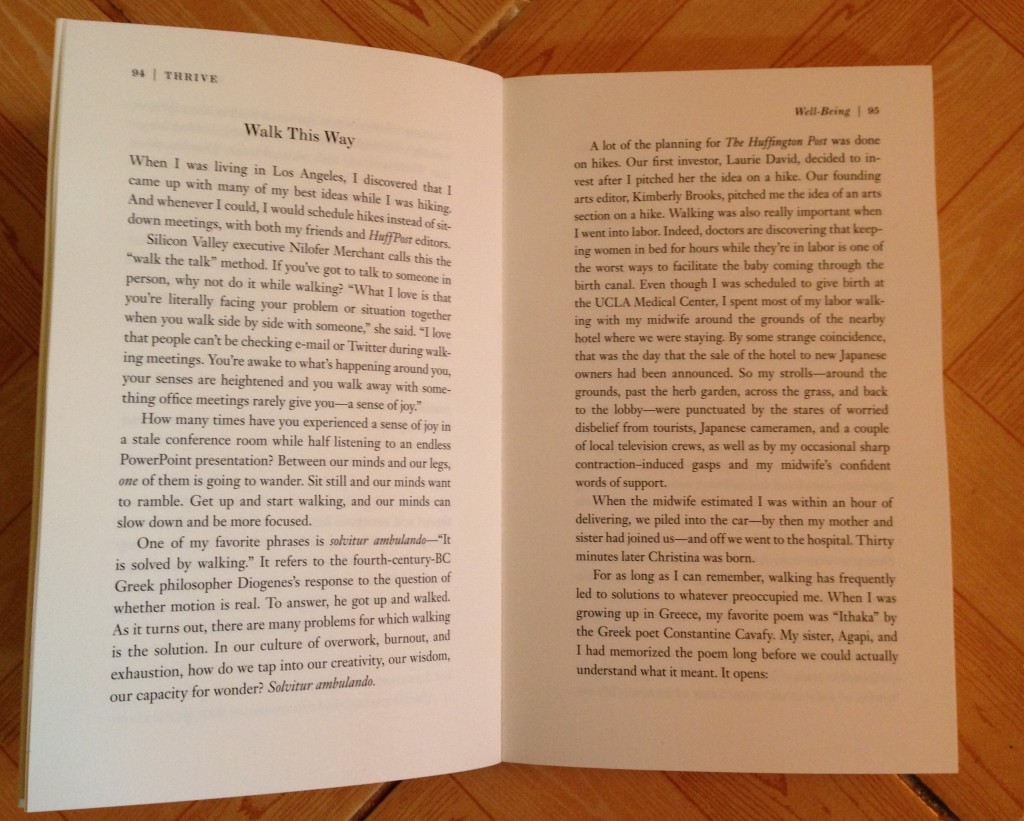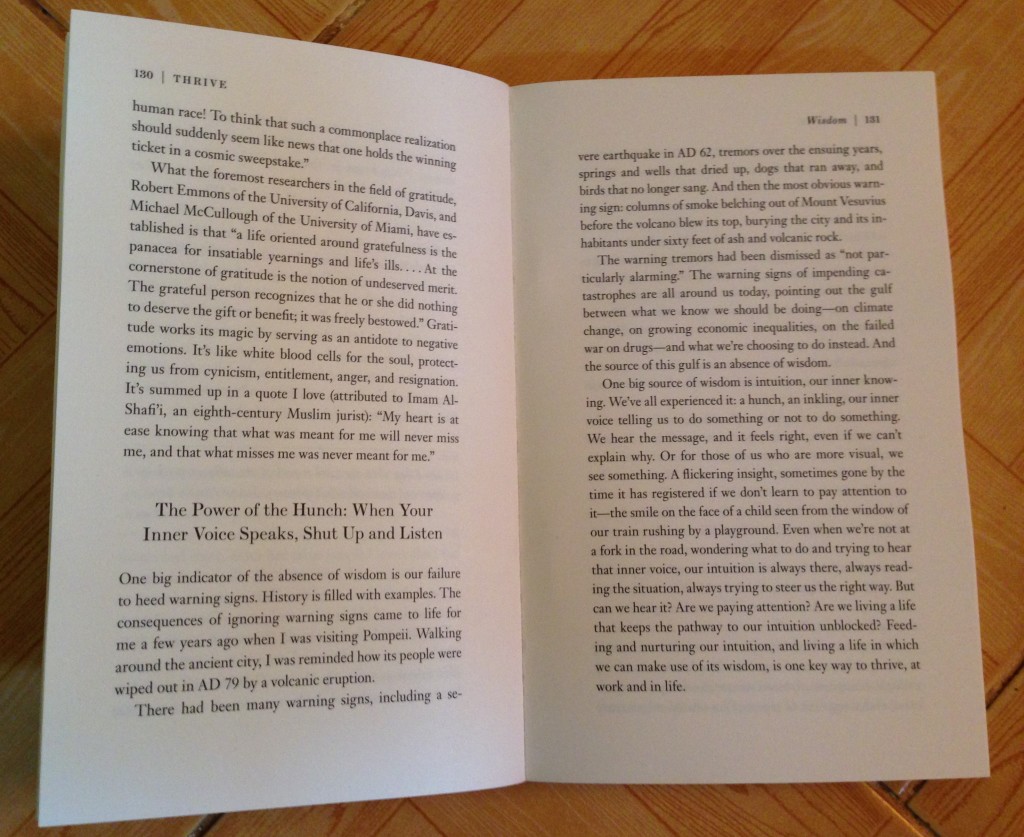 Drawing on the scientific findings in the fields of psychology, sports, sleep and physiology Arianna shows us the way to a revolution in  our thinking,our culture, our workplaces, and our lives is resulted by effects of mindfulness, meditation and giving. From revealing at the beginning of the book how she needed to make changes that led to this book in 2007, collapsing at her own desk and blood pouring from her broken cheekbone, its an interesting piece of work for any book lover. Just seven years ago, Arianna was depressed after running The Huffington Post for two years but understood that if she was going to make it work long-term,looking after herself first should be a priority. As Contador Harrison, that is a lesson well explained. Disappointingly, the book has no personal revelation and compared to other incisive books I read, 'Thrive' is limited and lacks that 'appetising factor' offering nothing intelligent and unique writing styles that makes such books thrilling. However, if you have enough time this summer holiday, read 'Thrive' written by one of the busiest women on the planet. I conclude with Arianna quoting Paolo Coelho: 'What is success? It is being able to go to bed each night with your soul at peace.'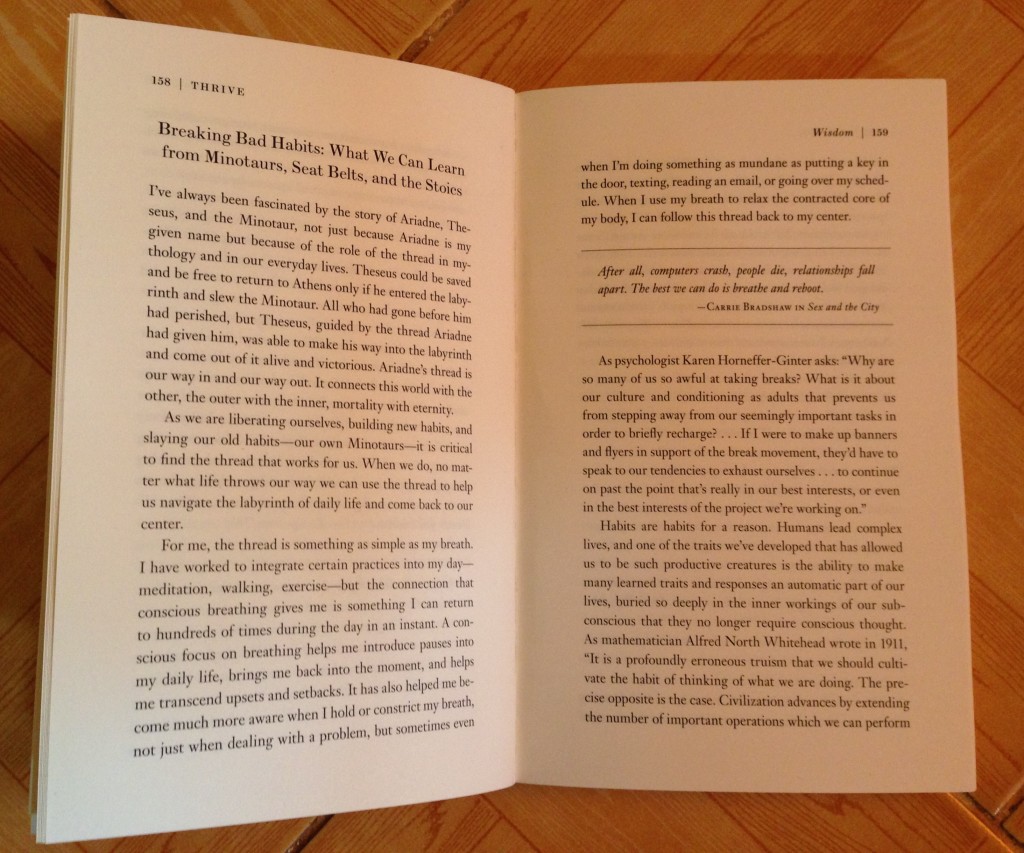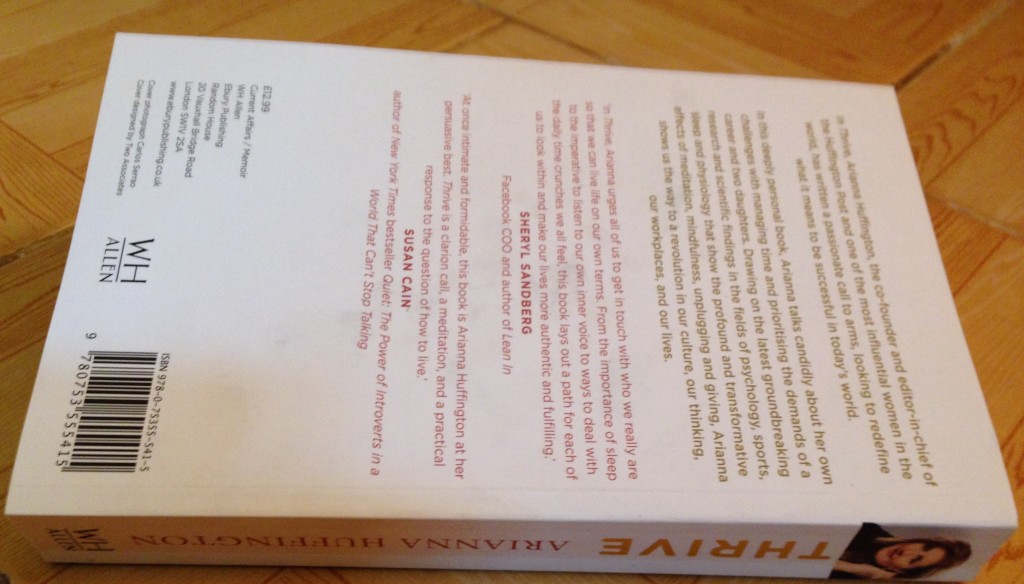 Previous
Next