The Undercover Economist by Tim Harford
Posted on October 21, 2016 12:03 am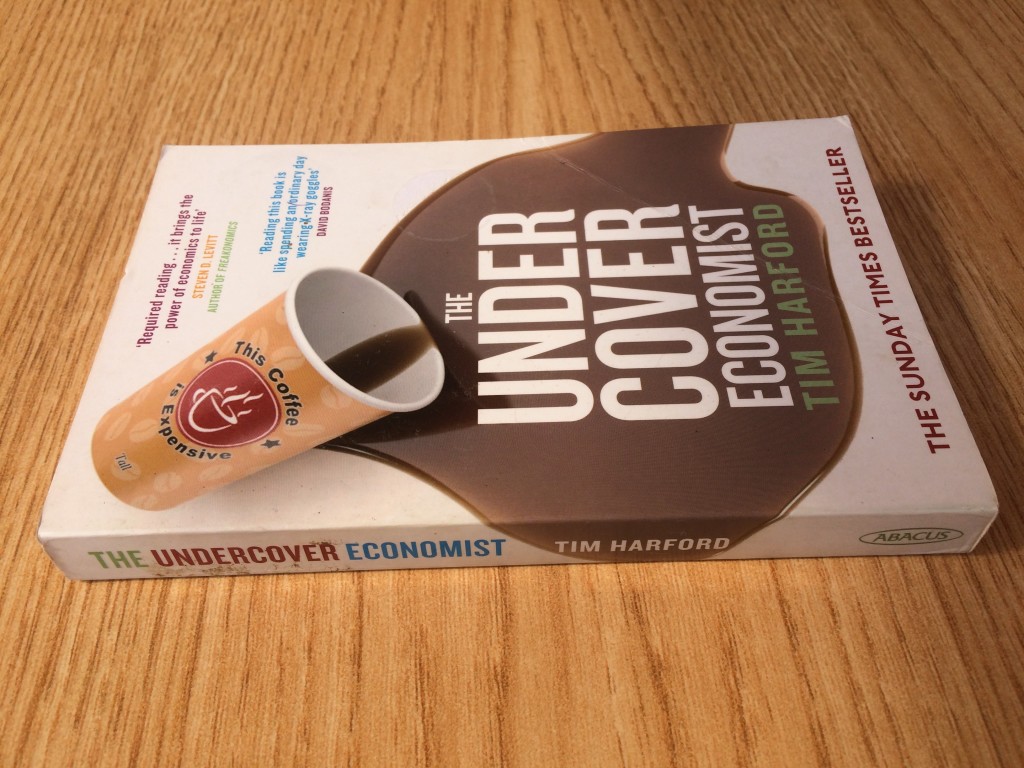 In a recent weekend, I picked this book up in my bookstore, and began browsing through it. Actually I realised I had read the book before in 2008 but couldn't resist re-reading it thanks to the first paragraph of the introduction that reads and I quote; I would like to thank you for buying this book, but if you're anything like me you haven't bought it at all. Instead, you've carried it into the bookstore café and even now are sipping a cappuccino in comfort while you decide whether it's worth your money.How can a book addict like me resist such a beginning? Since I didn't have a new book, I continued browsing for about half an hour and the decided its time to read afresh.On the surface, The Undercover Economist was one of the most popular economics book after the economic recession hit the markets in 2008, of the kind that is not quite common lately. The book became an international best seller when published in 2007. As a young writer at the Financial Times, Tim Harford made his name by writing a blog for the same publication website entitled Dear Economist, a column which aimed to provide solutions for peoples' problems using the novelty of economic theory applied to everyday life.The book begins by a thorough overview of supply and demand, providing simple and befitting examples, both from real life and imaginary. Chapter one is about Who Pays for Your Coffee? where the author introduces the concepts of scarcity and bargaining power, we learn that the premium price we pay for coffee on our morning commute to work has nothing to do with the quality of the coffee and everything to do with location, location, location.He also explores why we pay so much for coffee, especially in key locations such as railway stations, a discussion he bases on David Ricardo's 1817 treatise on agricultural rents.Just as meadows command high rents if the grain they produce is valuable, prime location coffee bars cost their owners a bundle in rent because customers are prepared to fork out more. "Rush hour customers are so desperate for caffeine and in such a hurry that they are practically price blind," says Harford. Furthermore, coffee bar owners are adept at teasing out price insensitive customers by offering small variations to drinks at virtually nil cost to the company, at vastly different prices. In short, it seems high coffee prices are largely our own fault. Chapter two is What Supermarkets Don't Want You to Know and in a discussion on price-targeting policies, author writes see that the difference between Whole Foods Market and Safeway has very little to do with the relative price of goods and a lot to do with who the shoppers are.And also why organic bananas are never displayed next to normal ones on a supermarket shelf.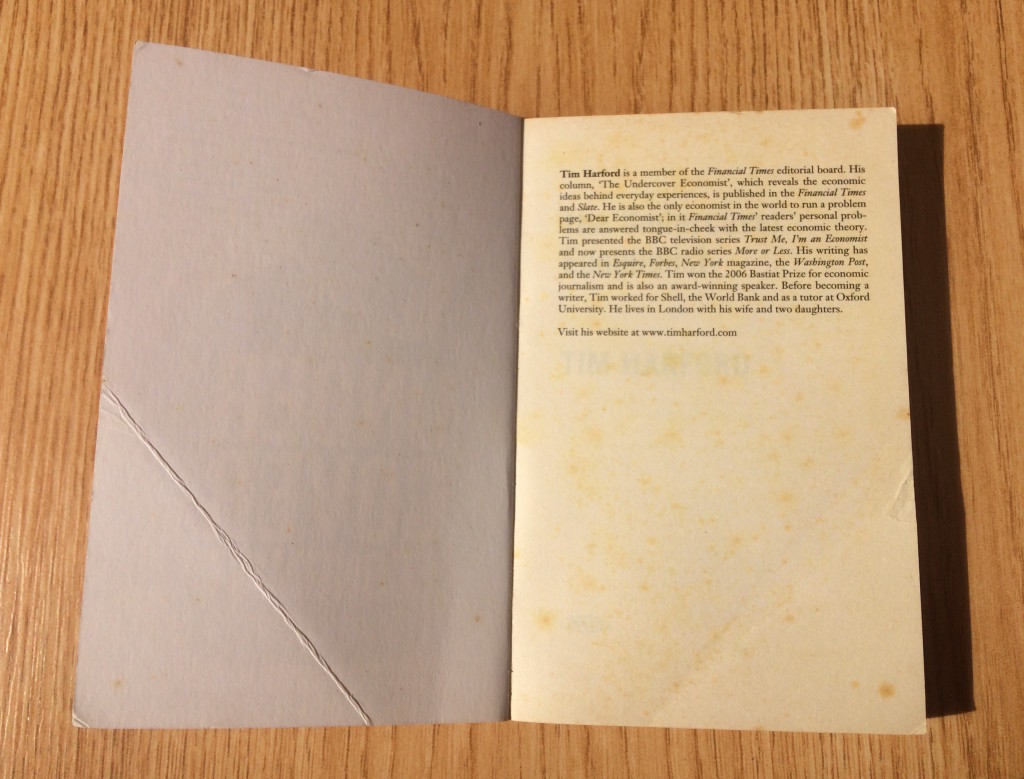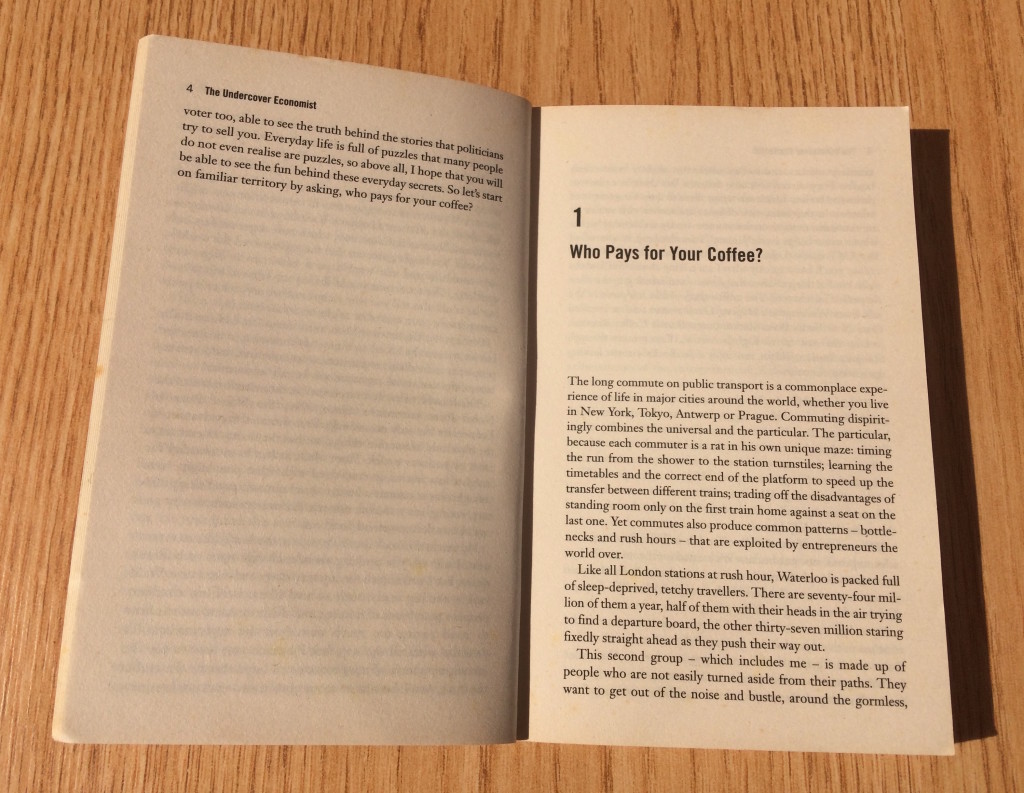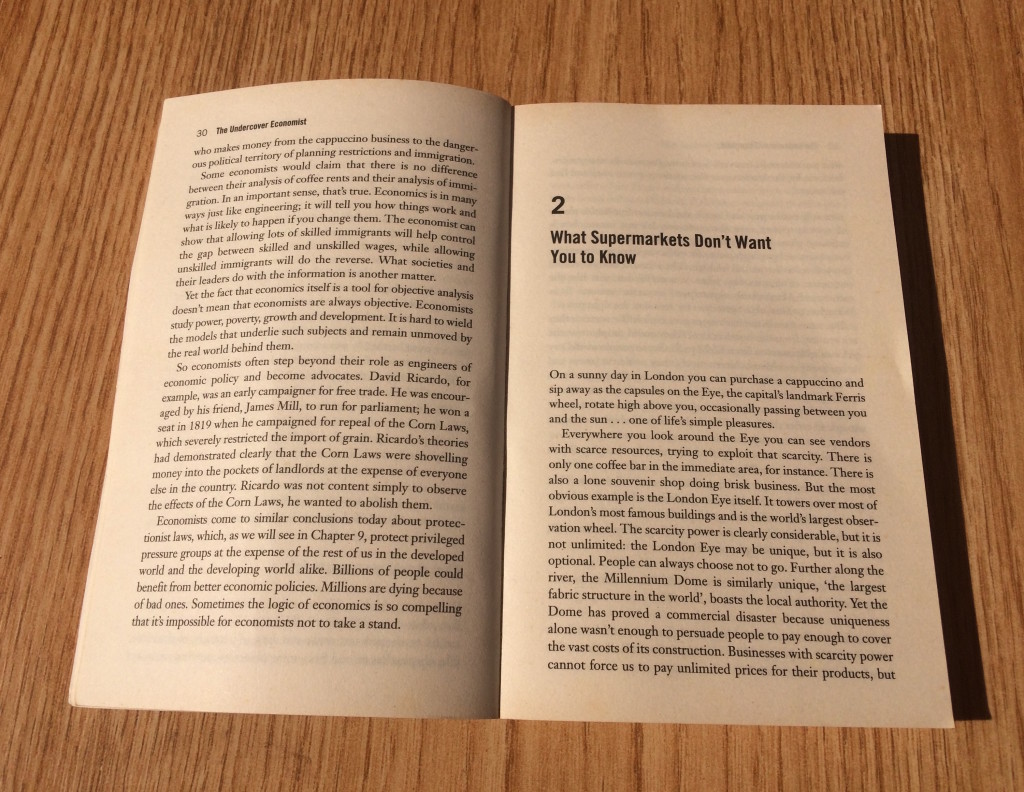 Then, it treats the topic of price targeting also called differential pricing with really a huge assortment of examples from diverse fields. Then, it explains about free markets and what's good about them.Harford explains why a good second hand car is almost impossible to find in the Inside Story which is chapter five of the book where he focuses on George Akerlof's revolutionary 1970 paper which revealed how inside information dramatically affects markets and why this means it's virtually impossible to buy a decent second hand car.The beauty of this book is that it doesn't really require any prior knowledge and doesn't attempt to turn you into an economics buff overnight. It takes a few of the more interesting principals of economic theory and applies them to everyday scenarios. For example, most people always wonder why poor countries can't get their act together. The explanation, which I won't attempt to go into here, is made simple. Why Poor Countries Are Poor, self interest and ambition are often the cause of wastefulness in developing countries but a visit to the world's worst library in Cameroon shows that the real tragedy occurs when there is no law, press or democratic opposition to restrain the actions of powerful people. Needless to say, it's a far more fathomable explanation than any you will get from reading a World Bank research note. The connection of market freedom to finding the truth is enlightening, and becomes even more so while reading further. He tackled several issues which left me thinking.One of them is how he says wine always very expensive in restaurants because one of the big costs in a restaurant is table space. Restaurants would therefore like to charge customers for dawdling, but because they can't do that, they charge higher prices for products that tend to be consumed in longer meals, like wine, appetisers and desserts. Also, the story of how the Environmental Protection Agency in the USA reduced sulfur pollution problems in the 1990s by cleverly issuing pollution permits that factories could buy. This way, the truth was exposed, the real costs of pollution reducing equipment to companies.In addressing the topic of efficient economy, the author states that we can point to a change that could make at least one person better off, and nobody worse off, economists say that the current situation is inefficient.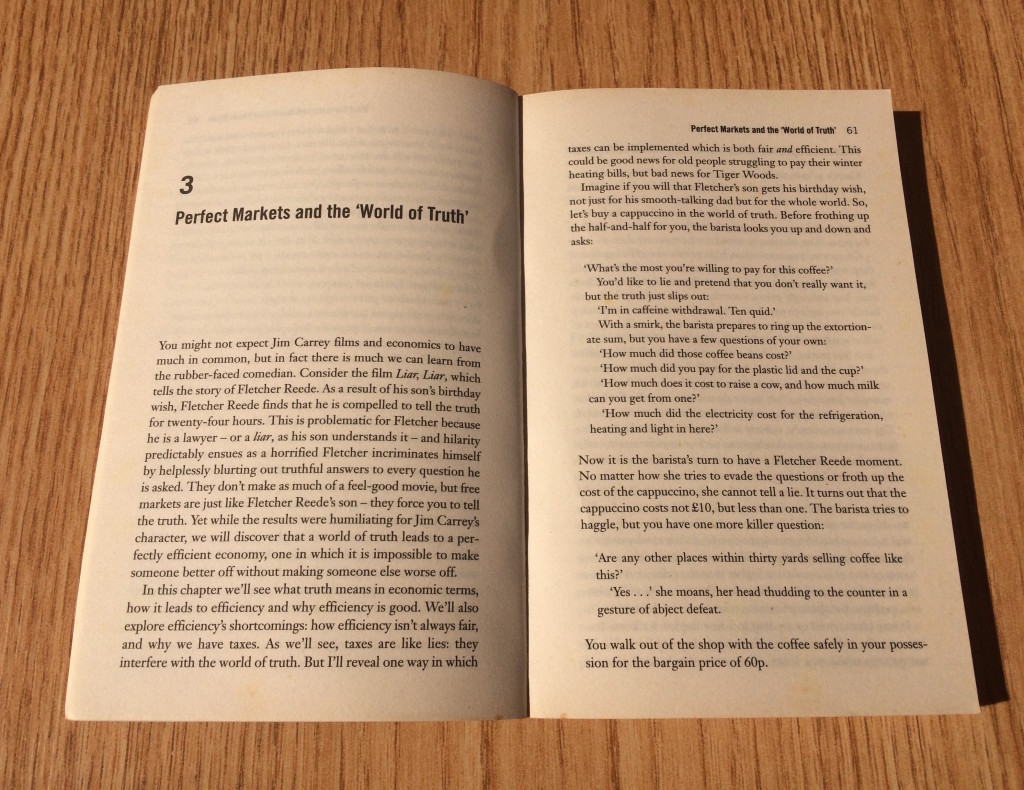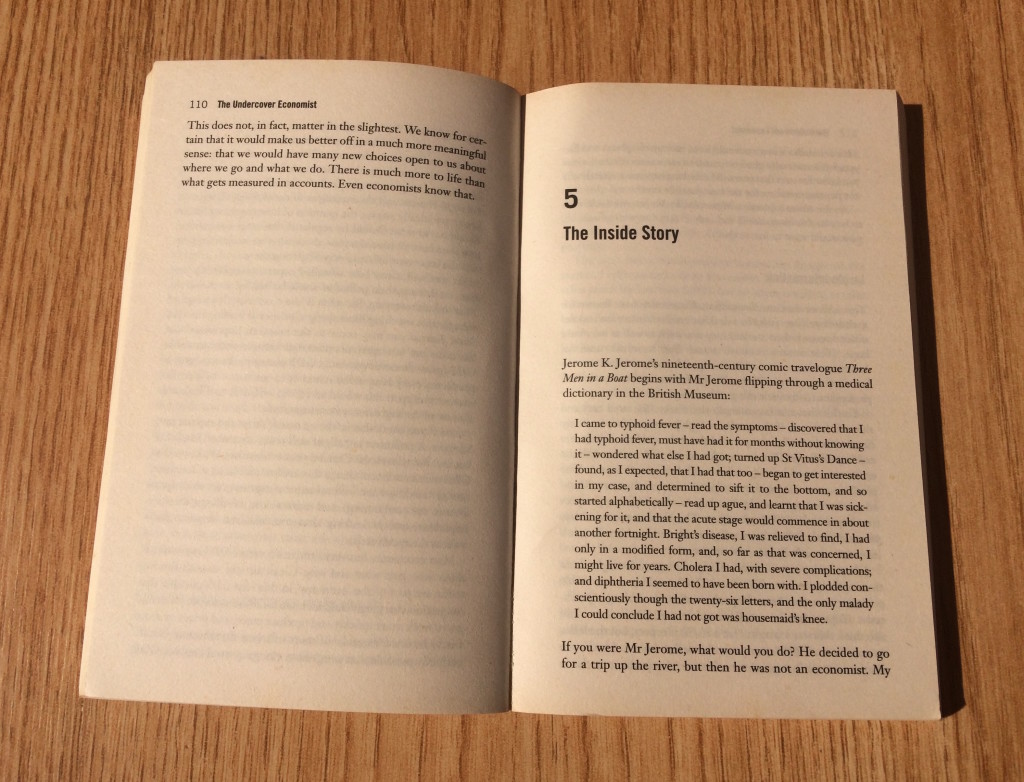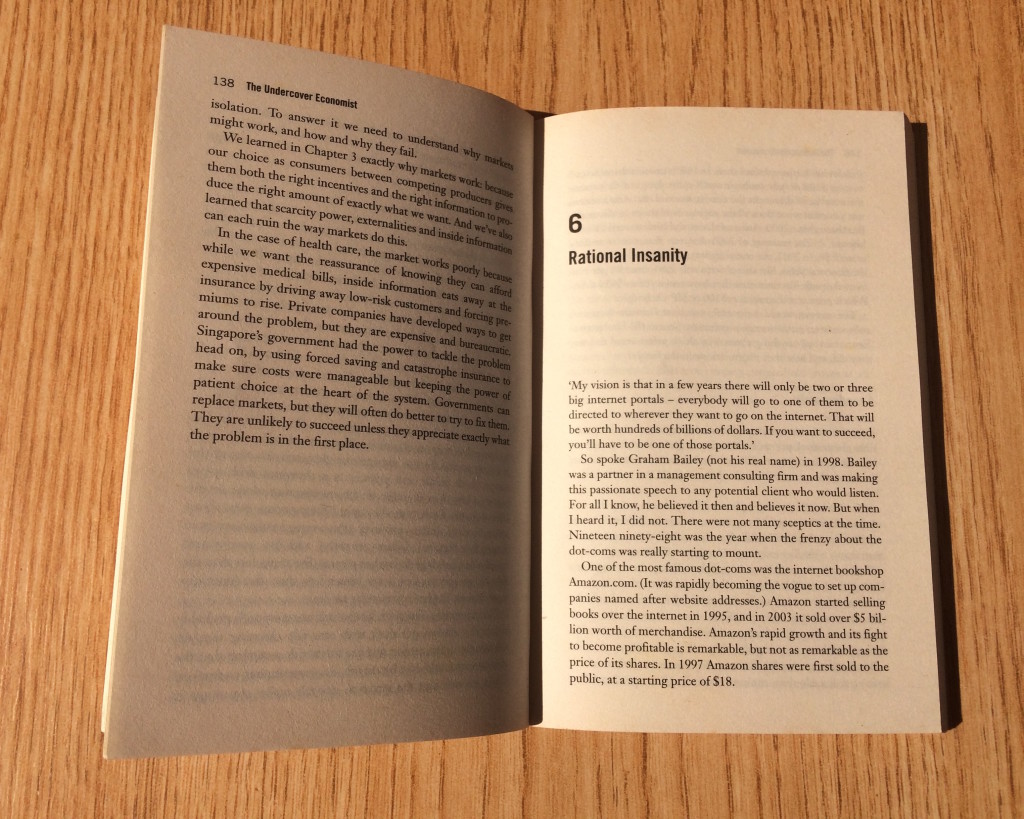 This simple explanation is much deeper than it first appears, as it sets one of the basic rules of free markets, in an efficient market, everyone lives on the margins excepts of one having scarcity power. If some field is too profitable, more competitors will enter it. He adds that there is an excellent treatment of the problems with the USA's current health care system that's worth reading, not only for Americans although that was before Obama Care came into effect. When West bash dictatorships in third world countries, West must keep in mind that not all dictatorships are equally bad. In fact, stable dictatorships damage their country's economy much less than unstable ones. This is because stable dictators expect to stay in power for a long time, and hence don't have an interest to rob the economy too much, because that will reduce from their future profits. Unstable dictators, are the worst kind, they just come to power, steal as much as possible and dissappear.Harford intelligently compared stable dictatorships to biological viruses, that have over time evolved not to kill the host body, but rather to use it in order to feed and reproduce to other bodies.Beer, Chips and Globalisation, a peek into the histories of Antwerp and Bruges in Belgium suggest that if you want to be rich, it is a good idea to forge links with the rest of the world according to the author. A discussion on globalising trends illustrates how foreign investment is good for economic growth and why comparative advantage is controversial when it comes to trading with the Chinese.Finally, he concludes the book with a thorough treatment of the changes in the Chinese economy in the past 30 years. How China Grew Rich is the chapter of the book and explain how China grew from a mere minnow in the global trading scene to the fourth largest exporter in the world in less than 20 years? Incentives, education, investment and just a little bit of luck.This is the best part of the book, in which all the concepts presented in previous sections come together to explain why the communist system prevailing in China before 1976 failed, and why the gradual freeing of its economy in the years that passed since succeeded on a magnificent scale.This book presents some relatively deep ideas and the author explains them very thoroughly and logically connects pieces from different aspects of economics.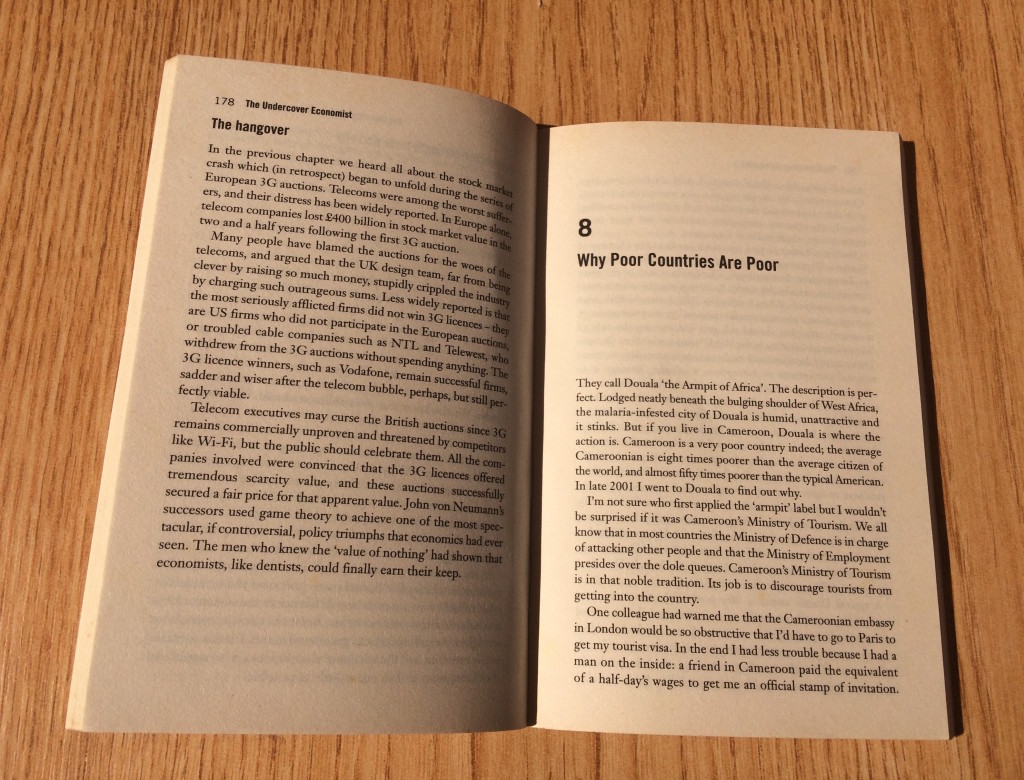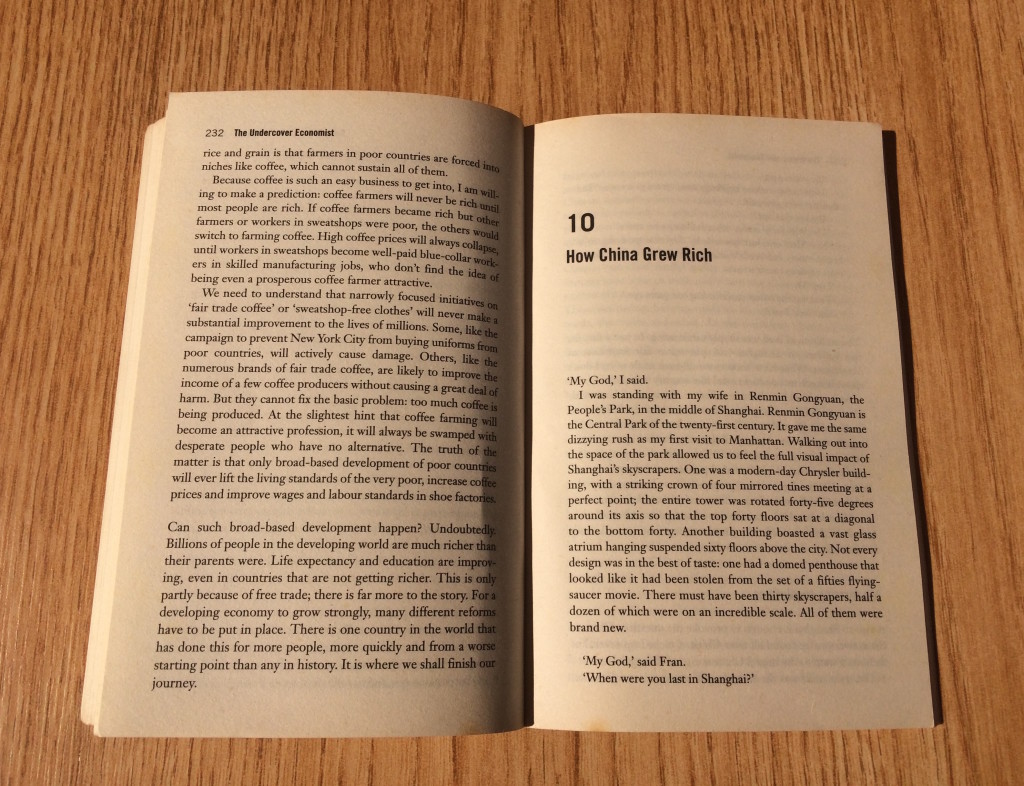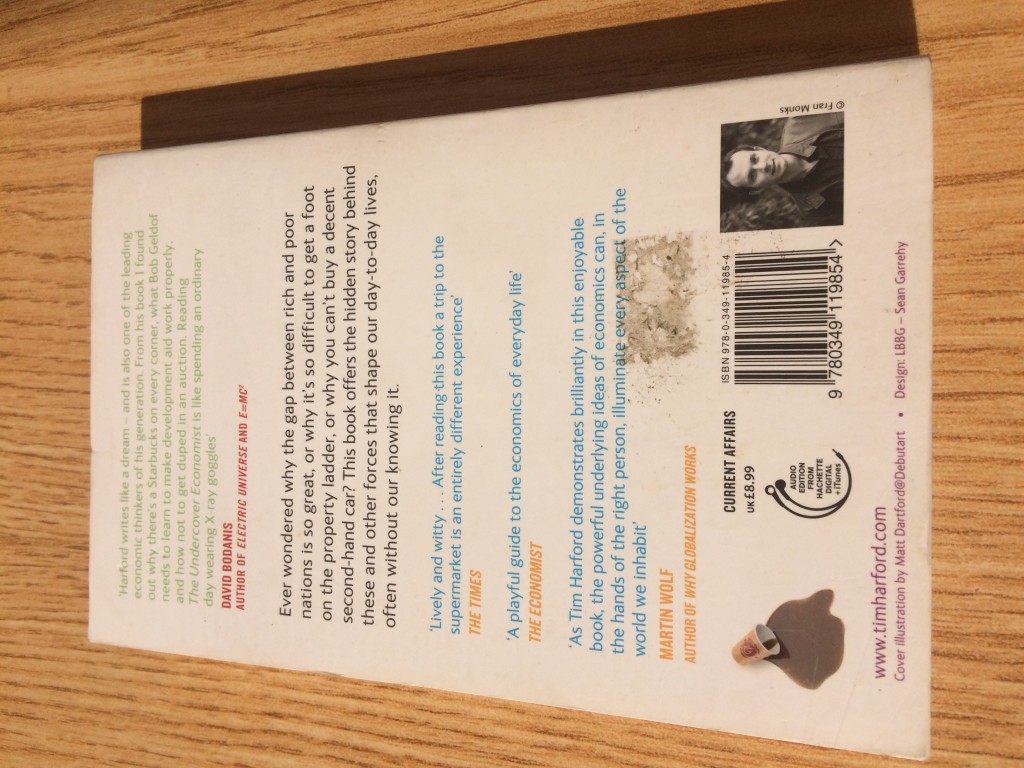 Previous
Next