The innovator's dilemma by Clayton M. Christensen
Posted on September 30, 2015 12:00 am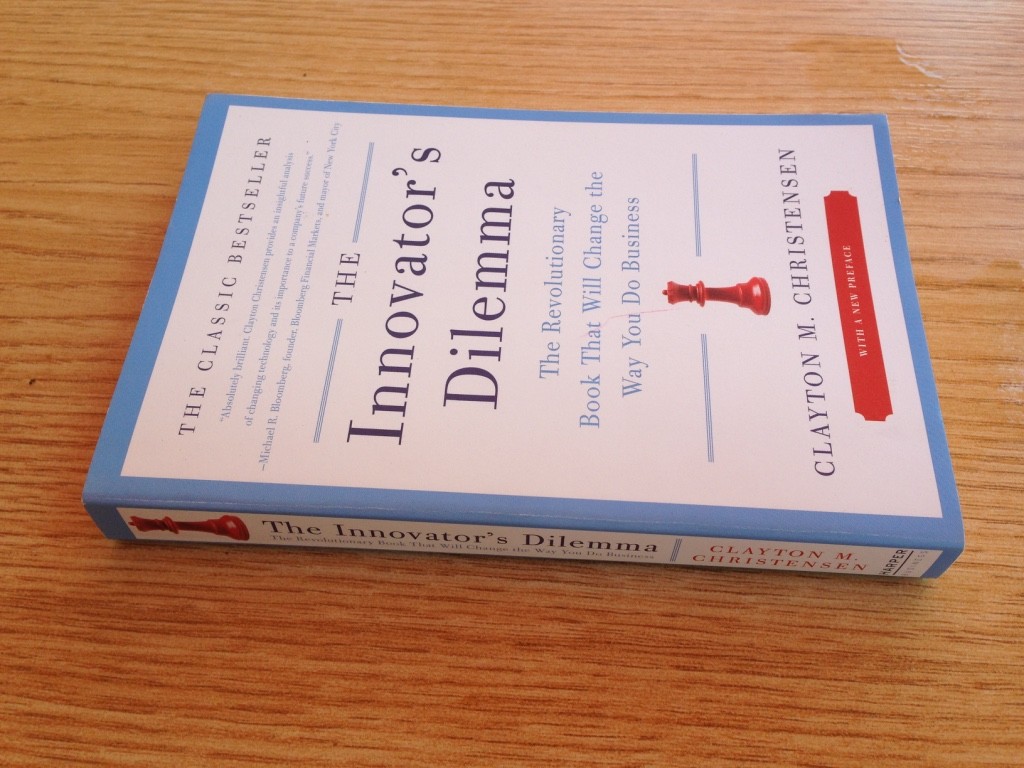 Understanding the nature of "new ideas" and how to generate them is what makes the difference between successful and failed organisations.In today's business-sphere, innovation is an understandable obsession thanks to simple addition of Disruptive Technology + New Growing Niche = Growth by Innovation.Most agree that the need to innovate is rapidly changing business conditions force a heavy and constant imaginative burden on all businesses that want to remain in the game long-term.Challenges the world is facing to make education more useful and meaningful are overwhelmingly multidimensional.The world has changed a lot in the past century technologically and culturally but schools are more or less still the same as they were more than a century ago. Innovation, a continual renewal of methods, ideas, products and technologies, is essential to the short-term success and long-term survival of a company. It is more than the time and money invested in researching technologies and developing better products. Born in Salt Lake City, Utah, on April 06, 1952, Harvard professor Clayton M.Christensen says outstanding companies can do everything right and still lose their market leadership and that can lead them to disappearing completely. In this book, he tells how can avoid similar fate.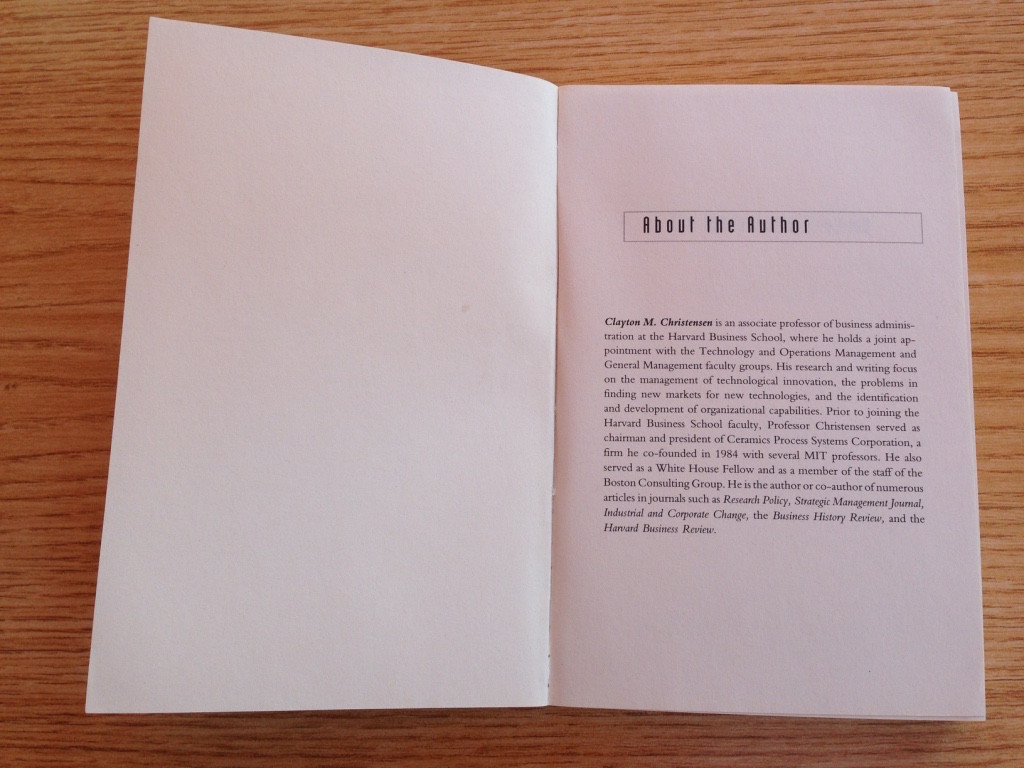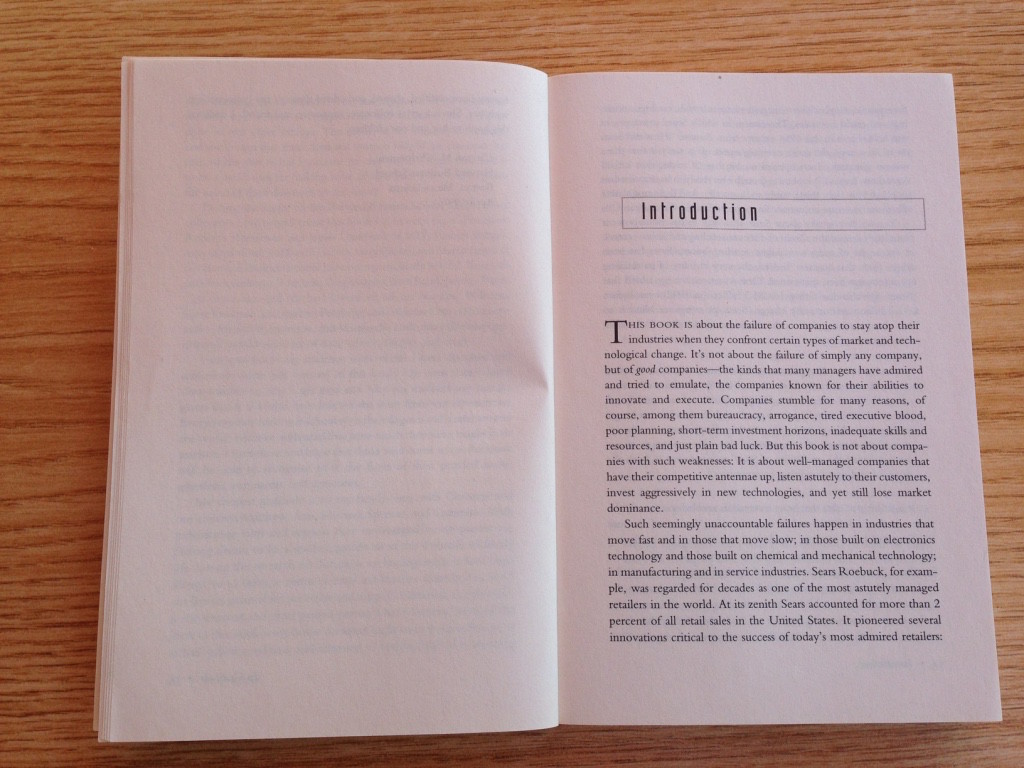 Christensen argues that technologies only matter if they benefit the people who use them in a meaningful way and it takes partnership to innovate for the benefit of all.According to the author, the confidence to make one's own decision regarding a particular matter can help build employees' skills to innovate and create new ideas that will boost the company's business.If company cannot empower it employees, it will get used to being guided and directed all the time. This will result in a lack of leadership skill and the death of innovation.Innovation thrives in an environment where individuals and organisations take a long view of solutions.But a quick fix, throwaway society will take some convincing to wait for the benefits of the circular economy to become evident.The benefits will be there but main challenge is to strike a balance between the acceleration of and accessibility to innovations with the socialisation of their value and long-term benefit.This is a challenge for any company driven by sales targets.While of course companies must continue to sell products, companies must also move away from transactional relationships with consumers toward partnerships built around shared, long-term goals that include increased sustainability and quality of life.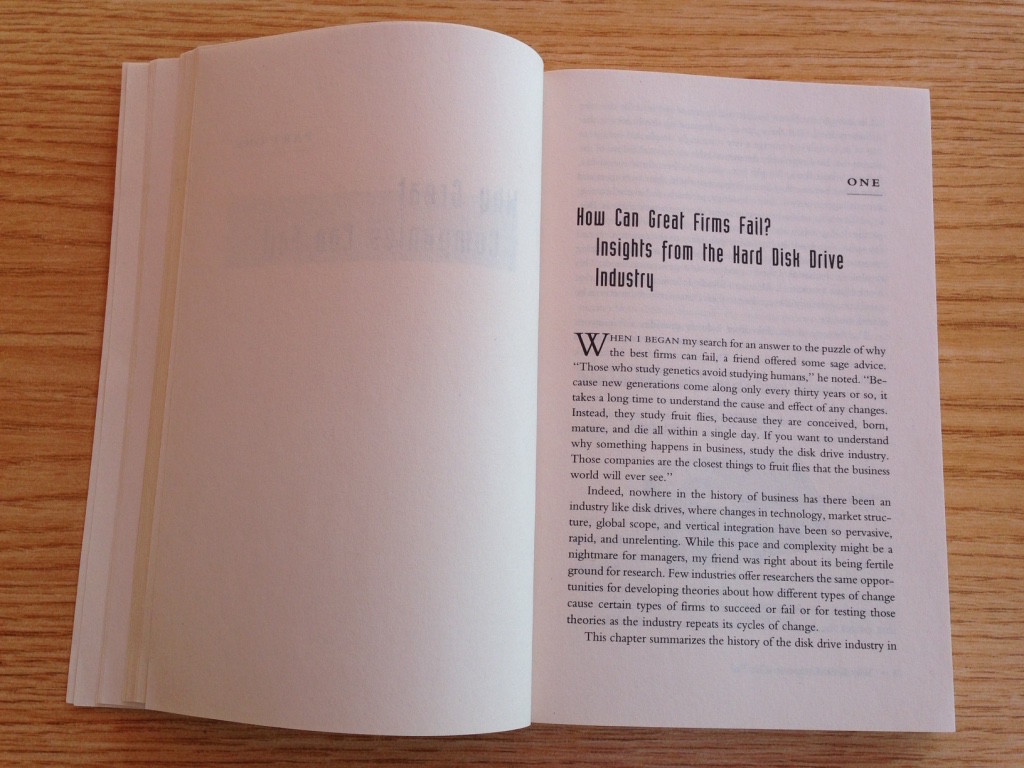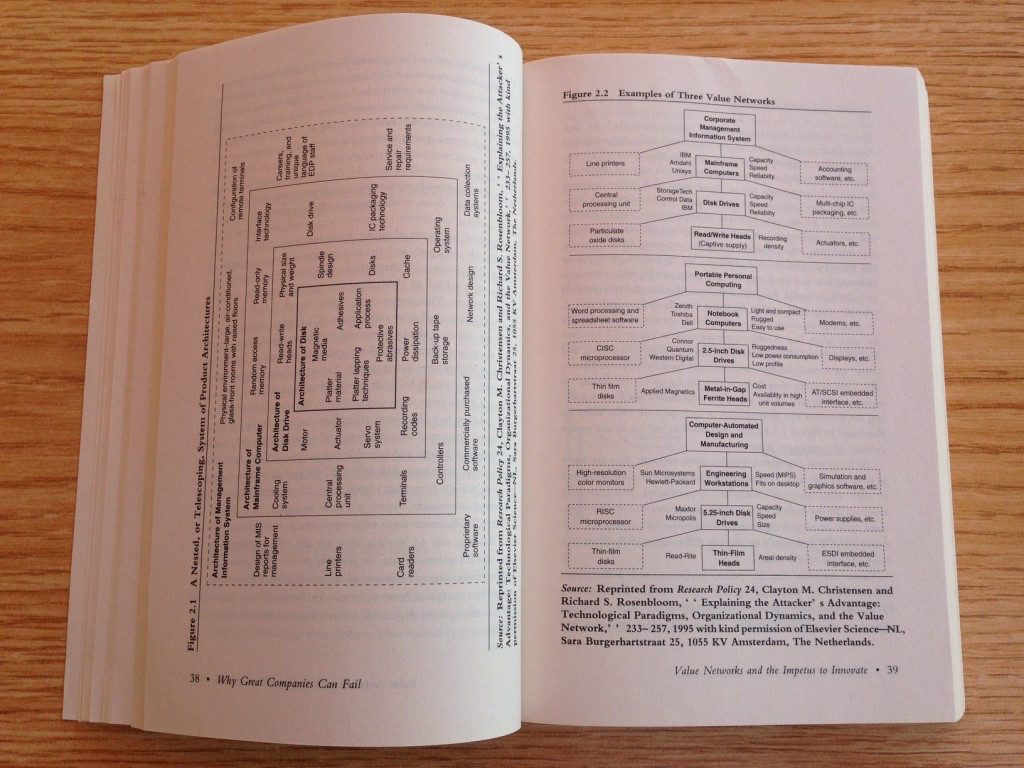 Many developing countries have failed to implement national innovation strategies, failing to recognise that innovation is a driver of sustainable growth and prosperity. Developing countries have the opportunity to embrace innovation based development as a catalyst for their future. Why should developing countries do this? The answer may lie in this simple statistic that is accessible to each and everyone of us.According to data available, more than 88 percent of all patent filings in the world are from inventors domiciled in one of top ten most innovative countries Germanys, Japan, France, United States, China, South Korea, France, Russia, United Kingdom, Switzerland and Italy. If you include the next top five countries namely Finland, Netherlands, Sweden, Canada and Australia the percentage of the top 15 most innovative countries rises to more than 94 percent of the 185 member states of the World Intellectual Property Organisation. From the authors's view, it would be important for developing countries efforts require a legal framework for the creation, protection, management and use of Intellectual Property as a strategic tool for economic, social, cultural and technological development. The best policies integrate with relevant areas of public policy such as health, trade, culture, environment, science and technology, and education.Policies should define a country's vision and objectives, and align capacity-building activities with the objectives of the new administration.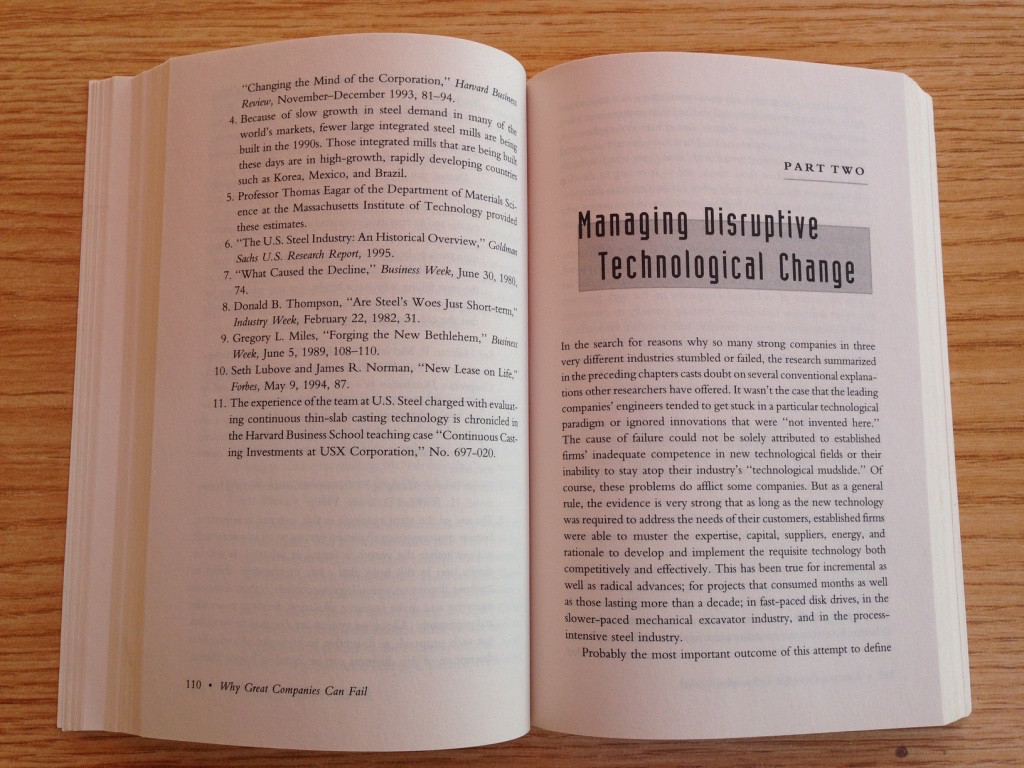 Effective use of the global Intellectual Property system can facilitate achieving concrete and tangible results, and provide a clear framework for cooperation with other countries.  Research and development spending is needed to accomplish these important objectives. Policies should support the transfer of technology from universities and national institutes to industry. There should be patent incentives and grants to encourage the formation and growth of technology companies.Businesses need to be incentivised to support Research and Development and Intellectual Property commercialisation with tax treatment for Intellectual Property ownership.Polices which encourage private investment and venture capital funding as well as lending programs will nurture the growth of a country's knowledge economy.Developing countries cannot rely on innovation relating to its technology industries alone. Innovation based enterprises in the consumer goods and creative sectors can represent at least half of an individual country's knowledge economy. Christensen is a technological determinist believing that it is technology that drives and disrupts culture including consumer behaviour and business and not the other way around.  Technology in this sense, is not about gadgets, it is about any new tools offering new functionality, reliability, convenience and cost efficiencies.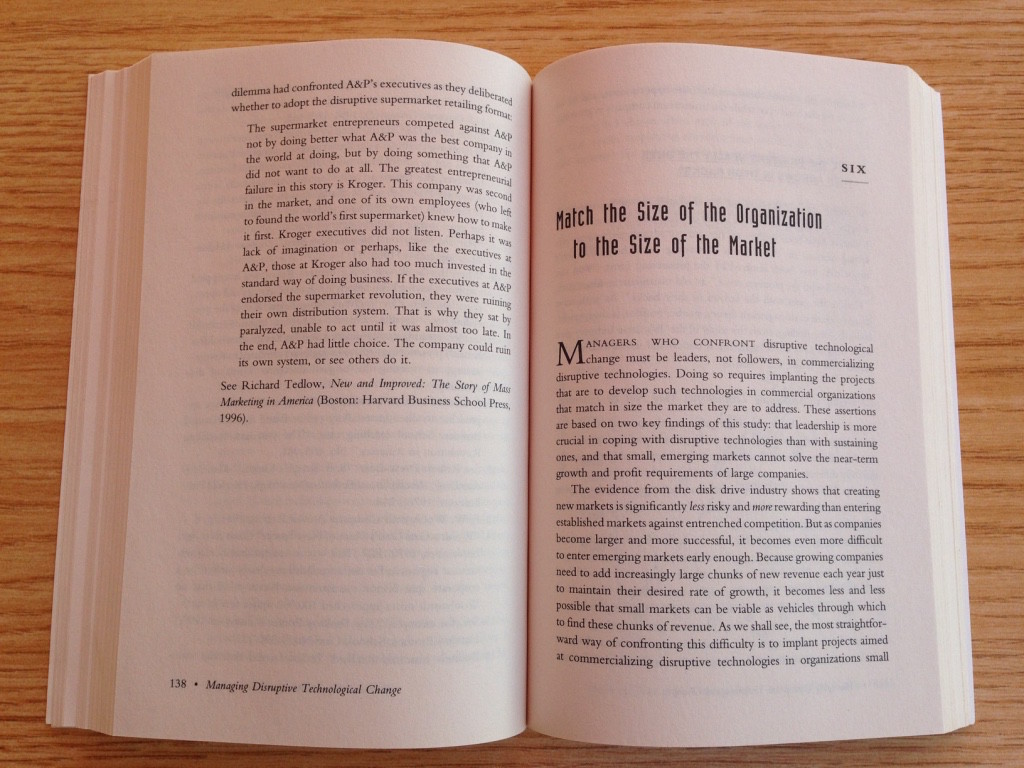 The opportunity for brands is to identify and harness new disruptive technologies with the capacity to create value for the business and the consumer. Christensen illustrates the point by showing how 'technology' has disrupted everything from discount retail to ink jet printers software and consumer healthcare. "The Handmill gives you society with the feudal lord: the steam-mill, society with the industrial capitalist" Karl Marx. Christensen's solution for brands and businesses is as simple as the Innovator's Dilemma itself.  Find people for products, not products for people. But not just any products, find products built on new disruptive technology that offers new value in terms of functionality, reliability, convenience or price. In a nutshell, don't start by identifying a market need and then build a product to meet that need.Instead, identify a new technology that has the potential to disrupt a category, or is already disrupting a category or parallel category and build a product based on that technology.Then, when you have the new product, find a new growing niche to market to, avoiding the cluttered mass in the middle.For many brands, switching from an insight-led to a product led start point for innovation will be alien: The Innovator's Dilemma outlines three solutions for delivering disruptive product-led innovation designed to drive growth which are acquisition where acquiring brands that already harness disruptive technology, internal development where brands develop new in-house priorities and capabilities based on spotting and harnessing new disruptive technologies and spin-off where brands hive off a unit to work independently on how a disruptive technology can be used for brand innovation.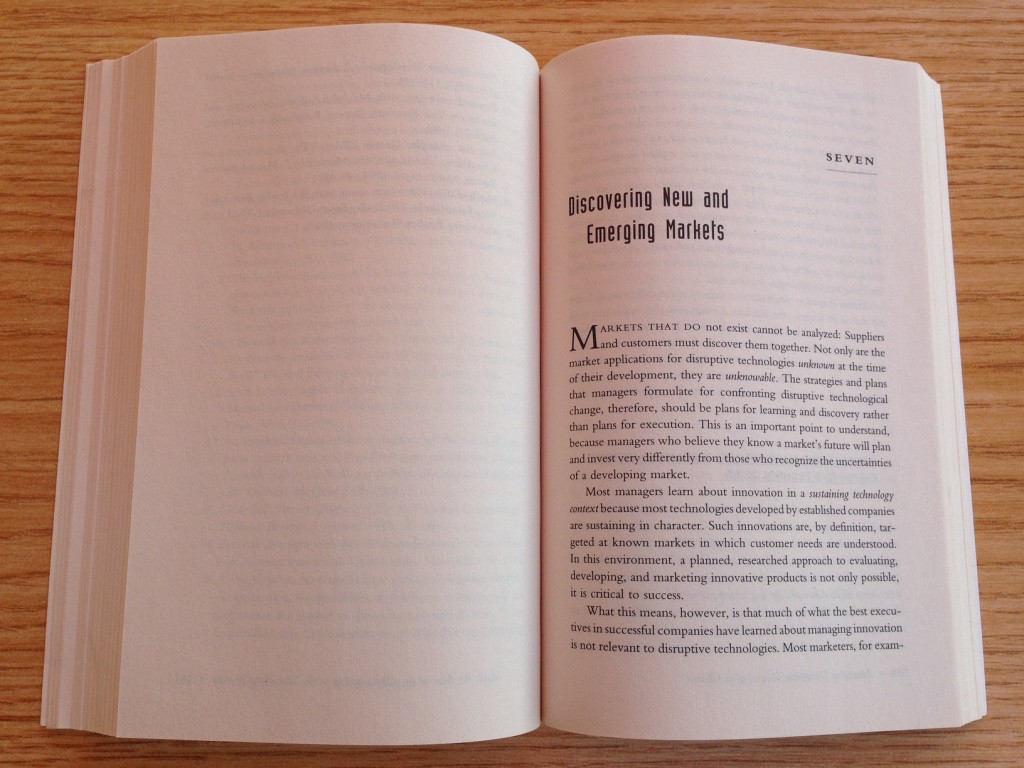 Innovator's dilemma clearly shows how innovation has an important role in economic growth and the fact is that most countries with better levels of innovation and technological development have better economic growth. On the contrary, countries with low levels of innovation have worse economic growth. Technology and innovation encourage high economic growth for countries that had high innovation. In order to increase the power of innovation, governments must facilitate the flow of technology and the flow of public information needed by stakeholders consisting of technology developers,technology users,producers of goods and services,and the government. Government's task should be facilitation and regulation of relations between the developers and users of technology that can be more intensive and more mutual.The flow of technology is the process of technology transfer from technology developers to technology users and producers of goods and services that is translated into a form of goods and services. Products and services, as a result of the application of technological inventions also known as process innovation, are then marketed to consumers.Flow of technology also runs from the developer of technology to the government.The author believes that constraints are good for innovation. Christensen's believes new ideas have historically arisen when individuals were confronted with a problem they couldn't buy their way out of, and so had to experiment within constraints. Constraints force human beings to discard preconceptions about processes and products.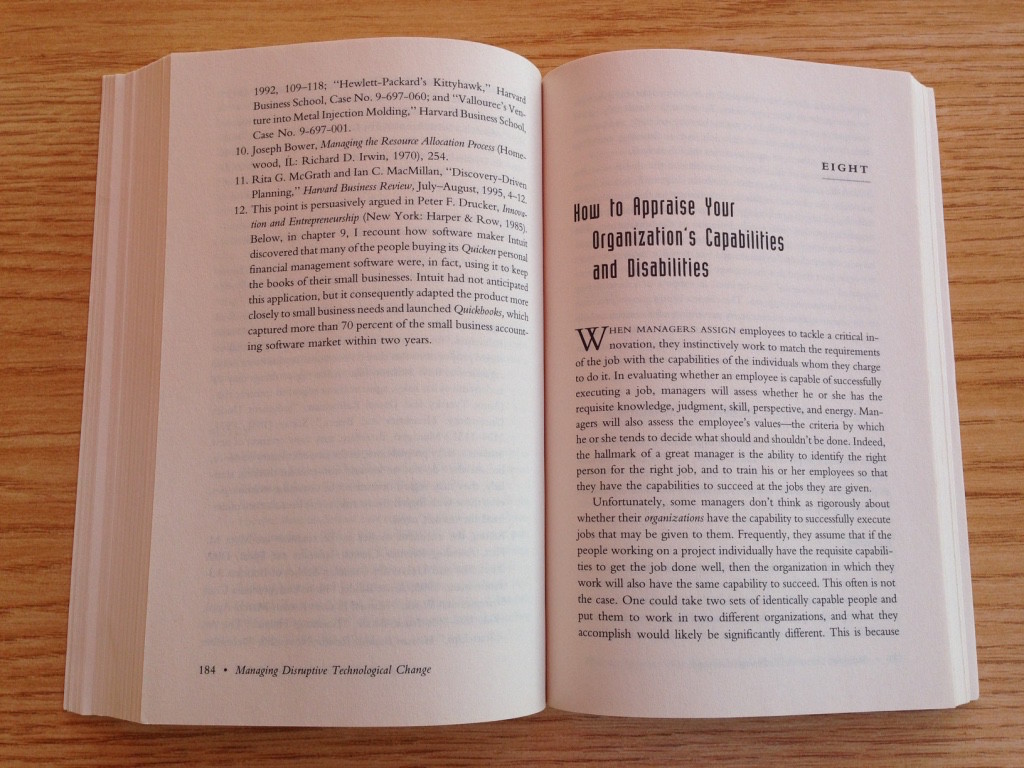 Christensen's is also skeptical of the prevailing stereotype that innovation is about blue-skies thinking with lots of resources at disposal. Creativity, ingenuity, and finding quick fixes and workarounds are all compatible with innovative thinking. Christensen's also argues that most new ideas are re-combinations of old ideas.New ways of combining old ideas are at the heart of innovation that we see today. Hence the continued importance of innovation hubs, from where intellectuals gather to spontaneous interactions among imaginative people that have produced miraculous results. If you want to innovate, learn first to tolerate failure. There are various reasons why companies want to initiate an innovation drive top-down.Most common motive is to respond to an external threats like disruptive technology, gradual performance erosion, commoditisation,stock market pressures. Also driving company's own ambitions that involves changing the internal rules of the game, leveraging technology to pursue new growth applications,reaching organisational excellence by improving a vital process, attracting world-class talent by offering them the opportunity to work on innovative ground-breaking projects among others.Top down and bottom up innovation are driven by various factors.Task of management is indeed quite different when focusing on creating a company culture that encourages bottom up innovation or driving innovation proactively top down.However, both types of innovation ultimately require a strong and persistent commitment on the part of the management team and no doubt leadership is the key condition for sustaining innovation.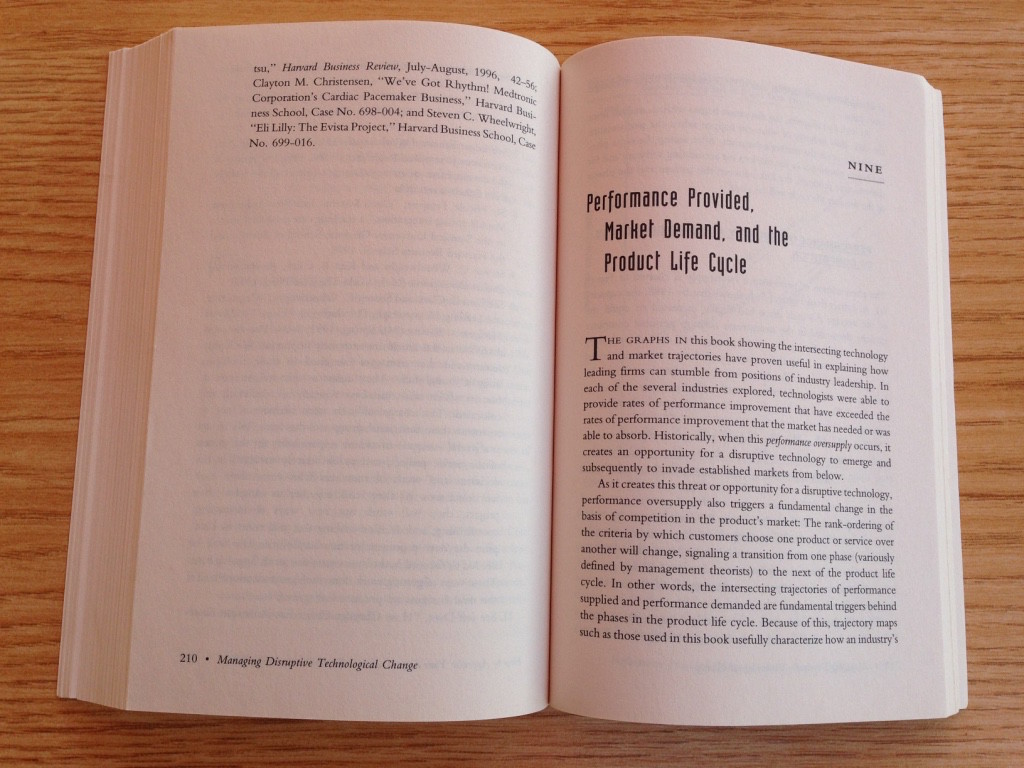 Innovations that satisfy a brand's need for growth require taking risks that are unacceptable to that brand. Disruptive innovation requires vision and patience. And most companies lack these qualities largely driven by quarterly results, most brands will eschew long term growth for short-term profitability.Indeed, from an FMCG point of view, the Innovator's Dilemma comes down to this quote -attributed to Henry Ford: "If I'd asked my customers what they wanted, they'd have said a faster horse." Big brands can do disruptive innovation, but only by behaving like start-ups driven vision rather than research. Late Steve Jobs attributed the Apple turnaround to ending pandering to what consumers think and say they want and build insanely great products with passionate professionals who have a shared vision of how the world should be, not how it is.The Innovator's Dilemma also poses a challenge that our consumer insight-led approach to innovation is unlikely to deliver disruptive innovation concepts. Whilst I agree the opportunity space for brands is likely to be found in new technology and new niches rather than new interpretations of what's going on in consumers' minds, I believe there is a role for consumer insight in framing the concept development task.  To be precise, I think it is useful to understand 'technology dynamics' of a segment, specifically, why people have adopted or rejected new technologies in a category.  This helps identify the critical success factors for deploying new disruptive technology.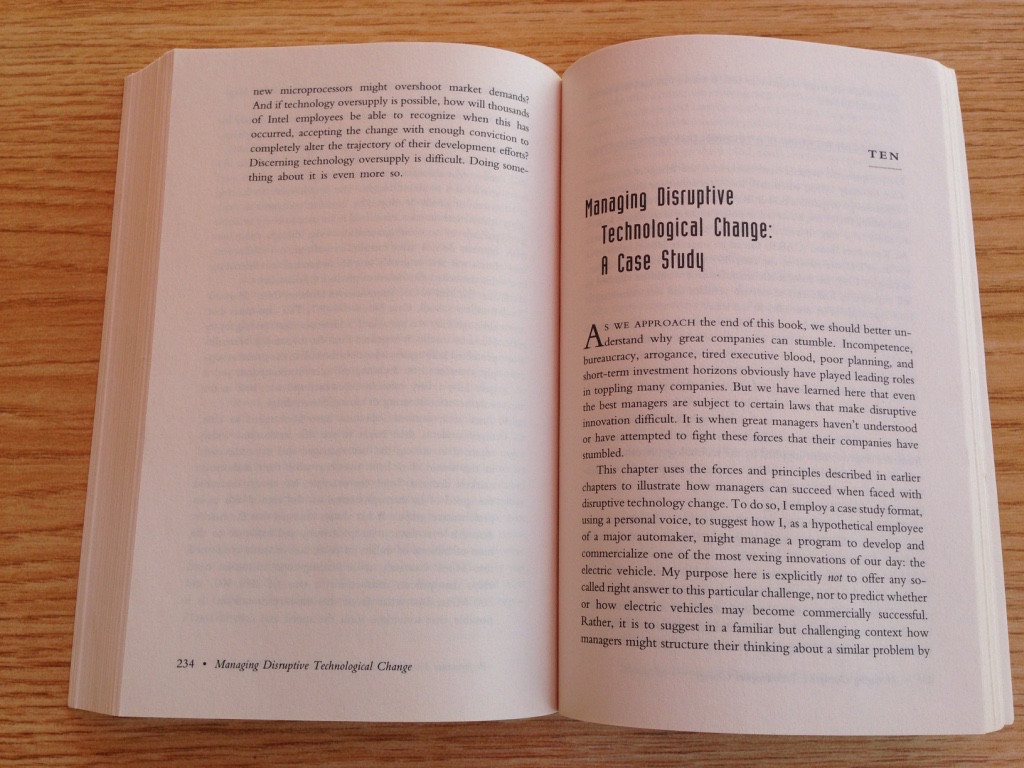 Dissecting this book isn't a cakewalk, but Christensen has taught me that innovation starts with a vision and strategy and builds upon a seamless process and networking culture and it requires adequate resources. Most companies have business vision or mission which defines what the business is trying to achieve. However, fewer have an innovation vision that determines how innovation will help achieve the business vision. Christensen has also taught me that creating an innovation vision requires observing the environment in which the company is operating and identifying early signals of industry and market changes in order to find opportunities. That may include changes to industry structures and regulations, the convergence of different industry segments, the emergence of new distribution channels, or changes in customer needs, habits and values.Management also needs to clarify its innovation strategy and priorities.Very few companies seem to actually manage to make their technology strategy explicit. Christensen has taught me that implementation of innovation strategies is greatly facilitated by the preparation of roadmaps.Now i know that innovation process consists of a number of integrated and dynamic sub-processes including but limited to idea management, business and technology intelligence, technology and supply base development and deployment, product lifecycle management, product and technology strategy and planning, program management, that combines product development and commercial launch.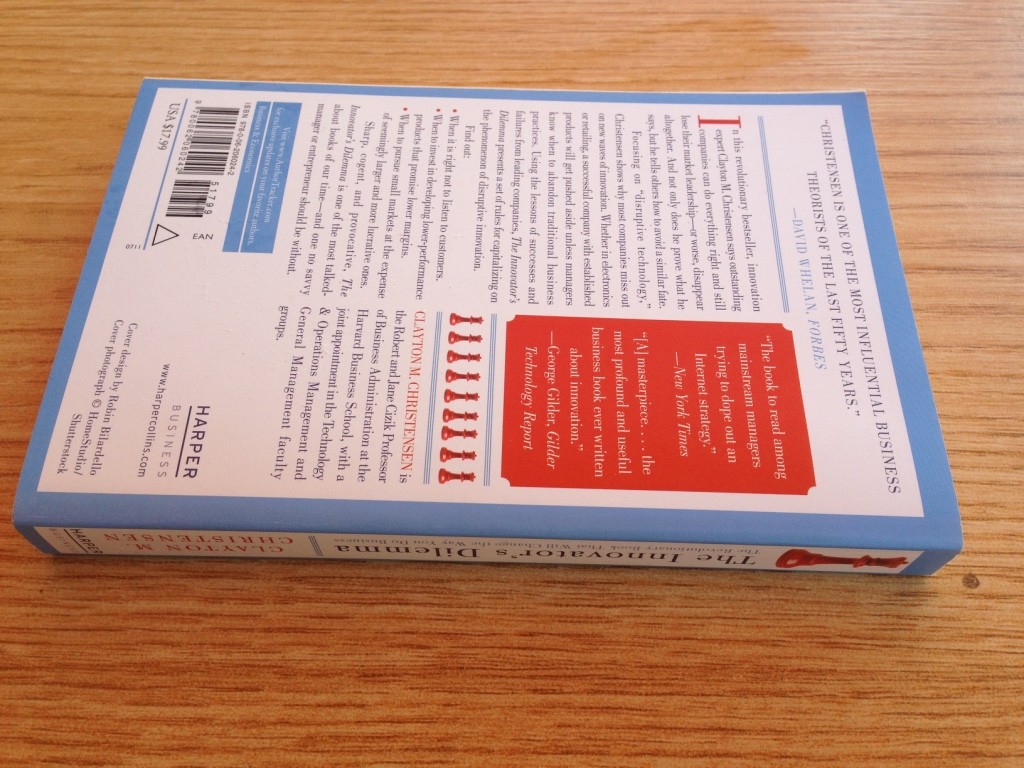 To ensure the innovation process works seamlessly there is need for process owners and coaches for each of these sub-processes, strongly empowered program managers who can take cross-functional teams from the beginning to end of innovation projects and a close partnership between marketing and Research and Development to ensure both functions move in the same direction.Innovation requires intense networking not just internally between different departments and functionalities, but also externally with suppliers and partners. Management may worry that involving outside partners deeply in their innovation process will threaten the company's intellectual property. Truly innovative companies consider that speed is the best weapon against imitators.They recognise that early supplier involvement and innovation partnerships lead to faster and more effective innovation.There's need to be a mechanism to integrate all elements of the process and track innovation performance. As it is very difficult for a single innovation leader to orchestrate the whole effort, a better solution is to create an innovation board representing the key businesses and functions involved in the process. Innovation will happen with resources especially adequate supply of people with the right competencies, risk-money for experimentation, project funding, of course, access to relevant information sources, adapted tools, and time.
Previous
Next