The 5th Columnist: A legendary Journalist by Liz Gitonga Wanjohi
Posted on December 27, 2016 12:03 am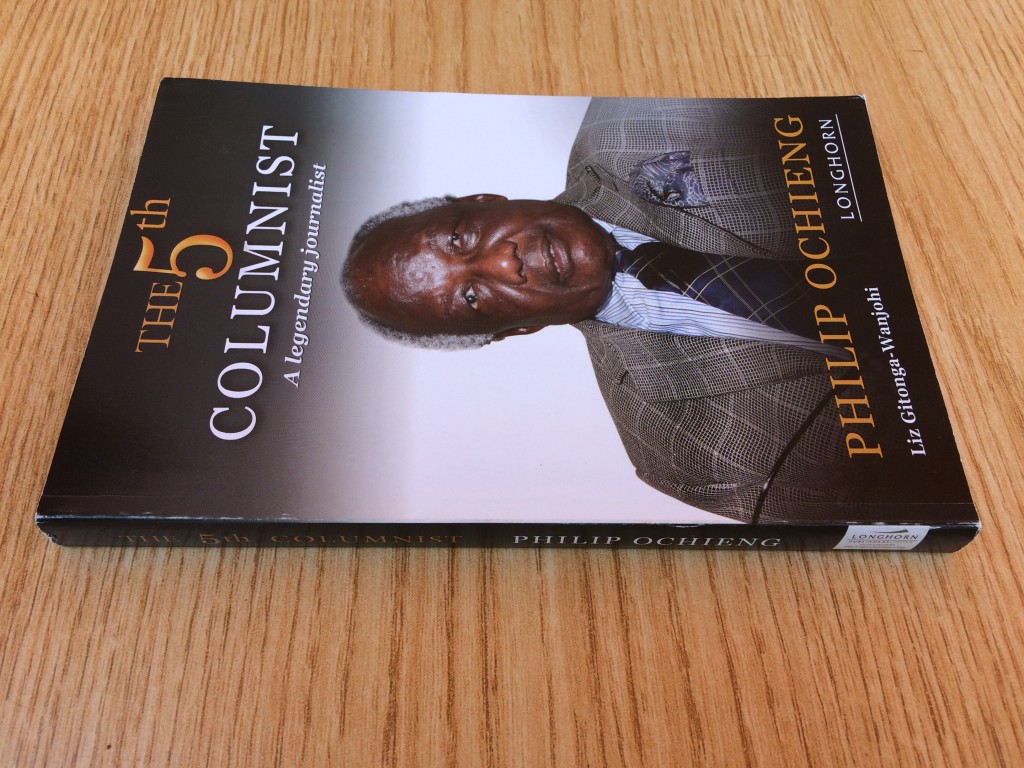 Privately owned newspapers in Kenya like the Daily Nation were the voice of the voiceless in agitation for the country's multi party democracy in the early 1990s. However, state controlled media outlets like Kenya Times were part of government's repressive machinery that fought opposing voices day and night. In that era, media ethics and code of conduct were very important for journalists as they play a key role in making public opinion. Back then, journalists in Kenya were working in one of the most challenging environments and keeping media ethics intact made them professional in their field but one journalist who sold his ethics in exchange for money and influence, was renowned veteran journalist Philip Ochieng. According to the author of The 5th Columnist: A legendary Journalist, Liz Gitonga-Wanjohi, a journalist herself, the journo was born in Awendo to Stella Pesa and Nicanor Otani on 17th September 1938 in a family of ten though by different mothers. That isn't shocking bearing in mind until today polygamous families are common all over Africa and Kenya is no exception. He attended a local school called Manyatta Primary, a Seventh Day Adventists school before he shifted to Lwala Primary School, a government school then joining Pe Hill, a Church Missionary Society school where he completed his elementary education. After that, he joined Alliance High School before flying out to United States of America in 1959, as part of Kenyans airlifted for further studies in a trip that included father of US president Barack Obama Senior to study although he never obtained a degree.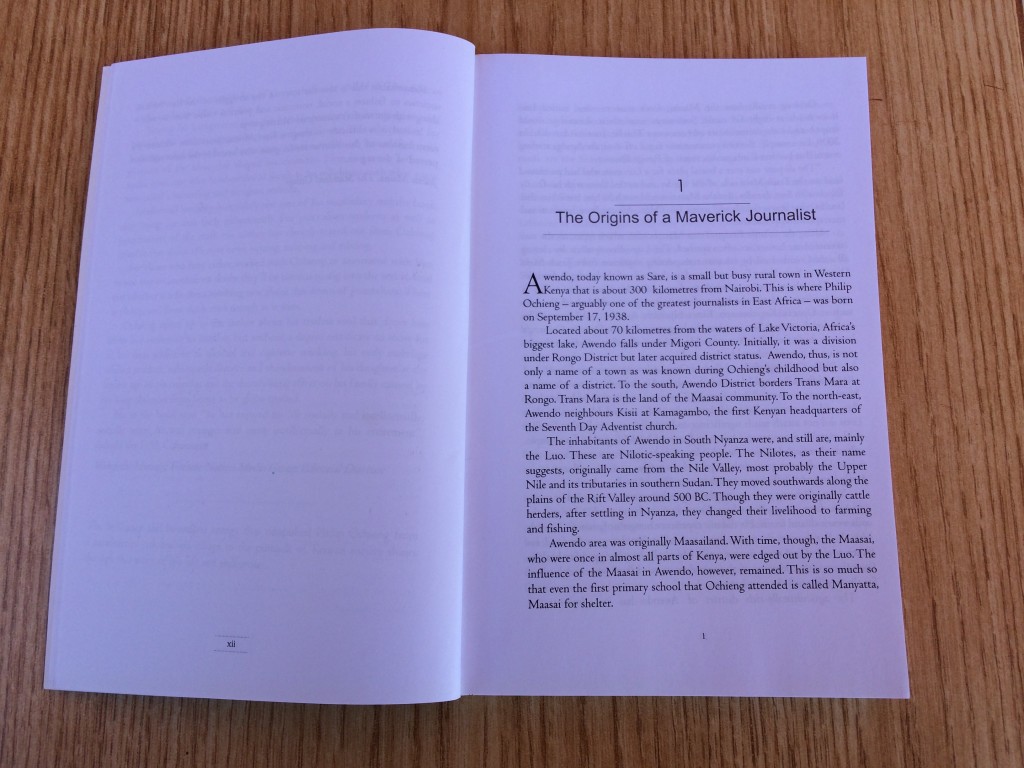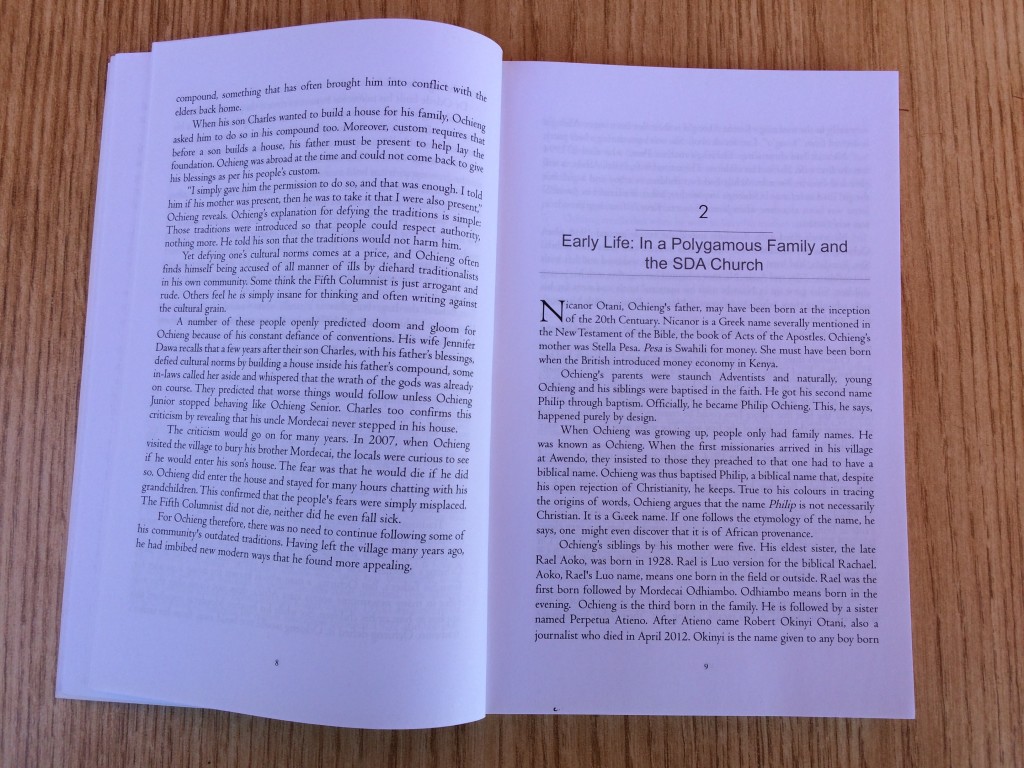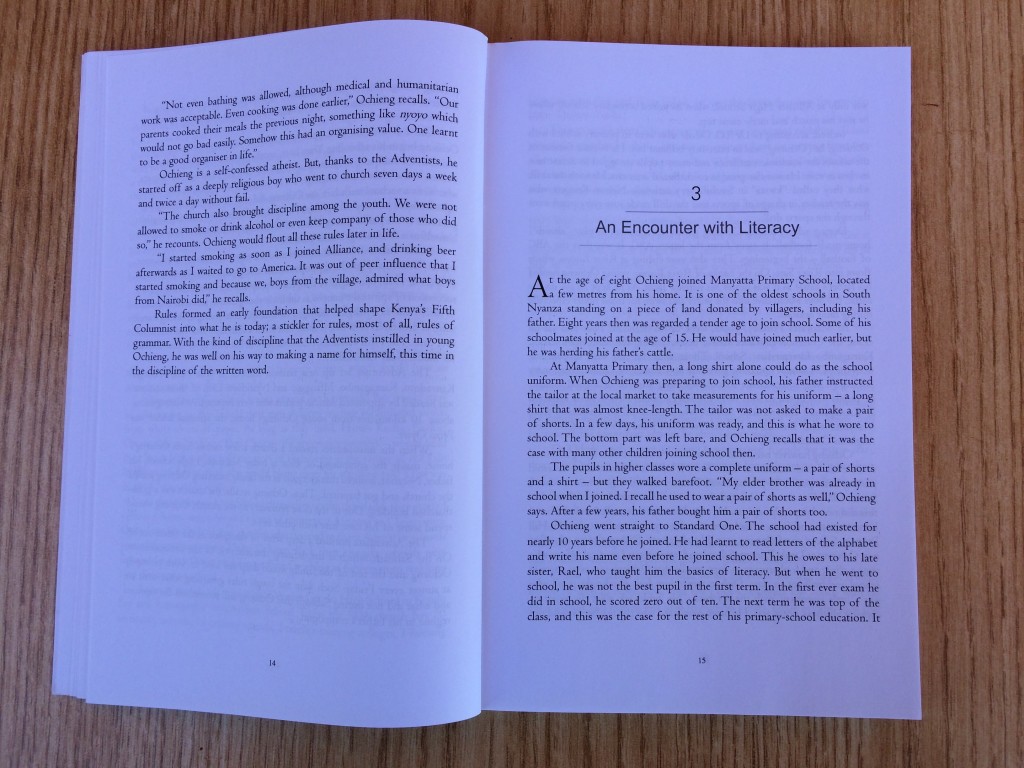 Gitonga writes: "He never completed his BA degree at Roosevelt University. In fact, out of the nearly 1,000 students who left the country between 1959 and the mid-1960s, he is the only one who never completed his studies." Instead, Ochieng, with his friends, "painted the town red, drunk all the beers in Chicago".  While in US, Ochieng couldn't zip up and had a wife named Nova Diane with whom he had a child called Juliette Akinyi but sticking to his African roots, the author writes how he abandoned the family in the US and returned to Kenya after finding life uncool. Upon returning to his native county, Ochieng didn't take long before heading to France to study but failed miserably and he jetted back home again where on the night of December 12, 1963, joined his fellow Kenyans in celebrating their independence.His media career started after he quit ministry to work as a reporter for the Nation Newspapers in 1966, 50 years ago this year. Since then, Ochieng has had haters and likers in equal measure according to the author. Although journalists have the responsibility towards society by providing information in a truthful, objective and a balanced form while respecting the privacy and importance of secrecy of issues related to national security, Ochieng on many occasions used his profession to do the opposite. For example, Ochieng admits he attacked the Kikuyu community, the largest ethnic group in Kenya, for leading the opposition to his then boss retired President Daniel Arap Moi and ruling party Kanu which owned Kenya Times.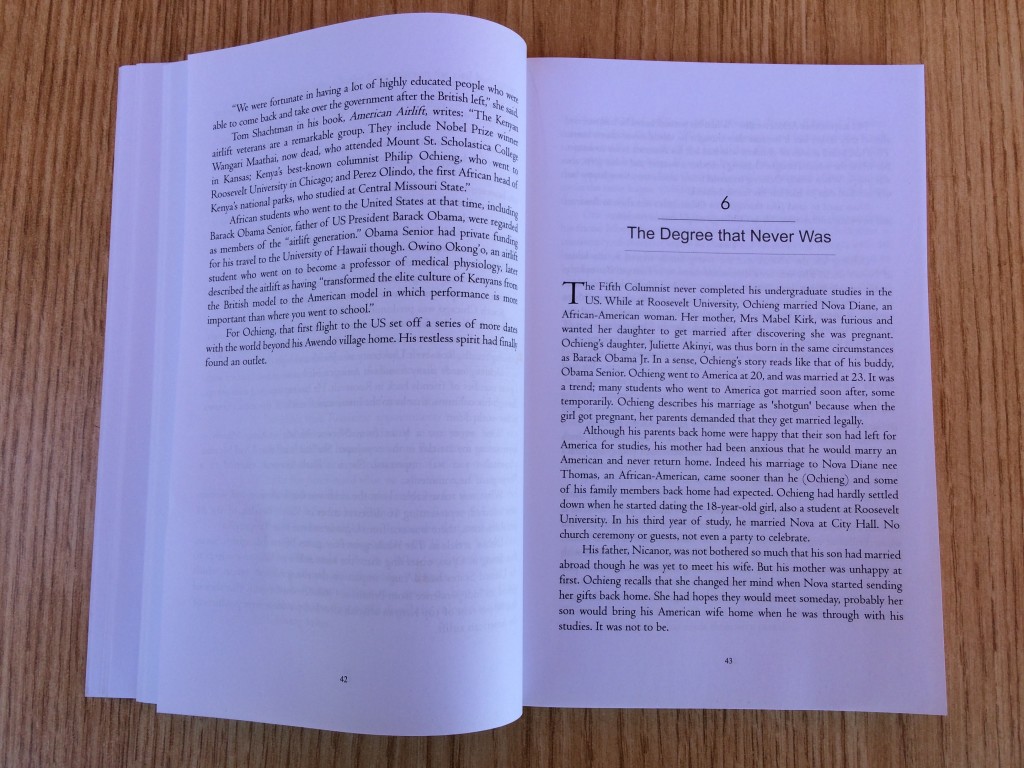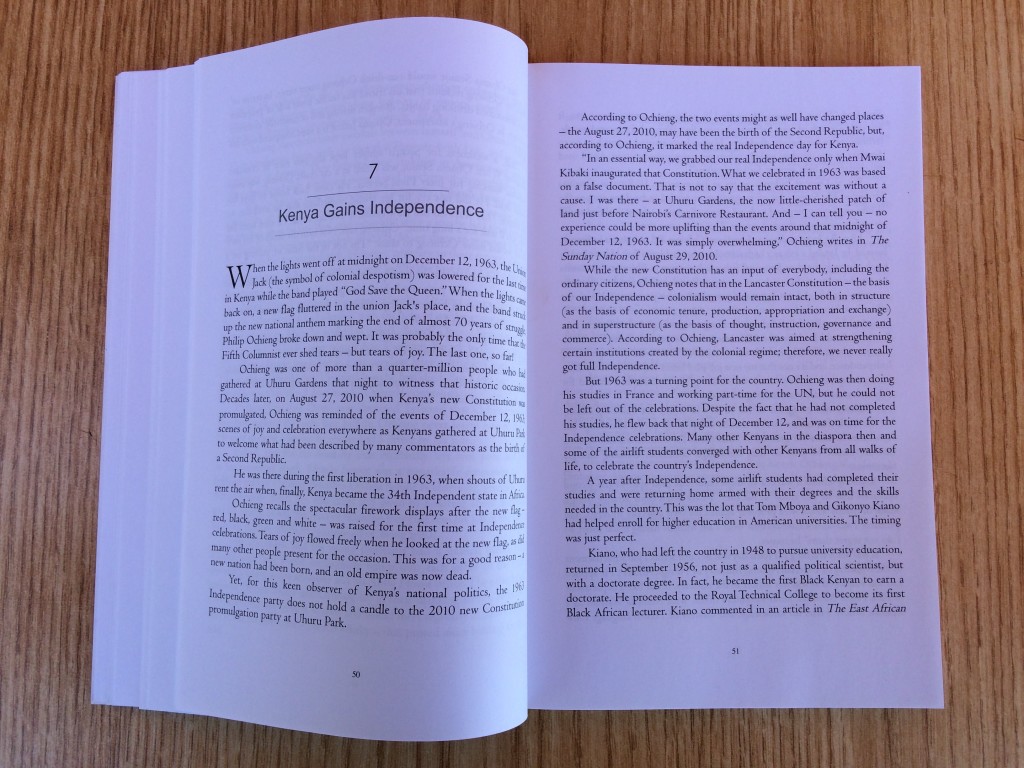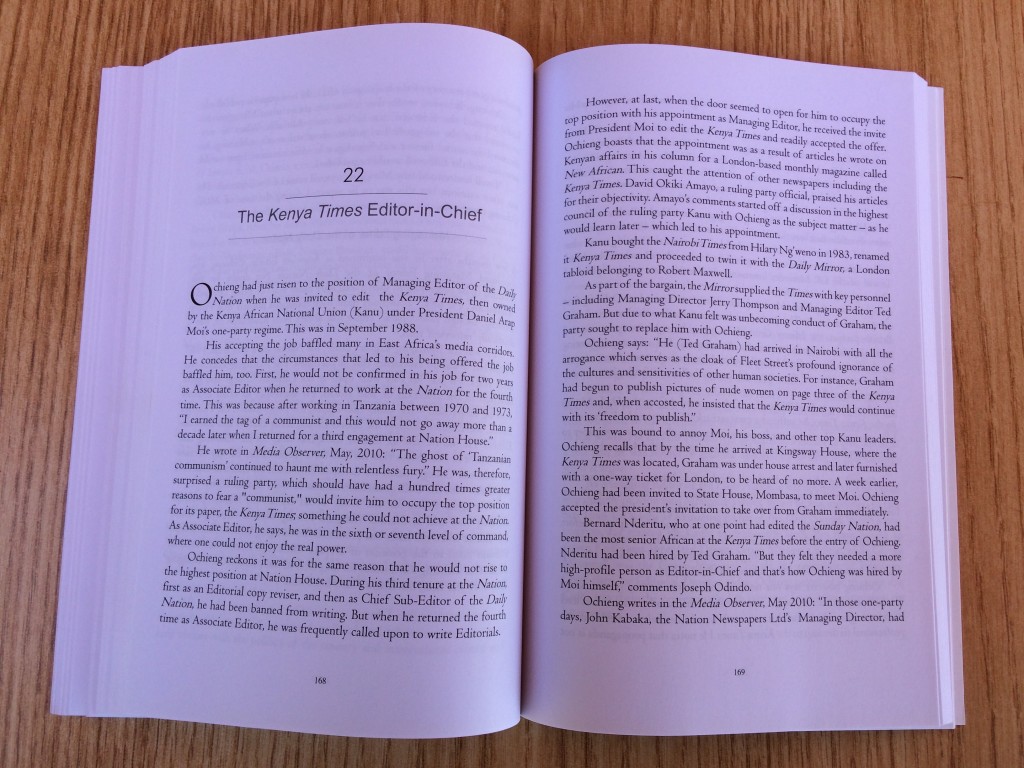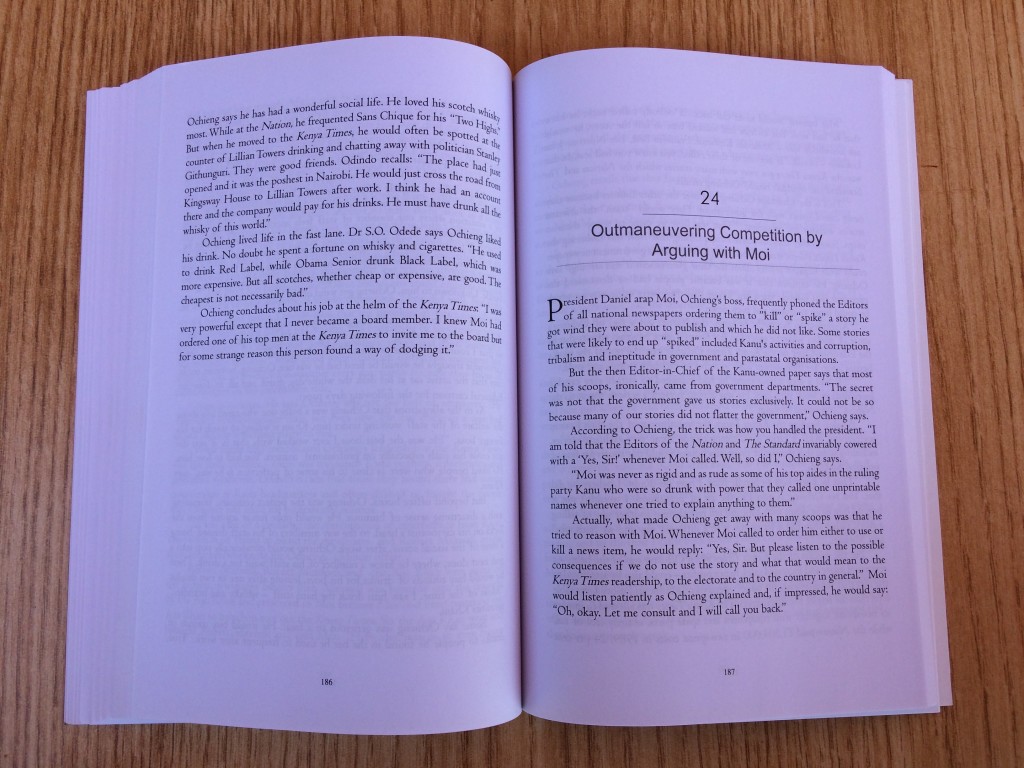 This led to his critics to claim that Kenyan public should be wary of Ochieng as journalist and that his journalism may be less trustworthy, because he breached the trust he had acquired while working for Nation Newspapers. A professional journalist should be person who is professionally trained in the practice of investigating and reporting events, issues and trends to various audiences and not just intestine filling regime like Ochieng did. The field of journalism is dynamic, fast-paced and very competitive and thats why, irrespective of Ochieng being one of the best print media writers in East Africa, his moral values will forever remain tainted. Apart from going to bed with a corrupt and dictatorial regime of retired President Daniel Moi, Ochieng has also has a chequered history of womanising from newsrooms to bars. Thanks to his age, his sexual exploits are no longer an issue. In my view, Ochieng was able to get away with his action because Kenya media sector refuses to acknowledge there is a sexism in newsrooms, despite female journalists experiencing sexual harassment at a rate more than twice that of the general workforce. Bloggers in Kenya like the hugely popular Cyprian Nyakundi have highlighted how impossible it is for women to get jobs in mainstream media in the country without dropping off their pants. A survey of 100 female journalists last year working across all media platforms in Kenya found sexism and sexual harassment towards women is a systemic problem in Kenyan newsrooms, with 78% of female journalists having experienced some form of sexual harassment, up from 72% in 2014 survey. This kind of mentality is what Gitonga reveals when she writes how Ochieng left Nation Newspapers and traveled  to Tanzania in 1970 after he was forced to resign by management for having burnt a female journalist's nose with a cigarette. Which type of a sane man does that? Such actions demonstrate Ochieng male chauvinism is inborn despite his appetite for front bottom.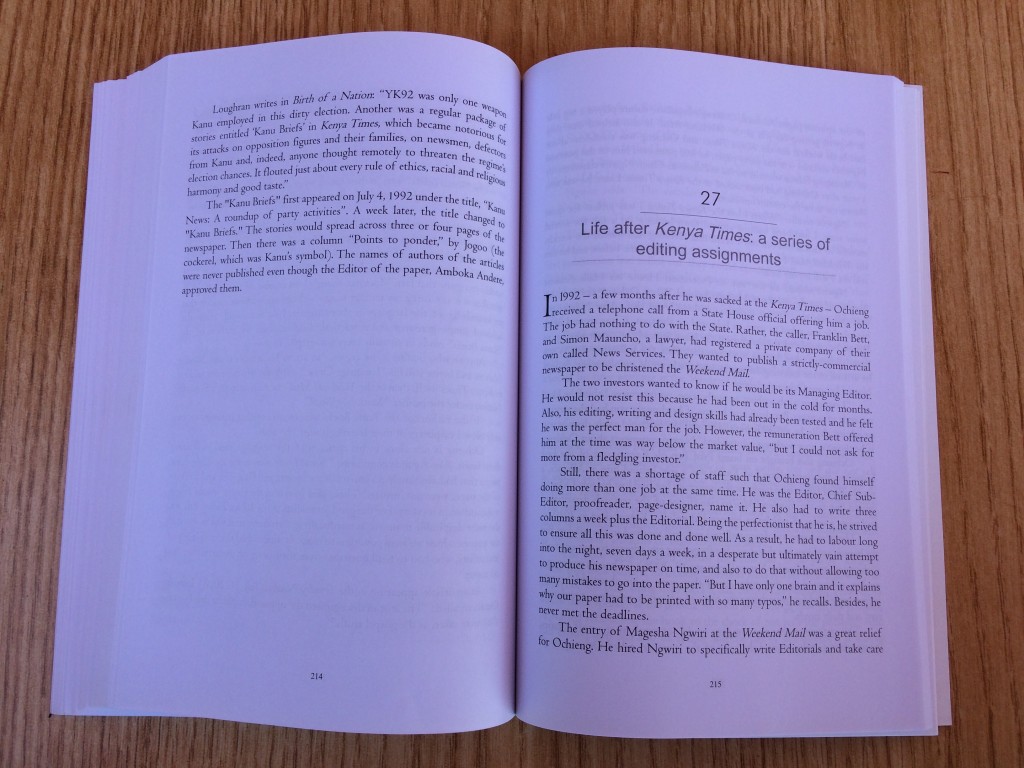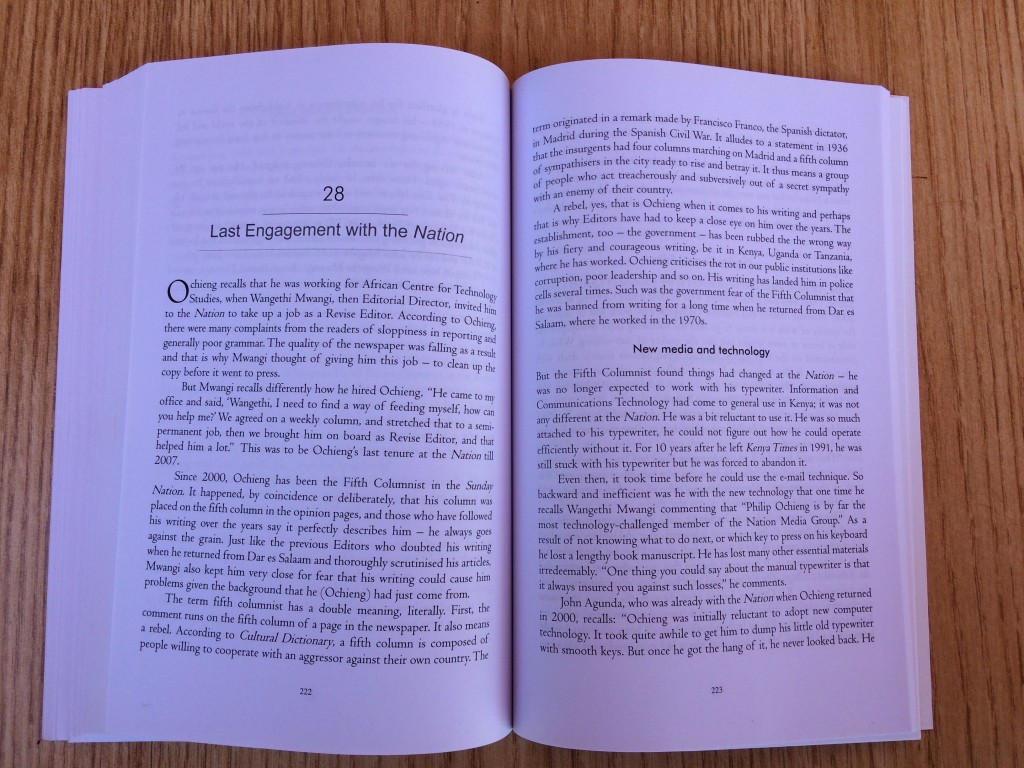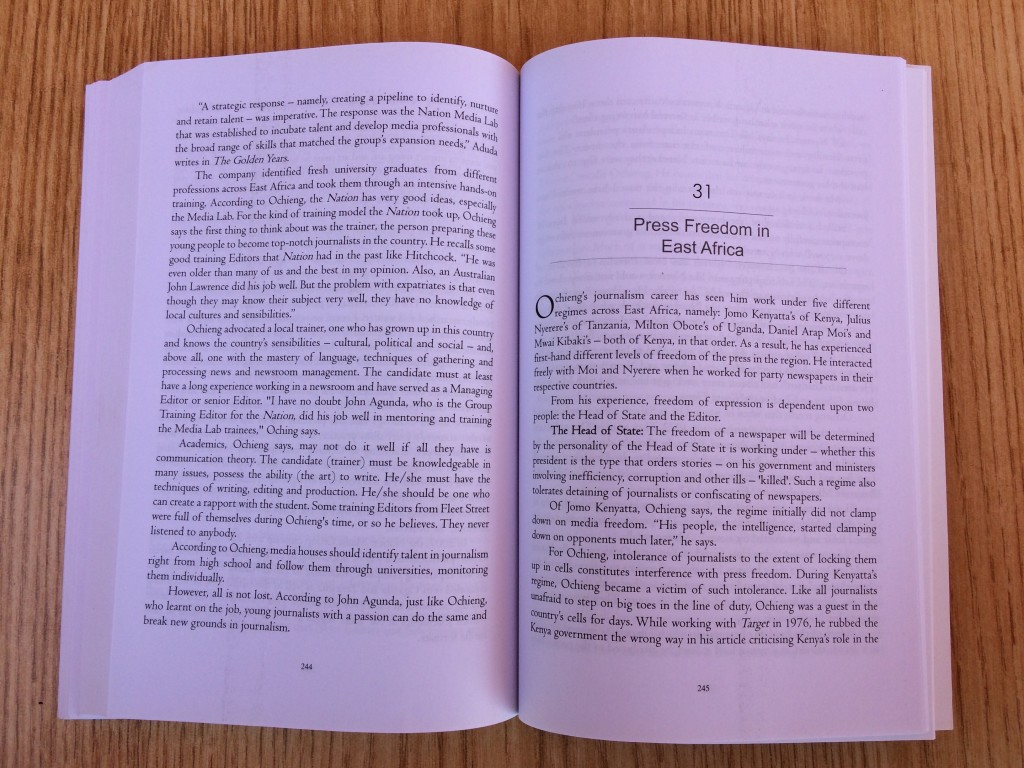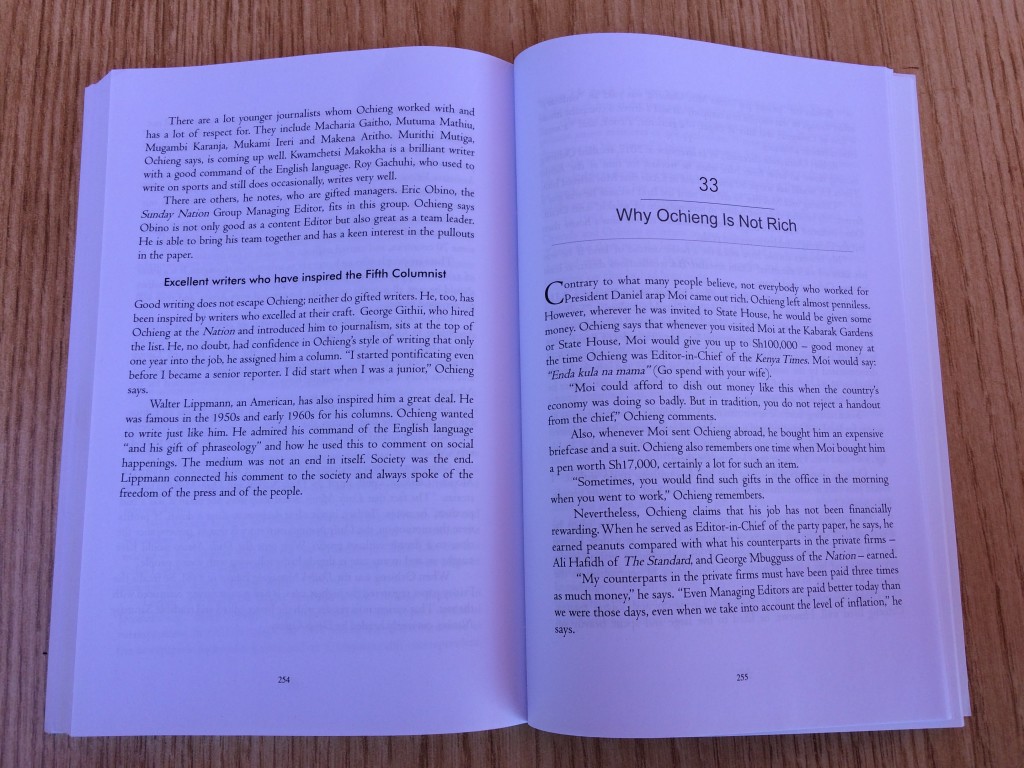 Therefore it is clear to see why the likes of Ochieng sex escapades were uncontrollable beyond the newsroom and the same continues to this day because recent research has found sexual harassment is not something that women had experienced in the distant past and most of the sexual harassment had happened in the last three years. And by that, am talking about sexual harassment being experienced by a whole range of women, senior and junior across all media platforms but mainly print and electronics. Thanks to the likes of Ochieng, the culture in the newsrooms in Kenya and East Africa in general is embedded with male domination, it's as simple as that and that is why culture of sexual harassment being accepted in Kenya. Women are more prone to reporting sexual harassment than they were in the past during the heydays of Ochieng, with young women expecting a different experience in a newsroom than those who came before them. Sexism had never been appropriate in newsrooms but its common in Kenya and young women are reluctant to use the term sexual harassment because it is linked with feminism, and feminism had a bad name among young women in the country. Young women do want to be able to challenge these inequalities, but of course in the environment they've got in the newsroom in today's Kenya, few would be brave enough to put up their hand and complain.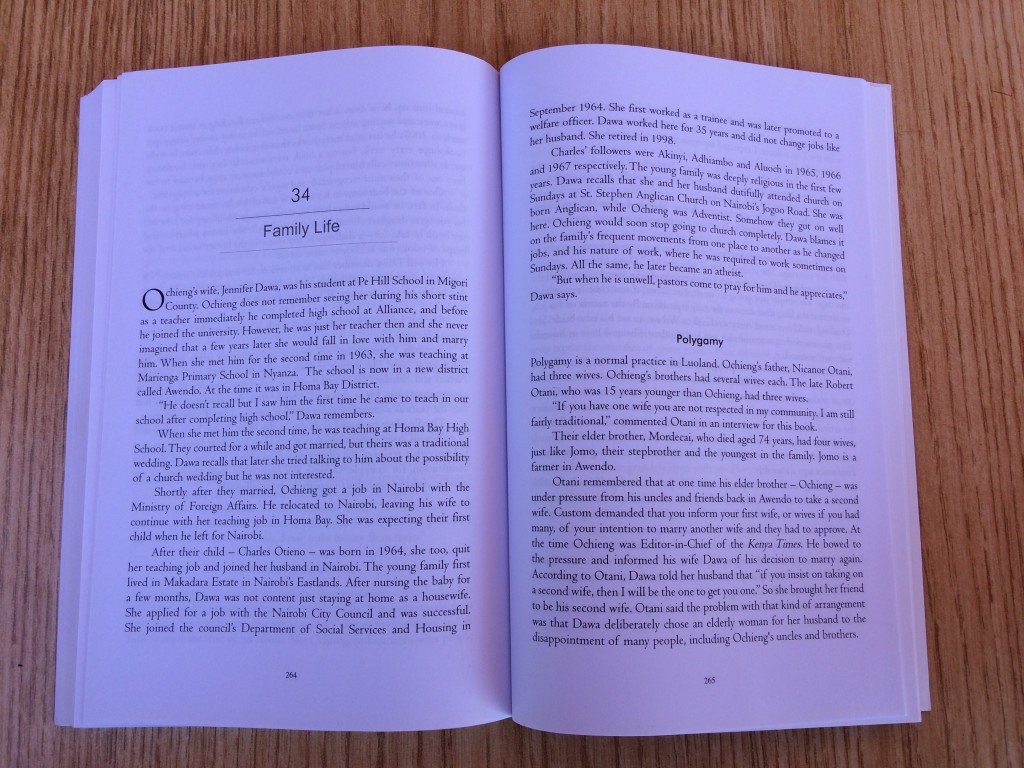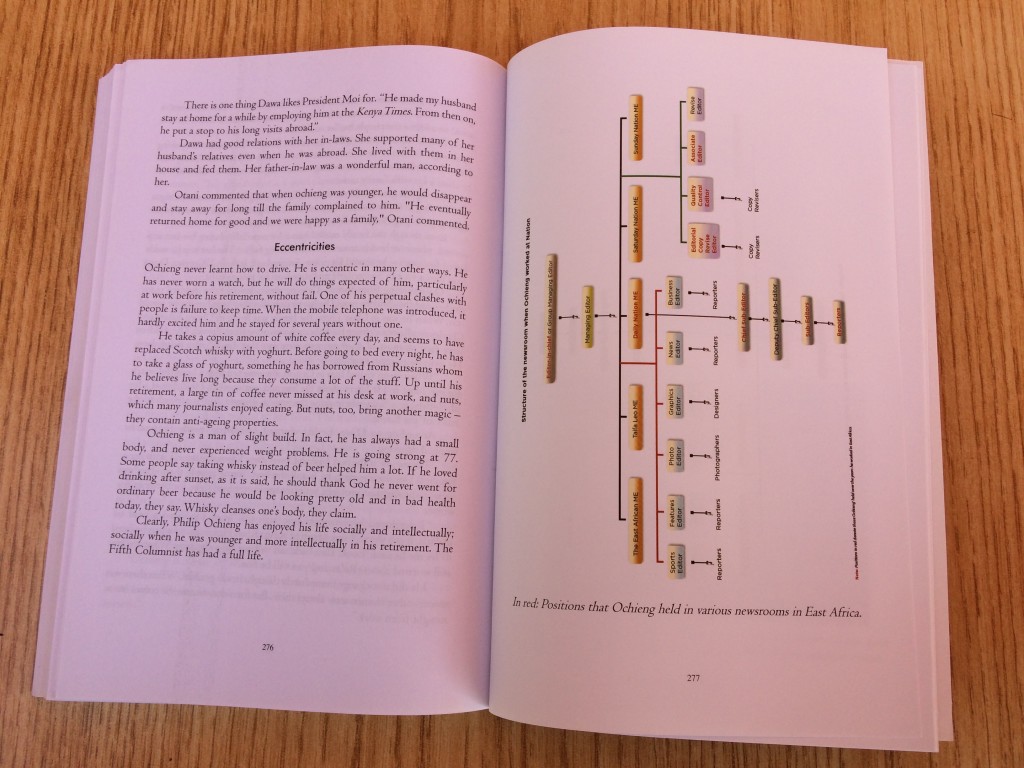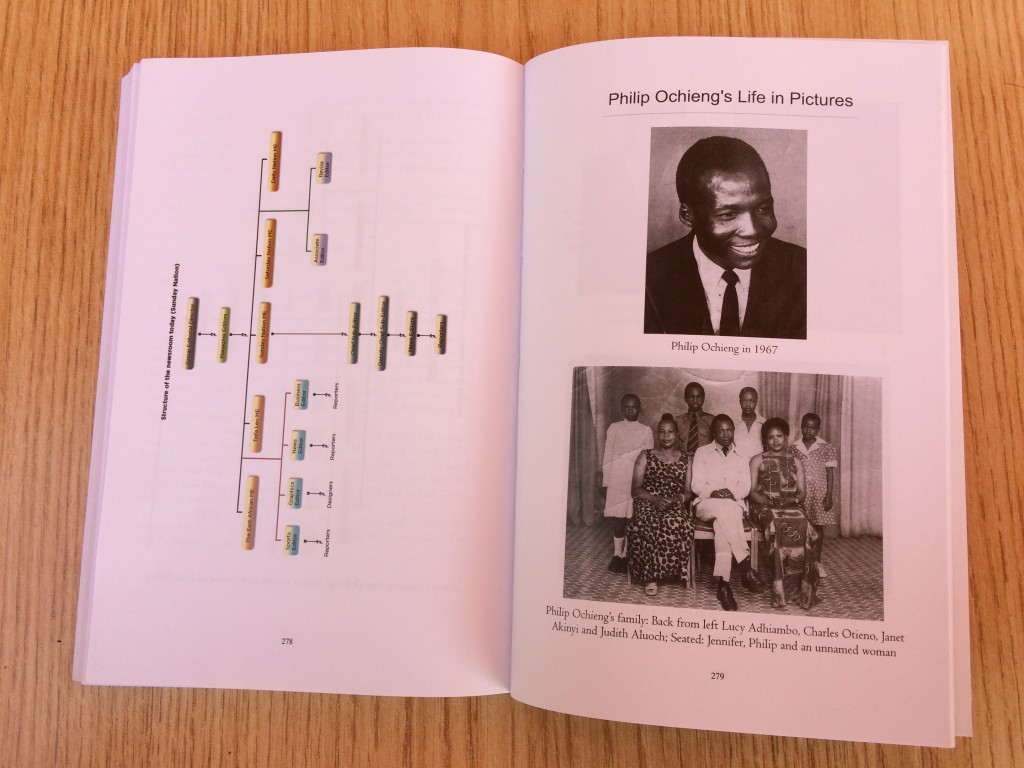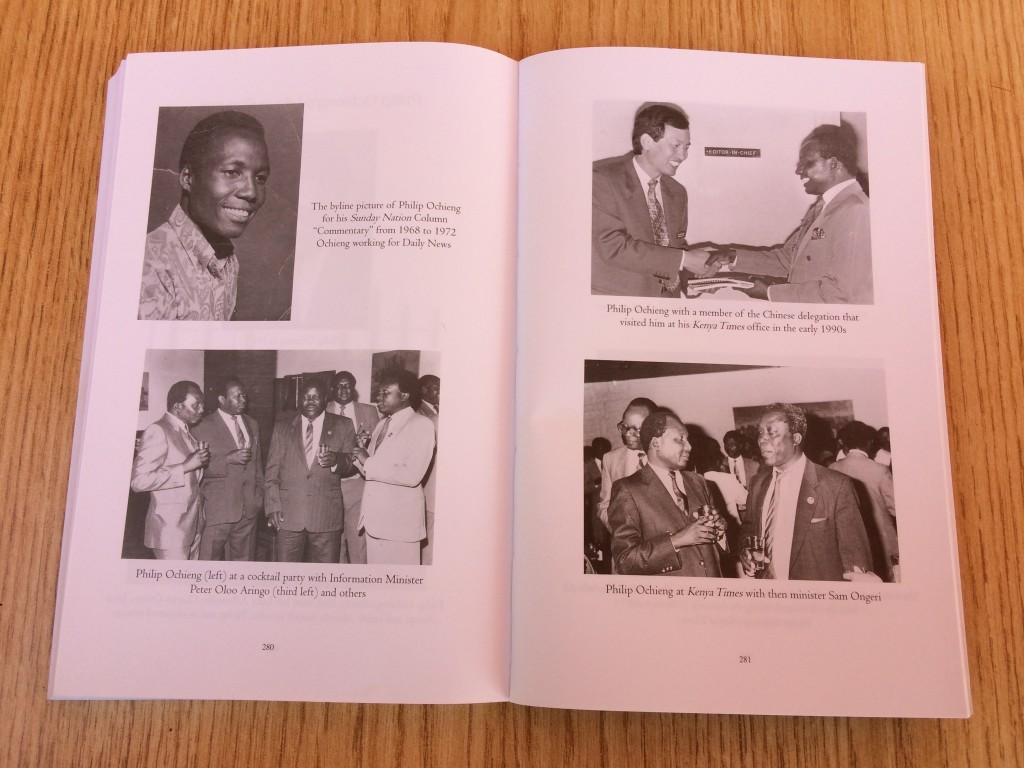 After all, the corruption that Ochieng glorified and defended as a writer at Kenya Times is what has led to so many unemployed Kenyans fighting tooth and nail, using any means from sexual favors to paying bribes in order to get a job. He started sale process of his profession in 1988 as an editor of Kenya Times, where he attacked the opposition, assassinated prominent people's character and with help of intelligence services by then known as special branch, he was able to publish stories that were not only unethical but disgraceful. One can only imagine there are very many Philip Ochieng's out there in Kenya and East Africa who are auctioning their profession for selfish gains. To Ochieng, it doesn't matter how good he has been with his journalism career, his lowdowns thanks to his Kenya Times stint will forever be overshadowed. It is a moral question of ethics that journalists like Ochieng should be forced to consider. A journalist must ask whether they, in such a position, would run a controversial cover or story that may alienate their readers. They are extremely important decisions that have changed, for better or for worse, the public's opinion of journalists and whether they are ethical and to be trusted. Many men like Ochieng who ran newsrooms before the turn of 21st century were womanisers, bullies, drunks and gropers. Some were just sleazy. That trend continues to this day in Kenya which is both shameful and disgusting. In the 20th century media settings where Ochieng belongs, a woman, of almost any ambition, was cold, bossy or had too many family responsibilities.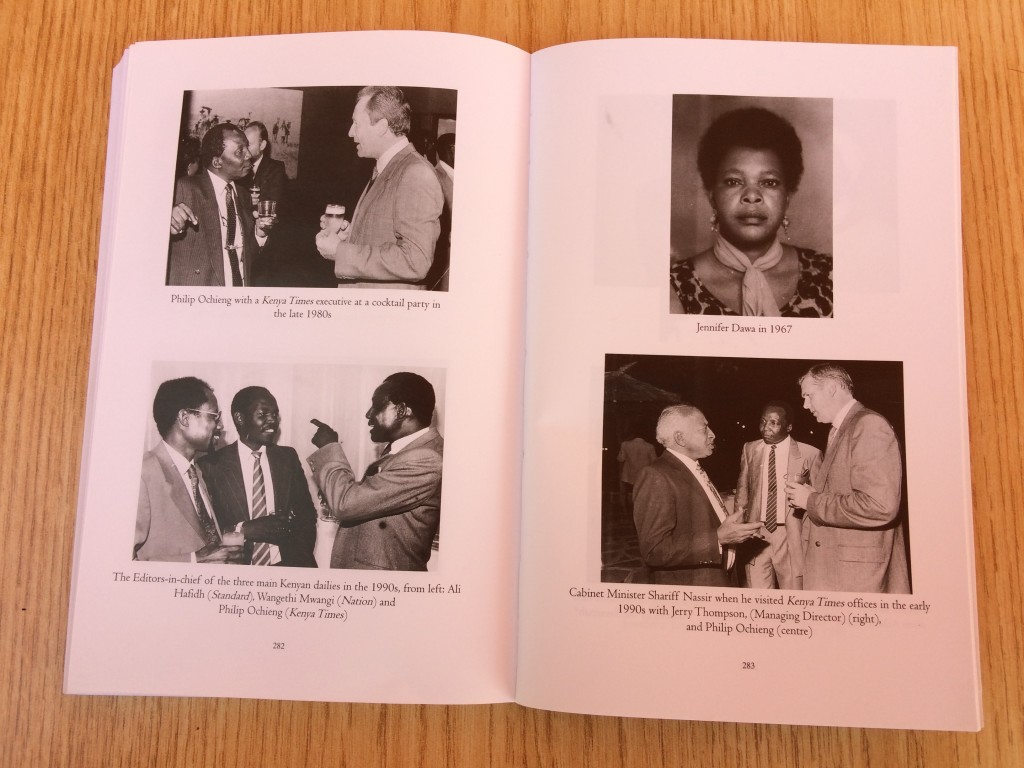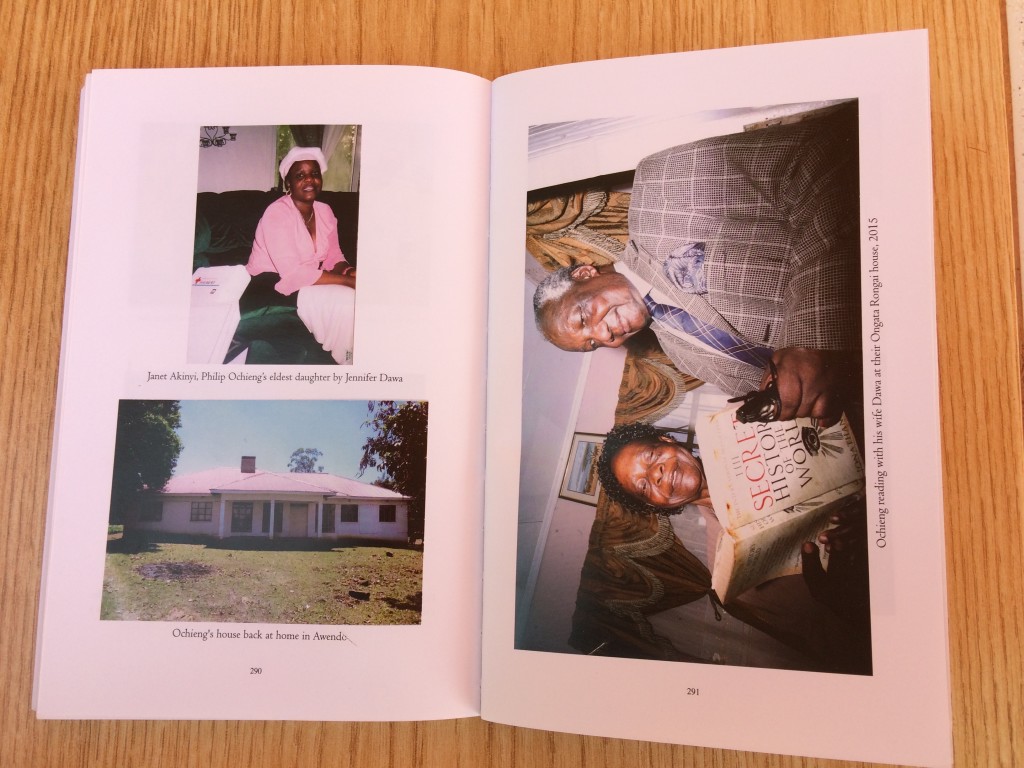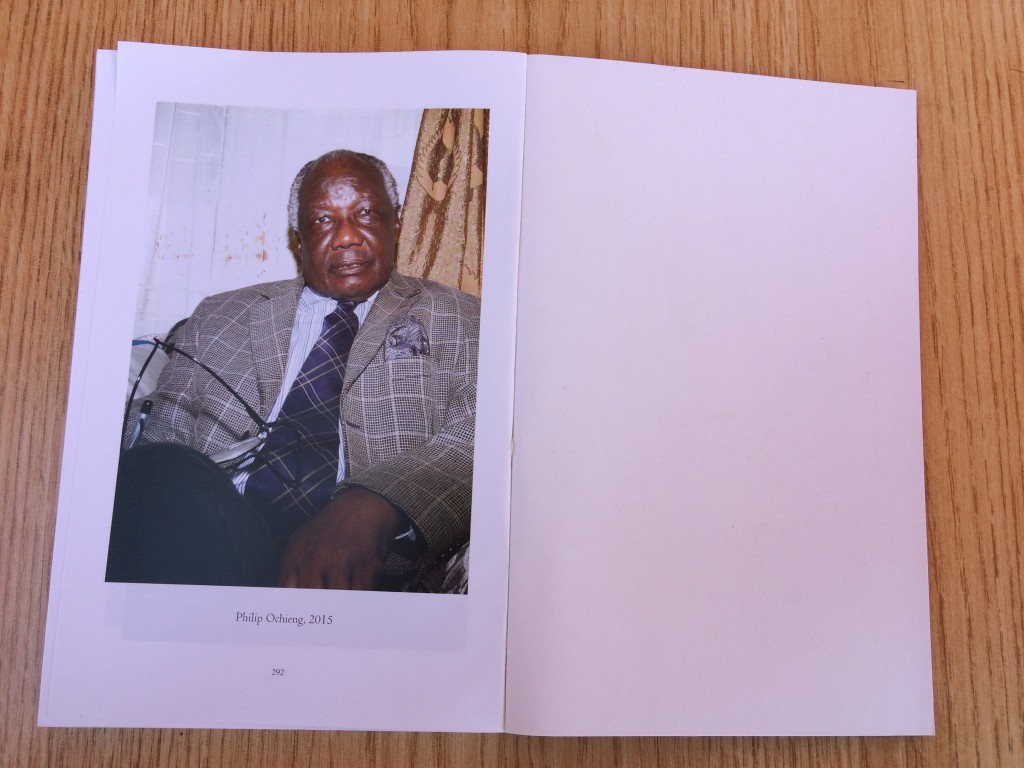 Such Ochieng types were chiefs of staff or news editors, very occasionally the senior editors themselves. Those who had the title of editor in chief had either pulled themselves together or had never been that way in the first place where any woman who wanted a job had to split her legs.Reading Liz Gitonga revelations about Ochieng, it is very clear the occasional woman in Kenyan media from that time stayed in the job.But sadly the sleazebuckets like Ochieng got away with keeping the titles and senior positions despite these deep and serious character flaws like supporting oppressive regime and sexual exploitation of female journalists. It is well know that talented women have left Kenyan media in droves after being frozen out by those same witless men who inherited Ochieng types habits.The lack of the public's trust has resulted in changes of how Kenyans are able to access the news. With the help of social networking sites like Twitter, Kenyans and East Africans can get a pinch of information at almost unbearable speeds.This wasn't the case when Ochieng types were running media organisations. In conclusion, Ochieng maybe one of the well read and finest journalists to have come out of Kenya, but his legacy is tainted with selfishness, ill mannered, opinionated and promiscuousness. For someone who met and interacted with the likes Ugandan President Yoweri Museveni, Zimbabwe President Robert Mugabe, retired Namibian President Sam Nujoma, public figures like Walter Rodney, Mohammed Issa Shivji and Ayi Kwei Armah among other renowned people, one would have expected a much better legacy out of Ochieng.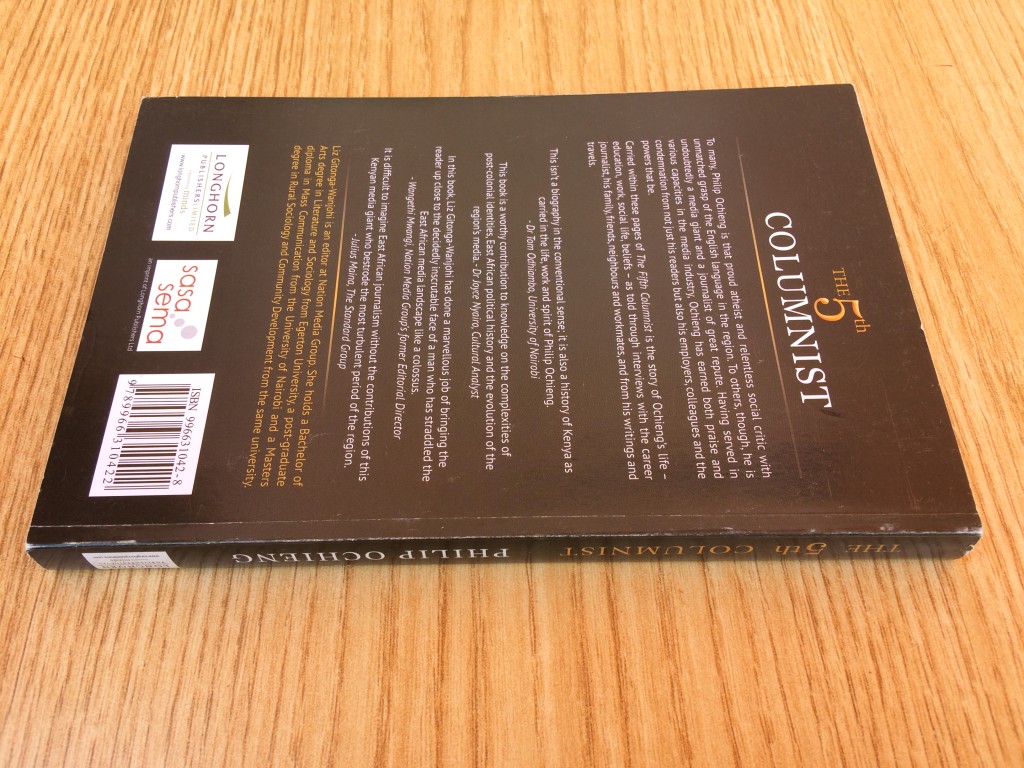 Previous
Next