Tanzanians votes in divisive presidential election
Posted on October 26, 2015 12:00 am
Tanzanians voted Sunday in the tightest and most divisive presidential election since the country gained independence more than half a century ago, pitting ruling party Presidential candidate John Pombe Magufuli against Edward Lowassa an ex-Prime Minister with a chequered graft record.After a bitterly fought campaign that saw long-time favourite Magufuli's lead shrink dramatically, voters in Africa's most stable democracy must choose between two starkly different candidates. A former teacher from a humble background, John Magufuli is the first serious presidential contender without links to the authoritarian past, who is seen as likely to usher in a new style of leadership and consolidate democracy.Lowassa, a Maasai, one of the minority communities in Tanzania has won support with promises of firm leadership in a country where many years of under development has taken centre stage in this years electoral process.But critics fear he may shift Tanzania back towards same rule he was used to while at CCM, a party he departed few weeks before official campaign started after he lost the nomination process to John Magufuli."In terms of Tanzania's democratic journey, this is potentially a very important juncture," said Robert Bwenge, an analyst from the Dar Es Salaam-based local strategic and national studies agency.Most polling stations in the country opened as scheduled, officials said.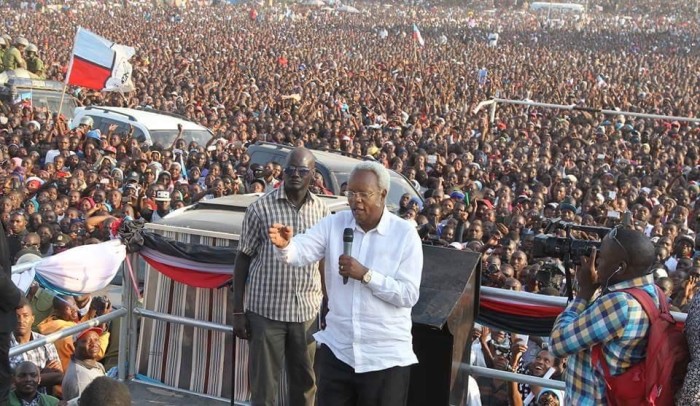 Caroline, 30, was the first to vote at a small polling station in Mbeya, weary-eyed from watching a Rugby World Cup match in the late hours of Saturday."I voted for Lowassa because I think he's made himself close to the people and he also came here to Mbeya couple of times to campaign," said Caroline, a housewife told your blogger. As the sun rose over the capital, Dar Es Salaam, police were carrying out security checks at all places near where most residents were expected to cast their vote.Several weeks ago, John Magufuli looked to be on a smooth course to lead the country, which has about 22.7 million eligible voters.But, after a polarising campaign, his once-huge poll lead has shrunk.The outgoing minister of roads and public works was targeted by smears, including a claim that he is a stooge of the outgoing President and not an independent minded candidate, a deeply damaging charge in East Africa's most populous country.He vehemently denied the claim.A poll out Saturday gave him a lead of just 5 percentage points, and with a large number of undecided voters, analysts say the race is wide open.A series of "quick counts" by pollsters on the day are expected to give an accurate indication of the winner. Official results are not due out for about twenty four hours possibly on Tuesday.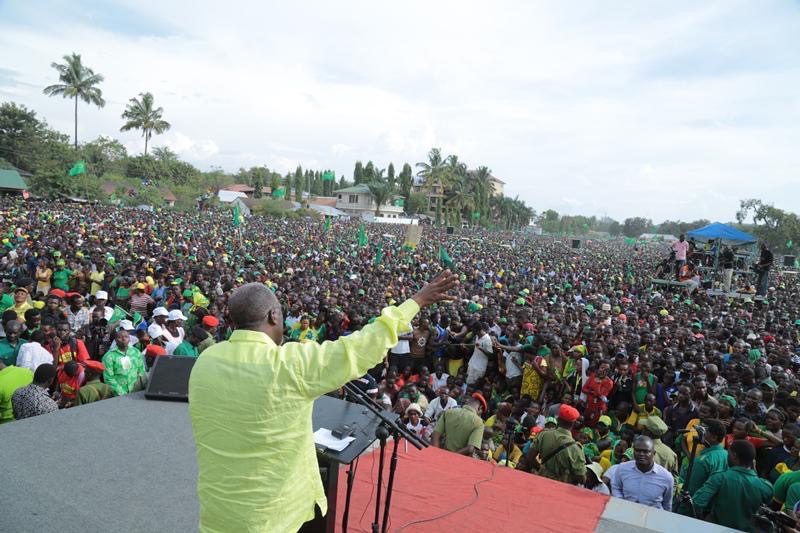 Whoever wins will be the country's fourth directly elected president and will succeed President Jakaya Kiwkete who steps down after elections after a decade of stable but often indecisive rule.It will be a delicate transition. Growth is slowing in East Africa's second largest economy, corruption is rampant and millions remain mired in poverty, a common thing in all African countries.Magufuli has quickly won legions of fans with his common touch and efforts to solve the country's myriad problems.Lowassa, a wealthy businessman, has played up his ministerial background on the campaign trail, at a time when nostalgia is growing in some quarters for a return to the strong rule of the Nyerere years.Many have become disillusioned with the country's messy democracy, and hope a stronger leader can crack down on corruption in one of the Africa's most graft-ridden nations.But Lowassa's comments about corruption have caused concern as he himself was widely alleged to have been involved in 2008 external payment arrears(EPA) and Richmond company's corruption scandals.However, he has denied the involvement and has been pointing causing finger to others. Investors are hoping for a John Pombe Magufuli win, seeing him as a potential reformer, and the Tanzanian shillings has fallen heavily in recent months as Lowassa has gained ground.May the best candidate carry the day.
Previous
Next