Tanzanians to pick new President on October 25
Posted on May 26, 2015 12:01 am
In Contador Harrison's view, young and first-time voters are like untapped resources in Tanzania 2015 general election.Their huge potential is the target of the main political parties like Chama Cha Mapinduzi, Chadema, CUF and NCCR- Mageuzi contesting this year."The election date for all who are registered on the electoral roll is 25 October," National Electoral Commission head Damian Lubuva said in a statement released yesterday.Its now official that United Republic of Tanzania will go to the polls on October 25 to elect a new president, members of parliament.As the  elections fast approach, sections of the Tanzanians have started to express their opinions on the change of the guard at Ikulu, the official residence of Tanzanian President.Scrolling through social media networks or mitandao ya kijamii in Swahili,heavily influential diaspora Tanzanias are among those interested in seeing a better post-election Tanzania after the upcoming festival of democracy that begins in August and their expectations of the next state leadership if their posts are anything to go by.According to electoral body, the lists of candidates for presidential and legislative elections will be published on August 21,and the election campaign will start on 22nd August,ending on 24th October 2015."So far, only the government has been actively promoting the elections abroad, while there has been minimum, if not completely zero, promotion by the political parties contesting the elections" – a Tanzanian residing in London UK wrote on Instagram.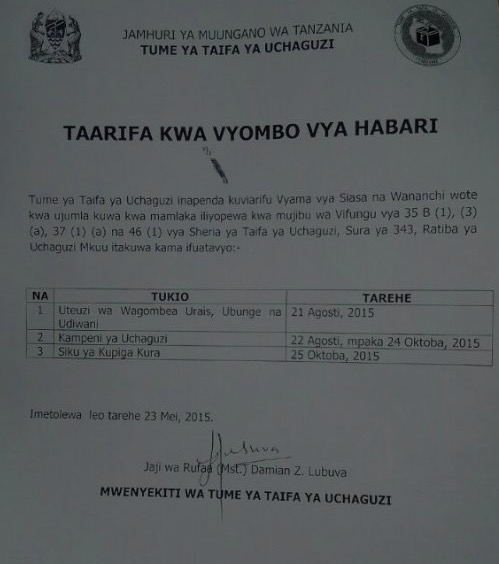 It's a pity because there are nearly half a million Tanzanians living and working overseas, who are technically eligible to vote in the elections, Atlanta based Zanzibari wrote on his Instagram. However, the political parties seem unaware of this another another one lamented on twitter page.We want a different, not a business-as-usual national leadership as a product of the elections, a Dubai based Tanzanian.In UK, Tanzanians residing there want a clean, credible state leadership,one that sets a good example to its own people. However, we cannot expect changes from the 2015 legislative election, as it will be contested by pretty much the same political parties and will still be held based on the same old election law, while over 50 percent of the candidates contesting the legislative election are old faces.We do still have high hopes of the presidential election, but only on condition that the election can offer new, fresh faces for the Tanzanian people to vote for – One of them wrote to me in an email exchange last evening. As a matter of fact, we still need a good, trustworthy figure to lead United Republic of Tanzania.In reference to the existing rules of the game,particularly in the presidential election, there is little chance of fresh faces contesting the election according to many tweets that I read online after the announcement of the election date or – siku ya uchaguzi- in Swahili.Despite the challenges expected with election process Tanzanian is still a good place to invest.
If social media trends were to elect the next President of Tanzania, then it will either be Edward Lowassa, the former premier and current member of Parliament for Monduli, current premier Mizengo Pinda and Mwigulu Nchemba, arguably the fresh faced of those being touted to succeed Jakaya Kikwete.Mwigulu hails from the lake region of Mwanza, Lowassa northern Tanzania and Pinda southern part of Tanzania.I asked a Tanzanian friend based in Dar Es Salaam what she expect of the next government and her reply was that the next government must revolutionize the bureaucracy and the reason behind all the mess in the current,outgoing government of Jakaya Kikwete but just like I argued about Julia Gillard, Kikwete has done wonderful things for Tanzania. Another friend told me that,the new government must strike an equal balance between political and economic interests.Politically,the next government must find the balance.Economically, the next government must not only ensure growth, but also the prosperity of its people.Food sustainability,rising crime incidents and sovereignty is one area of concern that the next government must focus on.From the long list of October 25th general elections expectations,Tanzanians voters now have higher expectations like I did when Tony Abott was elected and as they begin to see elections as a routine,but a constitutional right.It would be futile to bemoan a low turnout as voters are currently grumbling about not even being registered.Much support from the government,lawmakers and international parties are needed to boost the capacity of the electoral commission to register remaining voters and to be able to serve far flung areas citizens who now expect to be facilitated if they are to have their say in October 25th elections.I do also think mainstream media will play a key role in shaping the political destiny of the country.
Previous
Next