Samsung Galaxy Beam review
Posted on September 10, 2012 12:44 pm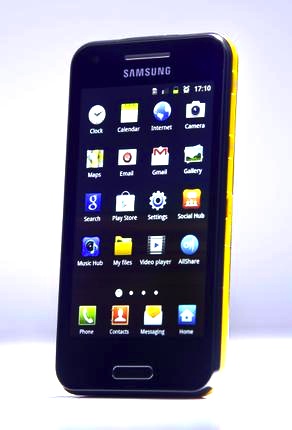 Samsung Galaxy Beam runs on Gingerbread and that made me feel like an old hat with Ice Cream Sandwich phones widely available and Jelly Bean is already in the wild making this phone look a granny. Galaxy Beam is a sporty-looking number, thanks to the yellow and chrome bezel and the soft, rubberized battery panel on the back. The phone weighs in at 145g roughly 5g more than iPhone 4S and I liked the projector that is sleek mould in the frame. Galaxy Beam projector placement and the 5MP camera sits a third of the way down the back of the phone which made easier to cover my finger and screen felt too small whenever I wanted to share a video or photo with friends online. Galaxy Beam LCD screen pixel resolution is 480 x 800 while 233ppi pixel density is quite good. LED based projection system was more of a gimmick rather than a usable feature but Galaxy Beam is no much different though.Galaxy Beam is a decent phone but has no excellence at all because the Gingerbread OS slows it down on occasion when the home screens are fully loaded with apps and a couple of them are running in the background.
When I looked at it from the side I was unable to tell that there's a projector in there and the projector lens on top of the phone covered by a glass panel but there was no lens cap. I also learned that Galaxy Beam has a total brightness of 15 lumens and a resolution of 640 x 360 pixels and the phone can project an image up to 50-inchs in diagonal size. Interestingly, the projector can also double up as a flashlight one that projects a perfectly rectangular light beam and in my choice of color. To start the projector up, I had to press the dedicated button on the side of the phone. It started up almost immediately and I was able to proceed and adjusted the various settings, starting with the focus and orientation. A cool bedside stand is included in the box, which also serves as a charger for an additional battery. Micro USB serves as the main mode of connectivity and the charge port and used while dragging and dropping on the MacBook after downloading android file transfer software for Mac and was able to simultaneously charge and update my files.DLNA for wireless sharing easily turned Galaxy Beam into a Wi-Fi hotspot after digging into the Wireless and Network settings.
Galaxy Beam loudspeaker was by far too feeble to be of any use when I was using it as a projector and on multimedia, I needed external powered Bluetooth speaker. The battery life when using it as a phone is roughly a day or two and running it solely as a projector, I got about three and a half hours of use. On the upside, Galaxy Beam has great battery life and can run all the major networking apps and games with ease and was happy with the additional battery provided. The 8GB internal storage with the MicroSD option of adding 32GB on top is impressive and liked it.Galaxy Beam 5MP camera produces some good snaps as shown below. On the downside, Galaxy Beam does not come with a stand, tripod or mount of any kind for projector use and while testing it I had to ask the owner to wait for complete darkness and even then, the quality of the projection wasn't high definition enough to particularly blow us away. Galaxy Beam is a competent smartphone though the version of Android is a bit of a let down. Its two batteries give it superb longevity and its physical design is attractive. The projector is a bit of a gimmick though it works well within its limitations of projection size and darkness requirements.
Previous
Next