Rod: The Autobiography by Rod Stewart
Posted on February 24, 2016 12:02 am
I got to know about Rod Stewart through my brother who had made a habit of playing Da Ya Think I'm Sexy on his Sony Walkman every Sunday afternoon.As a tween,I was fascinated how he loved the British bloke music and since then, Rod remains one of my favorite old school rockers.He is the type of rock star that has made me understand that successful musicians must be confident and adventurous enough to dive into their music careers headfirst.Stewart was born the working-class son of a Scottish plumber in North London. Despite some early close shaves with a number of diverse career paths, ranging from gravedigging to professional football, it was music that truly captured his heart and he never looked back.Reading this autobiography, it was clear those who think that going into music will be an escape from doing "real" work, they better think again because his success never came under a silver platter.According to the author, Rod started out in the early 1960s, playing the clubs on London's Rhythm and Blues scene, before his distinctively raspy voice caught the ear of the iconic front man Long John Baldry, who apparently approached Rod while he was busking one night on a railway platform. The he got stints with pioneering acts like the Hoochie Coochie Men, Steampacket, and the Jeff Beck Group which cleared the way into a raucous five years with the Faces, the rock star's rock band, whose offstage antics with alcohol, wrecked hotel rooms and groupies have become the stuff of legend. Instead of becoming preoccupied with trying to get a "big break," Rod focused on growing his music career gradually.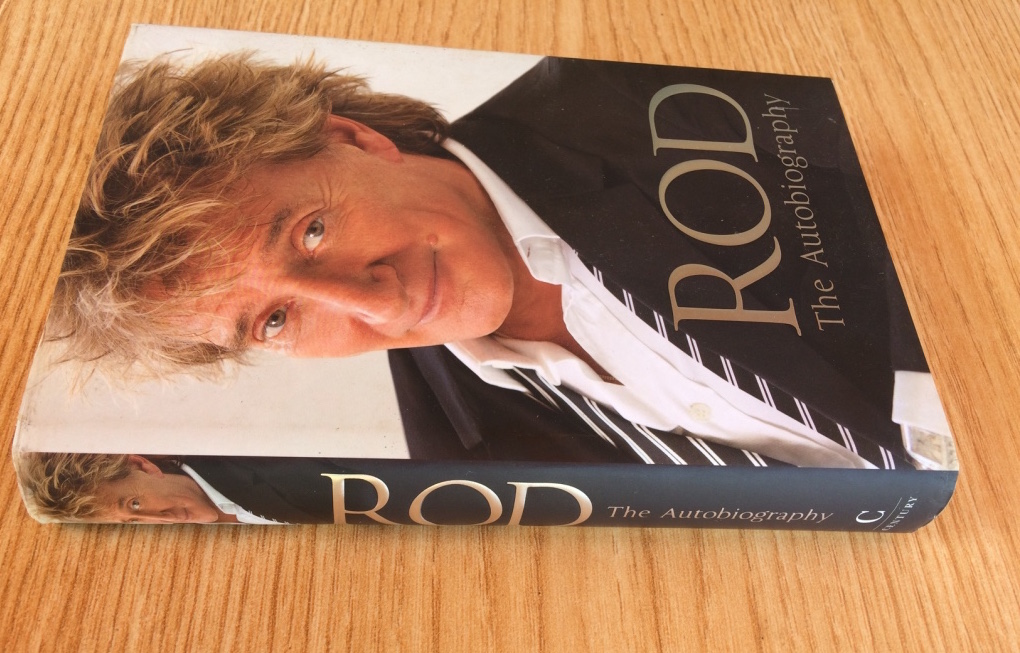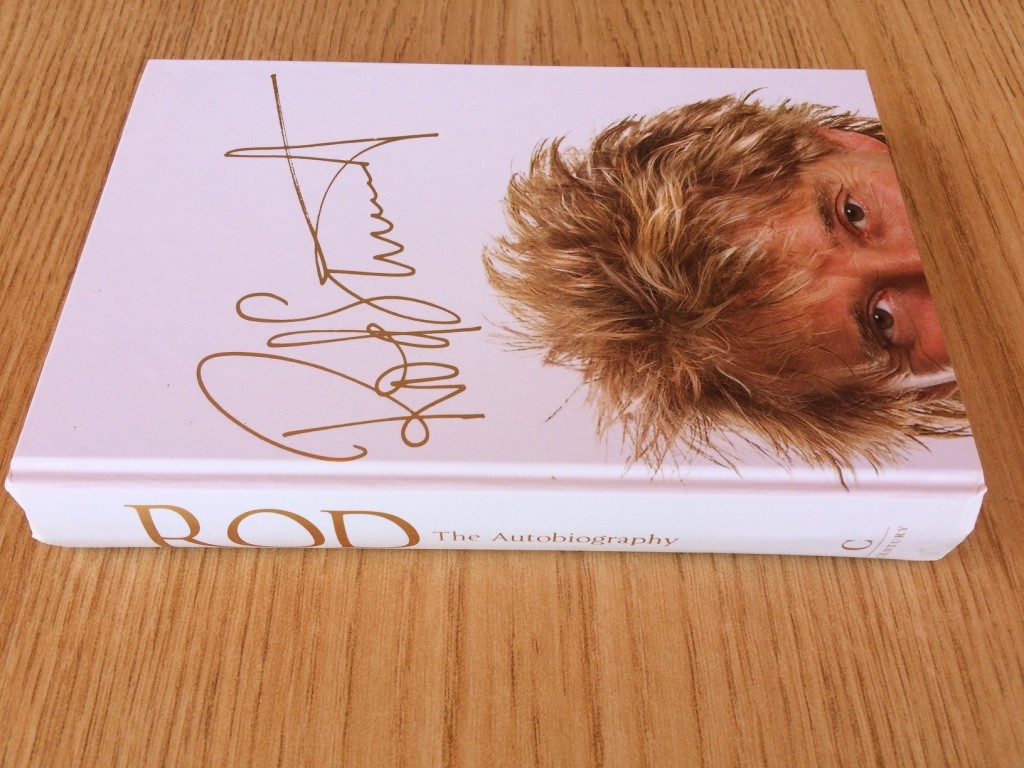 In 1963, Rod Stewart met an art student named Susannah Boffey both of them aged 18.Rod reveals that Boffey, to their surprise, got pregnant, and certainly not in bed. She decided to give the baby up for adoption and Rod never saw the girl who became Sarah Streeter.Then in 1966, Rod met Jimi Hendrix but meeting Jeff Beck in 1967 was what turned to be a big deal. Stewart recalled that the first conversation started like this: "Me: 'Are you a taxi driver? Him: 'No, I'm a guitarist. Are you a bouncer?' Me: 'No, I'm a singer.'" Beck, who was considered as hot or hotter than Eric Clapton or Jimmy Page, had left the Yardbirds to start his own group. Stewart joined him, and the band took off. Rod first toured the U.S. with the Jeff Beck Group in 1968. There he met Janis Joplin, who was by "no means a shy or retiring kind of woman" and "was always chasing us around the place, trying to shag one or the other of us, though without success. We were terrified of her." Rod best friend at the time was the guitarist of the group, Ronnie Wood. The two of them would seduce groupies, but they had to share a hotel room. According to Rod, they built a wall between the beds with suitcases and furniture. "But then, in the dark, behind the screen, going about our fumbly business, the schoolboy gene would kick in and Woody would make a ridiculous noise, and I would make an even more ridiculous noise, and then an escalating 'ridiculous noise' war would break out, culminating, frequently, in one or the other of us knocking down the barrier and burying the adjacent couple in a mound of luggage and chair legs. The extent to which our companions for the night found this as amusing as we did tended, I suppose, to vary. Frankly, in retrospect, to be a groupie attached to me or Woody on those nights, you would have needed the patience of a saint. Very often we got more pleasure out of each other than we did out of the girls."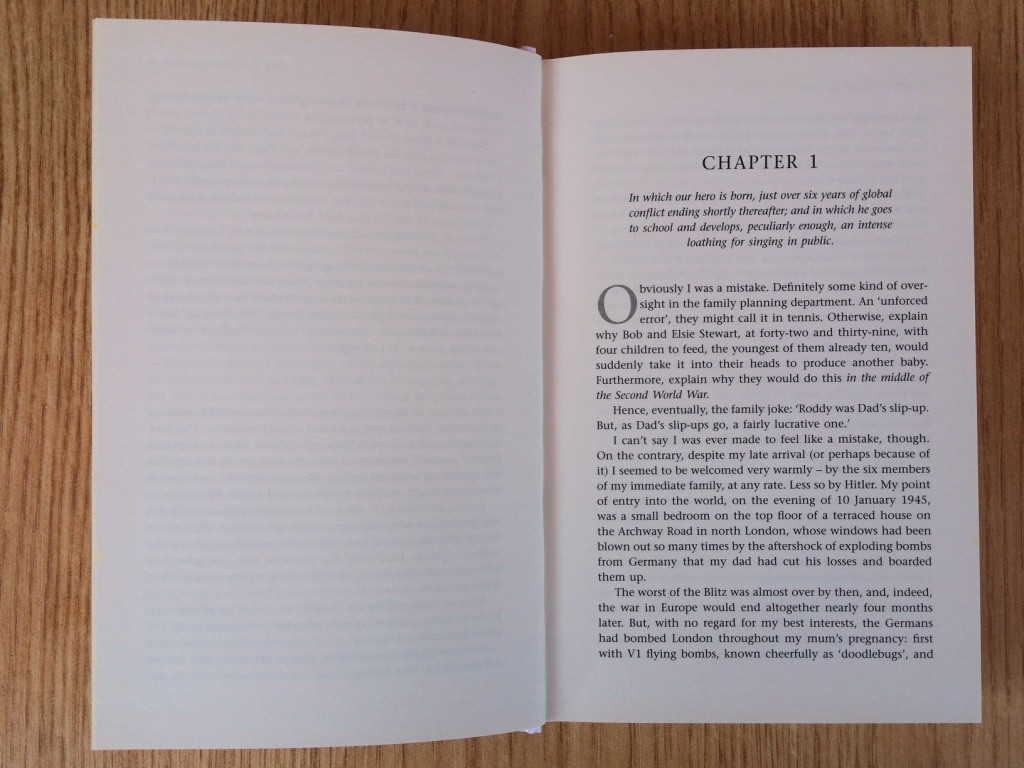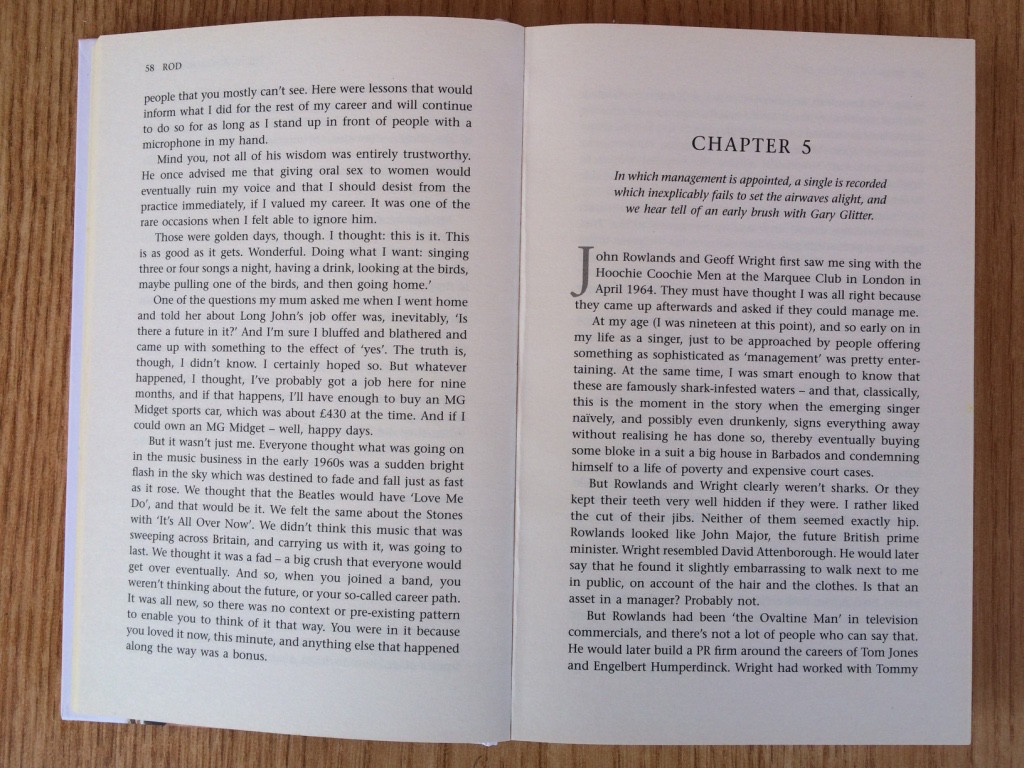 In 1969, Beck fired Wood for "complaining too much," and soon Stewart followed his friend to join a new band called Faces. "I hadn't touched cocaine before the Faces, but on tour it became freely available. Ian McLagan, the keyboard player had a fake carnation in his buttonhole, which he'd sprinkle with cocaine before a show, thus enabling him to inhale a reviving draught of powder during the performance." Faces were "bloody awful" some nights, Stewart said. "To give us the necessary courage to go on, slightly under-rehearsed, we used alcohol. We were the first band to have a bar on stage." In 1971, Rod struck out on his own with the solo album Every Picture Tells a Story. On it was a little song called "Maggie May." "Maggie May was a nice enough song but it went on a bit: I even wondered about leaving it off the album. Good thing I didn't." The single shot to No. 1 on the charts in Britain and in the U.S., as did the album, a feat that Stewart said not even Elvis and the Beatles could do.In the early 1970s, Stewart lived down the street from Elton John, and the two became best of friends. They called each other Phyllis and Sharon, or just "Dear." "Whether it was drink or cocaine, he could see me right under the table every time. One night at his house, we were applying ourselves to the medicinal powders and it got to six in the morning, at which point I tendered a short letter of resignation," Stewart wrote. He felt like he "had been run over from a number of different directions by a number of different traction engines," found a bed to sleep in, but four hours later his friend was thumping at the door, "bright of cheek and white of smile," telling him they've got a football match to go see. Stewart even wanted to form a supergroup with John and Freddie Mercury, whom they liked very much also. "The name we had in mind was Nose, Teeth & Hair, a tribute to each of our remarked-upon physical attributes. The general idea was that we could appear dressed like the Beverley Sisters.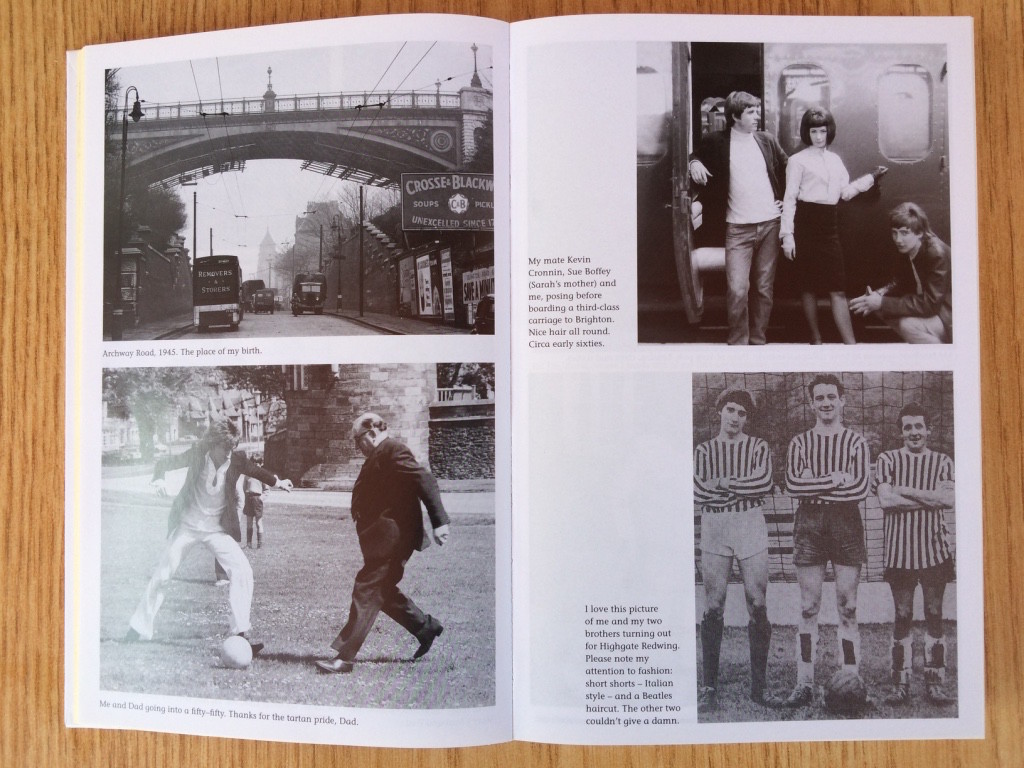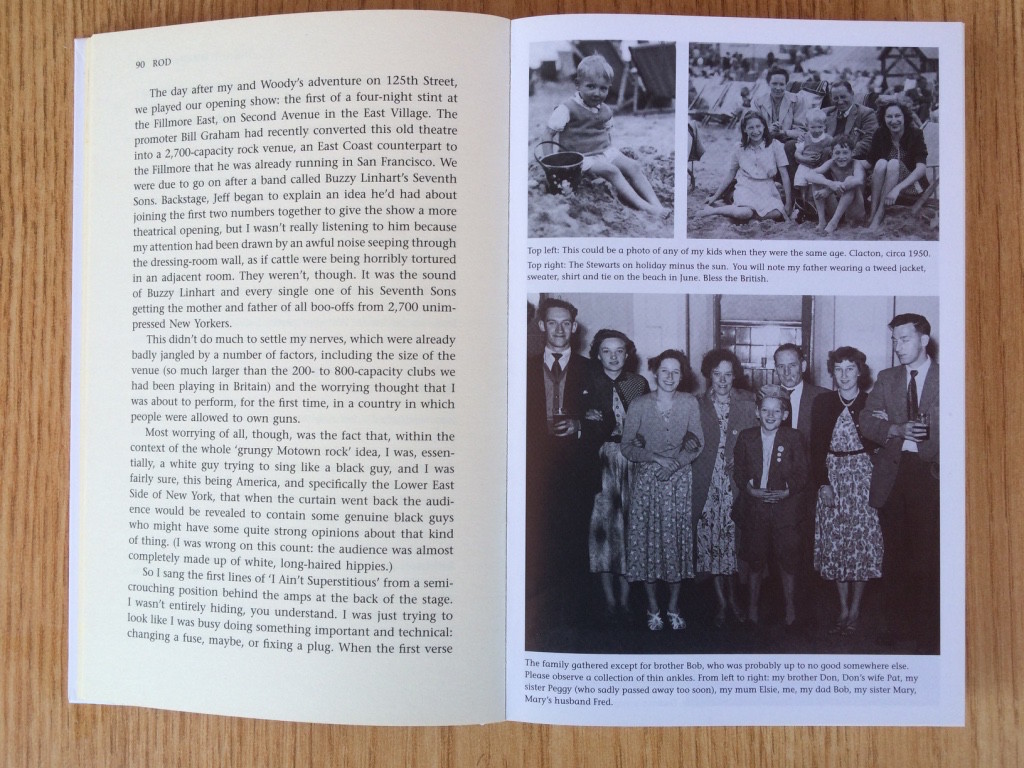 Somehow this project never came to anything."Describing his and Faces bandmate Ron Wood's run-in with the famous Plaster Casters, known for making paper-mache molds of rock star penises, Stewart demurs. "They came to our hotel," he writes about the groupies, "bringing with them, in a bag, autographed samples of previously cast appendages,plaster phalluses of Jimi Hendrix and Eric Burdon. Obviously it would have been a pleasure and an honor. However, Woody and I took a look at the rather challengingly splendid specimens on the table before us, considered for a moment the slightly more modest scale of our own endowments, and said, 'Hmm. Nah, I don't think so, thank you."Worried about the effects of cocaine on his nasal passages, and thus his voice, Stewart partakes of the drug in an unorthodox manner. "So we started buying anticold capsules from the chemist's, separating the two halves of the capsules, replacing their contents with a pinch of cocaine, and then taking the capsules anally, where, of course, the human body being a wonderful thing, they would dissolve effortlessly into the system." In 1980s, unconfirmed reports circulated that Rod had to have his stomach pumped for performing oral sex on a group of sailors. Rod says in the book the man who started the lie was Tony Toon, his late assistant and publicist, who Rod said was a great publicist because he made so much stuff up. By 1982, Rod was married to actress Alana Hamilton, ex-wife of actor George Hamilton. They went on vacation in Hawaii, and Toon came along. The hotel was overbooked, so Toon and Alana's son Ashley, who was 7, shared a room. "Toon, of course, couldn't resist pulling some bloke in the bar that evening and taking him back to the room. I fired him in the morning.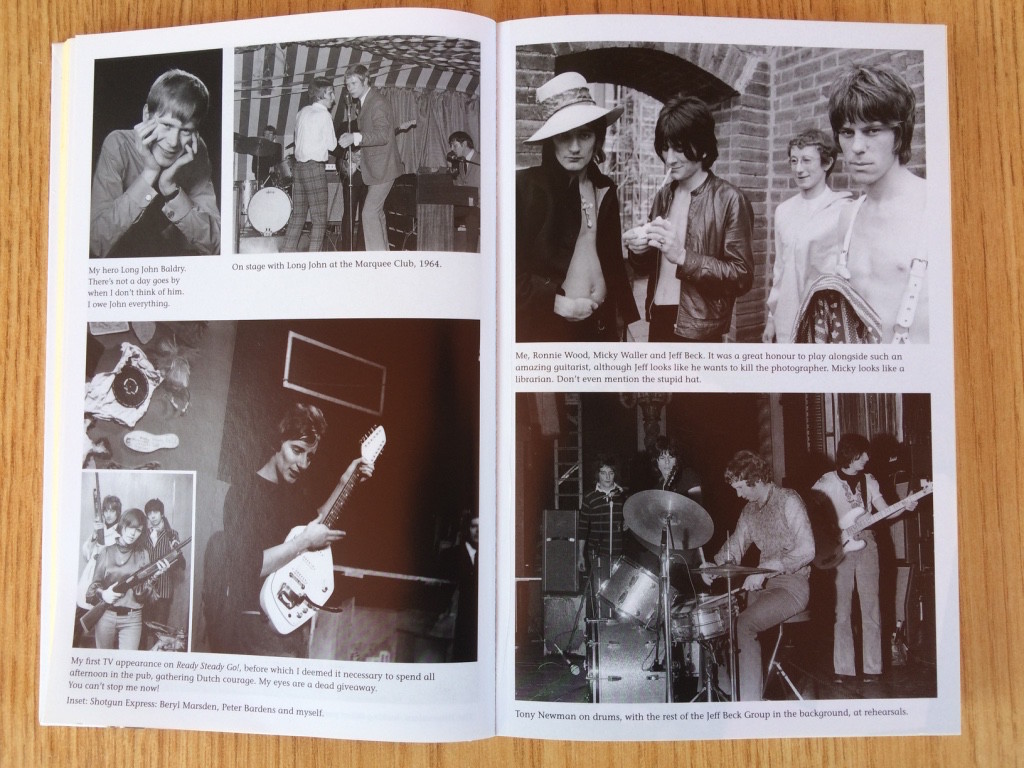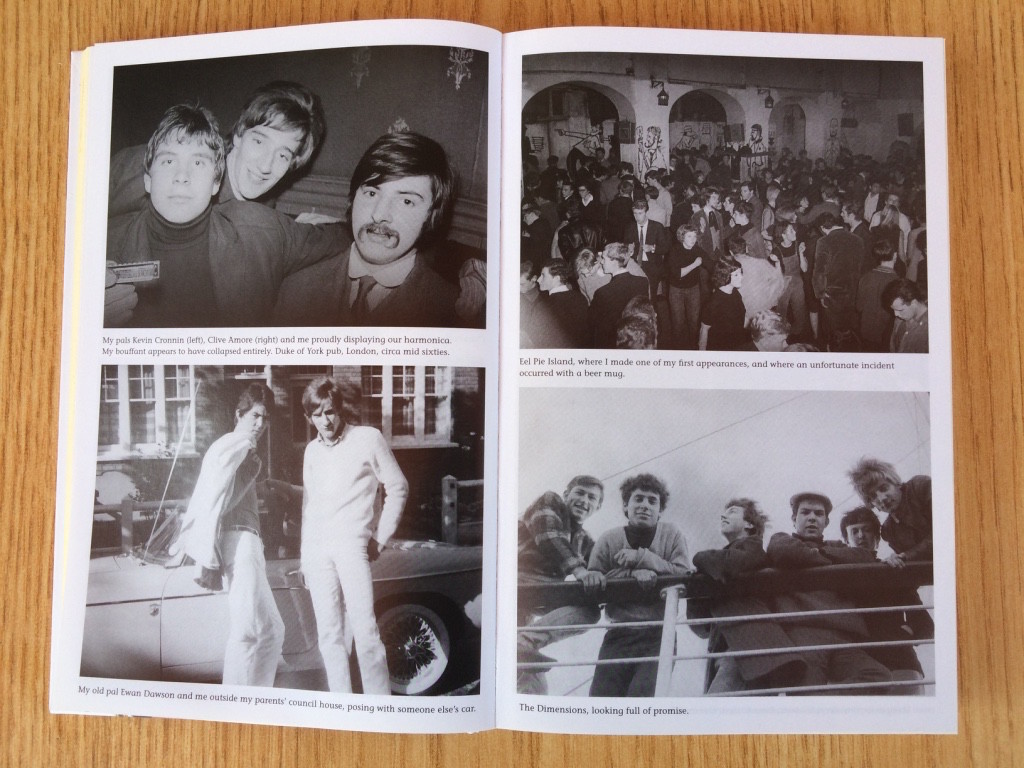 Toon's revenge was absolutely inspired. He fed the press a story in which, as a consequence of an evening spent orally servicing a gang of sailors in a gay bar in San Diego, I had been required to check into a hospital emergency room to have my stomach pumped … I have never orally pleasured even a solitary sailor, let alone a ship's worth in one evening. And I have never had my stomach pumped, either of naval-issue semen or of any other kind of semen. With minor variations … this story has stayed with me ever since. Say what you like about Tony Toon and God rest his soul but he was good at his job."In the British summer of 1990, six years after divorcing Hamilton, Rod found himself addicted to a commercial for a fitness video that starred the model Rachel Hunter. So when Rod ran into her at the Roxbury Club one Saturday night, what did he do? Instead of using his usual icebreaker, "Hello darlin'—what you got in that handbag?" he actually mimed one of the exercises she'd done on the video. "Rachel attempted a sympathetic smile as a cold wind whistled and a ball of tumbleweed blew through the club. Still, at least she didn't turn away." The two soon married she was 21 and he was 45. They had two children, but separated in 1999. The separation with Hunter left Stewart emotionally broken. "I tried therapy. This had never appealed to me. For me, it was a bit like a Chinese meal: very filling at the time, but then an hour later you're hungry again. Plus, of course, I'm British: we don't do therapy. We do strong cups of tea, a couple of ginger nuts and a stiff upper lip." He's now married to model Penny Lancaster. "As I was attempting to master a beginner's level 'balancing table' position, I fell over into the fireplace. Surely if God had meant us to do yoga, he would have put our heads behind our knees."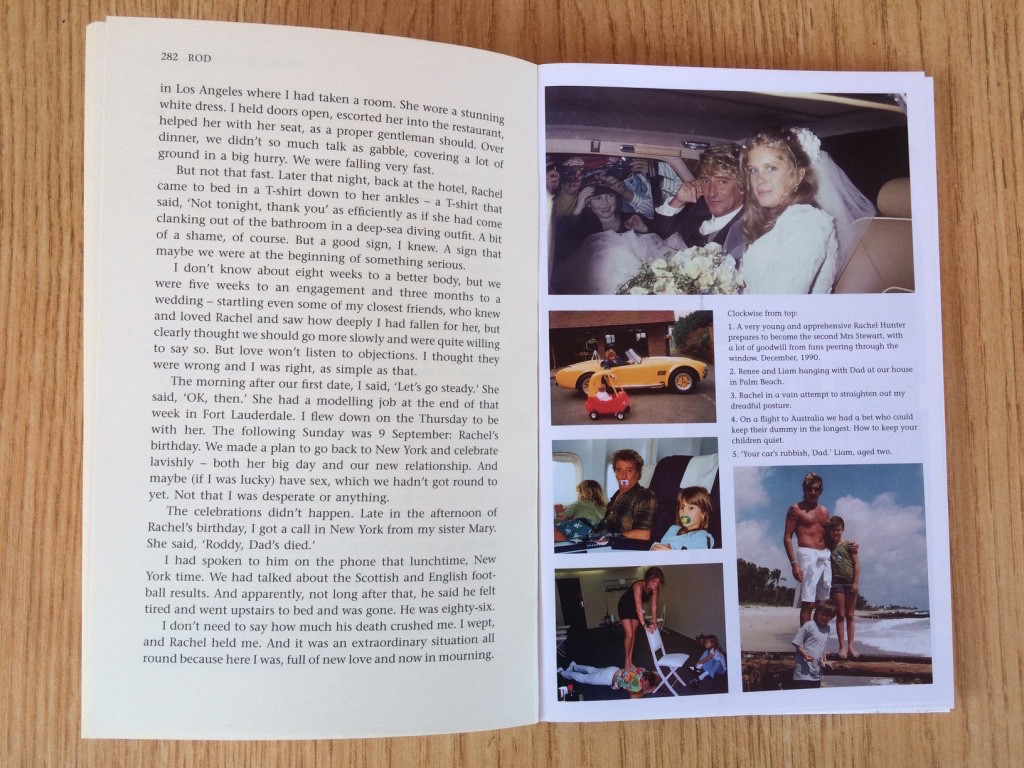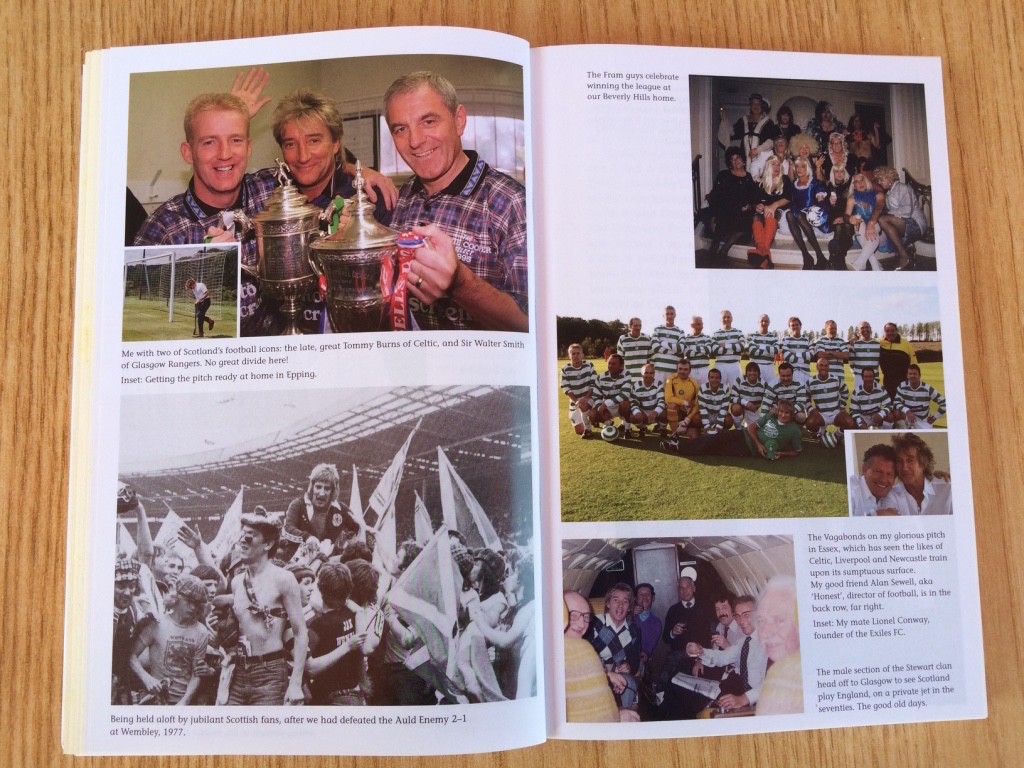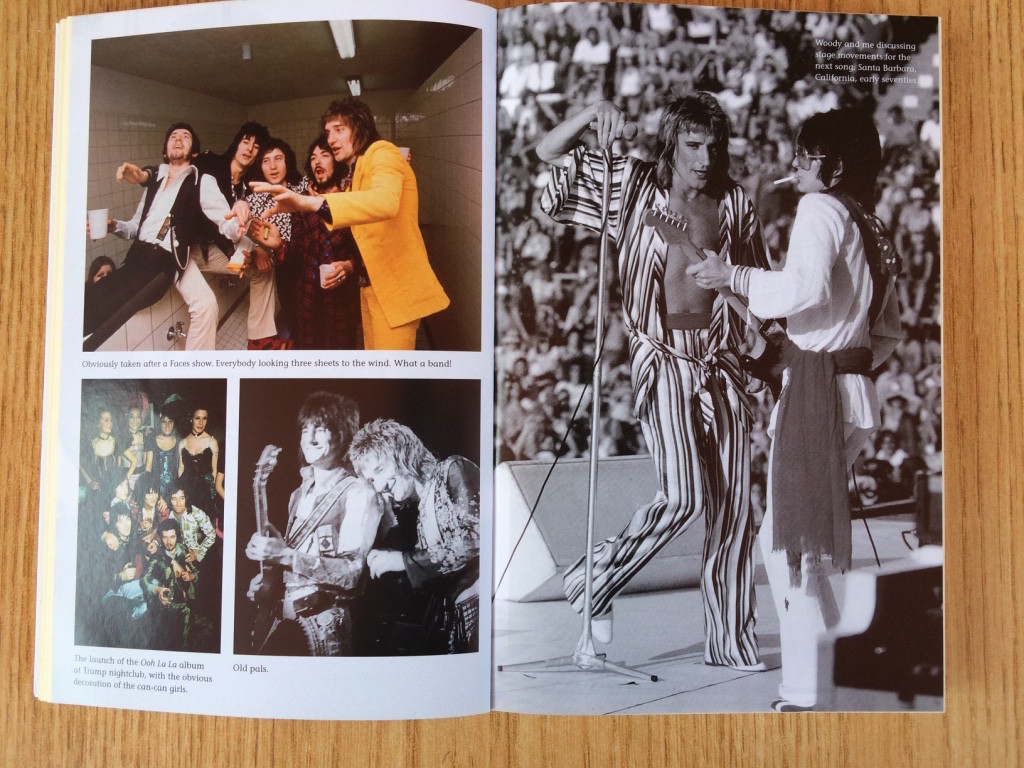 The son of a Scottish plumber and raised in North London,Rod career has seen him sell an estimated 200 million records, be inducted into the Hall of Fame twice, and play the world's largest ever concert. Not bad, as he says, for a guy with a frog in his throat. And then, there are controversies for his private life from marriages, divorces and affairs with some of the world's most beautiful women from Bond girls, movie stars and supermodels and a brush with cancer which very nearly saw it all slip away. Rod has lived an incredible life full of rock 'n' roll adventure.In the book, Rod shows a propensity for rascally behavior from an early age, sharing the secret of the "Fake Sick" trick he would use in school in order to get out of of all things music class. "For the fake sick trick you will need: one Shipham's meat-paste pot, empty; a small quantity of mashed potato, scraped from the side of your school lunch; a small quantity of carrots, ditto; and some water." Stir, then surreptitiously dump the resulting goo in the schoolyard. "Hey presto," vouches Stewart, "you're off music for the afternoon and on your way home." The book has taught me that If you don't want to put in time to practice, you might be better suited as a hobbyist. Successful musicians don't wait for opportunities to come to them and they seek them out or create them themselves.That is why Rod Stewart has been a success.Rome was not built in a day and it is naive to think that success can be achieved within a very short space of time.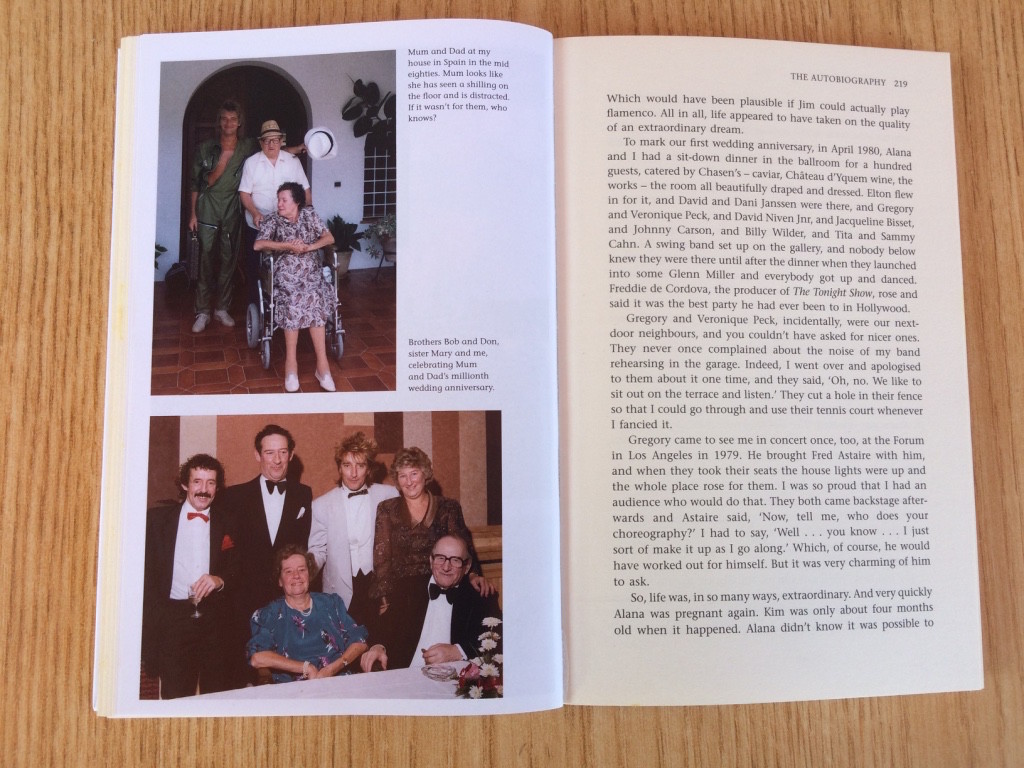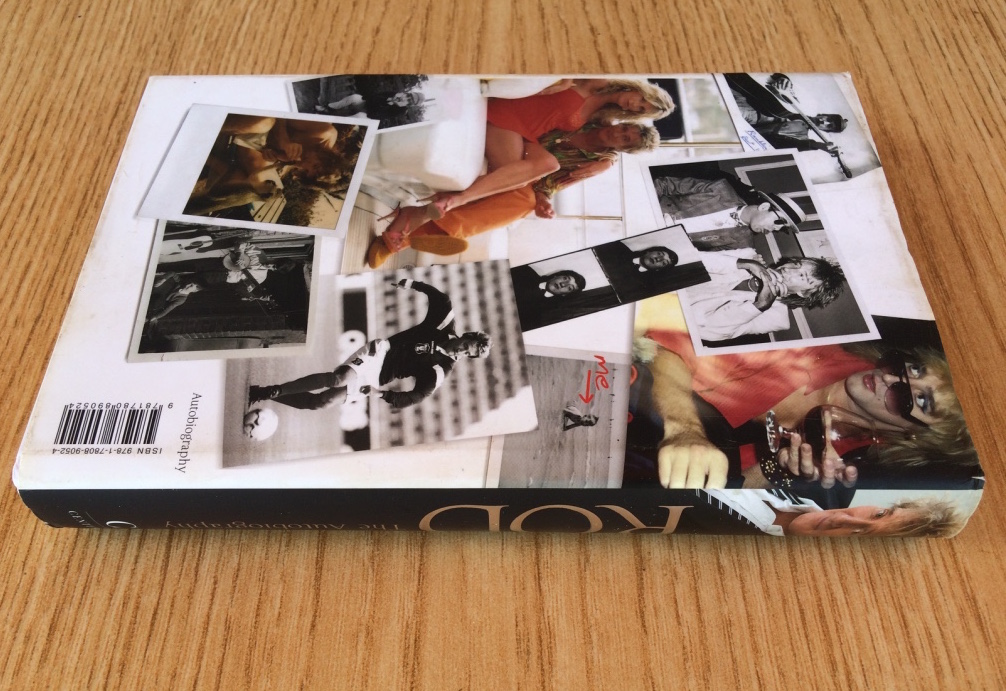 Previous
Next