Bad Piggies Game Review
Posted on September 29, 2012 02:01 pm
Finnish game development company Rovio is back with a new game released two days ago called Bad Piggies. The success of Angry Birds  and its spin-offs -has been phenomenal, with more than a billion downloads since it launched two years ago. Rovio Entertainment will be hoping to replicate its first success which gave the game company an estimated value of $6billion.The new game stars the pigs, the green smuggy foes of the angry birds in the primary role. With Bad Piggies,there are puzzles in this game and it is significantly different than any Angry Birds game even if the familiar pigs are part of it. But still it is a game rooted in Angry Birds universe. I downloaded the game yesterday and so far I have been impressed.Starting with the story first, I do know very well that pigs salivate at the thought of eggs and can't just can't keep themselves away from these eggs, even if it means going to war with the birds.
In Bad Piggies, the greedy green creatures are on an island and are after eggs. But to reach eggs, the pigs have to build various machines that allow them to pass obstacles or fly so that they can reach places high up on cliffs. This is where I, the player, comes in.My job was to build the ultimate flying machine for the pigs from various parts that are available in the game. During the launch,I saw on Euro News Petri Jarvilehto, a senior executive with Rovio being quoted as saying that: "Where Angry Birds was all about destruction,Bad Piggies are all about the joy of construction." And that was close to my one day experience with Bad Piggies. In my opinion and day experience,I can say Bad Piggies is a pretty game. Given that it is set in a tropical island, there is lots of green foliage. I have played recent Angry Birds game and the visuals in Bad Piggies made me feel at home. The visual style is same and the backgrounds are as detailed as Rovio makes them although the environment in my assessment is not as destructible as it is in the Angry Birds games. The accompanying music is very good and compliments the gameplay very well.I feel that Bad Piggies aim is to recreate the same magic like Angry Birds, though with a different kind of gameplay and I'd like to inform you that puzzles in Bad Piggies are slightly more complex compared to those in Angry Birds.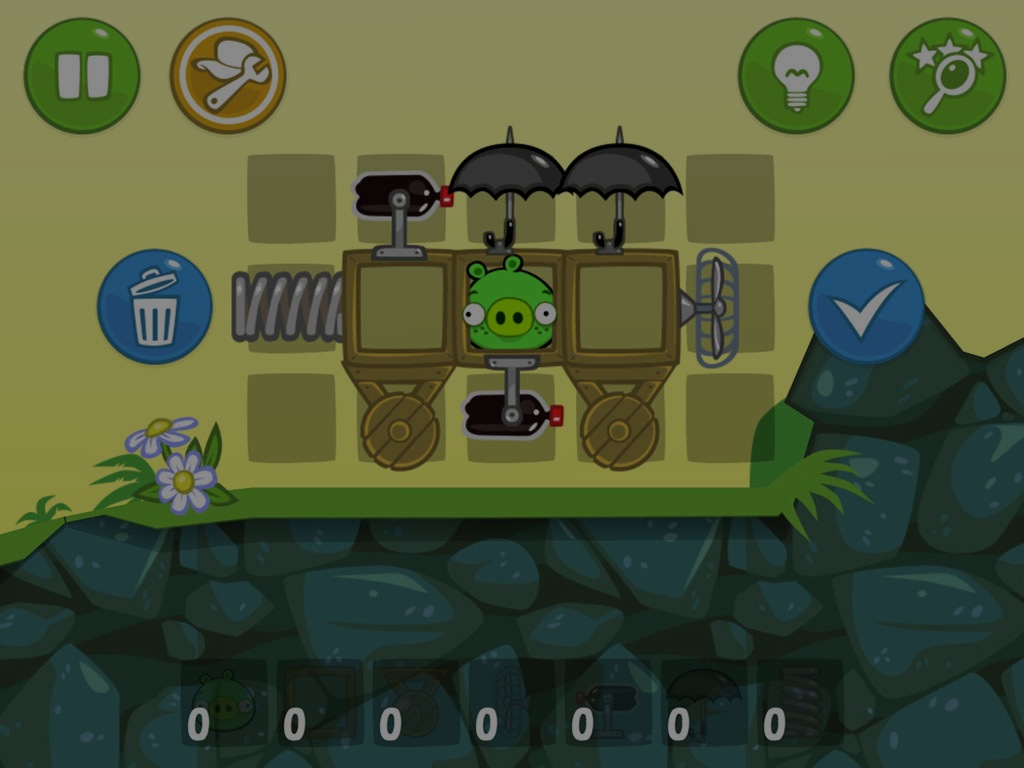 The task is to create good machines that pigs can use and to do that players have to carefully think about the role and placement of various items like a box, balloons etc. This is a little more difficult than flinging birds from a slingshot.Bad Piggies gameplay has changed in the way points are awarded and there is nothing to destruct. Instead the goal is to collect items.When I collected all the available items, I got three stars and when I completed the objective without collecting optional items, I got one star.Bad Piggies was a lot of fun once I got the hang of tools and components available to me.I did not like the new point system.Unlike the arcade-style point system in Angry Birds, where even destroying a flower yielded 40 or 90 points, in Bad Piggies all I got were stars and arcade appeal is not there. If you love playing casual games on your iPhone like me,you will most likely spend hours with Bad Piggies. It's an enjoyable game, especially when I crossed a few levels and familiarized with the way things work.Rovio, originally founded in 2003, has been valued at up to £5.5 billion just over two years since it launched its first hit, Angry Birds for Apple's iPhone.
The company has about 300 staff, up from 50 a year ago, and has had to move out of central Helsinki to new, bigger headquarters next to mobile phone maker Nokia in Espoo.Rovio reported 2011 sales of $99 million and a 64% profit margin for the year.The game now has more than 200 million monthly users, and new versions include a Facebook version of the game, which is free, but earns money through paid-for extras. Rovio is also expanding its brand to toys and playgrounds, and is taking the birds to the big screen.The first full-motion animated movie featuring the characters is in works and the short animations are a YouTube hit.
Previous
Next