Opposition claims Aung San Suu Kyi has won Myanmar's election
Posted on November 9, 2015 12:00 am
Opposition supporters of Myanmar's Aung San Suu Kyi, 70, burst into boisterous celebration yesterday after the country held its first free nationwide election in 25 years although the election outcome of the poll will be clear by Tuesday morning local time.In a video footage carried by Euro news, a French based European television network, supporters of the San Suu Kyi, blocked a busy road beside the headquarters of her party's National League for Democracy in Yangon as they cheered and waved red flags. Experts expect NLD is expected to win the largest share of votes cast by an electorate of about 30 million, who chose from thousands of candidates standing for parliament and regional assemblies.According to Euro news, the legacy of rule by military junta means San Suu Kyi cannot become president herself even if the results go her way, Myanmar will be heading into a period of uncertainty over how she and other ascendant parties negotiate sharing power with the still-dominant military.As a pariah state for decades, Myanmar formerly known as Burma has little experience organising democratic elections.There are close to 10,000 observers enlisted to scrutinise the process.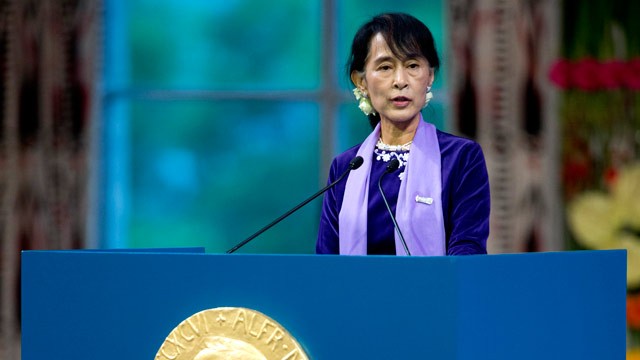 Preliminary indications from the monitors were that voting was mostly trouble-free, with only a few irregularities reported.Religious tension, fanned by Buddhist nationalists whose actions have intimidated Myanmar's Muslim minority, also marred the election campaign. Among those excluded from voting were around a million Rohingya Muslims who are effectively stateless in their own land.There were concerns about the Myanmar election's fairness before the voting started as activists estimated that up to 3.5 million people, mostly citizens working outside the country, weren't able to vote.Aung San Suu Kyi, and her party are the longtime foils to the generals who ruled Myanmar from a coup in 1962 until 2011, when they handed power to their political arm after a vote tainted by allegations of fraud and boycotted by the opposition.Suu Kyi party swept to victory in a landslide 1990 election, the nation's last widely contested poll, only to have the generals ignore the results and plunge Myanmar into another generation of repression and international isolation.Wearing her trademark thazin flowers in her hair, a smiling Suu Kyi arrived at the polling station where she was mobbed by hundreds of journalists and quickly cast her vote and left without speaking to reporters.
Military Commander-in-Chief Min Aung Hlaing was quoted as saying there would be no repeat of the last free vote in 1990, when Suu Kyi won but the army ignored the result. Suu Kyi spent her time after that under house arrest before her release in 2010. "If the people choose NLD, there is no reason we would not accept it," the senior general told reporters. The military is guaranteed key ministerial posts including defense, interior and border security. It is not under the government's control and could continue attacks against ethnic groups.Most analysts are concerned about the military's constitutional right to retake direct control of government, as well as its direct and indirect control over the country's economy.Many people lined up in Buddhist temples, schools and government buildings early in the morning to vote, well before a heavy downpour beat down in Yangon an hour before voting ended peacefully in the late afternoon local time.After the polls, the newly elected members and the military appointees will propose three candidates, and elect one as the president. The other two will become vice presidents. That vote won't be held before February 2016.Suu Kyi cannot run for president or vice president because of a constitutional amendment that bars anyone with a foreign spouse or child from holding the top jobs. Suu Kyi's two sons are British, as was her late husband.
Previous
Next