My Israel, Our Generation by Einat Wilf
Posted on April 30, 2016 12:00 am
My Israel, Our Generation is a book about Israel's past and future from the perspective of the younger generation.This book caught my attention after reading her book "Winning the War of Words" which is a compilation of Dr. Wilf's essays on Israel and Zionism. A Story of Generations is the first chapter in the book where the author makes it clear from the onset that there are very few people in the world who can claim to have never heard the name Israel.And certainly I do agree because she rightly puts it, the story of Israel attracts thousands of journalists annually whose main aim is to tell the stories of the jewish state to their readers back home.The author takes the reader through different generations of Israeli's starting with the first generation that was born in late 1920s and early 1930s and came of age in 1940s and in their late teens and early twenties experienced the struggle for the establishment of the state of Israel and its first years.To that generation, the author says it was culmination of the a struggle to which they gave themselves physically and spiritually, endowed with sense of unique mission and messianic zeal.The second generation mission was secure Israel's existence author says and had their first test in 1960s when trespassing of Arabs refugees across the border became the norm.Dr. Wilf gives credit to the second generation for securing the state founded by their forefathers but decries that three decades later since the end of six day war, the battle of of securing peace and security remains far from being achieved.The author believes her generation is future oriented but laments that they're still somewhere in the middle of path in becoming a mature generation that will shape the future of Israel.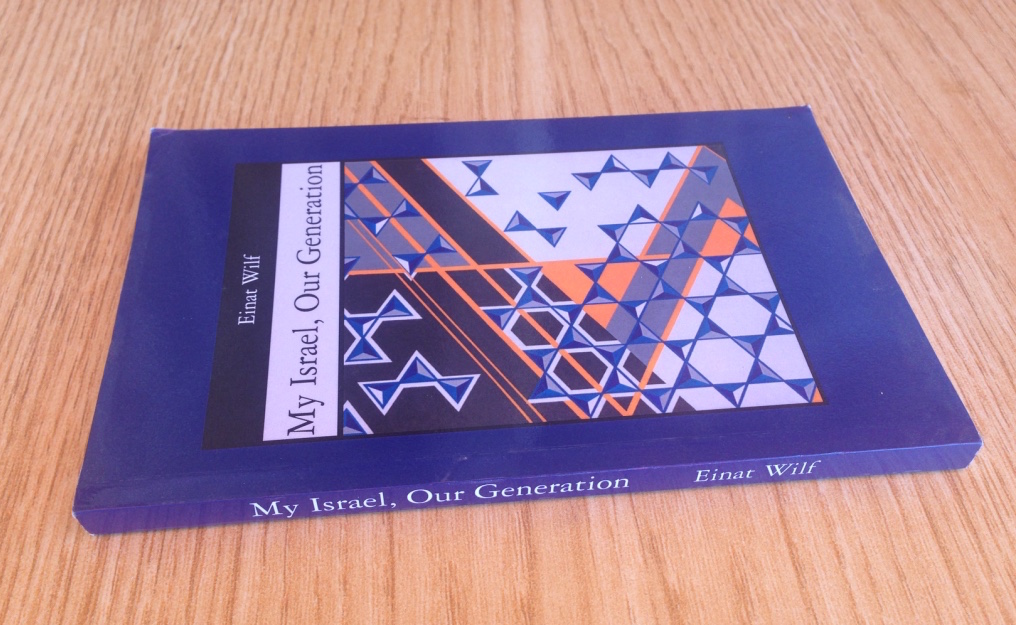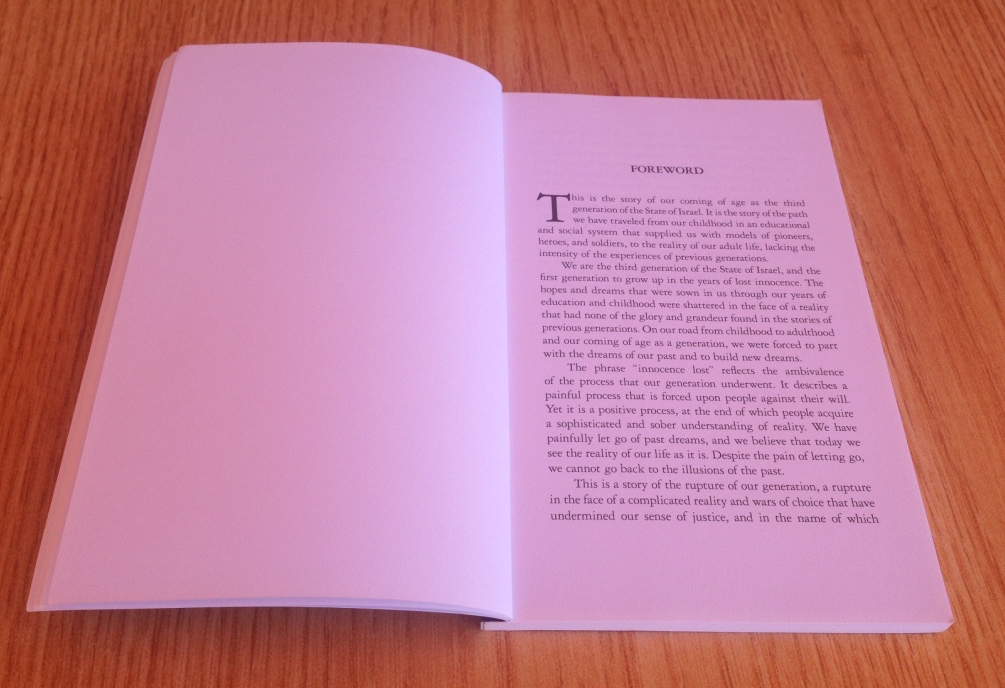 According to Dr. Wilf, her generation is facing unprecedented challenge of defining Israel's character. Its a generation raised with great idealism and is convinced specifically about truths about justice, morality whether good or bad.However, Dr. Wilf admits that her generation is faced with a far more sophisticated reality than they had anticipated and lacks adequate skills to tackle it.One page after the other, Dr. Wilf impressively highlights internal challenges for the Israel community include preserving Jewish identity in a world that offers numerous choices for an individual's self-identification, understanding and addressing the particular needs of her generation and their place in the broader Jewish community. The external challenges Israel faces include confronting anti-Semitism, protection from terrorism, and maintaining a satisfactory relationship with its allies.The contemporary challenges for Israel can be broadly classified as understanding and managing its current composition and needs, maintaining and improving its relationships with Arab Israel population and assessing and enacting the most constructive role for Jews in global affairs.Regardless of length of ethnic,cultural, or religious identifications, certain challenges confront the Jewish community as a whole.These include developing institutions and organisations that can address changing social needs of the community, understanding and responding to threats to Jews, and maintaining effective means of advocacy for the community's specific concerns.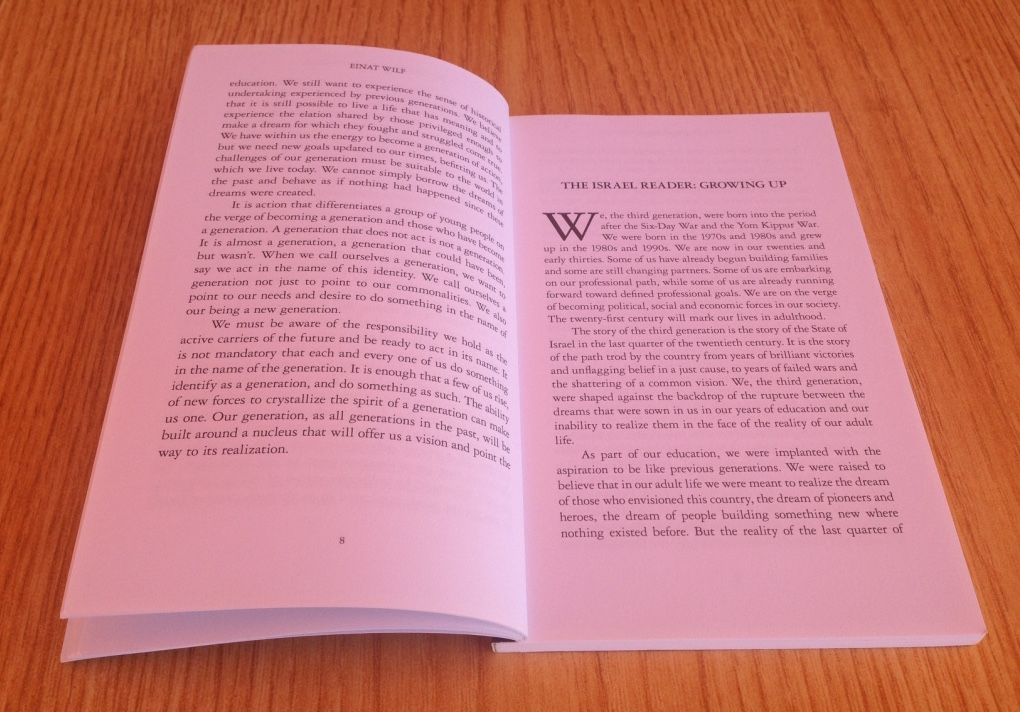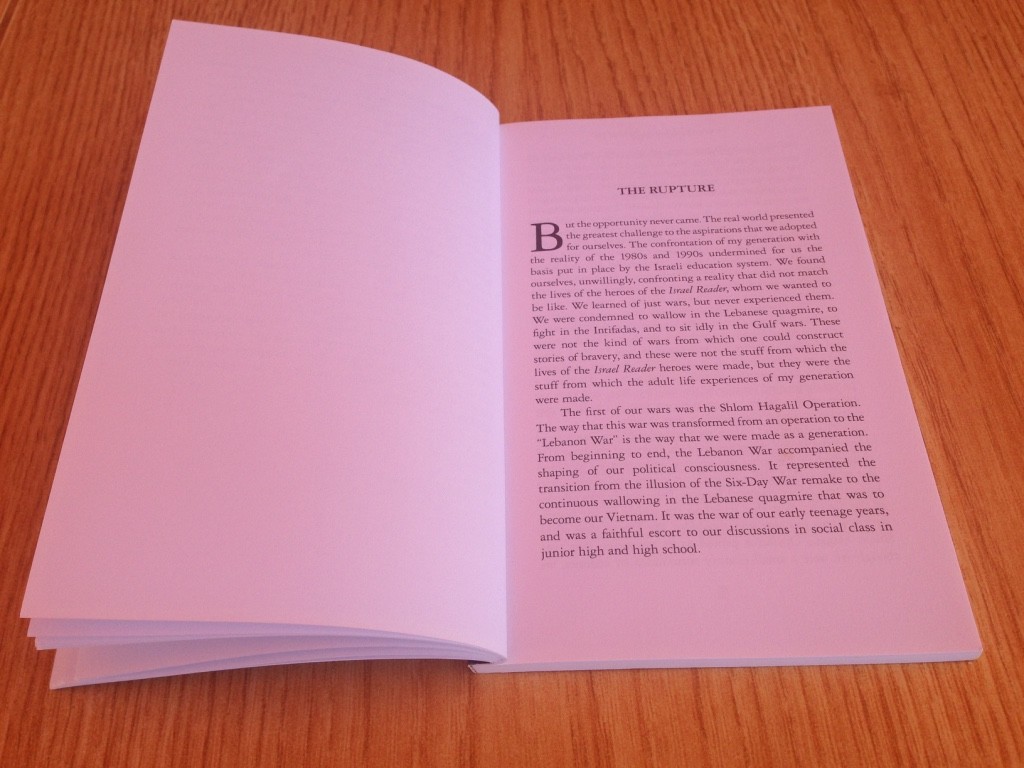 Starting from page 49, "The children of Winter 1973" is chapter whose title was derived from "we are the children of winter 1973" song that was written by Shmuel Hasfari in 1994.In the song, the children of her generation are expressing their expectations and even more accurately, their demands that their parents, the so called second generation, complete the task of bringing about peace.Her generation believes their parents took upon a historical commitment to secure Israel's existence.In short, the children of winter 1973 know that their parents made promises they are committed to keeping.In the song, which i have listened several times before, the children imply that as long as these promises are not kept and their parents don't bring desired peace, they will continues to be children.The song ends with Dr. Wilf generation admitting to already being adults, but still continues to ask their parents to complete tasks and fulfil their promises to bring peace.The author notes even when Ehud Barak won the 1999 election, he talked about the song in his speech delivered in Rabin square where he positioned himself as the loyal representative of the second generation who renewed the commitment to third generation of Dr. Wilf.For much of 1973, the then Egyptian President Anwar Sadat threatened war unless the United States forced Israel to accept his interpretation of total Israeli withdrawal from territories taken in 1967. In April 1973, Sadat again warned he would renew the war with Israel. On October 6, 1973 Yom Kippur, the holiest day in the Jewish calendar Egypt and Syria opened a coordinated surprise attack against Israel.On the Golan Heights, estimated 180 Israeli tanks faced an onslaught of 1,400 Syrian tanks and in Suez Canal, more than 500 Israeli defenders were attacked by over 80,000 Egyptians.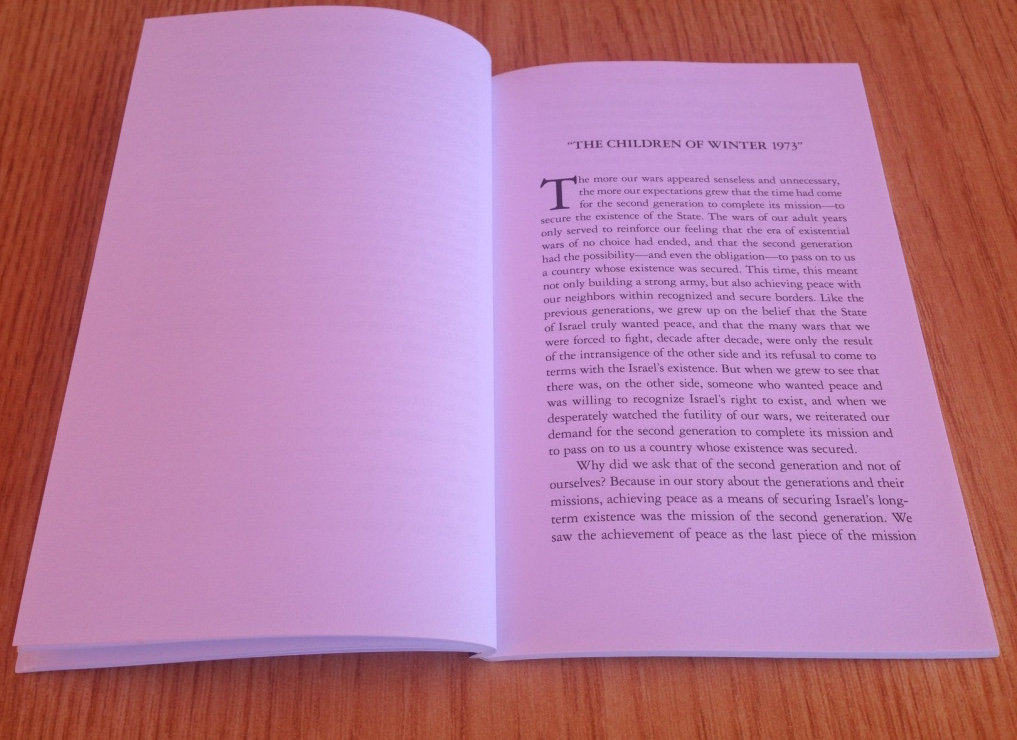 Thrown onto the defensive during the first two days of fighting, Israel mobilised its reserves and eventually repulsed the invaders and carried the war deep into Syria and Egypt. The Arab states were swiftly resupplied by sea and air from the Soviet Union, which rejected United States efforts to work toward an immediate cease-fire. As a result, the United States belatedly began its own airlift to Israel. A fortnight later, Egypt was saved from a humiliating defeat by UN Security Council which had failed to act while the tide was in the Arabs' favor. On October 22, the Security Council adopted a resolution calling for "all parties to the present fighting to cease all firing and terminate all military activity immediately." The vote came on the day that Israeli forces cut off and isolated the Egyptian Third Army and were in a position to destroy it.Despite Israel Defense Forces ultimate success on the battlefield, the war was considered a failure because a total of 2,688 Israeli soldiers were killed.The children born after this war, is what Dr. Wilf and singer of the song dubbed "The Children of Winter 1973" and are considered as third generation of Israeli's.Dr. Wilf dedicates six pages from page 61 titled;The Assassination revealing how she was informed by a friend on a rainy weekend during her studies of the killing of Yitzhak Rabin, the Israeli Prime Minister, in 1995, by Yigal Amir, an Israeli extremist. Author laments how his killing was felt not only by he regeneration but that of her parents whom she called and their response was "This is not the country we know, it is different Israel." For Dr. Wilf parents, Rabin represented that essence of Israel and his assassination was a murder not only of a man, but also of Israel as they knew and loved it.His death mourning is what apparently shaped her generation's view that the future carried with it no change that required adjustment. Few months of Rabin's death, current premier Benjamin Netanyahu was installed as the new Prime Minister.The sad news is that the kind of peace that Rabin envisaged seems more distant than ever.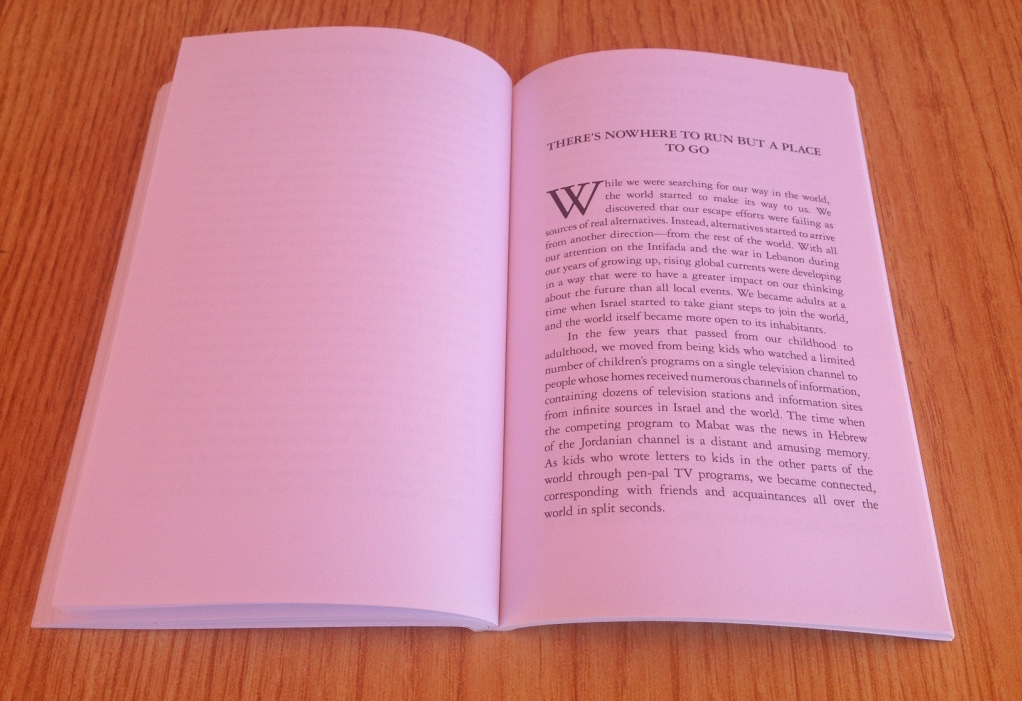 Personally, as a Melburnian, I know the idea of forming a body to better plan for Melbourne Jewry's future regularly arises both in Melbourne and in the country.So while reading this book, it became clear why Jewish communities in the main centers of Jewish population have developed networks of institutions such as synagogues, day schools, retirement villages, sport facilities, museums etc across Melbourne.Interpreting what the author has written, the reason is the need for jewish community's security challenges from acts of terrorism and anti-Semitism.Dr. Wilf also writes about the The Elements of The Vision:Leading and Belonging where future Leaders of Israel face unique economic challenges and decisions unlike other generations.In Israel just like any other developed country has seen the cost of education going up, and the ability to pay debt off going down.In Dr. Wilf's assumption, around half of men and a third of women of her generation can be considered "mature" by the age of thirty compared to forty years earlier before she was born, in 1970, those numbers were a quarter of men and a tenth of women.Despite all of these challenges, Dr. Wilf is optimistic about her generation and indicates that they seize control, are resilient, and have a sense of possibility.That positive view gives about great hope Israel current generation of leaders give. Dr. Wilf also believes that her generation has a good sense of the big problem facing Israel.Her generation wants to work together to solve these problems.To me, Dr. Wilf clearly appeals to her generation to look more broadly and make sure that they're doing things that can help solve the problems facing Israel and roots for a political system that's more functional.Going beyond that, Dr. Wilf feels that her generation should start thinking about how to reform the country to provide a way to get people into government who want to be innovators to take Israel to the next level.The issues identified in this book are particularly relevant and important for Israel's next generation of leaders.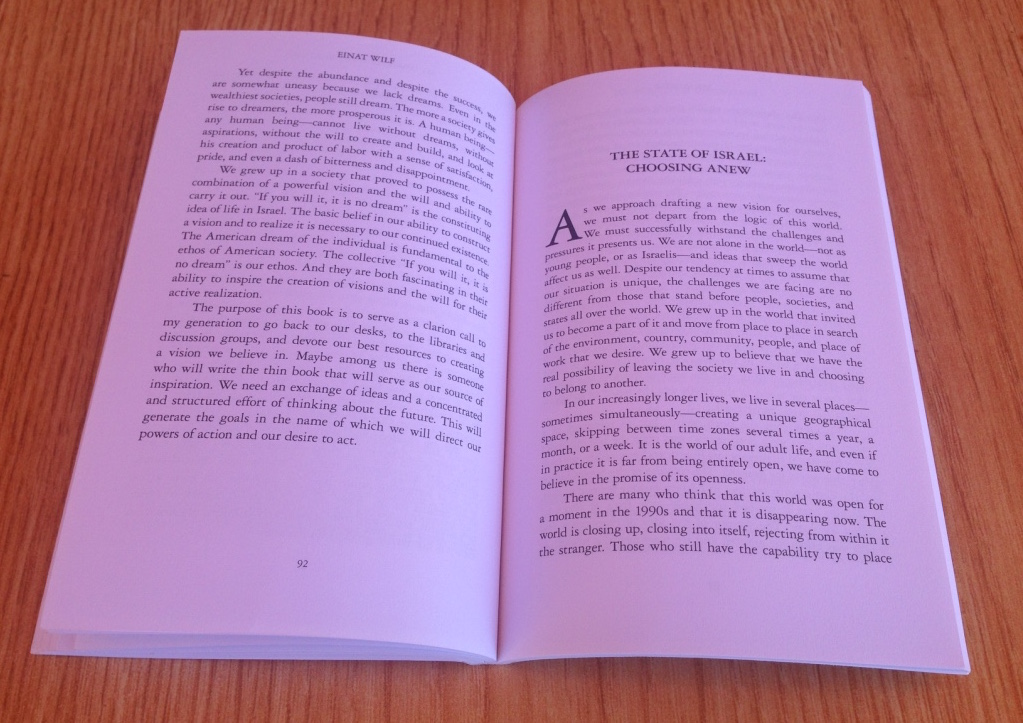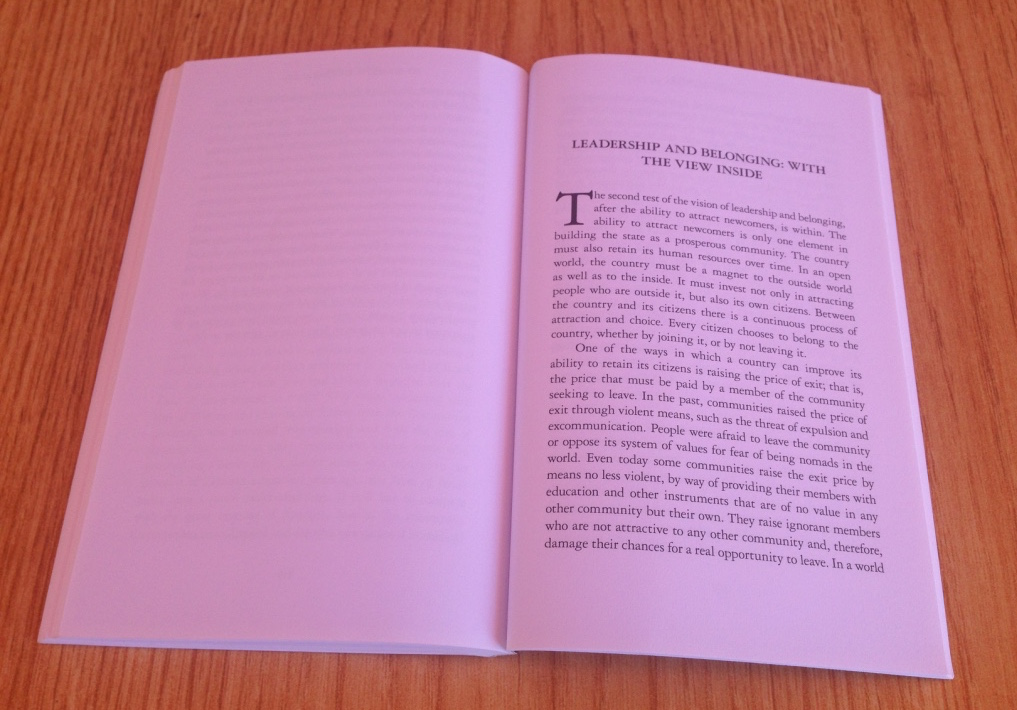 Today's decision makers will leave to the youth of Israel and future generations a world where traditional thinking regarding governance, geo-politics, housing, public debt, infrastructure, resources and work incentives, seem redundant in comparison to the new concepts and ideas. Regarding resources the author poses an important issue.If the third generation of Israelis finds and digs up the nation's resources, should the money be spent now or are there some obligations to share the wealth with fourth generation? On page 135 is half a page Epilogue where the author responds to a question from friend named Danny on whether Israel will exist in half a century to come.Author makes it clear it will depend on whether the generation of that time will view Israel as their rightful place where their vision is focused.In my own views, this book is the best I have read about how Israel has struggled to exist from day one.Those who don't know, the criteria for statehood are laid out in the Montevideo Convention established 83 years ago and is defined as a defined territory, permanent population, a government and capacity to enter into relations with other States. Although Israel is a State and has been recognised as such by many States, there are those countries that believe the jewish state has no 'right to existence'.Many States, members of the UN, have refused to recognise Israel, or have withdrawn diplomatic relations, for various reasons. What Dr. Wilf book reminded me was the largely forgotten discussion of a State's 'existence' which carries with it many obligations, including the obligation to treat the inhabitants of territories under its control in accordance with human rights and humanitarian law. This includes respect for the rights of minorities, no discrimination on the grounds of race, religion or national origin and full and equal participation of all its citizens. The author Dr. Wilf was born and raised in Israel and served as an Intelligence Officer in the Israel Defense Forces. Dr. Wilf holds an MBA from INSEAD in France, BA in Government and Fine Arts from Harvard University and a PhD in Political Science from the University of Cambridge as well as former Knesset member under Israel's Labor party among many other achievements.It's a book that worth my time.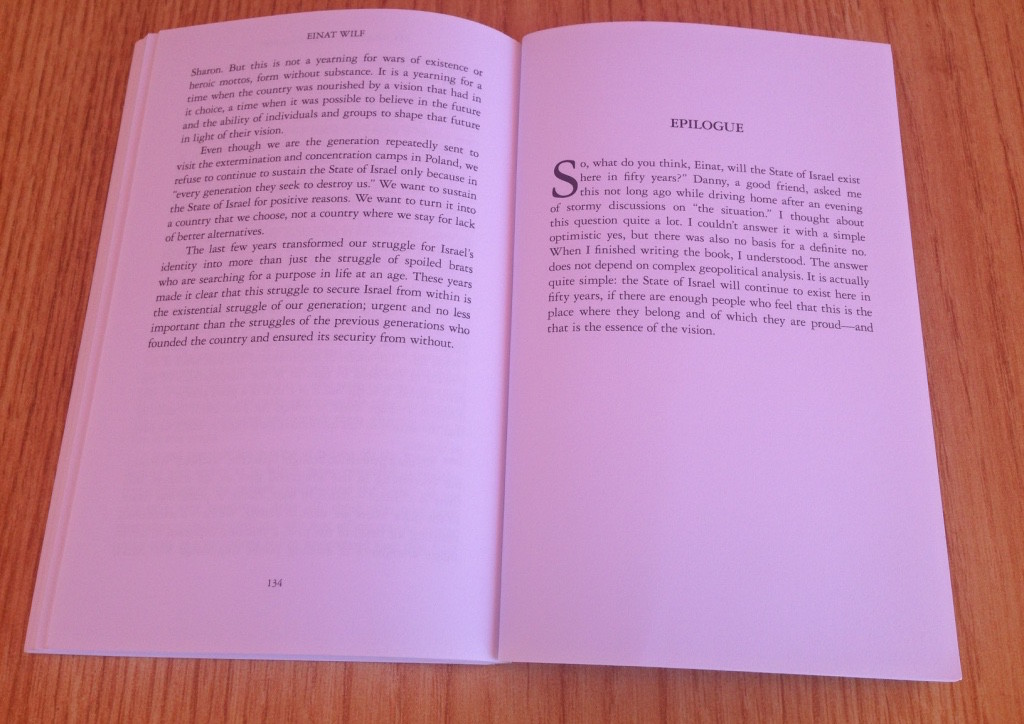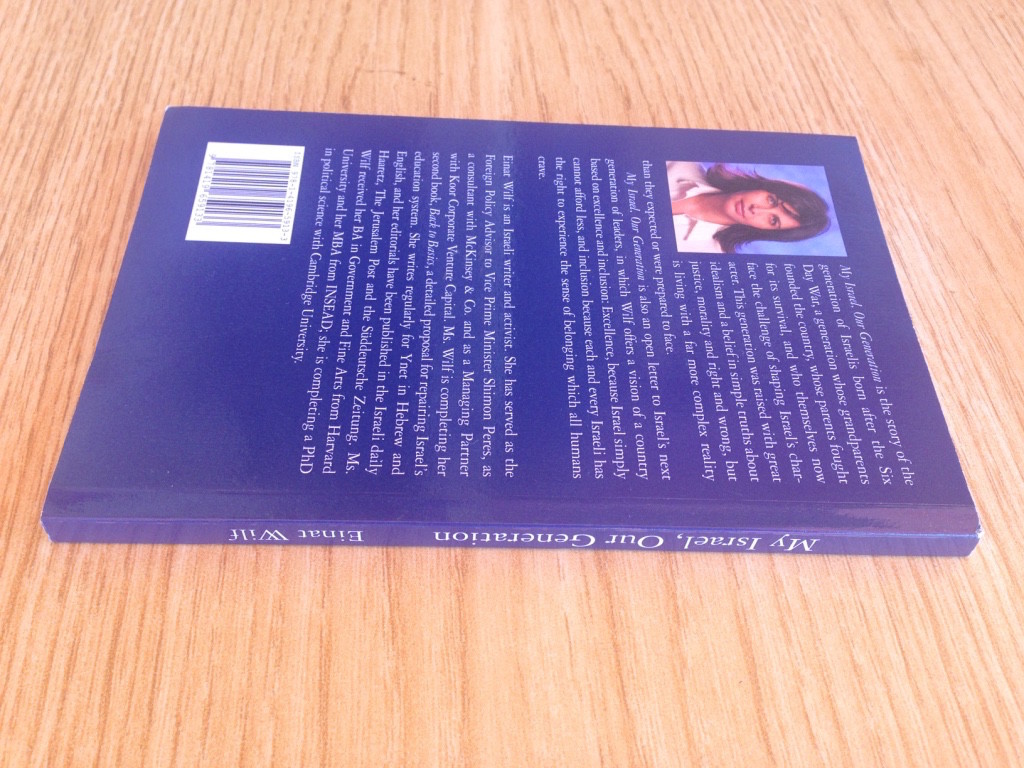 Previous
Next