Kobe Bryant scores 60 points in final NBA game
Posted on April 14, 2016 05:21 am
Kobe Bryant has ended his legendary NBA career with brilliant 60 point game, the most ever for a player in his final game.Bryant season high led the Los Angeles Lakers to a thrilling victory over the Utah Jazz. As one of the NBA's finest scorers, Bryant was far from efficient in his final outing, but in my view, bryant did what he does best, landing 22 of his 50 field-goal attempts at Staples Centre.As a basketball fan, I must say this was the best 'The Black Mamba' display in a very long time. Bryant had slowed considerably in his last few seasons due to injuries and inconsistencies with Los Angeles Lakers team.The 60 point haul this morning(European time) which was the sixth of his career and was comfortably his biggest output this season, moving past a 38 point effort against Minnesota Timberwolves in February. It was also the biggest scoring outburst by anyone in the league in 2015-16, eclipsing Anthony Davis' 59 points for the New Orleans Pelicans against the Detroit Pistons on February 21. Overall, Los Lakers' season as a whole has been a disappointment, as they finished with a 17-65 win-loss record, but  the 101-96 win against Utah Jazz was a magnificent end to Bryant's 20-year career as the Lakers fought back from a 15-point deficit at half time.Demand for tickets was as high as a pivotal Lakers playoff game, ranging between $US700 to $US10,000 and the most expensive ticket sold went for $US27,500.That was higher than when some people were said to have bought tickets for 2014 NBA All star game in New Orleans for $19,000.
Moments before starting the final game of his stellar 20-year career in the NBA, Kobe Bryant was described as "the greatest" ever to wear the purple and gold by fellow Los Angeles Lakers great Magic Johnson.Bryant, an 18-time All-Star guard who went on to engineer a thrilling, come-from-behind 101-96 win over the Utah Jazz on his much-anticipated league farewell, was given a lengthy video tribute before Johnson walked out to centre court."We are here to celebrate greatness," Johnson, like Bryant a five-time NBA champion, told the sellout crowd. "For 20 years, excellence. For 20 years, Kobe Bryant has never cheated the game, he has never cheated us as fans."He has played through injury, he has played hurt and we have five championships banners to show for it." Huge roars then rang out as the Lakers fans gave Bryant thunderous approval."For the last 20 years, this man has been the biggest and greatest celebrity we have had in this town," said Johnson. "He is not only a great and unbelievable sports icon but he's also the greatest to wear the purple and gold."So right now we should put our hands together for the late great former Lakers owner Jerry Buss for trading for this man."Bryant was cheered loudly by the fans before he addressed them all from the centre court.In his post match interview, Bryant told the crowd "I can't believe how fast 20 years went by. This is crazy. Absolutely crazy.""We've been through our ups and our downs. I think the most important part is we all stood together throughout."I grew up a diehard Laker fan. To be drafted by Charlotte in 1996 and then traded here, to spend 20 years here. You can't write something better than this."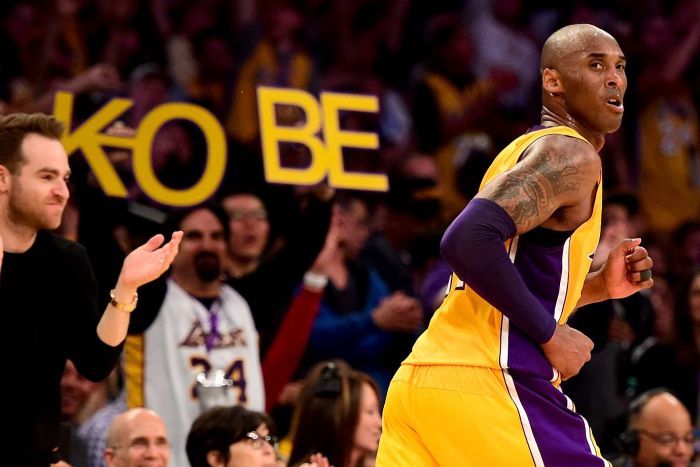 Despite winning five championships and making seven Finals appearances since arriving at the Lakers, the man dubbed 'The Black Mamba' said the hard times held a special place in his heart."I'm proud about, not the championships, but the down years, because we didn't run from adversity," he said."We played through all that stuff. We did it the right way."But in his last game, the game plan was simply give the ball to Kobe and get out of the way, with every shot sending the crowd into raptures."The thing that had me cracking up all night long; I went through 20 years of everybody screaming at me to pass the ball and then tonight everyone's like 'Don't pass it!'" he said.It appeared he took the advice to heart, with his 50 field-goal attempts the most by any player since the statistic started being officially tracked in 1983."Thank you from the bottom of my heart. I love you guys," he said to the fans."And to my family … thank you guys for all your sacrifice."Mamba out."No doubt Bryant has cemented his place among the NBA greats with a career that also includes scoring titles, the third-most points in league history and a league most valuable player award in 2008.Individual stars farewell messages such as Paul Gasol, LeBron James, Stephen Curry, Dirk Nowitzki and Carmelo Anthony were played before long-time Lakers fan and Hollywood great Jack Nicholson wrapped things up.However, Bryant's last game was somehow overshadowed by Golden State Warriors who set a record 73rd victory of the NBA season, thrashing the Memphis Grizzlies 125-104 to eclipse the 72-win campaign of the 1995-96 Chicago Bulls. NBA Most Valuable Player Stephen Curry scored 46 points as the reigning champions broke the mark set two decades earlier by that Michael Jordan-led Bulls team, finishing the regular season 73-9.#Mambaday was worth the wait and hype and can't regret burning the midnight oil to watch the last match of Kobe Bryant's career.Vive la Kobe Bryant!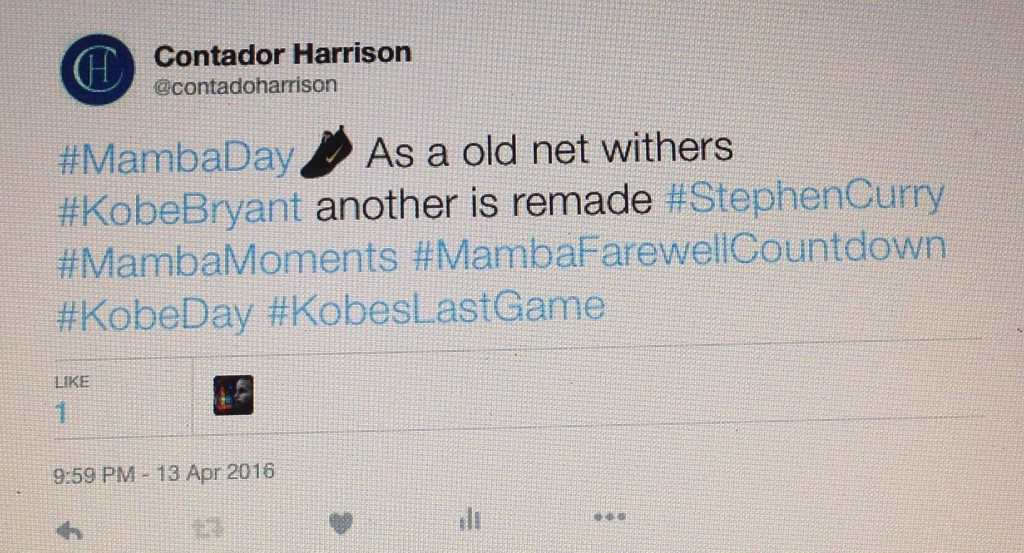 Previous
Next