Joe Kadenge:The Life of a Football Legend
Posted on March 21, 2016 12:02 am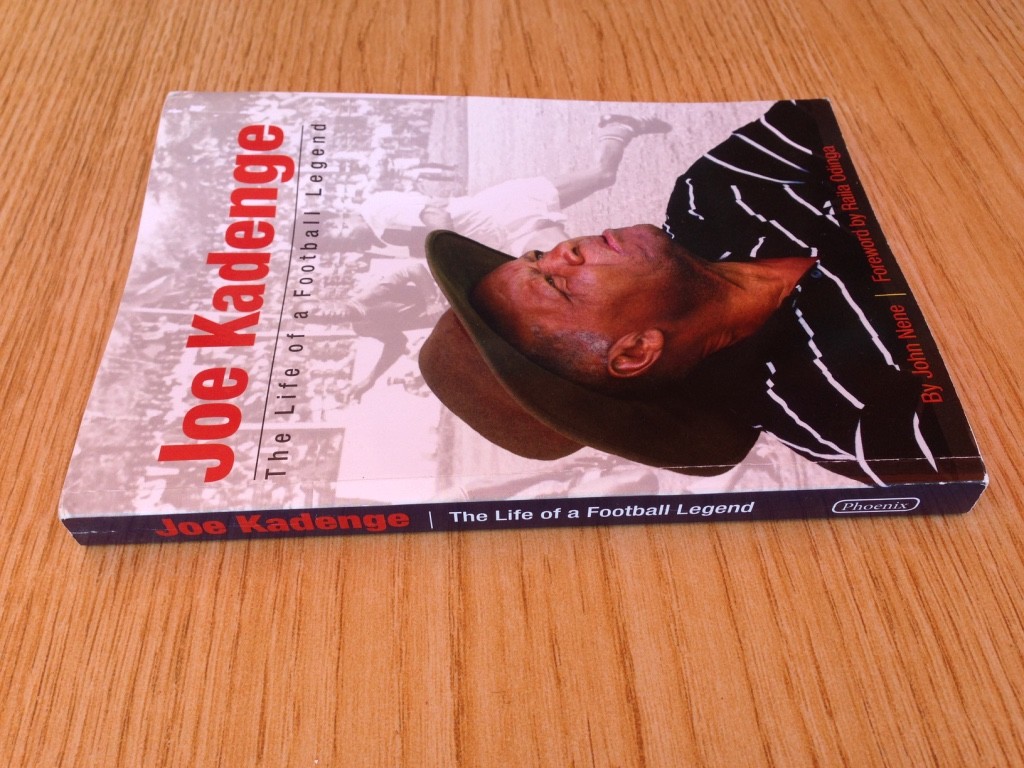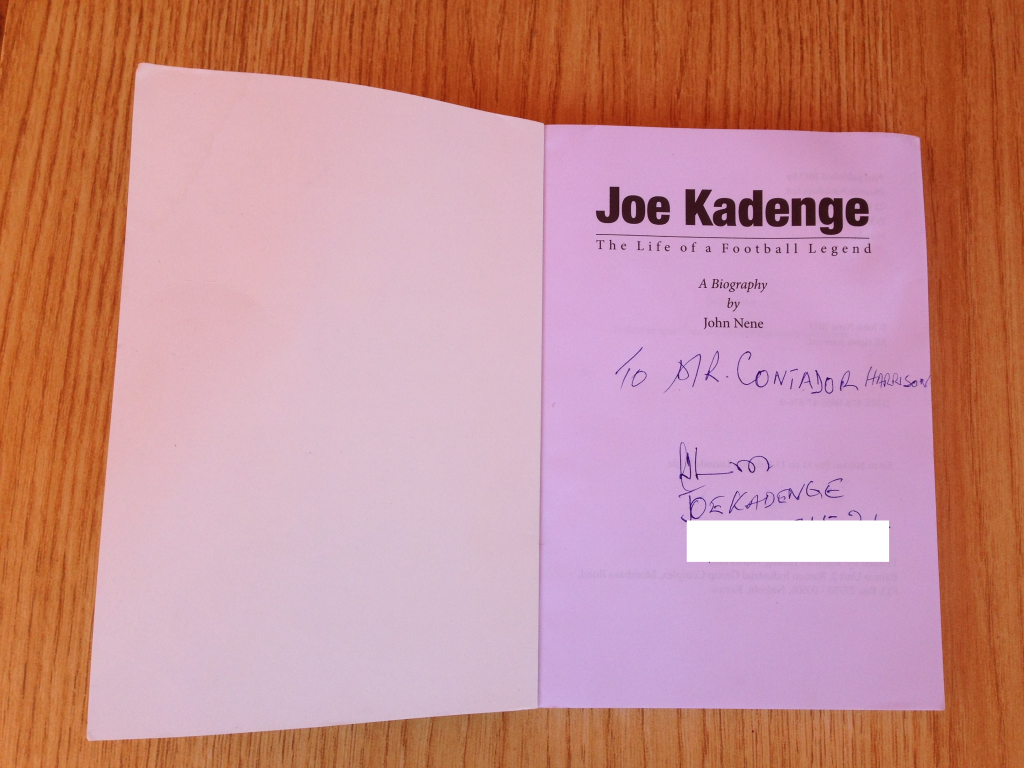 Thanks to my appetite to read about African football history, I was an ardent subscriber of Complete Football magazine and African Soccer Magazine from late eighties to early 2000s before they disappeared off the shelf more than a decade ago.Through reading such, its how I came across the name of Joe Kadenge, a retired Kenyan footballer considered to be among the finest footballers in East Africa at the height of his career and very many other retired footballers from my ancestral continent.Africa is considered to be the third best footballing continent after Europe and South America in terms of producing talent for the last 70 years.Sadly, African countries including Kenya where Kadenge hails from have failed to emulate and better standards set for African football by Indomitable lions of Cameroon 1990 World cup team. Led by legendary Roger Milla, Cameroon inspired millions of Africans including late Zairean, modern day Democratic Republic of Congo, singer Pepe Kalle who sang about the team's achievement in Italia 90 in a classic Soukous music song called Roger Milla.We all know what happened with refereeing decision that cost Cameroon a slot in the semi finals of 1990 World Cup held in Italy.Cameroon's achievements were repeated by Senegal in 2002 World Cup.I vividly recall how on a wet and cold evening in Melbourne, Australia, I watched Hakan Sukur wipe millions of Africans hopes after the Turkish player scored an extra time winner that all but ended El Hadji Diouf's led team dream of a semi final slot in the tournament held in South Korea and Japan.Fast forward to December 2015, I read an online article on Joe Kadenge's plan to launch a book about his footballing career.That reminded me of an article I read in 1999 that described Joe Kadenge as one of East Africa's best football players of 20th century.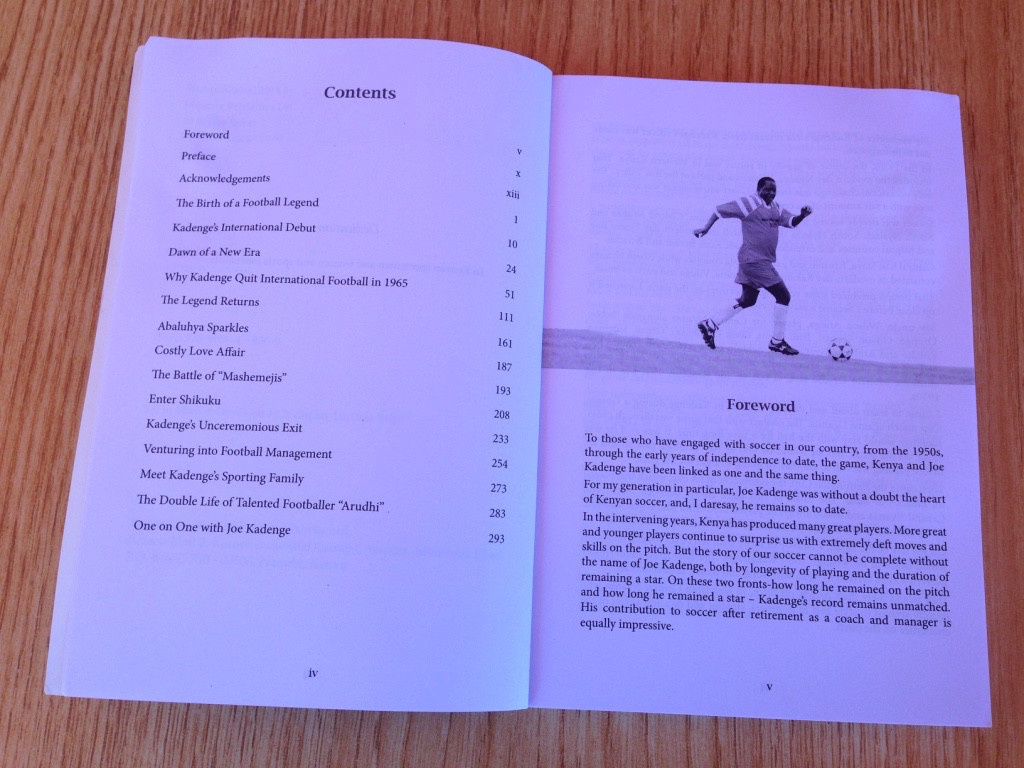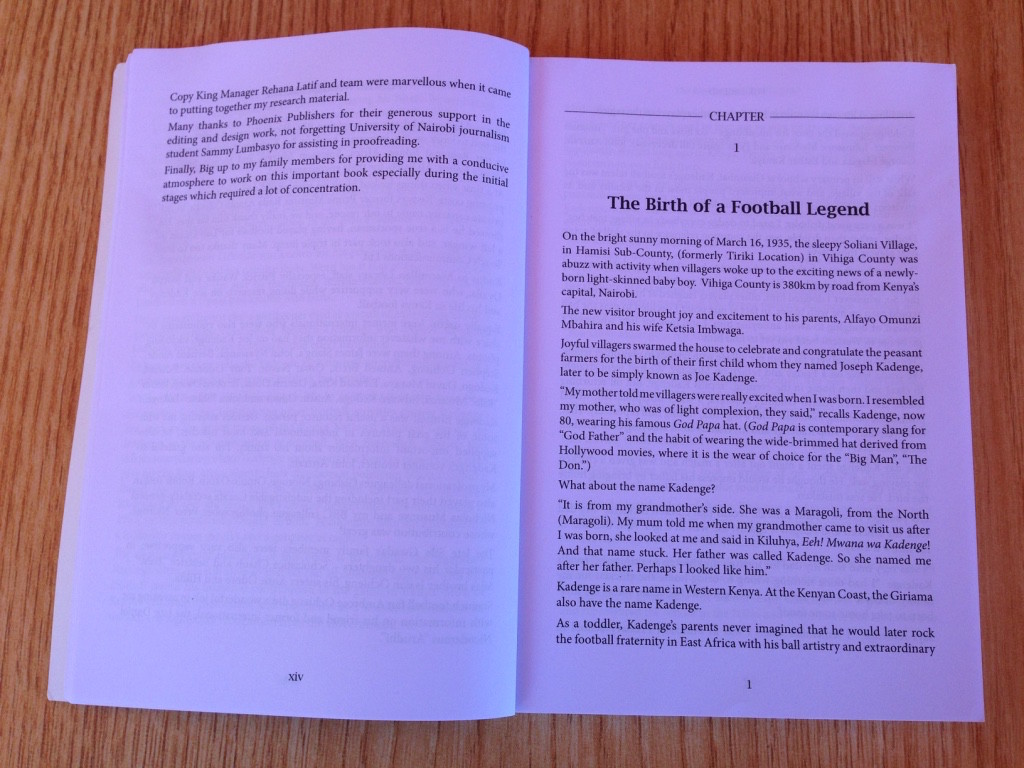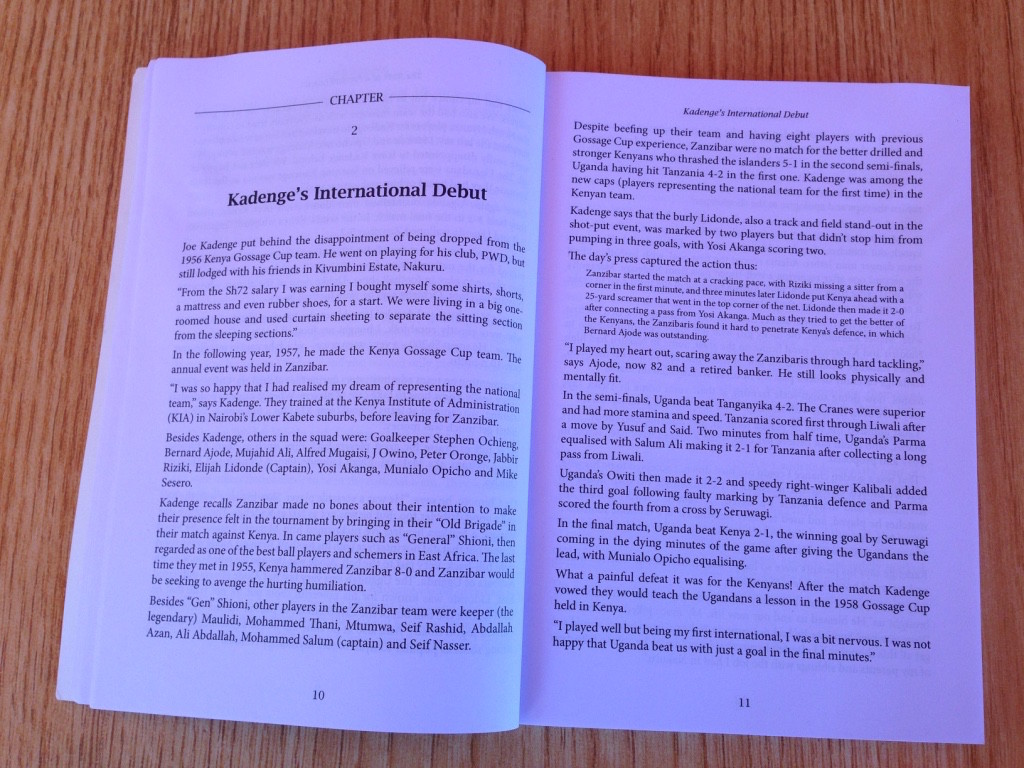 It ignited my interested on his book and I began by contacting a Kenyan blud Loina Laikera who managed to get me a signed copy of the book Joe Kadenge: The Life of a Football Legend earlier this year. Authored by renowned sports BBC journalist John Nene, the book starts with a glowing tribute on retired footballer by Kenya's former Prime Minister Raila Odinga who acknowledges that Kadenge was the epicentre of football attraction and fanaticism from late 1950s to early 1970s in Kenya and across East Africa.Odinga does however admit that since Kadenge hanged his boots, there has been an array of talented footballers who have sprung into the limelight over the years and entertained Kenyan football fans in equal measure.However, Odinga notes that none of those other players has had longevity of playing and duration of remaining a star like Joe Kadenge.As one of Kenya's most popular and respected politician, Odinga love for soccer is well documented.He is an avid supporter of Gor Mahia, Kenya's most successful football club.Odinga's recollection of how football evolved from Western and coastal regions in Kenya is in incredible and names two players Daniel Nicodemus Arudhi and Ali Sungura as the two players who could match up to the skills of Kadenge.Odinga laments that lack of government commitment has led to the miserable soccer standards in East Africa's largest economy.He believes that football can be a source of employment direct and indirectly as he noted in his remarks with Ghanian footballer Michael Essien Foundation where Essien supports needy children in Ghana with skills that helps them earn a living.
Odinga also mentions other successful African footballers doing similar work like Didier Drogba and Samuel Etoo.He couldn't end his forward without mentioning Liverpool's Belgian sensational striker Divock Origi who became the first player of Kenyan descent to play and score in a World Cup during the last tournament in Brazil.With a huge, population of soccer-crazy fans,Kenya is seen as having the potential to mirror other successful football countries like Ghana, Egypt, Nigeria, Cameroon and Ivory Coast which have worked their way up to become the most successful soccer countries in Africa.Overall, Odinga is a testament that Kenyans reveres and treasures its sporting heroes and Kadenge is one of them.Sporting greats have inspired and united their country, who have shared, celebrated and rewarded their successes. Since the advent of television in the 1960s, Kenyans have embraced the opportunity to see their heroes live in action, and the achievements of Kenyan sportsmen and women are now closely followed by the media and, consequently, by their Kenya and global fans.One of the most popular ways of sending support to retired sportsman or sportswoman is to send a herogram by either email or fax that is delivered directly to a specific sporting event. From the his book, seems Joe Kadenge hardly gets such invitations even to watch the national football team playing international matches and only attends as a private fan.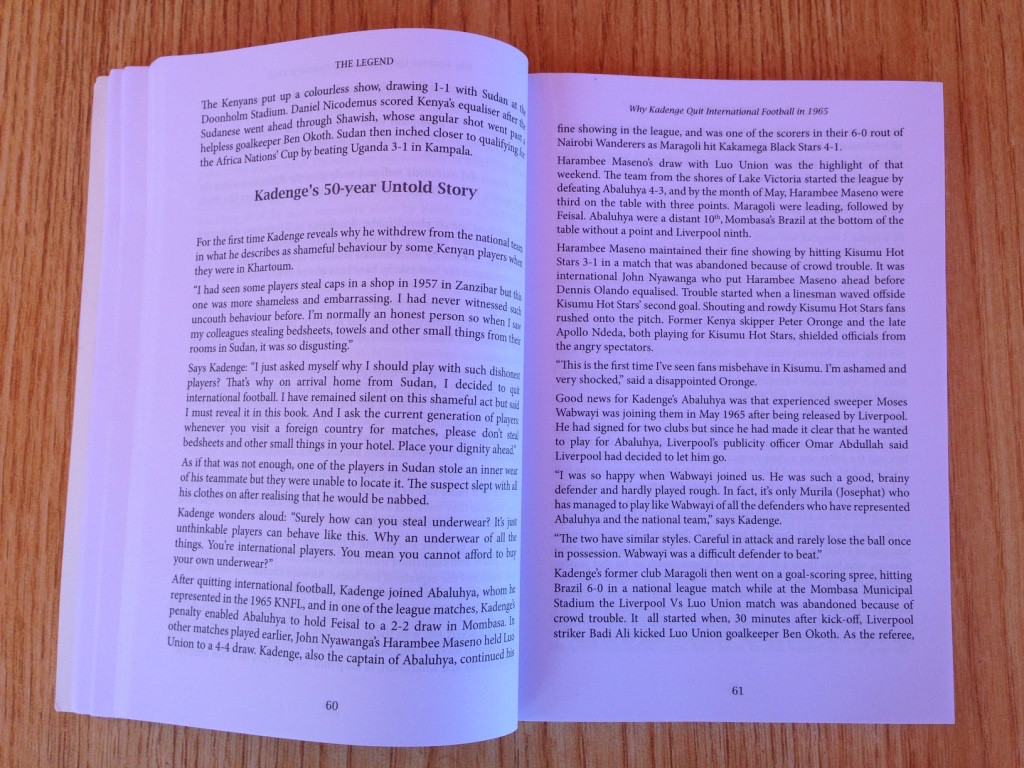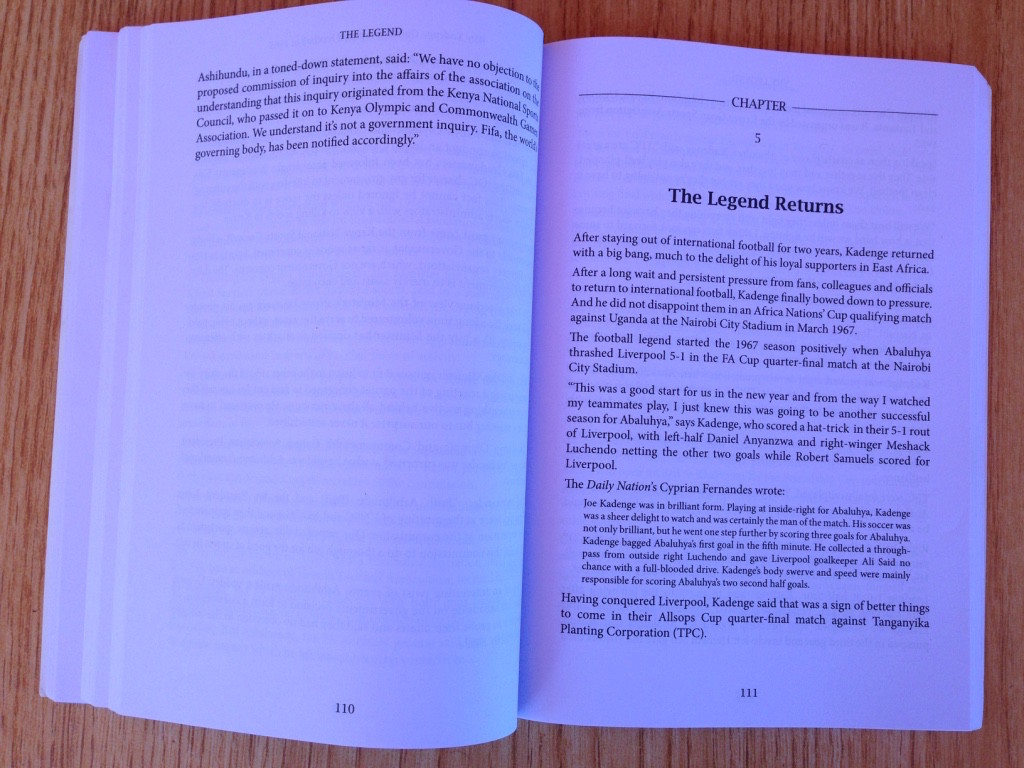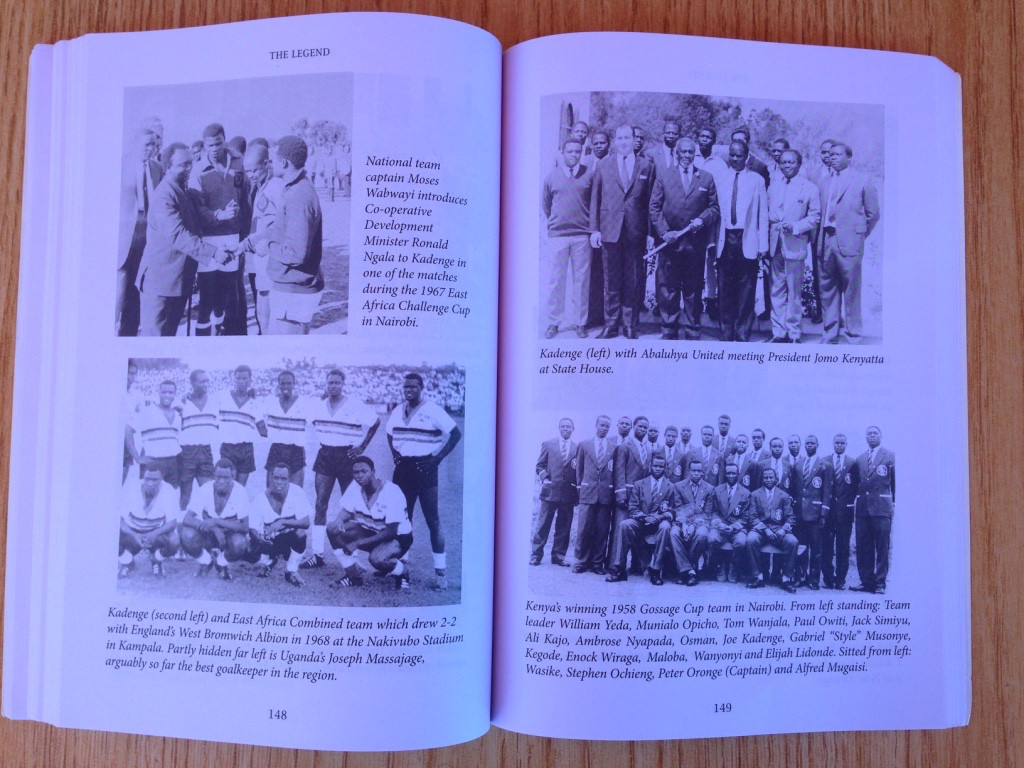 In the tense arena that is international football competition, many football personalities have commented that they have been greatly encouraged and motivated by receiving so many messages of support but although the same can be said of Kadenge, he hardly get any financial support and lives in appalling conditions.According to John Nene, during his hey days, Joe Kadenge played with an intelligence and flair unique in that part of the world.The talent in Kenya was better than Uganda's or Tanzania's, but they neither had the organisation nor the will to clean up cases of corruption, political interference which made players go without pay despite playing with their hearts out for the Kenya's national soccer team.Interference of Kenyan football by politicians is clearly one cause of why the sport has remained in doldrums.In one among many, Kadenge reveals how Martin Shikuku, now deceased, single handedly dropped six players under the pretext of indiscipline but which Kadenge argues wasn't the case.It was tribalism and hatred of Luo community, that Shikuku a Luhya by tribe that led to his decision yet he was married to a Luo woman named as Dolly Achieng, a former employee of state broadcaster.This book tells helps explain why tribalism is a big concern in Kenya.If by early 1970s there was such hostilities of football players from two different tribes namely the Luo and Luhya, one can understand why its worse when it comes to politics where smaller communities are said to be marginalised.
Its unfathomable Kadenge ommission from national team players named to feature in 1970's East Africa challenge cup held in Zanzibar that led to Kadenge's unexpected exit from national duties was result of him seeking answers to the injustice meted out on Luo tribe players by Martin Shikuku, his fellow Luhya tribe mate. That demonstrates how principled Kadenge was and still is to this date.His decision enabled him to concentrate on his club career with Abaluhya FC where he played until he quit in April 1975.Kadenge immediately forayed into football management after being appointed by country's football federation chief and one of Kenya's greatest politician Kenneth Matiba as the national team coach but found the going tough and rougher with his first two matches against Sudan ending in loss.Kadenge's story enlightens the reader why five decades later, circumstances have not changed much, with political interference, corruption and administrative incompetence still the major obstacles to the Kenya's success in the world of football.The barrier to soccer development in Kenya appears today juts like then, lie in the final stage of preparation, during which players should hone their skills through regular and competitive tournaments. Reading chapter after chapter, the problem in Kenyan football remains as to how budding talents can be cultivated and polished. Tournaments like CECAFA senior challenge cup which during Kadenge's early playing days was known as Gossage Cup do not cater enough to developing these nascent soccer talents into strong players.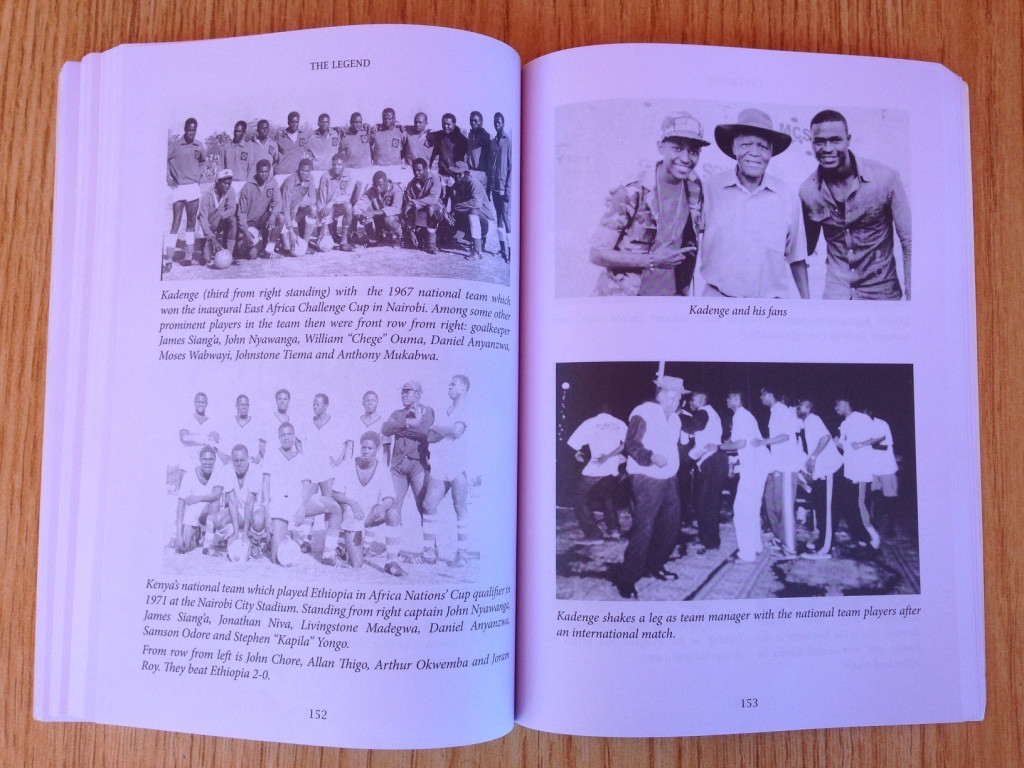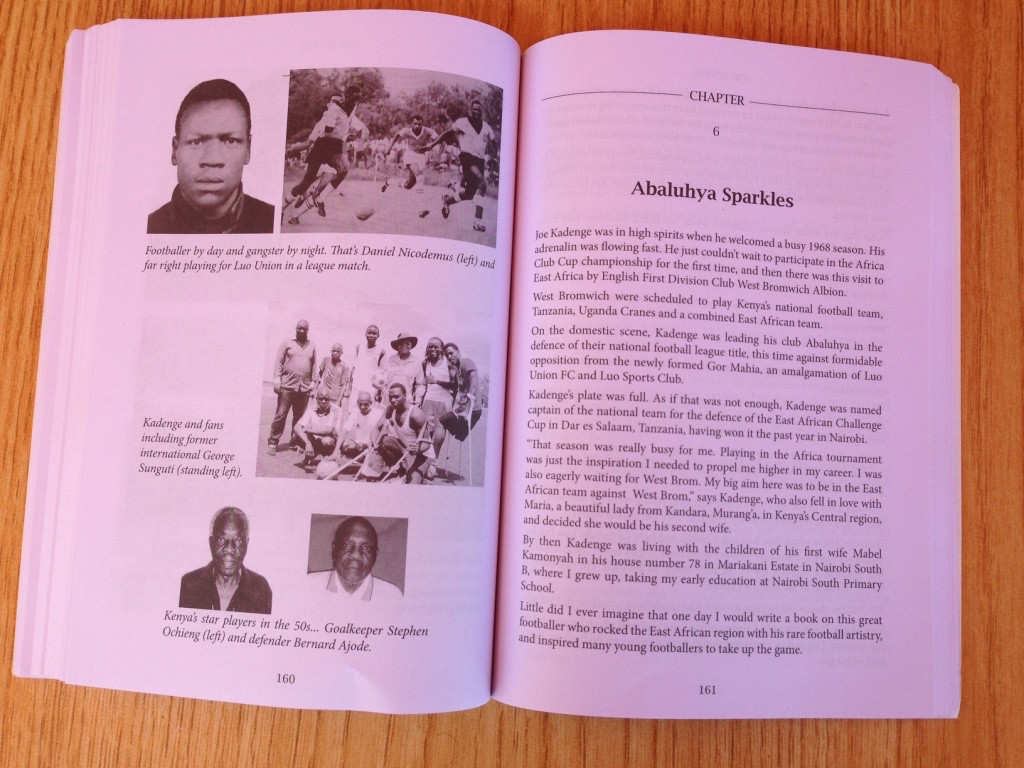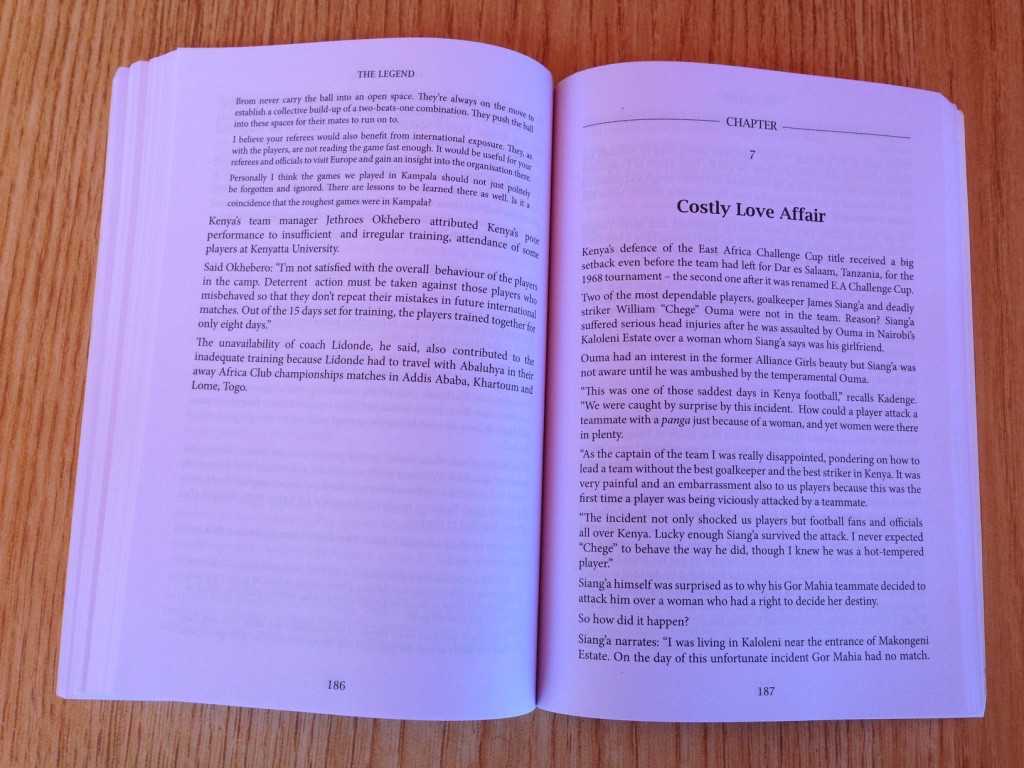 The reason why Kadenge and his fellow footballers succeeded back then was the availability of regulated domestic competitions that are imperative to shaping the players' mentalities and attitudes, which are, in turn, necessary in order to produce top class soccer players like Joe Kadenge.It is common knowledge that Kenya has abundant soccer talents, but deprived of sufficient competition experience, they are left rough and neglected.But those whose talent has been tapped have excelled very well.Such players include the likes of Southampton midfielder Victor Wanyama, Ex Inter Milan's MacDonald Mariga who became the first Kenyan footballer to win a UEFA Champions League medal, Mike Okoth a former Kenya Breweries and Racing Genk player and the father of Divock Origi, Bruce Kamau who plays for Adelaide United FC, Ian Kamau who plays for Athelstone Football Club, Dennis Oliech whom I first came across his name in 2004 after Time of London Newspaper named him as among the top ten World's most promising players in a list that included Manchester United and England captain Wayne 'Wazza' Rooney. Football clubs in Kenya tend to buy thoroughbred players, be it domestic or foreign, then go scouting for new talent, nurturing young players through internal competitions. Such a tendency that didn't exist during Joe Kadenge's playing days has brought about the unavailability of players ready for use, thus affecting the lineup for Kenya's national team.
Two years ago I came across a study conducted by an American research firm on what ails football in East Africa which noted that, if only the soccer clubs were willing to allocate part of their budget most of which is used to buy professional recruits, toward holding tournaments for all age groups, they would certainly encourage growth and a higher standard of performance. As Kadenge story reveals, such initiatives takes time, but it would be cheaper and it would certainly pay off for the clubs and eventually for the national squad. It all depends on the will of club owners and patrons. However, most club management tend to run after an instantaneous one season victory rather than seek to lay a foundation for far-reaching goal.The responsibility for encouraging Kenyan clubs to hold more competitions is in the hands of the Federation of Kenyan Football commonly referred as FKF, with its all-new board members under the newly elected chairman Nick Mwendwa.Judging by this book, there seem to be no one in the history of Kenyan football who is more famous than Joe Kadenge. John Nene the author describes Joe Kadenge as one of the greatest Kenyan footballer ever in attacking speed, goal scoring skills, ball dribbling skills that left defenders shell shocked whenever they were manning him on the pitch. During his glory days, Harambee Stars was one of the best national teams in the continent and even the whole of Africa knew it according to Kadenge.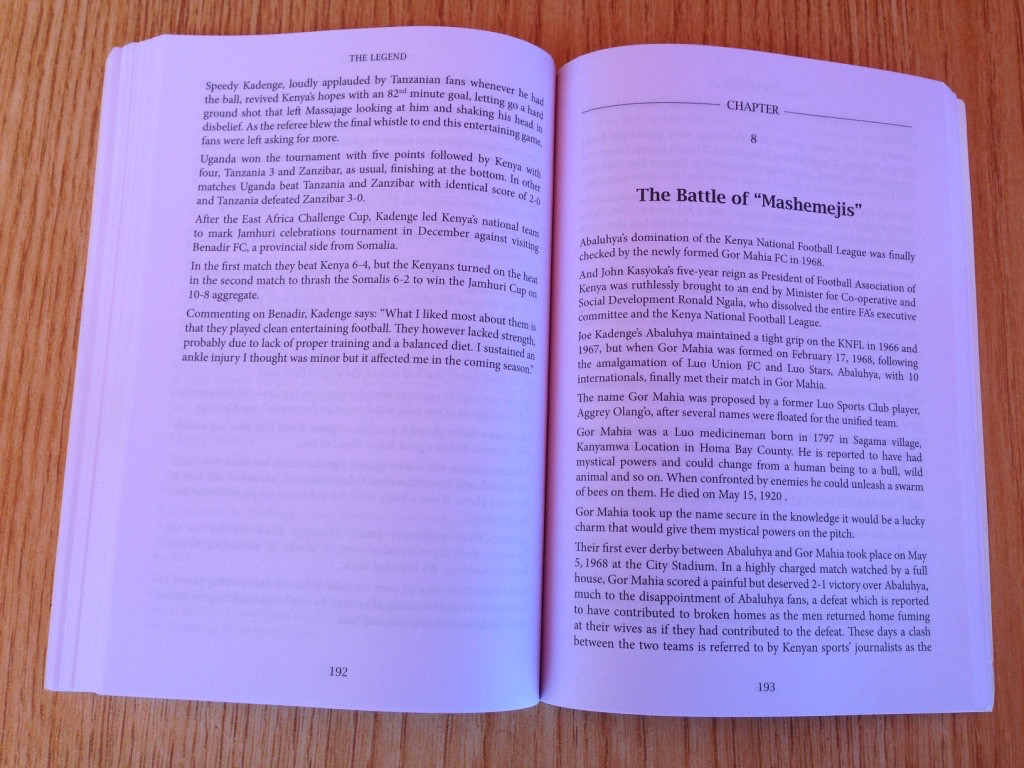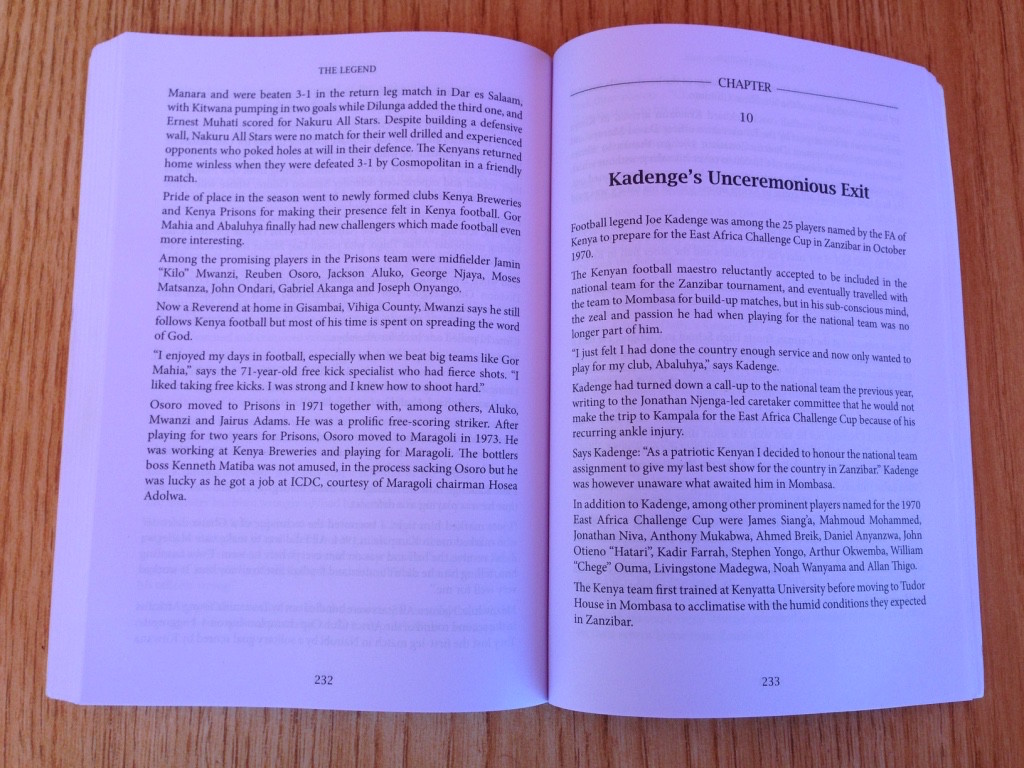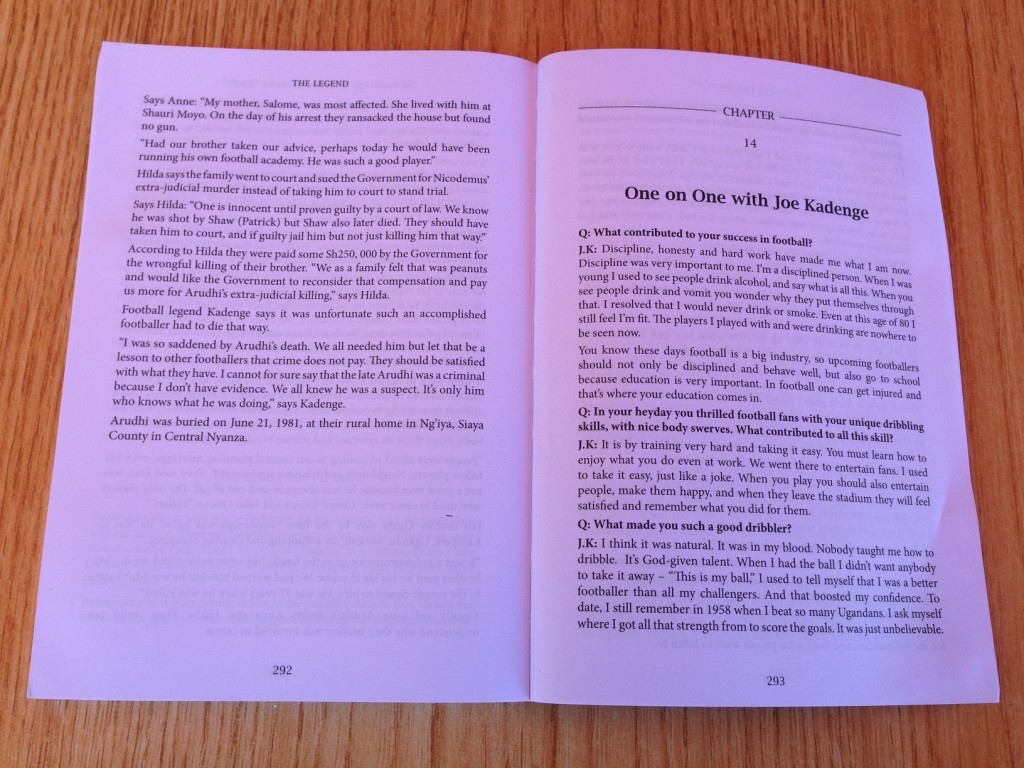 Speaking of his age, Joe Kadenge was born on March 16th, 1935 in the sleepy Soliani village, in the then Tiriki location now known as Hamisi sub location in Vihiga county which is located 380 kilometre by road from Kenya's capital Nairobi according to the author.He attended three different Primary schools, Gigagadi, Gisambi and Munzatsi before joining Musingu intermediary school in 1952 and developed his interest in the game by walking ten kilometres every Saturday and Sunday from school to Kakamega town to watch North Nyanza team, his childhood's favourite football team.He dropped in elementary eight class and sought for a job in then Kenya's industrial town of Nakuru.At that point, Nakuru was the home of Kenyan football with all stars plying their trade in the town.After launching his club career with Public Works Department(PWD), Kadenge launched his international career with a memorable debut in semi finals of 1957 Gossage Cup where Kenya hammered Zanzibar five goals to one but lost the finals to their arch rivals Uganda Cranes who handed them a 2-1 defeat.In the book, he tells that author how the loss to Uganda inspired him to lead Kenya in 1958 Gossage cup that was held in Kenya's African Stadium later renamed as Doonholm Road stadium and now City Stadium in Nairobi Eastlands area.As his wishes were, Kadenge helped demolish Uganda 2-0 in the final in what he describes as the most memorable matches he ever played in his glittering career.Turning to page 193, the chapter dubbed The battle of "Mashemejis" is dedicated to Kadenge's side of the story on how Kenya's fiercest football club rivalry that pits Gor Mahia and Abaluhya Football Club later renamed AFC Leopards was cultivated.It was the formation of Gor Mahia on February 17, 1968 that ended the domination of Abaluhya Football club which gave birth to Kenya's biggest club football derby that has continued to this date.
Reading the chapter, there are similarities between Gor Mahia founders plans and Sir Alex Ferguson's 1986 plan to end Liverpool's domination of English football.In both cases, success was achieved with Alex Ferguson's Manchester United knocking off Liverpudlians as English Football most successful club with 20 league titles while Gor Mahia has 15 league titles compared to 13 times Kenyan champions AFC Leopards, a club formed in 52 years ago.Kenya Breweries FC, present day Tusker FC, formed in 1970 is Kenya's third most successful club with 10 league titles.Kadenge notes that entry of Ruaraka based club ended two clubs Gor Mahia and Abaluhya FC domination of country's club football and its players contributed immensely to the national football team performance.The author ends with a one on one with Joe Kadenge in chapter fourteen where the legend attributes his success to honesty, discipline and handwork.Interesting to note is that traffic snarl up in Kenya's capital and politicians are what he loathes most.Joe Kadenge lives a humble life and is an occasional taxi driver despite his age.To me, the book was more than the money and hopefully one day I will get a chance to meet one of East Africa's greatest ever footballer.The saddest part of his story is that there are no video clips of his playing career and highlights that in the book that back then, Kenya had only one Television station, state owned broadcaster which never stored such clips.However, the broadcaster has audio clips for some of the matches Kadenge was involved.Wonder why Kenyan filmmakers can't do a documentary or  film on Kadenge.I can't conclude without congratulating John Nene the author of the book.As one of those interested in factual based stories about Africa, its people and history, am impressed with his work and this sets a benchmark for media personalities across Africa to tell fellow Africans stories.In most African countries, you can barely get data about basic information and for Nene to write such a well researched and incisive book, he must have worked harder than creepy crawlies in the Atacama desert.Kudos Nene wherever you are.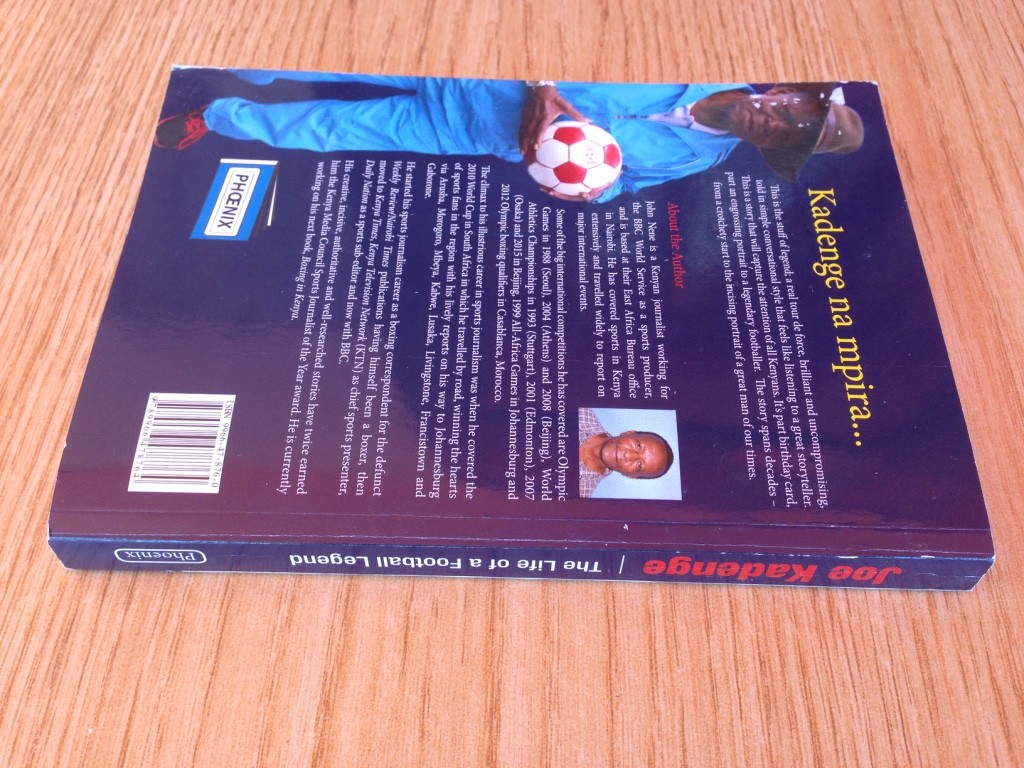 Previous
Next