Free: The Future of a Radical Price by Chris Anderson
Posted on October 29, 2015 12:53 am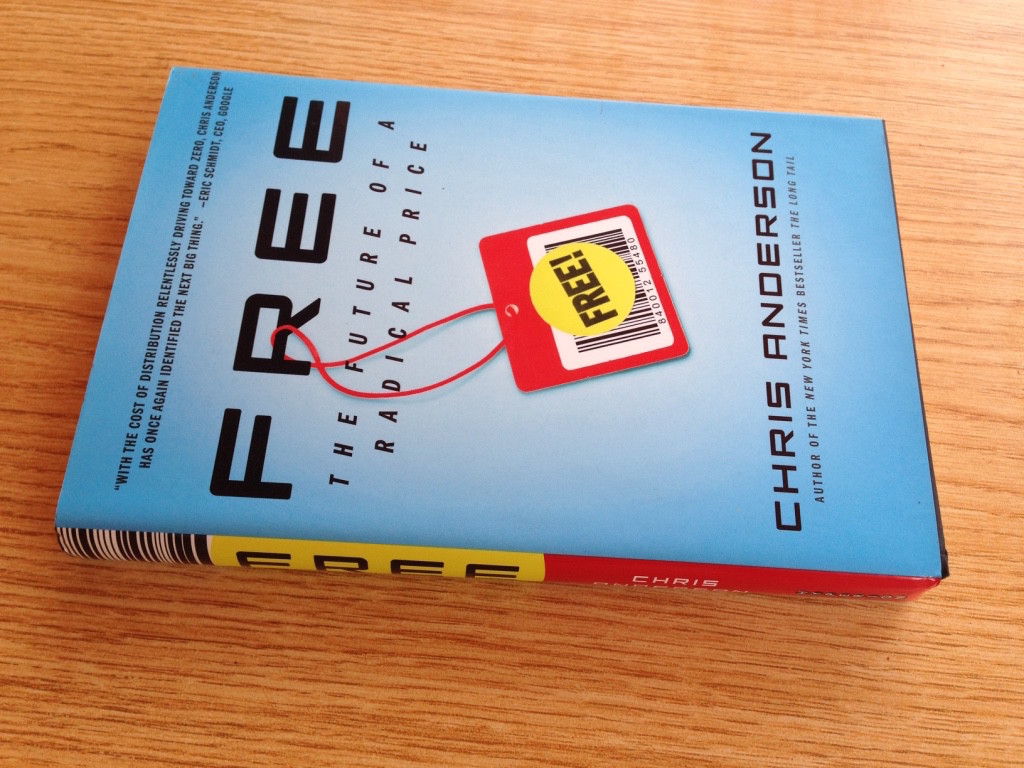 In his book, Free: The Future of a Radical Price, Chris Anderson argument is that $0.00 as a charge for certain products or services could lead to business success in the long term.While reading this book, it was clear that digital economy has brought immense lessons to consumers about zero pricing. Chris Anderson argument is informed by the price-point of zero as a place where strange things happen. As Eric Schmidt revealed in the book How Google Works, few people understand what it means to  devalue to a zero price, things which required nonzero effort to produce. Regular users of internet products like Google and Yahoo mails know what it is like to constantly be inundated by advertising, the sine qua non of zero-point economics as experts have described it. The zero-point economy has existed for decades but has recently evolved to an extent of gaining a great deal of economic mass.The authors reveals how to run an online business profitably in spite of the Internet's inherently free culture using the principles of a "priceless economy" in categories that pertain to advertising, labor exchange, and advanced-version fees.Of my main interests was "Priceless economy."The advent of genuine Free has shifted the determination of value from price to other factors, and created new non-monetary economies. It is also driven by non-monetary incentives, like reputation, attention, expression, recognition, trust, and knowledge.In an information-rich world, a wealth of information creates a poverty of attention. Anderson's logic is that the 20th century mentality of "there's no such thing as a free lunch" is long gone and essentially, even if you're not paying directly, there's always an associated cost.He challenges this assumption, claiming that this economic maxim is no longer true: with zero as the prevailing base price and economic models of Free revolutionising various markets, there is such a thing as something for nothing.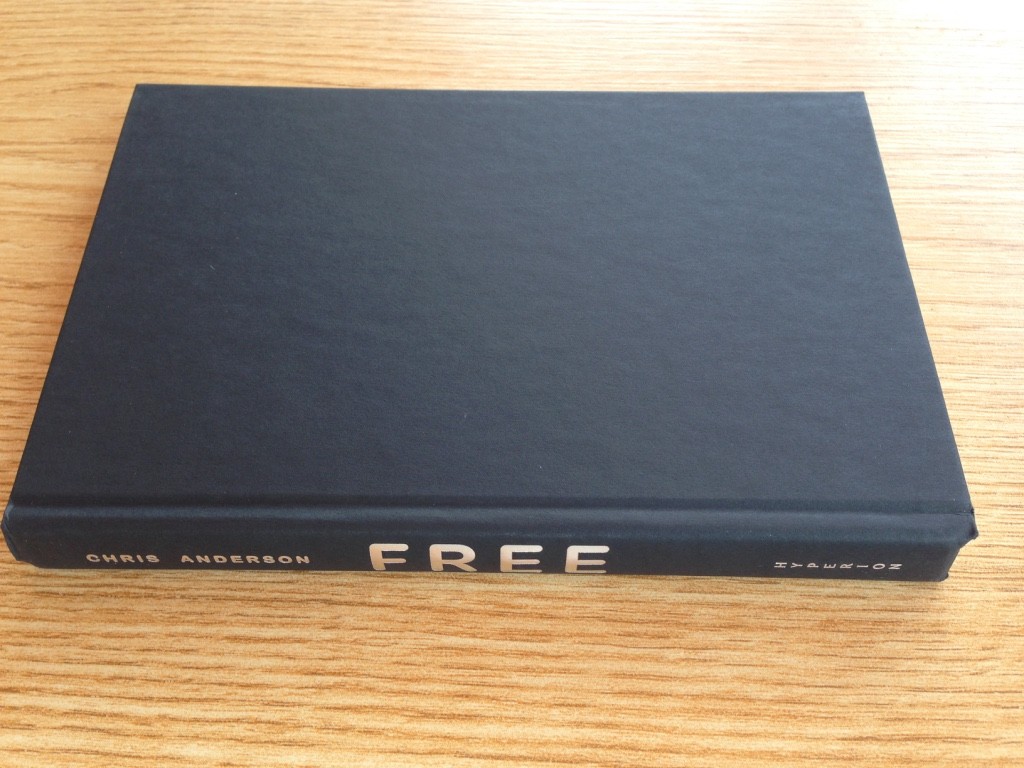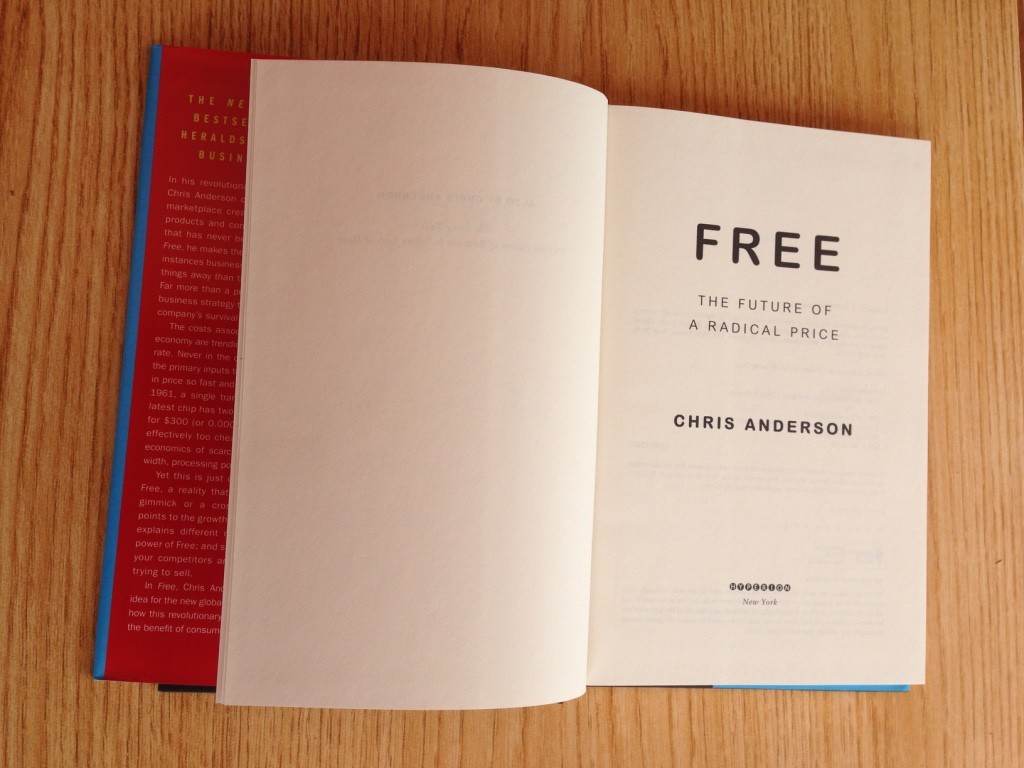 In his own thinking, Anderson believes the 21st century has things that are genuinely free, as opposed to being merely samples, promotions or products that require continued investment.Free went from a marketing method to a new economic model, asserts Anderson, and Free has now become the default.I have come across so many publications about technology and its economic numbers but in this Anderson's book, it is clear people are making lots of money charging nothing with Facebook, Yahoo and Google being the prime example of such concepts. In the Prologue of his book Anderson points to the example of the Monty Python team that claimed have been exasperated as to the amount of digital piracy of their programs, in November 2008 when they posted lots of their high quality archival video material free on YouTube. In return, Monty Python asked for users to click on the links, buy their movies and TV shows to soften their pain and disgust at being ripped off for many years.And according to Anderson, they were wildly successful, with their DVDs climbing "to number  2 on Amazon's Movies and TV best-sellers list, with increased sales of 23,000 percent".The message that Anderson is making is that providing free information and entertainment is the way the world now turns having the "force of economic gravity", and that organisations will need to adapt to make money off of the "free".  Giving away lots of free samples will encourage purchase, provide training instead of selling software, sell merchandise and concert tickets and don't worry about the free downloading of music, but instead charge for extras and add-ons and up-sells.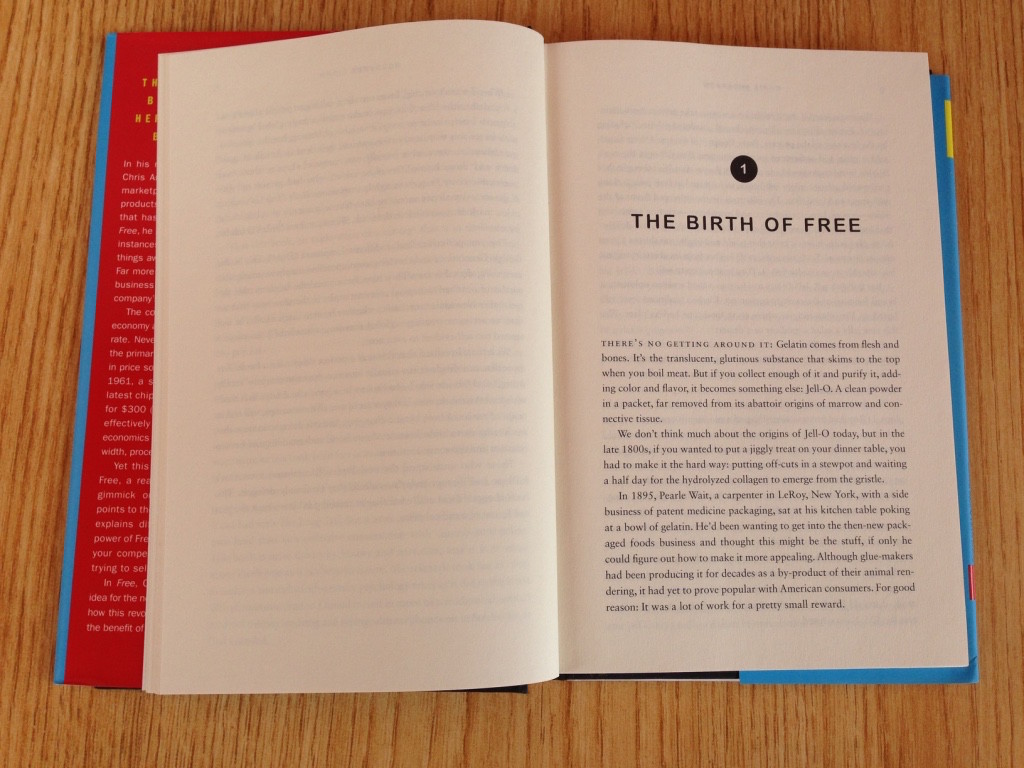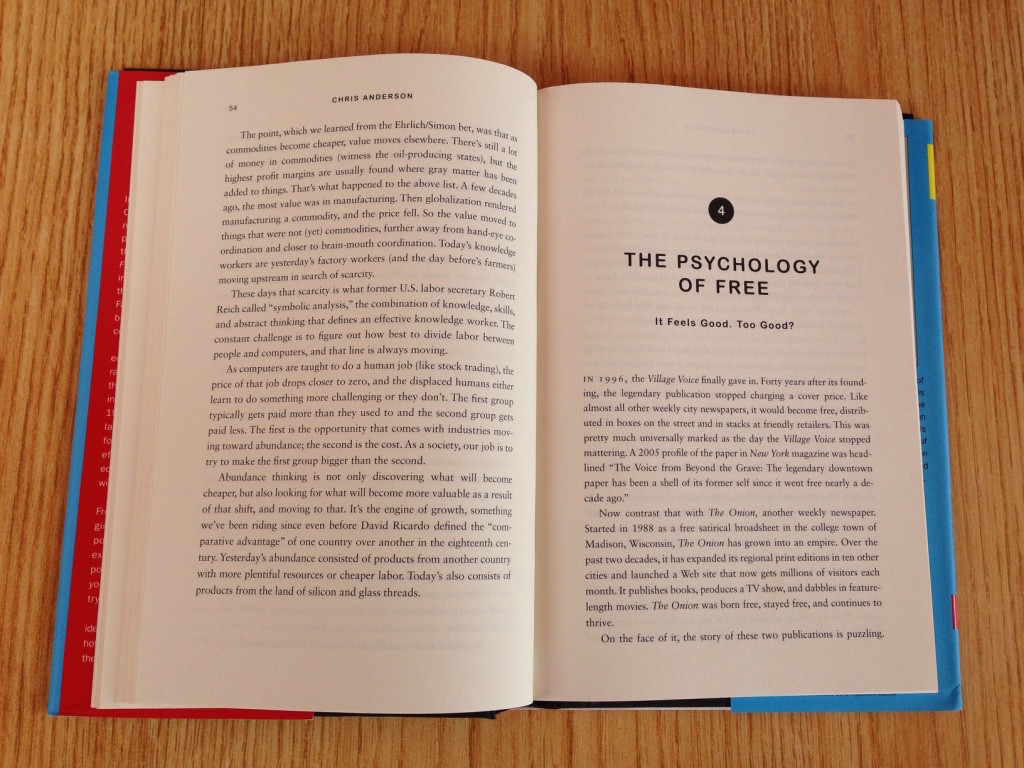 Anderson makes the point that the difference between something which costs and something which is free is enormous, even if the cost is small.  An example:  Amazon's offer of "free shipping" for orders greater than $25 is wildly successful."Give a product away, and it can go viral", Anderson writes. According to Anderson, the key reason behind this transformational pricing models is the distinction between what's physically real and what's virtual and digital.Free is driven by this transition of underlying technologies behind it ranging from computer processors, bandwidth and digital storage, which are continually decreasing in price, to the point where they become "too cheap to meter". Prices inevitably fall to to the marginal cost in a competitive market, and as "the most competitive market the world has ever seen," the Internet creates a situation where "Free becomes not just an option but an inevitability." Pricelessness is a weird economic regime where people are forced to play by the commerce moral syndrome. This means somehow trading things, which are culturally assumed to be priceless through indirection. The category of nominally priceless products and services is wide ranging and covers all spheres of the society from well being of kids to our daily lives. As a friend of mine recently argues, the economics of pricelessness phrase sounds like a profane contradiction but it is the right direction to explore for tech related businesses.Scarcity of money normally regulates what we purchase, but online, with the abundance of Free, Anderson says that two non-monetary factors replace money as the primary currency: reputation and attention creating the "attention economy" and the "reputation economy." While the value of these is not new, online they are easily measurable and "becoming more like a real economy every day." With the hyperlink came "a formal language for the exchange of attention and reputation, and currencies for both."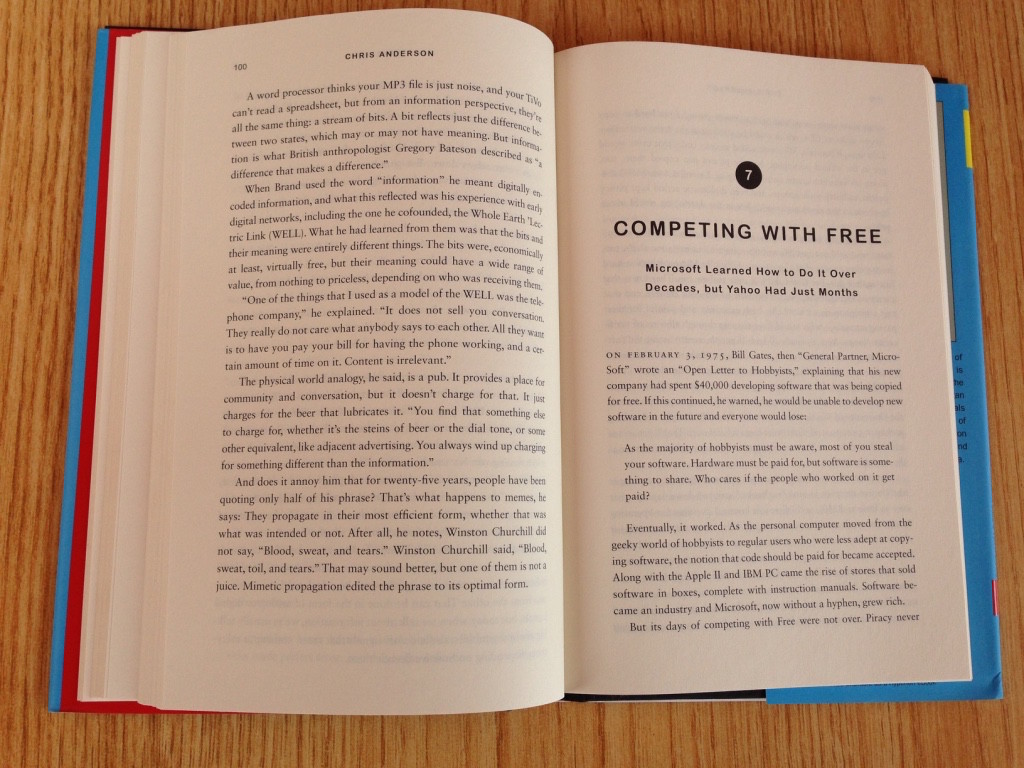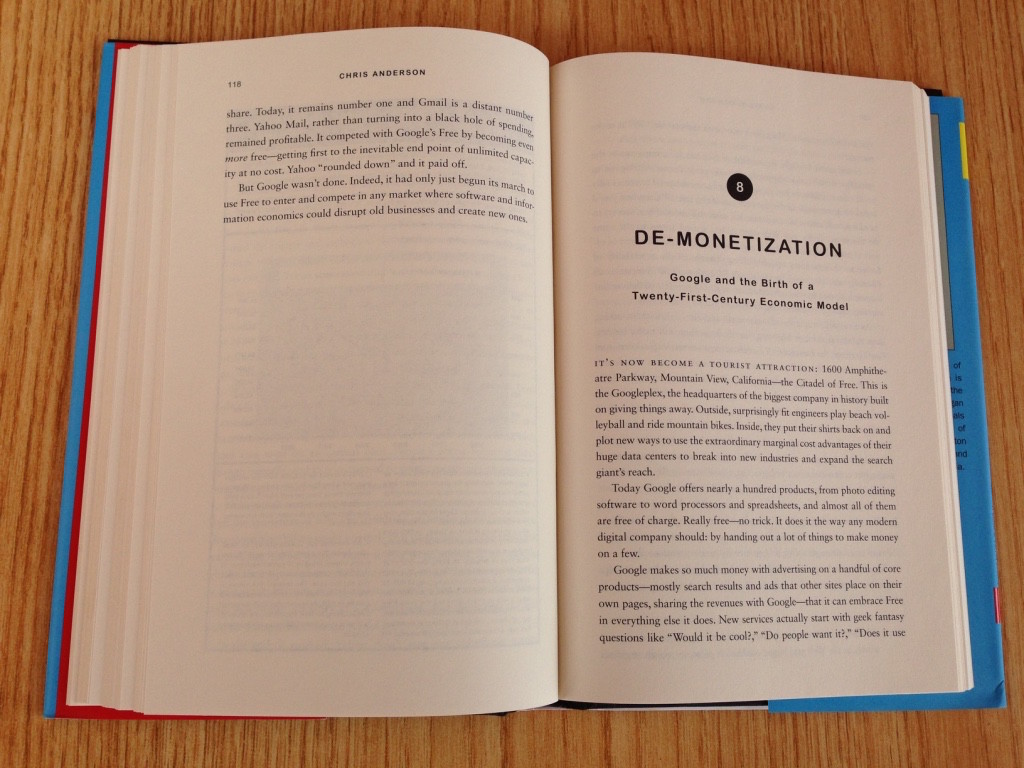 The explanation for this shift away from monetary value builds off of Abraham Maslow's hierarchy of needs, which Anderson applies in the context of information. Once our need for basic information, knowledge and entertainment is fulfilled, we move to the next level and become more discriminatory, even ourselves creating.Furthermore, when basic tangible needs are met (as they often are today), we find ourselves with extra time, energy and knowledge not fully utilised by our work, and emotional and intellectual needs not satisfied."What 'free labor' in an area that we value grants us is respect, attention, expression, and an audience," writes Anderson, "doing things we like without pay often makes us happier than the work we do for a salary." On Maslow's hierarchy, this would be the highest level, self-actualisation. The Web provides an unprecedented opportunity for such non-monetary exchanges: No wonder the Web exploded, driven by volunteer labor, it made people happy to be creative, to contribute, to have an impact, and to be recognised as an expert in something. The potential for such a non-monetary production economy has been in our society for centuries, waiting for the social systems and tools to emerge to fully realise it. The Web provided those tools, and suddenly a market of free exchange arose.There are several key arguments that I noted in Anderson's book.One of them is the psychological argument where he is of the view that consumers love freebies.The other is technological arguments where author believes digital infrastructure is effectively Free.Was also impressed with procedural opinion on why Free means never having to make a judgment and most striking one was the diverse commercial arguments where the market created by the technological Free and the psychological Free can make a lot of money.Like every business in the free space,the best thing is to accept and live with it as business lifecycle are hard to fight and that is what zero pricing is doing to 21st century businesses. That is exactly what Instagram, Pinterest and WhatsApp among other fancy platforms are doing.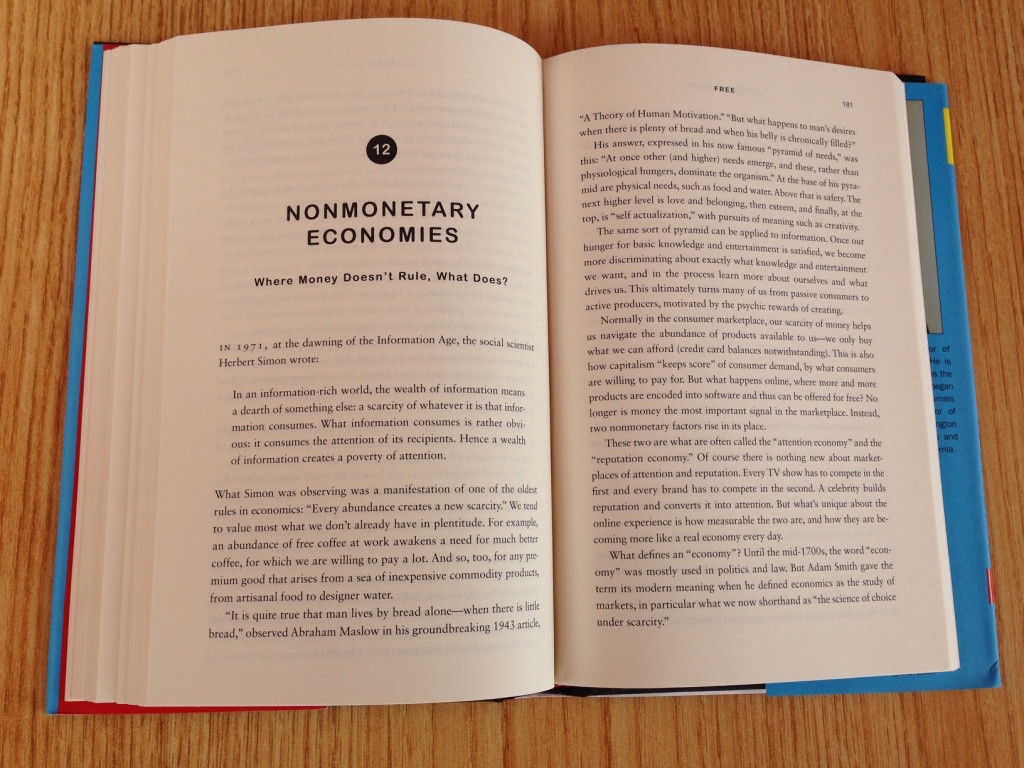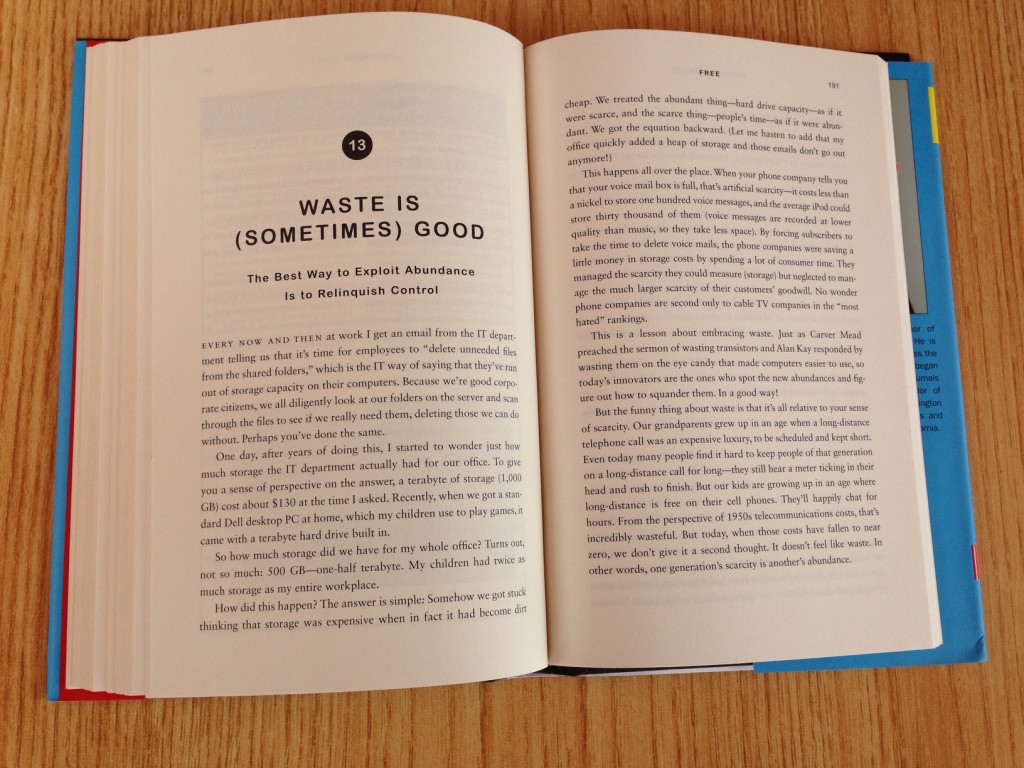 Rather than trying to compete with each other, they are doing the exact opposite of each other. They are working hard to optimise whatever monetisation opportunities they have. Cut costs to the bone and maximise revenue per user is the model that Contador Harrison believes in.That is what I think purely in terms of business is all about. The 20th century concept that Information Wants To Be Free, Information also wants to be expensive means that information wants to be free because it has become so cheap to distribute, copy and recombine making it too cheap to charge.  It wants to be expensive because it can be immeasurably valuable to the end user. That tension will not go away and will instead be here with us for decades. Anderson books lead to endless wrenching debate about price, copyright, intellectual property, the moral rightness of casual distribution, because each round of new devices makes the tension worse, not better."It's a consumers paradise," Anderson writes, "The Web has become the biggest store in history and everything is 100 percent off." Never in the course of human history have the primary inputs to an industrial economy fallen in price so fast and for so long. This is the engine behind the new Free, the one that goes beyond a marketing gimmick. In a world where prices always seem to go up, the cost of anything built on these three technologies will always go down. And keep going down, until it is as close to zero as possible.However, it's not just digital that's drawn towards Free: "Atoms would like to be free, too," Anderson says, but the marginal costs are rarely so low. Nonetheless, the Free phenomenon is hardly unique to the digital world. A thriving economy based on many Free concepts exists in China, where "piracy has won", and is accepted as normal and commonplace. Many of the effects of Free seen online in the world of bits can be seen offline in China and Brazil in the world of atoms.Anderson acknowledges that "Free sometimes comes with strings attached," like advertising, limits and bait and switch. But this is mostly 20th century thinking, with atoms. With 21st century Free digital bits "there is no need for hidden costs" although they may still exist.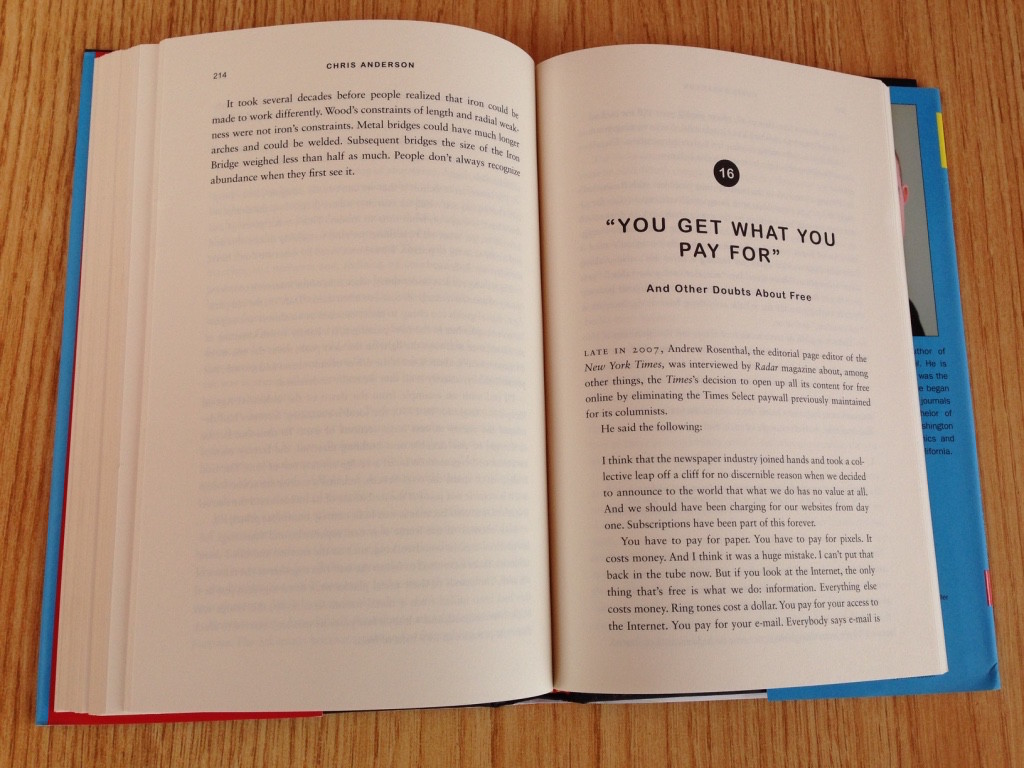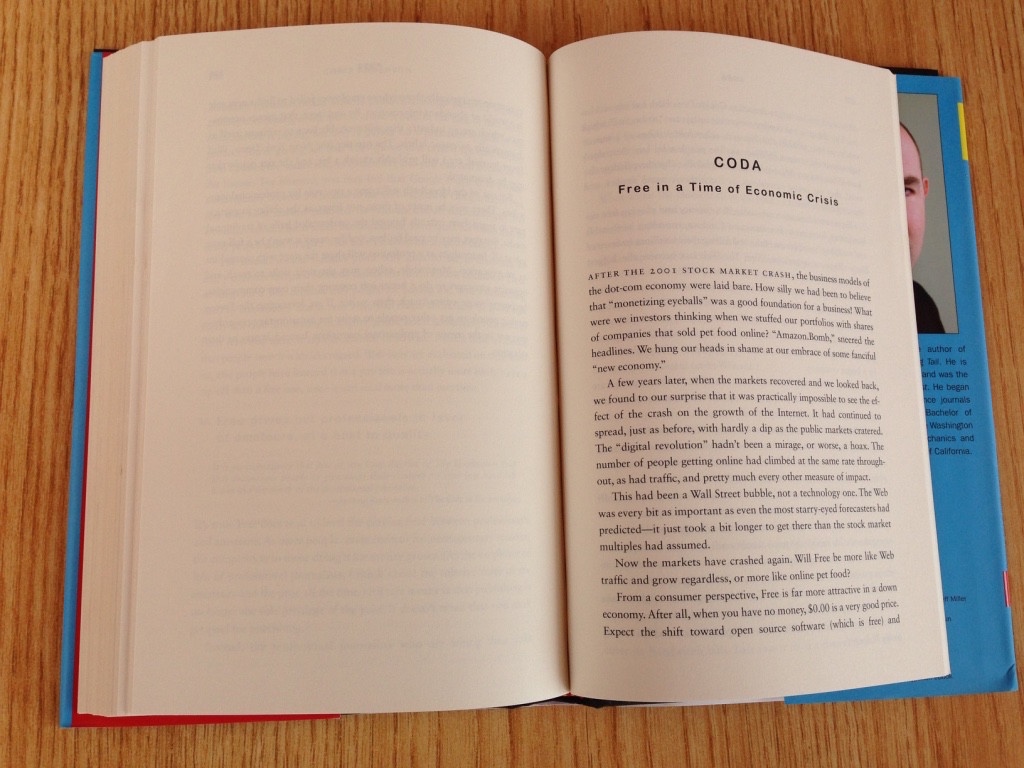 In conclusion,Chris Anderson's book is built up of impressive past ideas, theories and research and has smartly integrated them into his argument while others he has re-interpreted and applied in the context of the information age and the Internet.One of the most notable theory Anderson used was Joseph Bertrand's theory in the section "in a competitive market, price falls to the marginal cost" and his argument, is that the Internet is a realisation of Bertrand's concept of "a truly competitive market." Anderson also interestingly explores Steward Brand's maxim that "information wants to be free" and its importance in the context of his own ideas. Anderson also builds off of Lewis Hyde's theory and cites economic theories like "versioning" to support his theories and to explain their origins.It was interesting to read Anderson's view on how piracy encourages Free, because the cost of reproduction and distribution is so low compared to the price generally being asked. Anderson equates piracy to the force of gravity, naturally bringing the price down and it is almost impossible to stop.The concepts and background in Anderson book helped me to understand Free and undoubtedly, Free is inevitable and unstoppable, that Free is ultimately good, and that Free is the future. And online, Free has already won, even if the transition and evolution is not yet over. "The Web has become the land of the free, not because of ideology but because of economics," writes Anderson, "the marginal cost of everything online is close enough to zero that it pays to round down." Whether I agree or disagree with the implications or causes of Free as written by Anderson, it is irrelevant in the grand scope of his vision, because Free is the future whether you and me like it or not.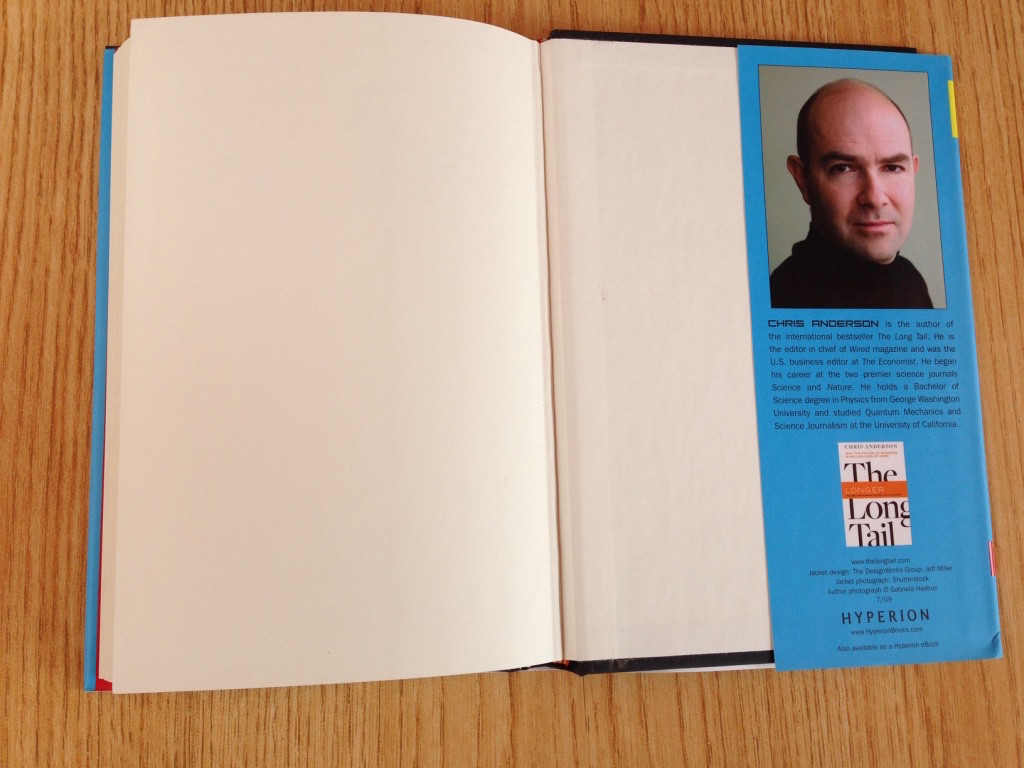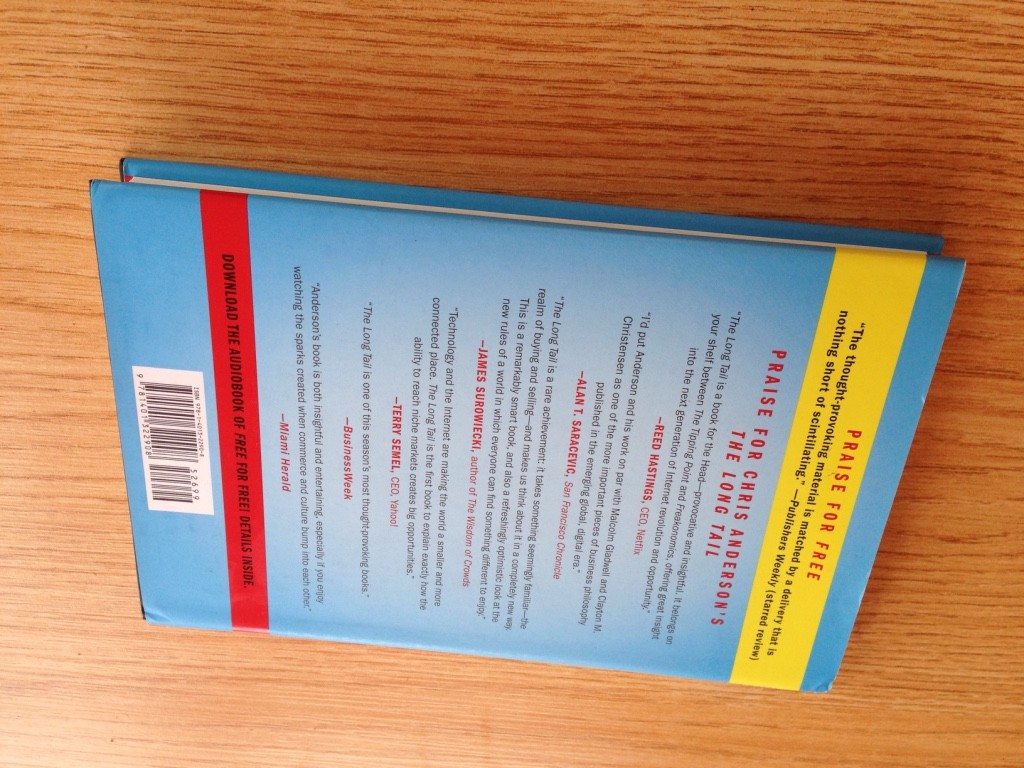 Previous
Next