Edward Lowassa is CCM's nomination frontrunner
Posted on May 31, 2015 12:02 am
The race for the Tanzanian presidency has tightened with the battle shifting yesterday to one of those who will face opposition candidate in October 25th 2015 elections. The battle for victory in the CCM presidential candidate election will now intensify with Lowassa camp,along with its election machineries, involved in opinion and ground battles as part of their strategy to win the party's presidency.However, going by the huge turn out yesterday at Sheikh Abeid Karume stadium, Edward Ngoyai Lowassa will be the candidate to beat in CCM nominations.His announcement ends months-long fever of speculation in Tanzania about his presidential ambitions.The current Monduli Member of Parliament, Lowassa is a seasoned politician and among one of the most popular and fabulously wealthy individuals in Tanzania. According to country's public records, Lowassa began his political career during the reign of President of Tanzania Julius Nyerere but joined mainstream political field first as Minister of State in the Prime Minister's Office during the reign of Nyerere successor Ali Hassan Mwinyi. Lowassa will face off against the likes of Benard Membe – currently the foreign affairs minister, Mwigulu Nchemba – the deputy Finance minister,among others in a crowded nomination battle for CCM Presidential flag bearer.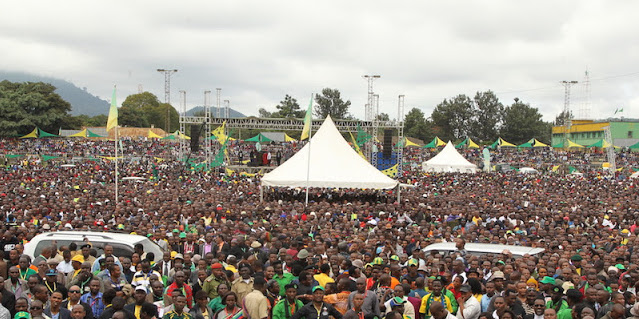 Edward Lowassa who seemed to be aware of the public's interest in his political ideas finally decided to step out of his comfort zone with Arusha rally, where he spoke about his presidential programs in detail.During the rally, Lowassa impressed an audience of thousands as he outlined his social and economic platforms, which relied on efficient bureaucracy and the improvement of human resources by integrating skills and character building education in Tanzania.Unlike Jakaya Kikwete popular Kilimo Kwanza (Farming first in English), Lowassa is said to be favoring elimu (swahili for education) as his top priority."Education will certainly trigger the improvement of our economy Contador Harrison. If Tanzanians maintain good character and discipline, they will find productivity improves. This high level of productivity will later increase Tanzania competitiveness as a nation," a Lowassa confidante told me last week.Lowassa is among the favourite to win nominations and is almost points ahead in the recent opinion polls and Tanzanian public in general if what is being posted online about his suitability is anything to go by.
In spite of his detractors public assertions, Edward Lowassa has become the most popular presidential hopeful within CCM due to the negative media coverage of his past especially his resignation following allegations of corruption involving Richmond energy contracts.Constant media reports on the turmoil within CCM and the corruption allegations leveled against senior figures with most recent high profile being Tegeta Escrow scandal, among others, have not only engendered a poor image of CCM but has also driven up the popularity of alternative presidential candidates internally like Edward Lowassa.Tanzanians want new figures rather than to focus on those who have been officially annointed by CCM insiders like Benard Membe. Lowassa's performance as Monduli MP has managed to grab country's mainstream print and electronic media's attention, which constantly runs stories about him.As a result, the public wants him to be president, and even though he had not declared himself a presidential candidate until yesterday's public rally in his hometown of Arusha, his entry is a game changer in President Jakaya Kikwete succession politics.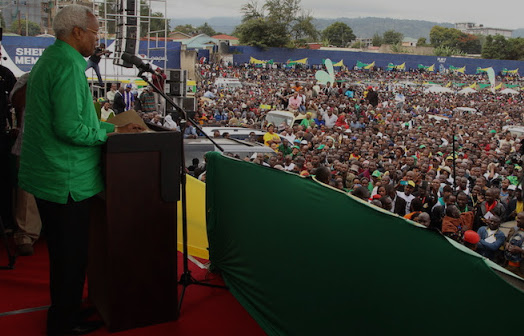 Edward Lowassa who is campaigning hard on his perceived attributes of strength and decisiveness, has amassed behind him a larger voting bloc among young and old alike, and his drive for the job is making him favorite and the real deal for CCM.Strategic-wise,Edward Lowassa camp is combining direct-campaigning, cyber-campaigning and silent-operation strategies. Lowassa who failed to win a ticket to succeed Ali Hassan Mwinyi twenty years ago thanks largely to dictatorial onslaught engineered by Julius Nyerere, Tanzania's founding president, launching his Chama Cha Mapinduzi (CCM) Presidential nomination ticket in a contest that has attracted more than ten candidates within the the ruling party, is the most decisive indication that he will go all the way to the ballot on October 25th polls. I've observed that Tanzania's stock and currency markets are however unnerved by political battles leading up to the CCM nomination election slated for early July and were trading higher close of the week on what is expected to be smooth and peaceful ballot, but longer term,Tanzania faces numerous challenges including but not limited to economic problems.
With pollsters saying CCM candidates will garner less than usual above average percentage of the popular vote in the upcoming legislative and Presidential elections, Tanzanian public will likely see two candidates in October elections as there are, unconfirmed reports that opposition parties coalition dubbed UKAWA will field a single presidential candidate to take on CCM's choice.Based on recent surveys on election participants' electability in United Republic of Tanzania (Tanganyika and Zanzibar), opposition parties would have to form a coalition to nominate a presidential candidate to stand any chance of challenging the CCM candidates like Edward Lowassa, otherwise they stand no chance of occupying most prime job in East Africa's second biggest economy. Entry and announcement in Arusha rally yesterday afternoon of Edward Lowassa will open the battle lines for Tanzania's presidential election.It is clearly a drawn out contest between political insiders in CCM like Mr Lowassa and small time credentials politicians in the opposition led by Chama Cha Demokrasia na Maendeleo(Chadema).

The competing camps within CCM have been striving to win not only support, but also the commitment to vote.And while all CCM leaders are considerably nationalist in principles, they also strive to win such support and commitment from regional elements and influential figures in the country.The battle will heat up as figures who have claimed and are believed to have significantly contributed to the victory of the CCM like Lowassa, for instance, who in 2005 Presidential elections campaigned heavily and end results was seeing his friend Jakaya Kikwete ascending to power, Lowassa followers have shifted their support to his camp and there are rumors that should he fail within CCM to get the ticket, he could stand as an independent candidate and join hands with opposition and that could pose serious challenge for CCM.Also of interest is the fact that a number of senior CCM figures as well as a number of presidential convention participants of the party, which has declared its non-partisan involvement in competing camps, have shifted to the Edward Lowassa camp albeit silently.The shifting of party figures to opposing camps as well as the fight to win the support and commitment of party elders and business elements in the country will certainly change the nature of the playing field within CCM nomination process.In every election in Tanzania and world over, there is a strong need among the public for a change.And Lowassa's public rally in Arusha yesterday showed he has the strength with attendance of party heavy weights like Anna Tibaijuka, Hussein Bashe among others. Among his main highlights at Sheikh Abeid Karume that I've translated from Lowassa rally's swahili audio clips,he said Tanzanians need changes and he has the capacity to lead them and quoted late Tanzanian President Julius Nyerere who once said that Tanzanians who can't get reform within CCM, they may seek the same outside the party.
Ex-premier also said that if placed strategically within CCM,there are chances of bringing changes Tanzanians are yearning for.Monduli MP also told the crowd that he participated in Tanzania-Uganda war and he was at the forefront of those who fought so hard during what is fondly referred to as Kagera war and he asked the crowd to ask his competitors where they were during the war?He added that Tanzania need popular leaders with guts to dare and dream, ability to make hard decisions and decisive leadership with courage to unite Tanzanians of both divides – the have and have nots."I have the appetite, the urge and capacity to lead Tanzania.I strongly believe that I've what it takes to bring value to our country"."With enormous resources that our country posses, we have every right not to be beggars and what I'm relaying is the foundation with which i'll use to lead if elected.The calling to seek presidency is driven by urge to fight poverty.My presidency will bring transformation and development.""I know how many Tanzanians are working in Boda Boda sector and Mama Ntilie (a slang in Tanzania used to refer informal sellers of food and drinks, popularized by Tanzanian songbird Ray C in her chart topping song Mama Ntilie) who will be my friends and they wont be chased away from road side where they operate from because they are fellow Tanzanians just like the rich class living comfortably.When it comes to sports, we are tired of being laughing stock and i'll transform the sector as soon as I take power if elected." – Lowassa said.
Pictures used in this article were supplied by Alfred Mushi, a friend of mine who attended the rally at Sheikh Abeid Karume stadium in Arusha on 30th May 2015.
Previous
Next