Conor McGregor is the new UFC Featherweight Champion
Posted on December 13, 2015 04:22 am
Irishman Conor McGregor is the new Featherweight Champion of the UFC, knocking out champion Brazilian Jose Aldo in the first round after just 13 seconds when McGregor delivered one punch to the jaw sending Aldo to the mat, followed by a hammerfist which was more than enough for John McCarthy to stop the match.McGregor, 27, has been gaining international popularity in the UFC rapidly since his debut, thanks to a wonderful mixture of clever trash talk and entertaining fight style that has endeared him to millions of fans across the globe.The Irish man had been quoted earlier that he was determined to make history. And that is what he absolutely did less than an hour ago prior to this blog post. McGregor and Aldo were supposed to meet in July at UFC 189 in Las Vegas, but a rib injury took Aldo out of the fight the week prior to the event. Instead, McGregor met Chad Mendes for the interim belt, which he won with a third-round Technical Knock Out. With the win, McGregor winning streak has extended to 15 fights as he has not lost in more than five years. Aldo won the WEC's featherweight title in 2009 and then became the UFC's first featherweight champion when the promotion introduced the weight class following the merger of the two promotions.
McGregor known as "The Notorious" threw just three punches at UFC 194, but he made the first one count. McGregor – 19-2 MMA, 7-0 UFC – knocked out longtime featherweight champion Jose Aldo – 25-2 MMA, 7-1 UFC – in what few fans had predicted.It was classic example of one punch and one knockout. And a couple quick follow ups on the floor for re assurances.The new undisputed champion McGregor has now made UFC history with the fastest knockout in a title fight, beating the 14 second mark set by Ronda Rousey. As Aldo threw a right hand, McGregor threw a straight left that drilled the champion on the chin and put his lights out. McGregor quickly followed Aldo to the canvas, even though a left hand Aldo threw at the same time actually connected with McGregor's head and frankly speaking the two hammer fists were just nailing the nail in the coffin.McGregor win ended longstanding grudge between him and Aldo, ending the fight in a matter of seconds was a humiliation for the famed Brazilian fighter.The featherweight title unification bout was the main event of UFC 194 event at MGM Grand Garden Arena in Las Vegas, Nevada.McGregor came out quickly to little surprise.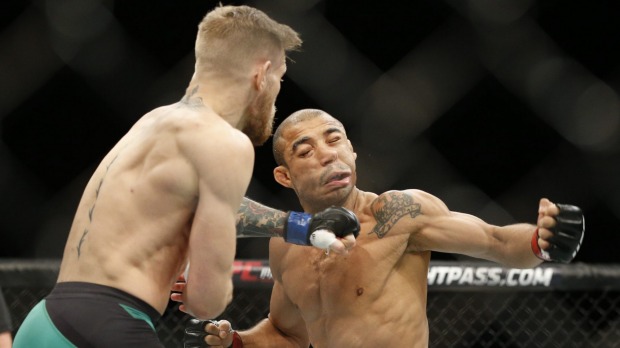 And the fight was over in UFC title fight record time."Nobody can take that left-hand shot," McGregor said in pst interview. "He's powerful, and he's fast. But precision beats power, and timing beats speed, and that's what you saw there. I feel for Jose. He was a phenomenal champion. We deserved to go a little bit longer. But it would've happened sooner or later. "No power. No power. Just precision. No speed. Just timing. These are fundamentals. That's all it takes. Yesterday at the weigh-in, I didn't want to get off the stage. I wanted to embrace every bit of it. Sometimes, it's over before you even know it."The Brazilian was 25 and 1 as a professional fighter before the defeat in Las Vegas and as his nose bled from the cut, Aldo said he wanted a rematch. "I think I need a rematch since it really was not a fight. I think we need to get back in here," Aldo said through his translator. "McGregor trash talk didn't affect me at all. We'll have to come back in here and it's on to the next at this point." This is the first time Aldo has lost since November 2005 and his 18-fight winning streak has been brought to a juddering halt. It is also the first time Aldo has been knocked out for the first time in his career and according to UFC records, Aldo lone loss before McGregor was by submission in his native Brazil in his eighth professional fight. To me, UFC Fight Pass pay per view subscriptions wasn't worth 13 seconds after all but well, thats UFC for you!
Previous
Next