Differences puts at risk EAC stability
Posted on November 9, 2013 06:03 am
Two days ago, Tanzania's President Jakaya Mrisho Kikwete (pictured below) declared that his government was not planning to pull out of the East African Community contrary to what pro 'coalition of the willing' media in the region has been speculating for the past two weeks. Watching the Tanzania Broadcasting Corporation (TBC) clip of President Kiwete speaking in Parliament on Thursday, JK as he is fondly referred to by the Tanzanian media insisted his country was determined to seeing the bloc prosper and that he will do everything in his power to make sure that the five-member community does not collapse. To me, that was a statement by a leader who believed in long lasting marriage and not hasty marriages that can collapse because of 'cheating' by partner(s). In the TBC clip, President Jakaya Kikwete made it clear that accusations leveled against his country as an unwilling partner are unfounded. Shockingly, he revealed that Tanzania has never been invited to any meeting attended by leaders from Uganda, Kenya and Rwanda. The Tanzanian head of states also vehemently denied that his country was slowing fast integration of the region insisting that such claim are not even close to the reality urging that United Republic of Tanzania has practically shown that it is not opposed to integration as evident by it the coming together Tanganyika and Zanzibar to form Tanzania. He reminded the world that Tanganyika-Zanzibar union is the only one in Africa that has lasted longest, many countries have tried but failed, next year we will be celebrating 50 years" the Tanzanian president said in his speech delivered in mainly in Kiswahili and bits of English.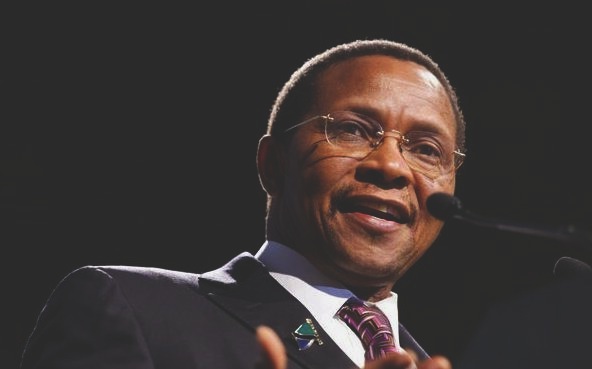 The lead-up to the head of states Heads-of-State summit at the end of this month will no doubt be dominated by the 'coalition of the willing' development and continued 'isolation' of Tanzania and Burundi.  What is certain is that the East African Community will have to live in a more challenging regional environment if the current geopolitical and economic competition continues. Therefore, Contador Harrison would wish to see the head of states in the region demonstrate strong adherence to the 'regional policy doctrine,' that would includes an equality in infrastructure development and complete integration. Me think that supporting an East African Community doctrine will help the regional population understand how important it is for 'coalition of the willing' to engage and involve 'isolated coalition' of Burundi and Tanzania. Maintaining a regional link could help in proving that EAC is consistent with its path toward making the East African region middle income status region, secure and stable especially after the brutal murder of innocent people at Westgate shopping mall in Nairobi more than a month ago. The member states should accept and appreciate that East African region is so interconnected and there is no way back on that when it comes to the common man. In Ugandan capital Kampala one can always find thousands of Tanzanians flocking there daily to buy merchandise while in Dar Es Salaam, the commercial capital of Tanzania sees thousands of Kenyans trooping there daily to buy the popular Vitenge and Kanga. Cross border commerce is next to none in Africa and there's need for those who care about commoners to rethink their strategies and how millions of East Africans will be affected by their actions. Kenya has for example this week warned of hunger with millions of Kenyans facing starvation. What if Tanzania was to block sale of cheaper grains to its northern neighbor? However, unless there is poor harvest no one expects such to happen but that's an example how the region is interconnected.
I support greater integration of the five countries at the regional level, through trade and commerce. Therefore the 'coalition of the willing' must not waver from the commitment to regional efforts in setting the East African agenda for regional integration that would address all concerns of member states and also simultaneously maintain individual country's national interests like Tanzanian request for exemption of land and immigration.  Another wish I would want to see in the head of states summit coming at the end of this month is the recognition of amity and enmity existing patterns in member states relations. Enmity pattern of relation manifests in the 'coalition of the willing' pitted against the 'isolated coalition' of Tanzania and Burundi. To end enmity pattern of relations the next head of states summit in northern Tanzania town of Arusha that headquarters the EAC offices and take a more pro-active regional approach, which presses for acceptable, unanimous, amicable, multilateral ways to solve the problems that have led to the current stalemate. I laud President Kiwete who said Tanzania is committed to continuing with East African Community integration process and this means there is need for advisors and key players in the region to come up with new fresh policy initiatives into the East African community, not only to make Africa's most successful more dynamic, but also to allow the members of the community to perpetuate a sense of partnership within the group as Tanzanian head of state demanded.
Unless you are partisan, President Jakaya Kikwete statement demonstrated a vision and a strategy to avoid enmity elements in the community that led to collapse of its predecessor and has showed a greater sense of amity. As a keen watcher of the region, I'm worried that President Jakaya Kikwete successor could set into motion processes that bring changes in policy toward the East African region unless the 'coalition of the willing' ends their individual pursuits or involves Tanzania and Burundi in their projects. These new Tanzanian in 2015 leaders could bring with him or her expectations about the country's deeper involvement with East African Community (EAC) competitor Southern African Development Corporation (SADC) although it's a backwater compared with EAC. In addition to that, I think policies of the next head of states summit need to be effective and should take into account the current and future trends in regional and continental politics. That means the realization of expectations of the East African population will be to an extent be shaped by the relations between regional member states.  There is also need for commitment among five member states that form regional economic block to principles of free trade and active regional policy and to continuing stability and security in the East African region that continues to face terror threats and by emphasizing the value and benefits of honest partnership.
The possibility of reservation from the regional countries, including Tanzania and Burundi, toward Kenya and Uganda's proposal for closer regional defense arrangements two years ago, it is imperative for the head of states at the end of the month to look at every possibility offered by multilateral and bilateral mechanisms to promote the East African regional security proposals. The member states should be ready to mobilize available resources to change its outlook and do whatever possible to adapt to the ever changing East African region strategic environment. In ten years from now, those who currently support 'coalition of the willing' and drums up for its support may come to regret. Instead they will see how President Jakaya Mrisho Kikwete's statement ended uncertainty over future relations in the East African region and they would appreciate Tanzanian leader was right and understood the nature of possible changes around East African Community. President Kikwete statement was a confirmation of long held beliefs by majority of East Africans that he posses unmatched leadership skill when it comes to regional policy which is more than just responding to the geopolitical competition between the member states. To echo his sentiments, East African Community member states should focus on long-term strategic regional goals and current leaders must build a much stronger regional position in order to implement set goals.
Previous
Next