Capital in the Twenty-First Century by Thomas Piketty
Posted on April 6, 2015 12:08 am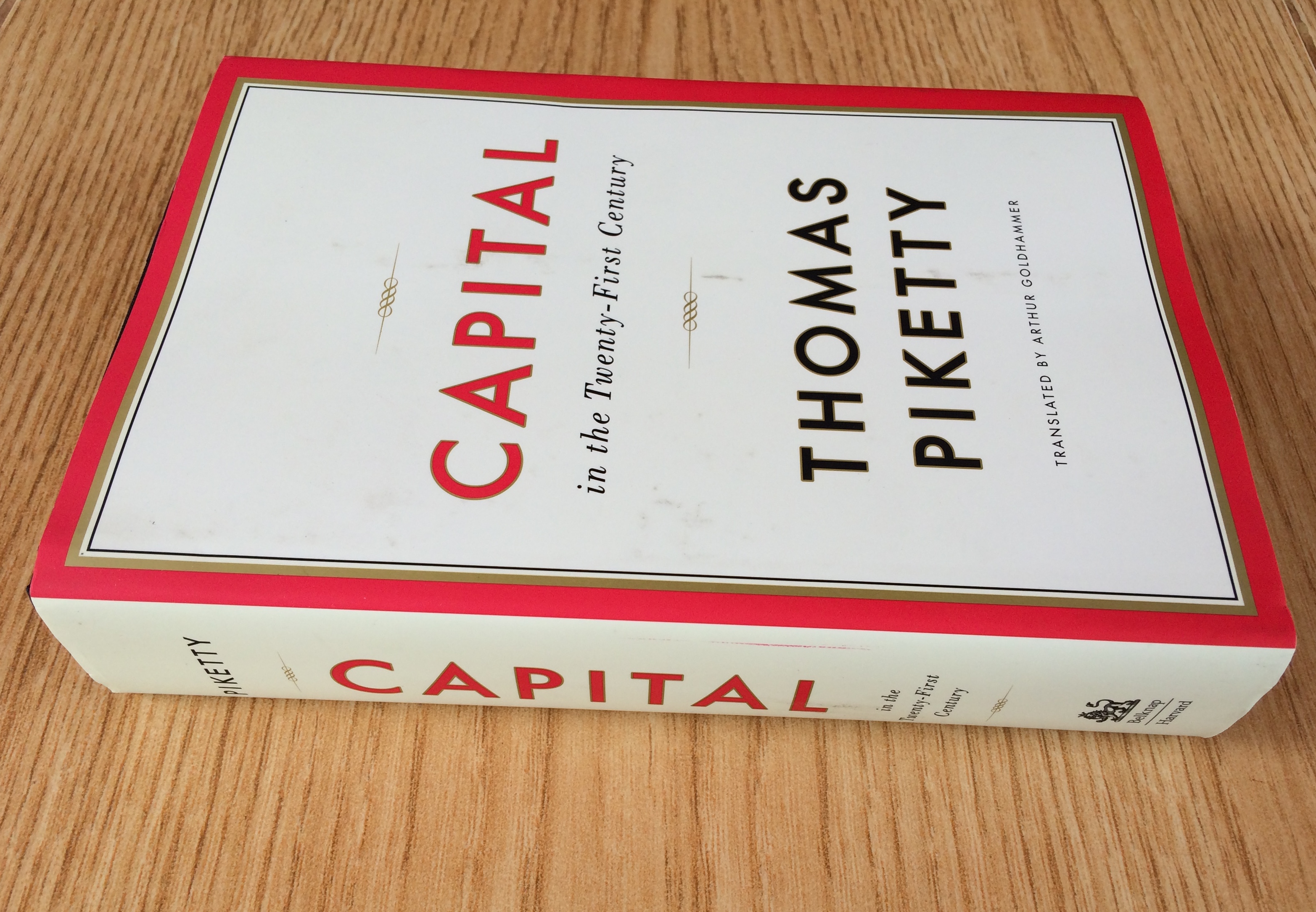 On 16 August 2012, the world witnessed horrific images of South African Police Service opening fire on a crowd of striking mineworkers at Marikana, close to 100km northwest of Johannesburg in the North West Province. According to investigations team, the fateful event left 34 mineworkers dead, 78 wounded and well over 250 people were arrested. The crime protesting mineworkers did was to demanding a wage increase at the Lonmin platinum mine. From the beginning, Thomas Piketty illustrates how such inequality related incidents reminds him of how unfair the world we live in.In fact he focuses on Marikana to justify his arguments. Thomas Piketty's book is a translation of 2013 French edition and when it was released it became a publishing sensation that caused a stir among economists and commentators alike but after all we are creatures of different egos.The factual level of economic inequality is much higher that its official measurement and something must be done about it.Economic inequality in the world has been on the rise and recently reached a record high as measured by the household consumption expenditure in countries like United States, China, India, United Kingdom, Germany and France. Perfect equality is when everyone has a similar level of income while perfect inequality is when all income is accumulated in one person. The issue of rising inequality is also socially and politically important as it may harm societal stability, especially in a large, diverse and young democracy plagued by widespread poverty and vulnerability amid rising expectations.Rising inequality globally echoes global concerns about the issue and being in the business for more that a decade I've seen the problem firsthand.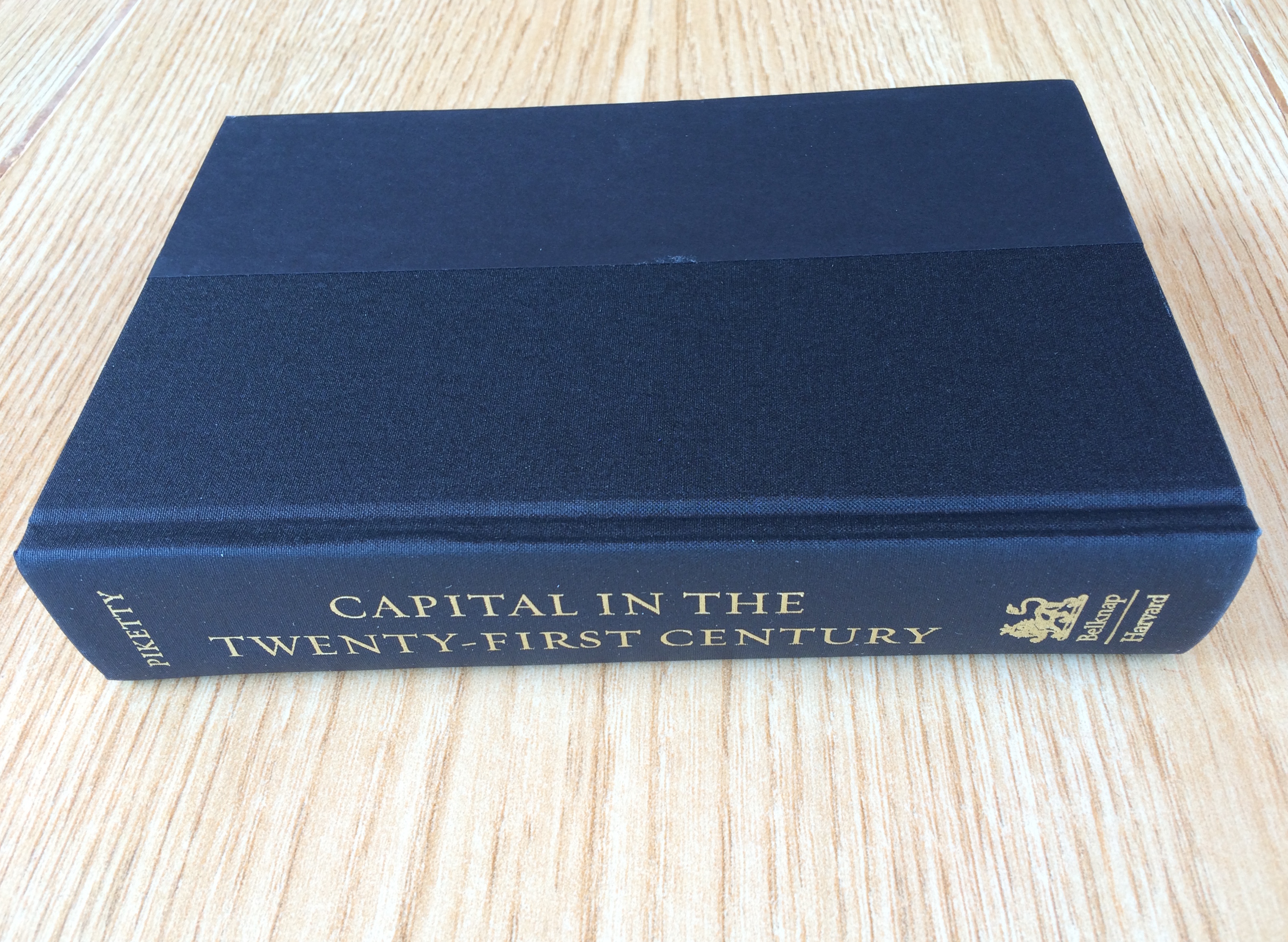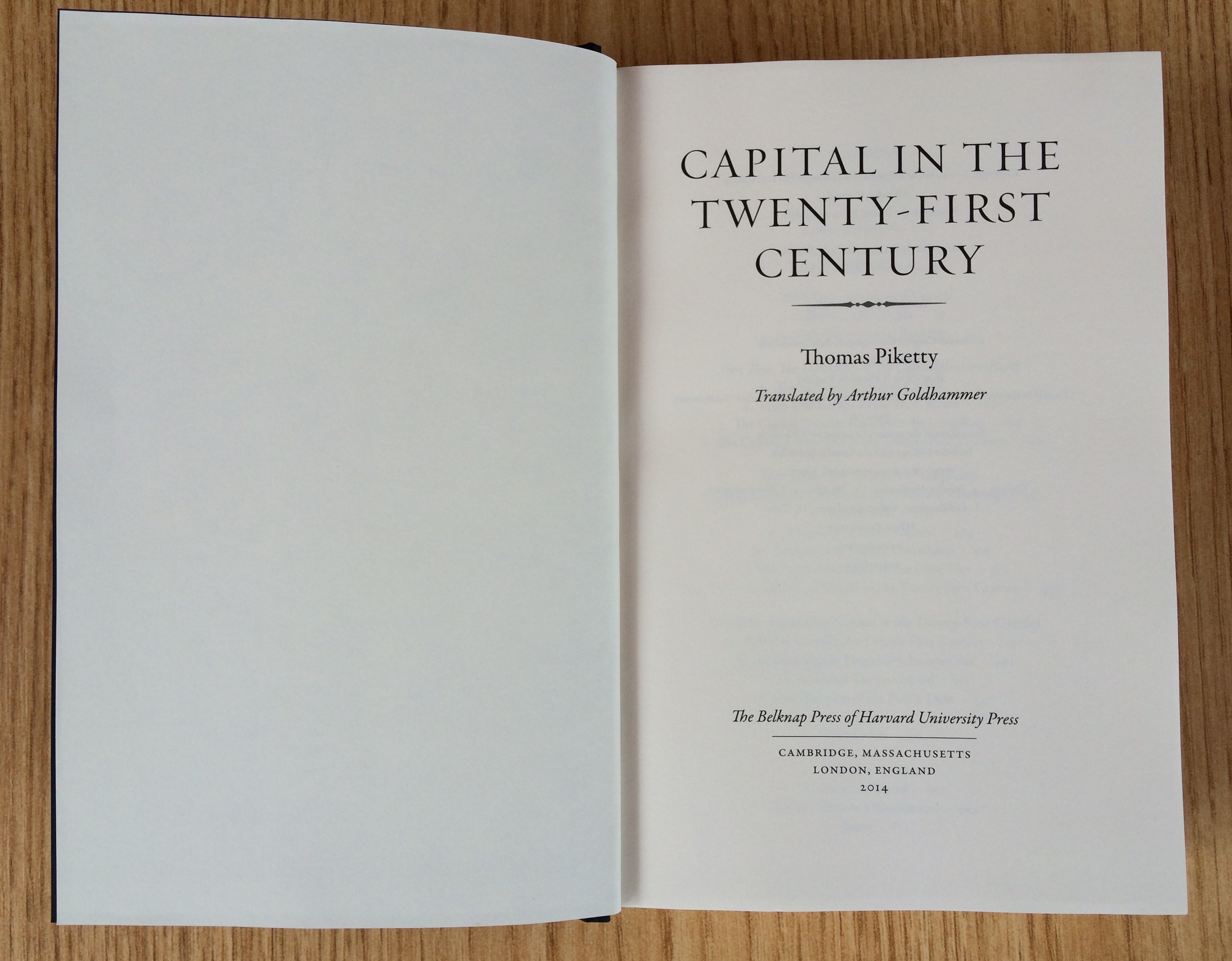 If he had his way, Piketty would impose a global one-time flat tax surcharge of 10 percent on all wealth over $1 million and a larger 20 percent bite on lesser incomes. In addition to the, he would install an annual 80 percent tax rate on personal incomes that exceed $500,000 to $1 million and a 50 percent to 60 percent tax on incomes as low as $200,000 thereafter.Piketty rightly argues, from the onset, that good economics must begin or at least include a punctilious examination of the facts.The French economist has convincingly argued that rising inequality was embedded in the capitalist economic system because capital returns had been increasingly higher than overall economic growth since the middle of last century.Concerns with overall inequality have so far been driven by the evolution of per capita household expenditure, derived from socio-economic surveys. Despite current awareness of the already high level of economic inequality, the current official measure of inequality has been underestimated by the right wing thinkers and elites.
The true level of economic inequality in the world is much higher than that according to Thomas Piketty. Indeed economics is not governed by immutable laws of nature. Sweeping generalizations about the laws of capitalism are less useful than careful empirical studies of behavior over a certain period of time and across nations.Inequality matters a lot, and efforts to reduce should have a proper place in economic policies of any country.However, enhancing efficiency and uplifting living standards, free market economy has proved its worth.The author argues that factory workers are more valuable to a society because their economic work can be measured by the widgets they produce. Since the income accruing to a venture capitalist who takes risks to build a widget factory cannot accurately be assessed, that income is earned illicitly. Piketty believes political resistance to his plan would be higher among the less enlightened societies and he sees his ideas being taken wholeheartedly in the European Union and United States, a country whose social-welfare state he terms as "meager."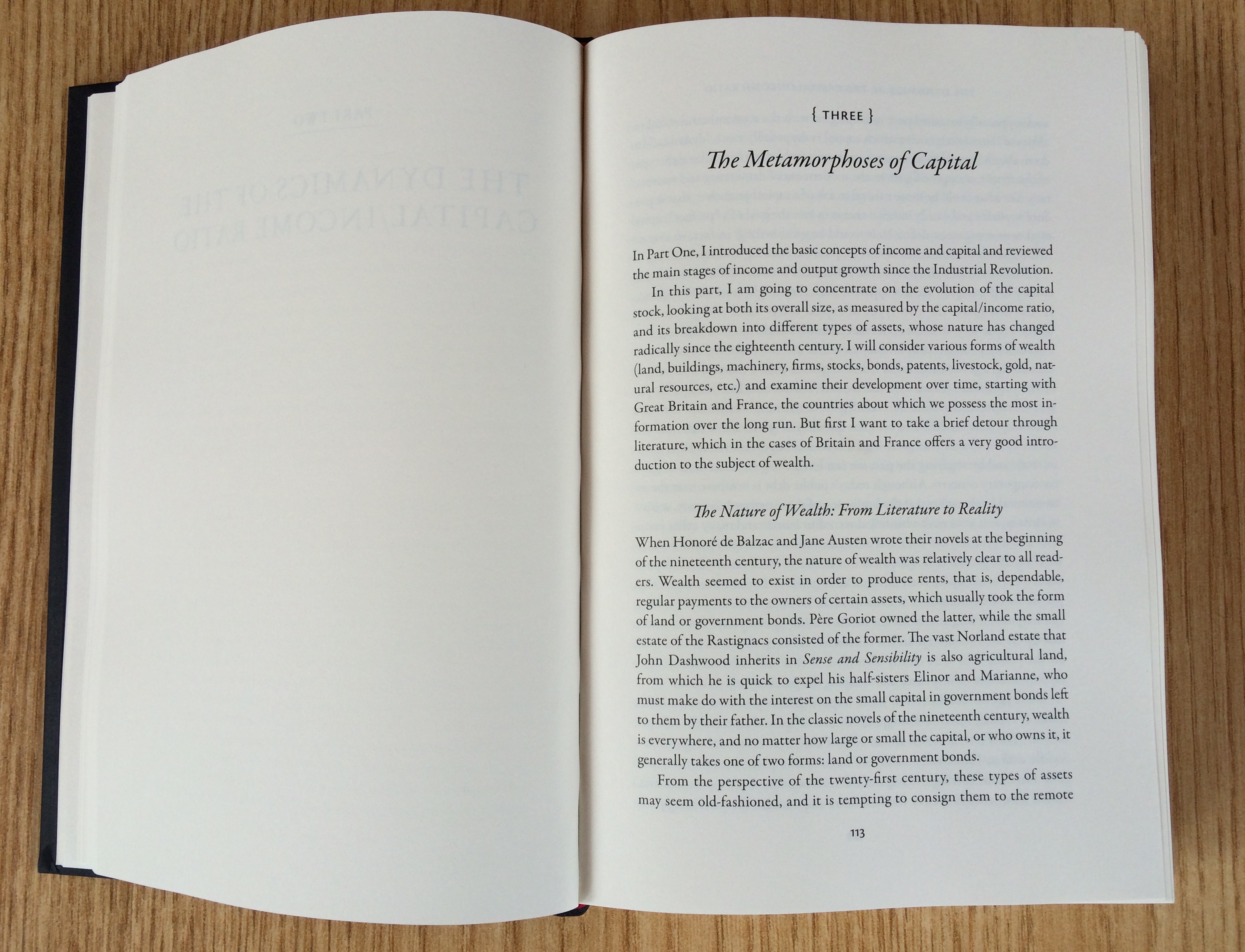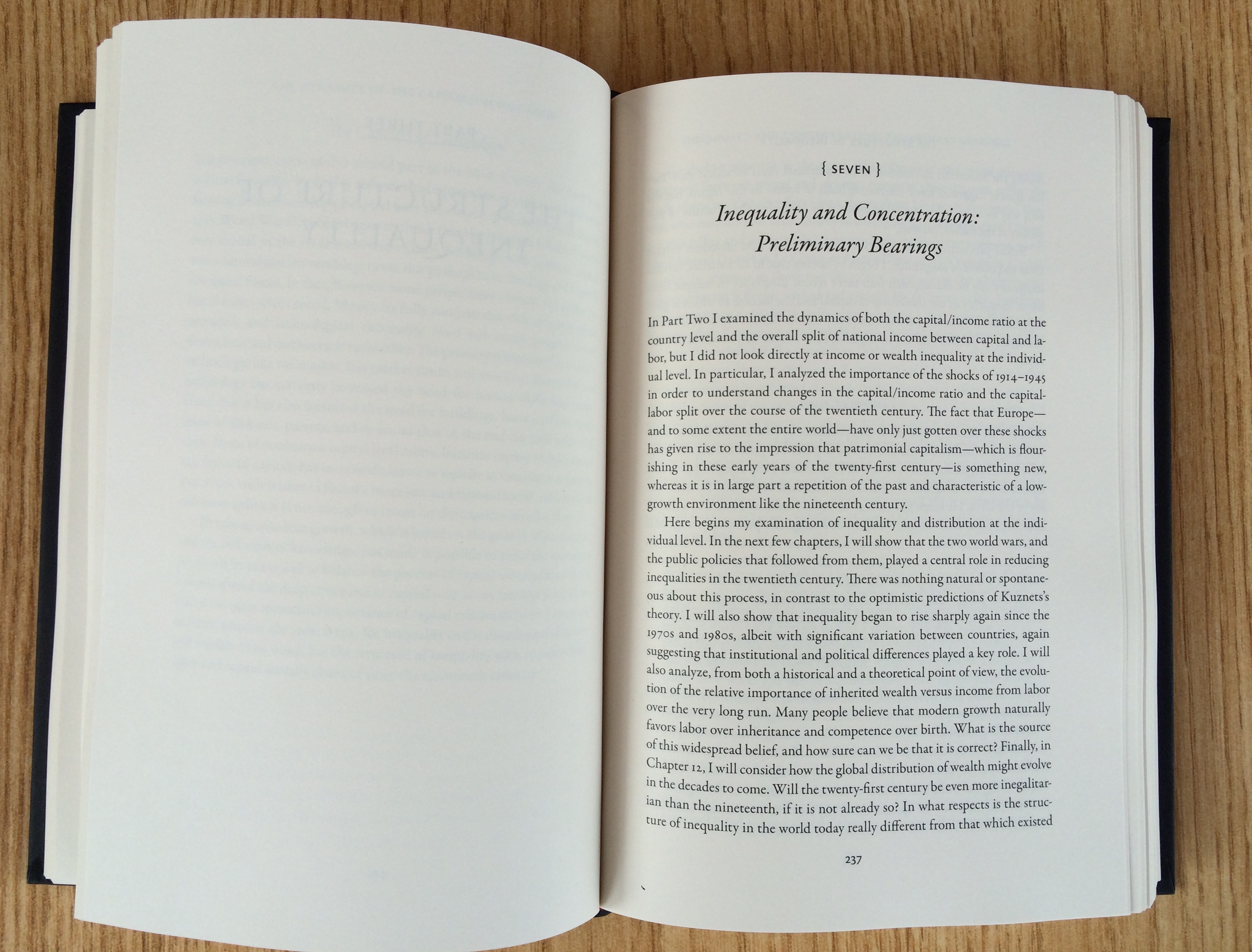 Contador Harrison mother taught his son that differences between people is determined by education, talent, individual drive, savings behavior, those who are lucky inheritances and bequests, luck and self discipline.Therefore, in my average understanding of economic issues, the single most important thing is the conceptual level and that is the current measure of consumption expenditure. Having read several books related to economic theories, I know that consumption is different from income, leave alone wealth or assets. Consumption expenditure is only part of income earned in a typical household and Thomas Piketty believes it has a smoothing effect through saving and withdrawal. In the longer term, income will be accumulated in the form of wealth or assets that will grow through capital gains or investment returns. In my thinking, by definition, expenditure inequality will be lower than income inequality and income inequality should be less than wealth inequality. Whether the distribution of wealth diverges, shrinks or remains stable depends entirely on several factors that determine social as well as the economic mobility. Economic inequality can refer to any of these inequalities, whether consumption, income or wealth which leads me to what Thomas Piketty views of Capitalism which is based more on personal views about factors that determines wealth distribution ignoring the concerns about income inequality.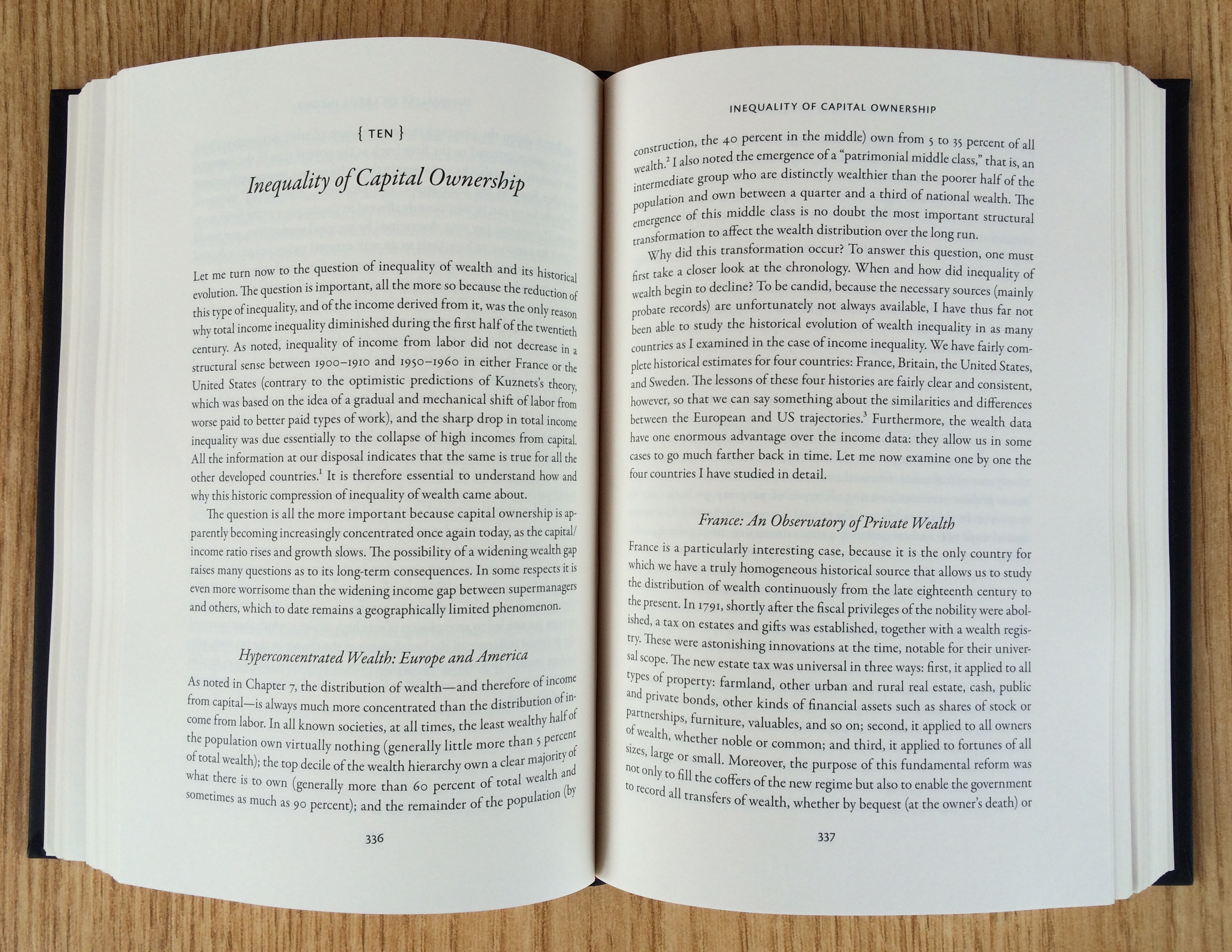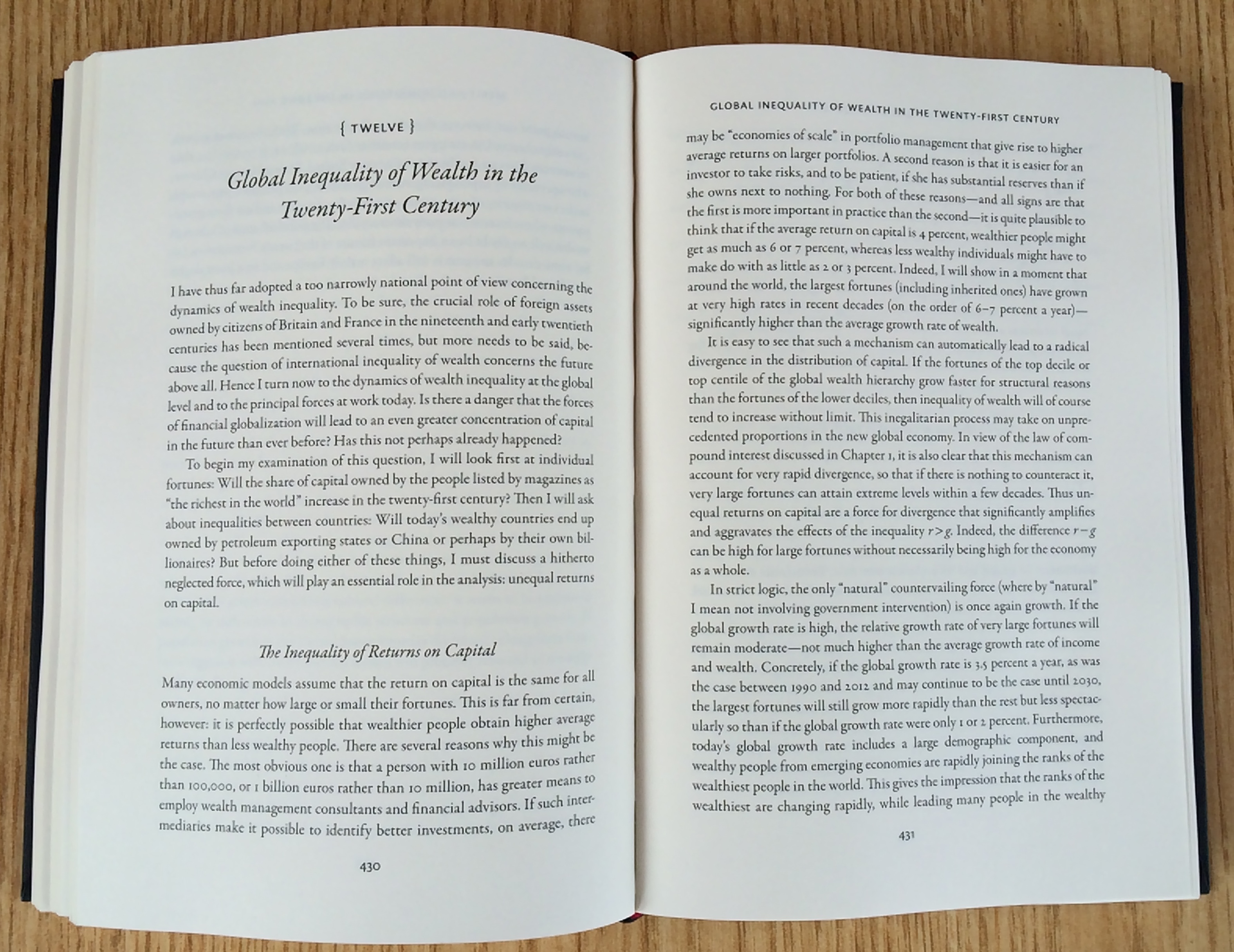 What the french economist means in my understanding is that although more people are getting jobs and inflation has been kept relatively stable, the rich are still receiving a much greater proportion of the wealth in comparison to the poor and the middle class.This is unhealthy for the World. The increasing income gap between the rich and the poor only furthers the divide between these two groups and may lead to tensions or, even worse, conflict like the Marikana Massacre in South Africa three years ago. In an especially diverse nation such as South Africa, groups and individuals may associate particular ethnic or racial groups with wealth and then target them during times of discontent. Income inequality also threatens the unity of nations, as can be seen by separatist talk in several countries across the world with good example being Nigeria and also Mozambique.Closing the income gap is therefore critical to maintaining social harmony and, hence, a more egalitarian approach to policies need to be conducted. This is particularly important as countries operates under a capitalist system. Under capitalism, only the most competitive firms survive, resulting in a few large firms in each industry. The advantages in capital and other economies of scale mean that it is extremely difficult for others to create their own successful enterprises, thus fostering income inequality. Therefore, direct government involvement in closing the income gap is necessary. In this, several policies are present. One of the most important is education.In today's highly competitive environment, education is a wealth-creating asset since it allows one to access higher-paying jobs. Education also broadens the horizons of individuals by exposing students to a world of opportunities through their studies. How can one be an computer programmer like Contador Harrison if he or she has never learned about coding at school?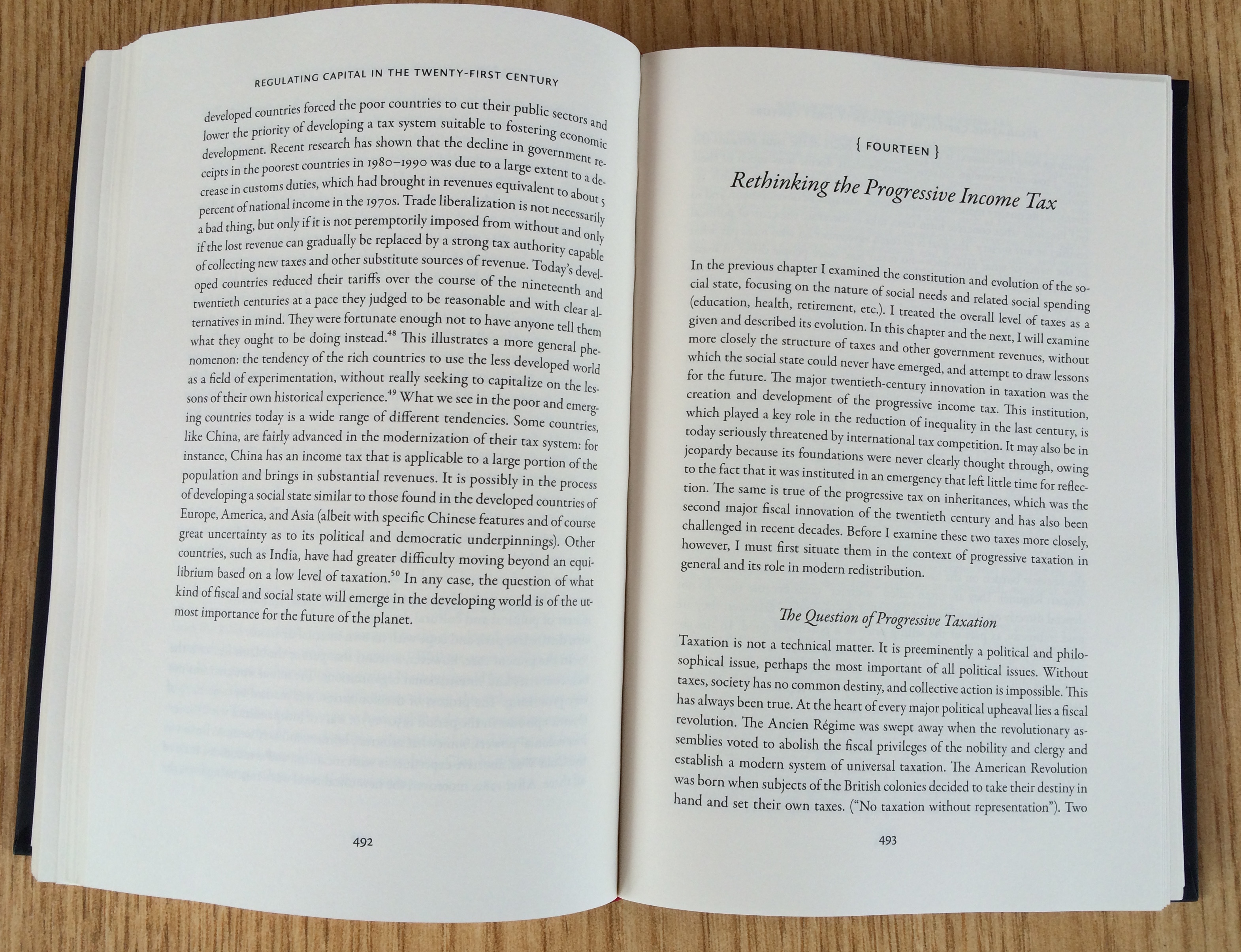 In Australia during the reign of John Howard as the Prime mInister, the federal government used education to promotes rational decision making through sex education. That played a role in helping reduce the fertility rate which were critical to increase the income of poorer families and allows more focus by both parents upon their work. It also ensured that more impoverished children could enter school, since having fewer children within a family would meant that parents were able to pay more per child for their education.In East Africa, countries like Kenya and Ethiopia are developing infrastructure so that poorer communities have greater and easier access to the economy.In Kenya, the multi nationals are setting up their continental operations head offices in Nairobi, the country's capital city.Underdeveloped infrastructure means that businesses in poorer communities are unable to compete and grow due to inefficiency in time and higher transportation costs. Infrastructure development thus helps these businesses to compete by reducing costs and opening up access to other markets, such as neighboring towns. It also attracts large firms to the area, which provide business opportunities and jobs for the local populations. The overall result is an increase in income due to easier access to the economy. Also, government red tape and corruption must be cut to an absolute minimum in order to reduce the costs of small businesses and increase their efficiency.
Red tape, or unnecessary government regulations, increases the costs of small businesses by forcing them to meet standards or checks irrelevant to safety or other precautions.This slows down production and may even lead to higher unit costs as firms are forced to modify their products to meet these unnecessary regulations. Corrupt government officials also increase business costs, as permits are not released until officials are satiated with enough cash. Indeed, corruption is a significant barrier to entry for many small firms.Reforms on corruption and red tape must be tackled so that it is easier for the poor to secure a greater proportion of the nation's wealth through reductions in costs for their businesses. Reduced costs will help businesses to grow and this, in turn, will lead to more workers being employed, further helping to reduce the income gap that Thomas Piketty has extensively highlighted.It is absolutely necessary is that the governments recognize that income inequality within is reaching a dangerous point and policies must be enacted in order to attain a more egalitarian society.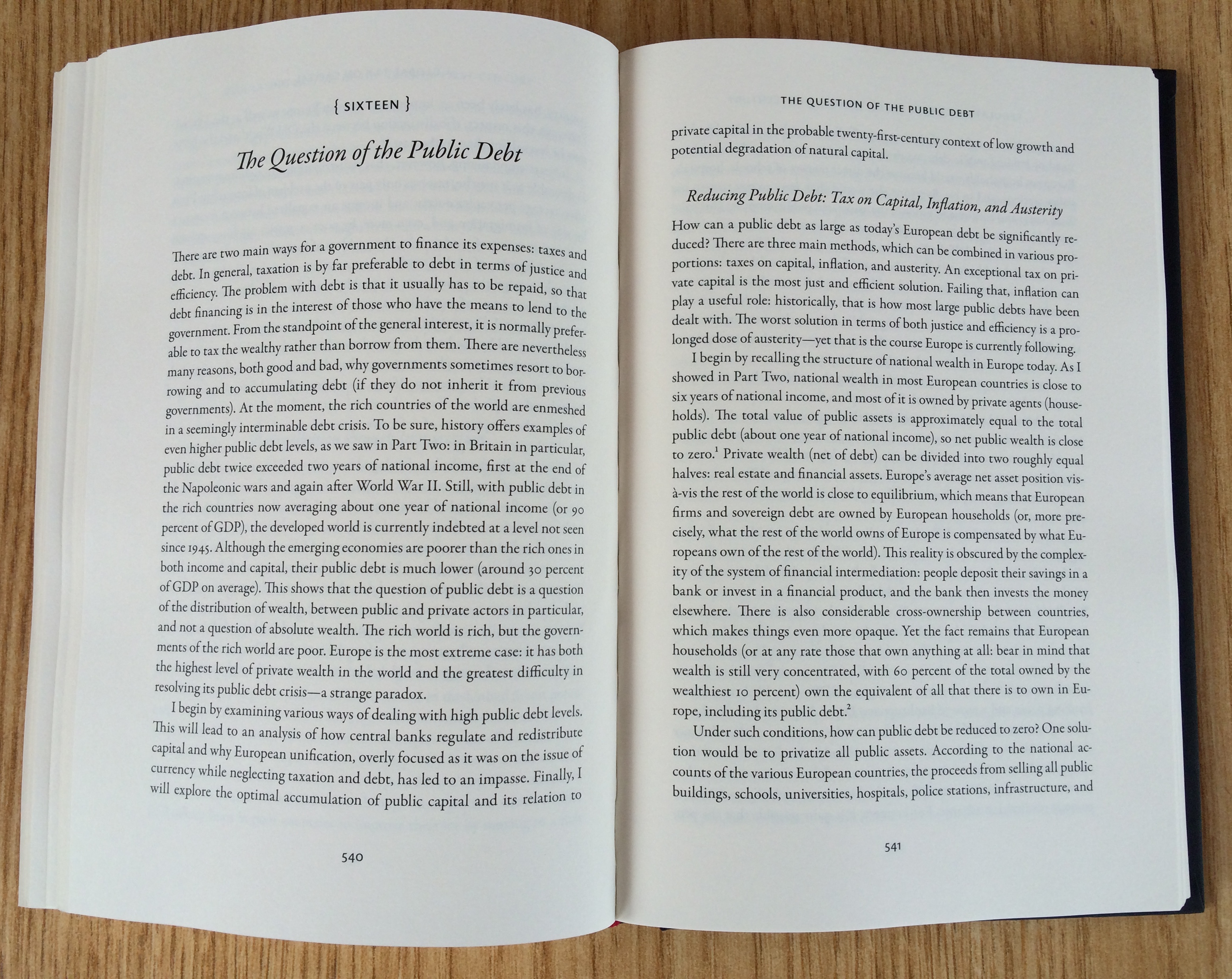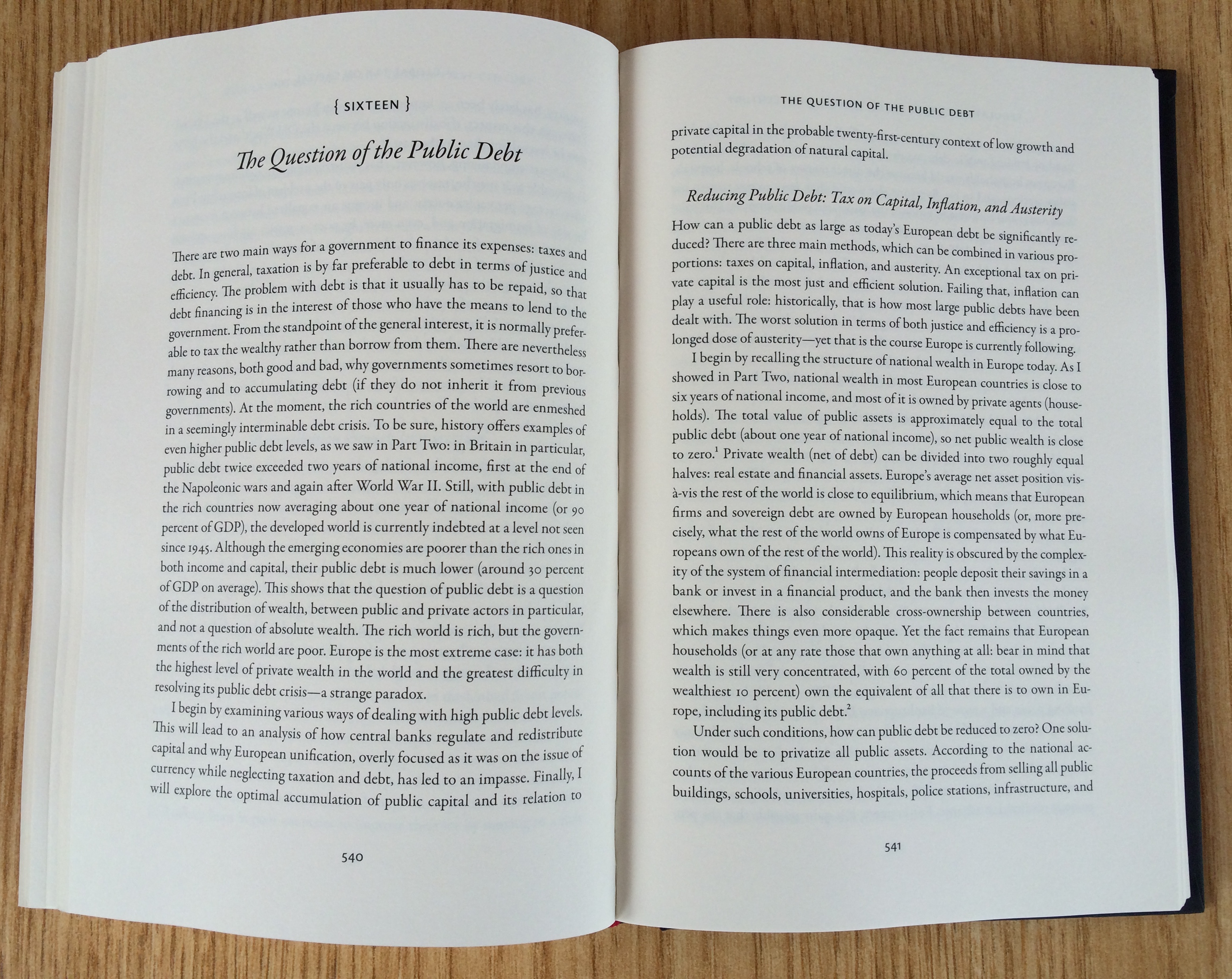 Otherwise, discontent, civil strife and even violence may halt the growth rates that are necessary for their countries future as witnessed in Marikana massacre in South Africa.Piketty focus on what he calls "the central contradiction of capitalism", namely the fact that the average rate of return on capital, r, normally exceeds the rate of output growth, g. And he goes on to define it as "the entrepreneur inevitably tends to become a rentier, more and more dominant over those who own nothing but their labour. Once constituted, capital reproduces itself faster than output increases."However, the fact that r exceeds g is simply a necessary condition for an efficient allocation of an economy's investment over time, whether in a capitalist or a centrally planned economy and is consistent with any pattern of inequality, high or low, rising or falling in my own opinion. To conclude, the level of inequality is high and rising according to official measurements, but the true level of economic inequality is much higher and something must be done about it.In terms of salaries, the reality is that most countries in the world have seen the gap between the salaries of its workers widen in the past two decades, a condition that is protracted in both developed and developing countries because informal sector absorbs such a large portion of the total work force according to ILO statistics of 2014.In its World of Work Report, the International Labor Organization said about two-thirds of more than 70 developed and developing countries surveyed had seen the incomes of their richer households increase relative to those of middle class and low-income households.
The report, also revealed the gap between salaries of top executives and the average employee is widening at an increased rate.Income inequality has been increasing and the incidence of informal employment remains significant and is on the rise and a shift toward informal forms of employment was among the factors widening the inequality.The disparity between incomes is necessary as a way to reward work effort and talent, and to encourage innovation, but excessive inequality could lead to social unrest and economic inefficiencies as Piketty notes about Marikana massacre. Piketty has made me look at inequality as a threat to global peace and I agree with him that inequality is the main fundamental weakness of modern capitalism, although I don't trash capitalism's achievements that include but not limited to creating growth and reducing abject poverty.The global audience's attention to structural inequality has been increasing rapidly as empirical evidence indicates that current development programs so far have only been successful in improving the average outcomes around a range of basic needs but leaving further behind groups and individuals that are the poorest and most excluded,including but not limited to the disabled, religious minorities and indigenous communities.There is a series of measures that can be taken to improve our current situation. Within the context of income disparity, the tax bracket needs to be expanded as Piketty has argued.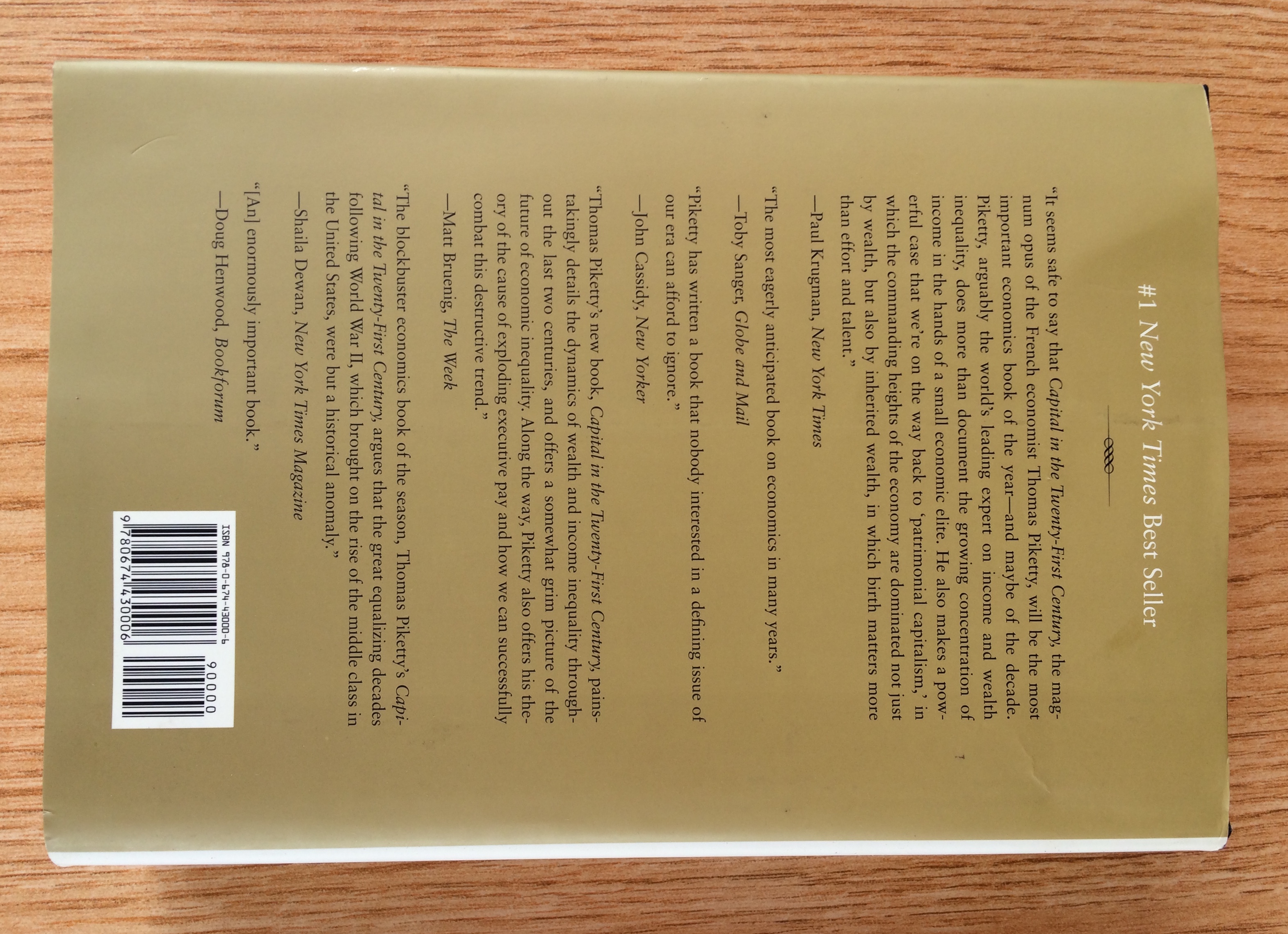 Piketty praises the system for fostering advances in entrepreneurship, innovation and productivity that make prosperity possible but despises it because it makes some people wealthy while others don't have an absolutely equal share. With concrete argument, Piketty argues that when income distribution becomes too unsustainably skewed, then it is a direct threat to democracy that underpins the capitalist system in the first place.For structural inequality, policymakers at the local and national levels need to recognize that welfare deprivation cannot be separated from political, economic, cultural and social discrimination as they overlap and intersect. Yet at the same time, discrimination cases are viewed as part of the sheer complexity of a country's past, present and future and have placed different groups along different historical discriminatory relationships. Therefore, it is the government's duty to ensure that multiple barriers are dismantled so that people's aspirations and hopes can be realized.I have no regret spending $39.95 excluding shipping costs to wade through 685 pages that contains the best text I've ever read about valuation placed on tangible and financial assets as well as the distribution of those assets through time, and the inheritance of wealth from one generation to the next.In conclusion, Capital in the Twenty-First Century is a cogent book, nourished with valuable information on the flows of income, distribution of financial resources and transfer of wealth in some of the world's wealthiest nations.
Previous
Next